I'm holding onto summer for one more week. In celebration I bring you Shabby Chic Hammocking!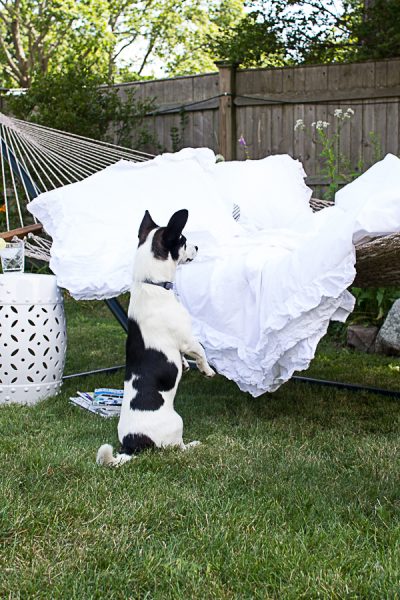 So full confession. Hammocking might not be a word, but it certainly should be. It should be an active verb!
This is my plan for the rest of the week. Well, tomorrow is Conor's 8th birthday so we're doing something with him just the four of us and it's a surprise.
Max certainly seems up for lazing in the hammock.
Before I share any more, my heart aches for Texas and all who are affected by this storm and flooding. I've seen so many instances of help whether it be money, shelter or food. We've donated money as we're not close. Friends in Texas, please know you're in our thoughts and prayers. I saw a video on Facebook the the other day showing all the people with little boats arriving to help. This confirms to me that there is more good in this world than bad.
This post contains a few affiliate links, if you purchase a product through my link I will receive a percentage of the sale.
We bought Luke this hammock a few years ago for Father's Day. I wish we had two trees we could hang a hammock from because I love how romantic that looks but we've been so pleased with this one from LL Bean.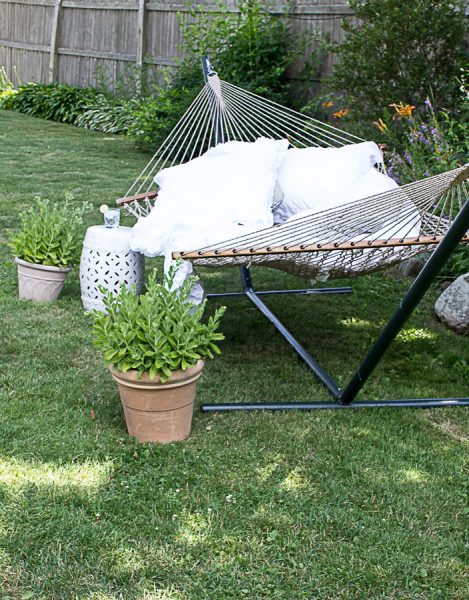 The green stand blends in with the yard and grass.
To make this a little more comfy. I brought out our shabby chic bedding that's from Target (it's currently on sale).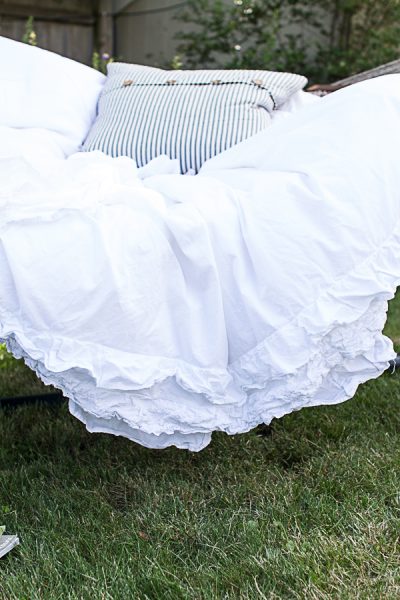 The striped pillow was borrowed from the living room.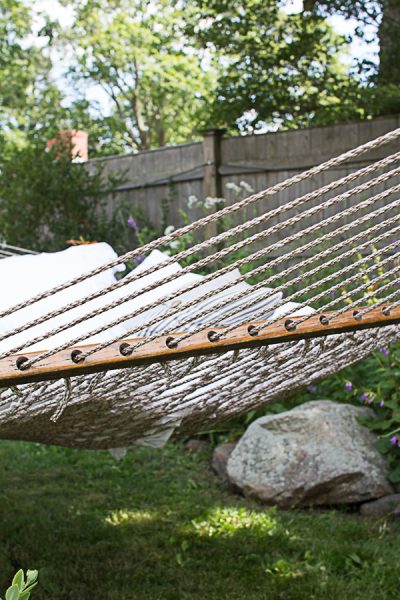 This hammock is so durable and well made. It looks as good as new despite being outside for a few seasons. We do bring it in for the winter.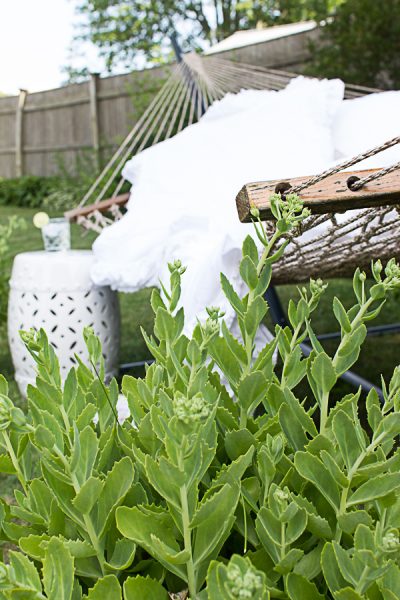 Nothing like a refreshing glass of soda water with lime.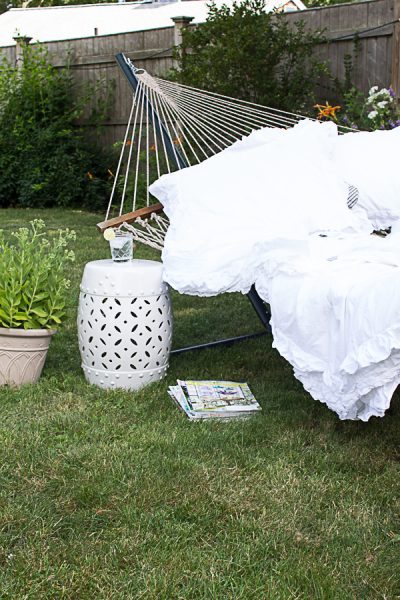 and a stack of my favorite design magazines.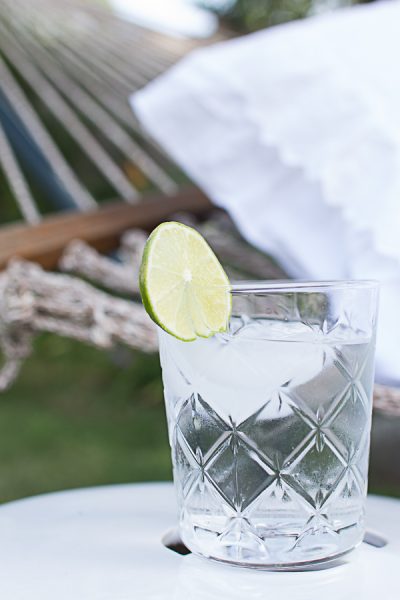 The pretty glass just looks so elegant doesn't it. It's from Ikea and is virtually indestructible which is a bonus in our home.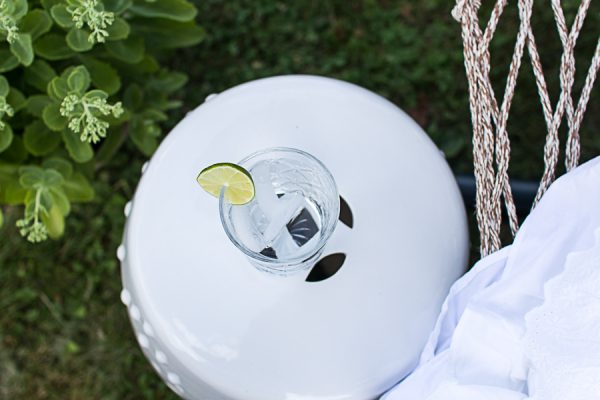 The stool I "borrowed" from my she shed. I really love this stools because they work great for side tables or additional seating and can be placed in any room or enjoyed outdoors.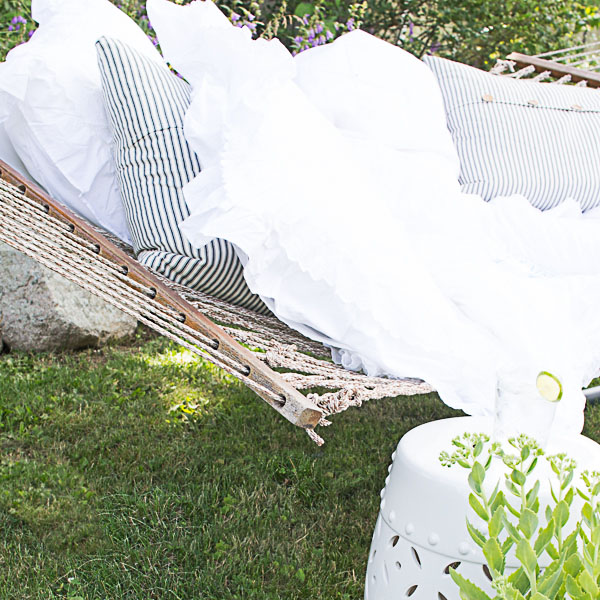 Our whole family enjoys the hammock. Sometimes I read to the kids, but the other day, John spent hours out here reading His Dark Materials Trilogy
. There's something so relaxing about sitting and swinging. It almost feels as if time stops whilst in a hammock.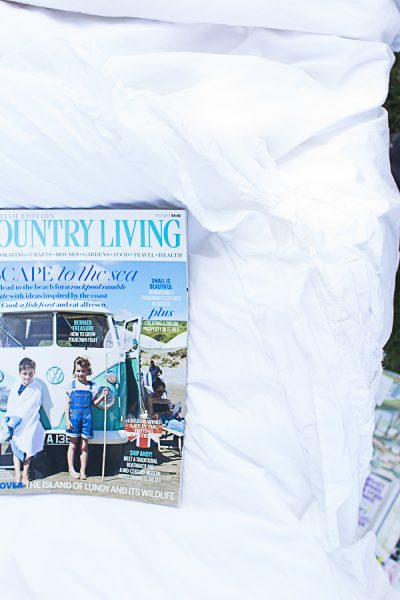 I adore Country Living UK
and think this is the most beautiful cover. I'm so glad I snapped a photo of this before Max got hold of it. He tore the cover right off. Sigh.
That rascally dog!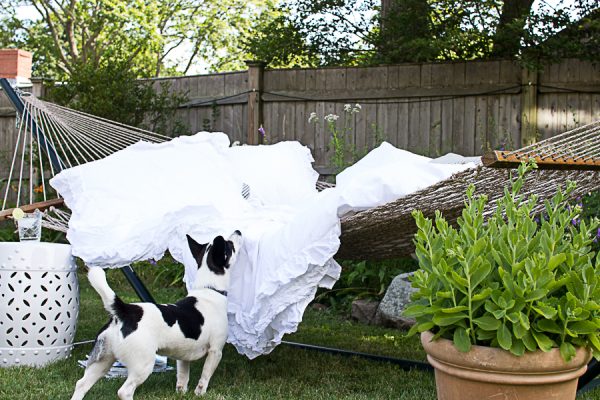 We've had to suspend the cable on the fence to prevent him chewing and he has a penchant for flip flops.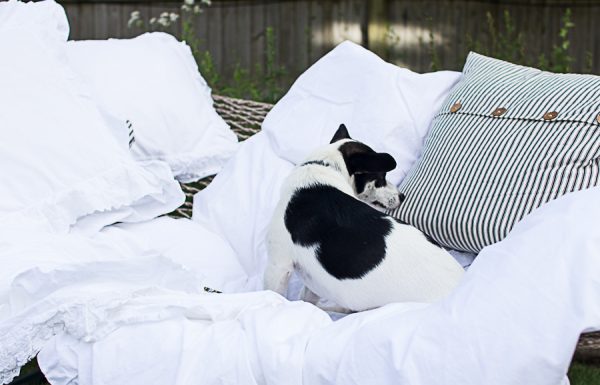 Fortunately, I can't get mad at him.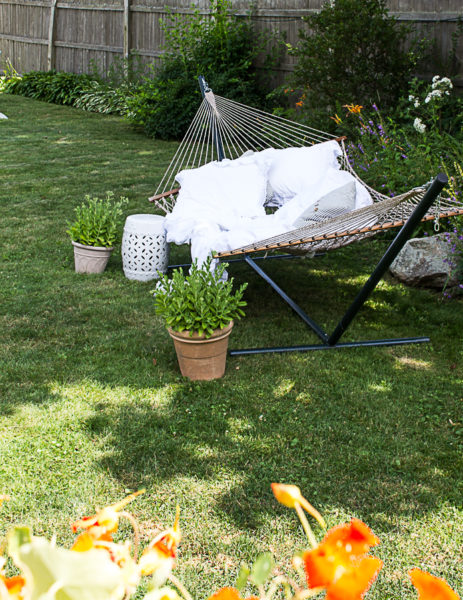 If you need us we'll be here in the yard or at the beach, soaking up the last few moments of summer.
I have a little surprise that I'm going to be sharing tomorrow. Kind of a fingers crossed moment for me. Stop by in the morning to hear my fun news.