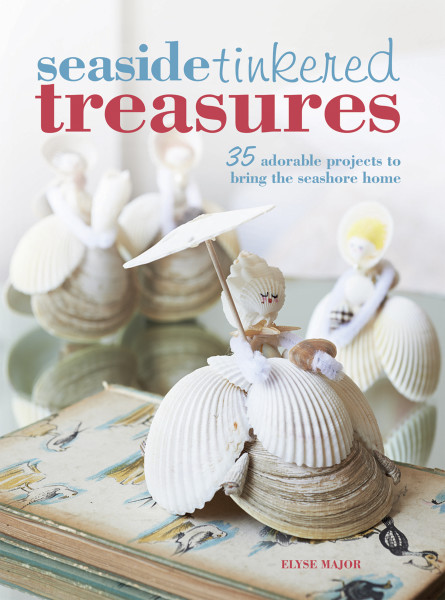 I can't believe how winter is now stretching into spring (big sigh).
If you love the summer months and lazy days collecting treasures by the shore, then you are going to love today's post.  My good friend, Elyse Major, has a brand new book out, and it is fabulous.  Truly fabulous.
As many of you know, I met Elyse down at The Sea Rose Cottage during a tinkering event for her first book Tinkered Treasures.  It was such a fun night.  Elyse, is one of the loveliest people I've ever met.  She's super funny and clever as can be!  She can turn ordinary pegs into the most beautiful dolls.  She made me one for Christmas in my own likeness and it sits on my desk.
In this new book, Seaside Tinkered Treasures, Elyse shares ways to bring a seaside motif into your home through all different fun crafts.  I can't wait to try this one with Conor –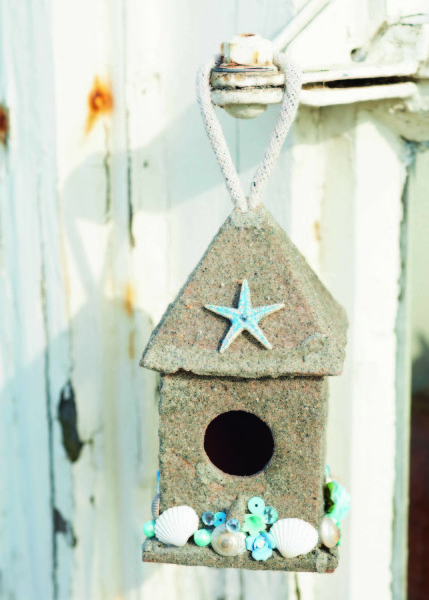 Isn't that so sweet?!? It is a bird house that has been decoupaged with beach sand and adorned with shells and bits and bobs.  I thought once completed it will be a cute addition to our deck area.
Elyse shares such great tips in this book.  For example, photo copying pretty fabrics so you can use them for decoupaging or making tags. Also, ways to apply glue and what her favorite crafting materials are.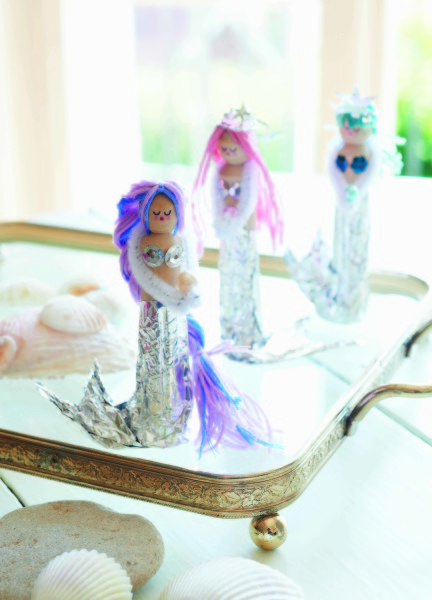 Her "mer pegs" are so whimsical.  Wouldn't this be a sweet craft for an outdoor tea party or birthday?  Simply take clothes pegs, foil, sequins and embroidery floss to create these beautiful sirens.
Elyse's ideas are limitless.  You know all those paint chips you get when trying to decide on a the perfect color for a room. Why not turn them into a breezy sails mobile.  How pretty for a newborn or in a playroom!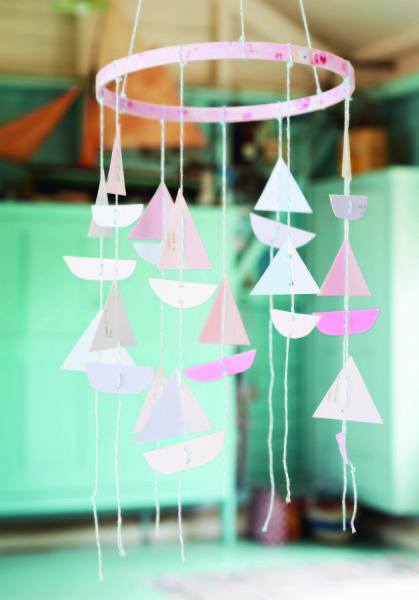 I can't wait to make this clock for our sunroom: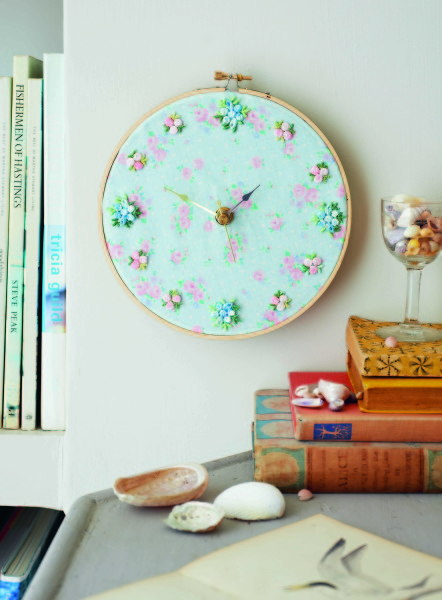 I have the perfect fabric and instead of rose buds I'm thinking of using tiny star fish.  I just have to redo the floors, paint the walls and rehab some furniture first.
I'm also going to give these pretty pin wheels a whirl (pun intended).  Probably for Conor's birthday: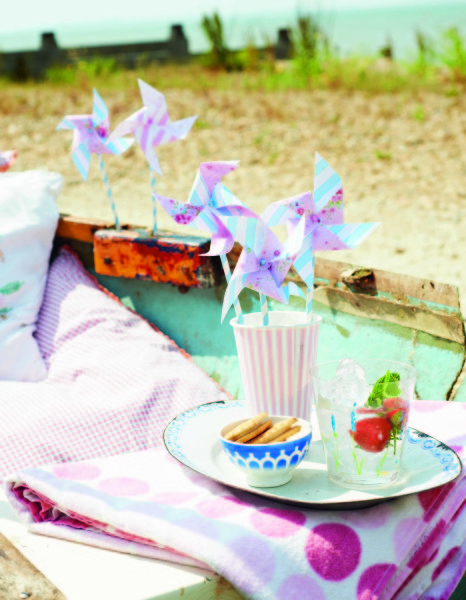 The book is filled with 35 simple projects.  There are "fancy this" alternatives for many projects allowing you to embellish or create even more fun things from simple seaside and household finds.  I don't know about you, but I'm itching to enjoy the sun on my face, the sand in my toes and doing a bit of tinkering with my boys.
Seaside Tinkered Treasures by Elyse Major is published by CICO Books and is available at rylandpeters.com
All the beautiful images in this post are via Seaside Tinkered Treasures.
Disclosure: I received a review copy of this book.  All thoughts and opinions are my own.  I know you are all going to love this book!