Today's post is filled with optimism, lots of paint, some distressing and the story of restoring an empire buffed named Murray.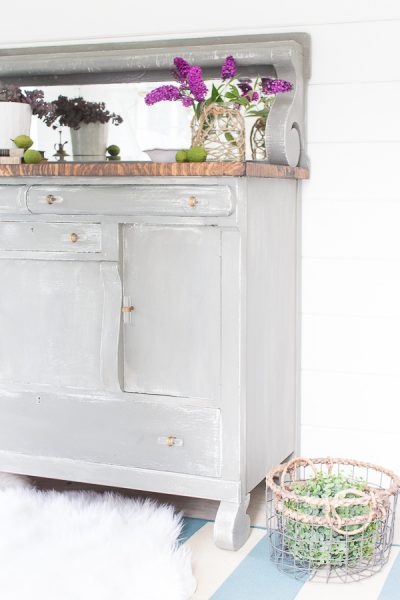 My friend Jann rescues dogs. She loves them so much and she actually rescued our little Max. I will be forever grateful to her for uniting us. I love dogs, but you guys all know I rescue furniture. I LOVE big, old pieces chock full of character. My heart skips a beat when I find lovely wood grain, vintage hardware or scrolled woodwork.
Jann found a super Empire buffet on a yard sale site and wanted to know if I could help her our with it. She loves the farmhouse look and showed me a few images from Magnolia Home Journal
as her inspiration.
First, I think I should show you the before: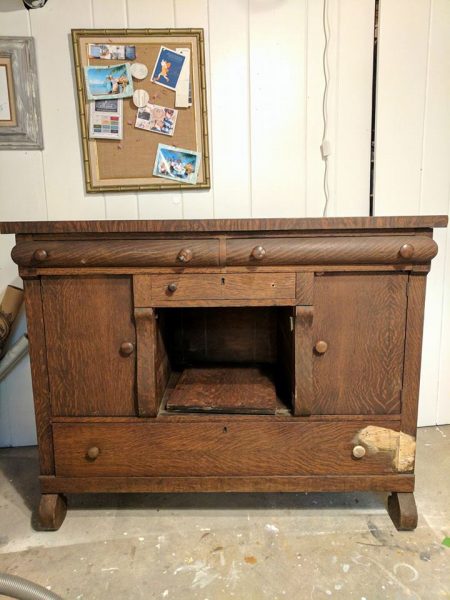 Okay, I wish you could smell the piece because it had been left out in a barn, or somewhere, and smelled pretty bad. The veneer was flaking off and wood was pulling apart. The middle drawer was broken. Before I could even start painting there was a lots of vacuuming, cleaning and gluing. We used wood glue and clamps to secure the wood that was lifting. It was also lifting on the mirror (not pictured). So it was a lot of work.
Whenever, I'm working on a piece, I do a few sample boards and here's the sample board and some of the products I used for this makeover.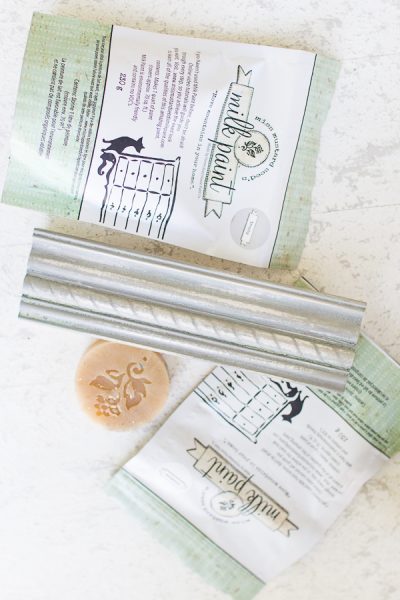 This post contains affiliate links, if you purchase through the link I receive a percentage of the sale. Thank you for supporting my blog in this way.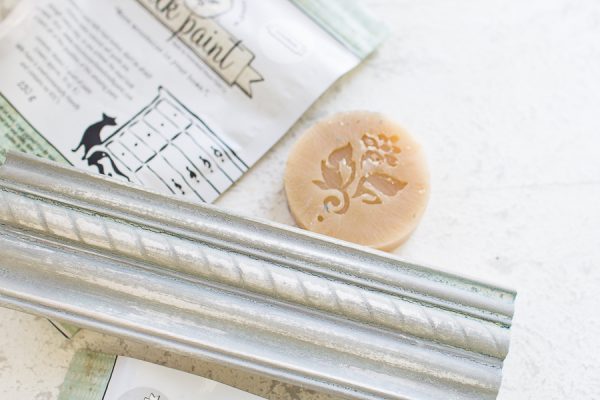 We settled on an undercoat of Ironstone Milk Paint
(a lovely white milk paint) with Trophy Milk Paint
(a taupe gray milk paint) on top. The look we were going for was farmhouse, understated, and distressed. I wanted this piece to look "found". Jann doesn't love super ultra chippy so we opted for some distressing on the high points. I added in bonding agent
to the paint so it would stick and used the wax puck
to create a resist for the paint. The wax will repel the second layer of paint so I could control where it was chipping off.
Before painting, I sanded the top and used a "new to me product" for filling the holes. I used Gork's Goodfilla in Oak. In the past I've had issues with wood filler taking the stain. Gork's worked great. I was told to try and match the color of the wood prior to staining so that it would take the stain the same way. I'm so happy with the results and you can't see where I filled it. For staining, I used another new product. Homestead House sent me a few of their stains to try. I used Homestead House's Stain and Finishing Oil in Cappucino. I am so impressed with this product. It was so easy to use and brought out the beautiful wood grain in the wood. This stain / finishing oil penetrates the wood and brings out the natural wood grain. It also seals the wood. You don't need to apply poly or a separate top coat because this product already has it built in.
I applied two coats and here you can see how beautiful the top looks: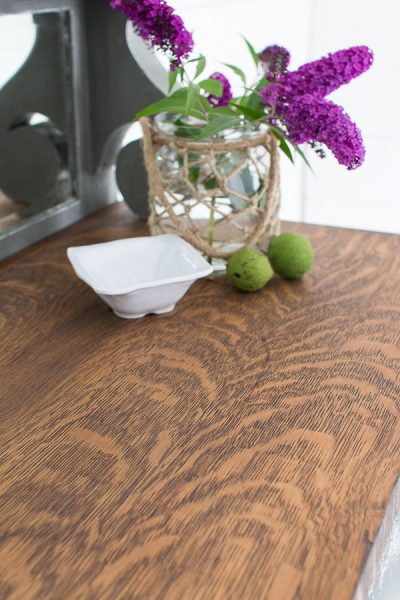 It is so smooth. The color is lovely and warm too.
Here are some in progress photos. This was painting the ironstone:
I like to take all the drawers out when I paint. I also like to raise my pieces up on blocks. This particular piece gave me the hardest time. I had painted it in Ironstone milk paint after wiping clear shellac
to prevent blead-through and it started crazing and bleeding through a horrible color. So I ended up using Zinsser Bin Primer with shellac
in it. Here you can see the crazing after the primer: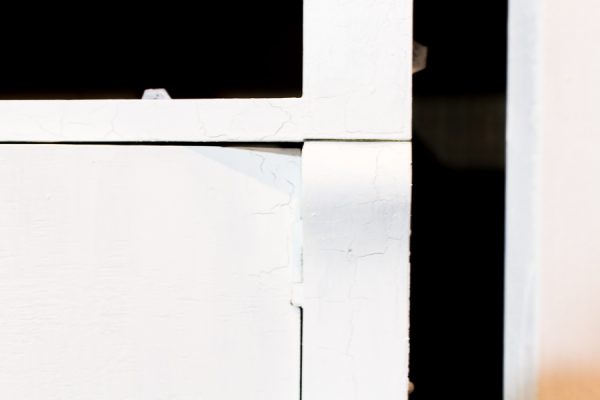 The crazing actually gives the piece an authentically old look with all that wonderful texture.
I then applied another coat of the ironstone milk paint and once dry used the wax puck on areas I wanted to distress.  I applied two coats of the Trophy milk paint on top, then distressed once it was dry.
You can see that there is some veneer is missing, it was very splintery and came off when I was sanding. The beautiful butterfly bush blooms are from our yard.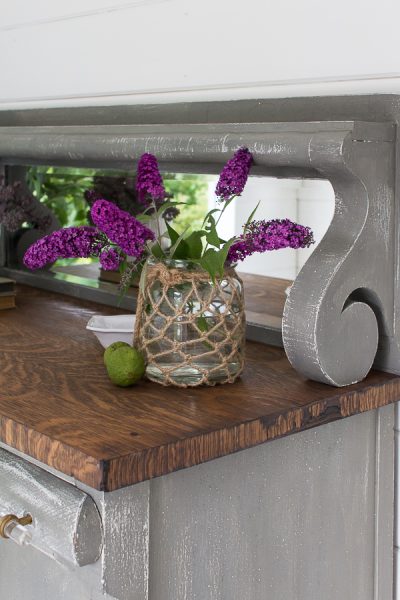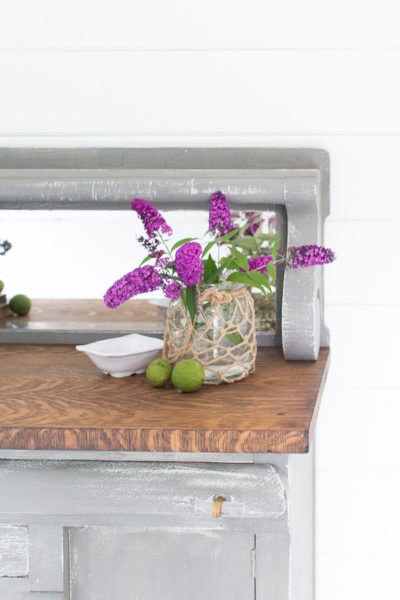 I focused the distressing on the high points and edges.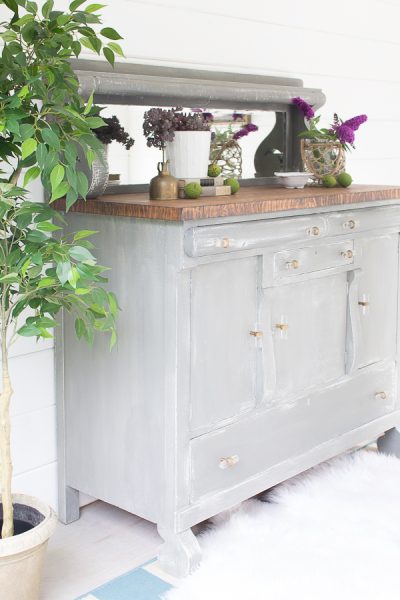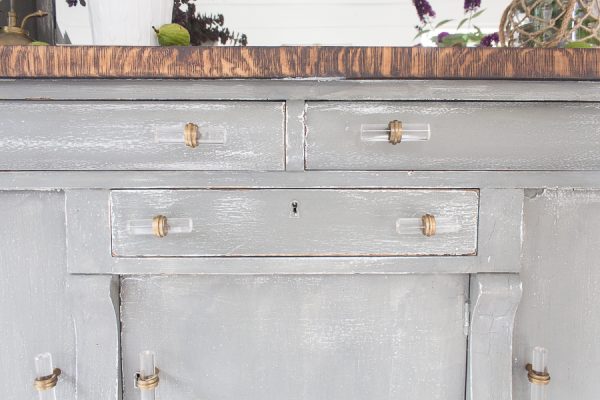 Jann chose the hardware. They are the Tuva knob from Anthropologie.
I love the warmth the brass adds, especially against the taupe gray.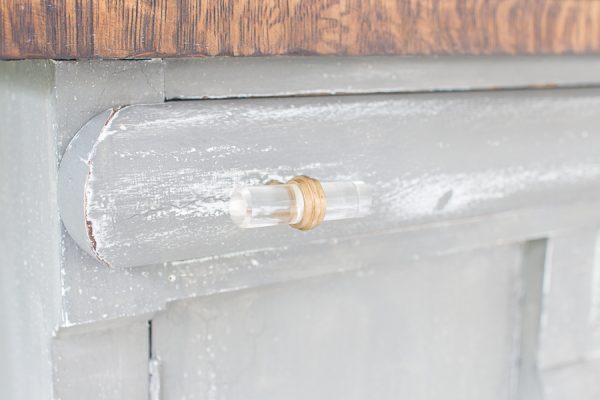 The clear glass and the shape of the knobs add a modern, unexpected twist.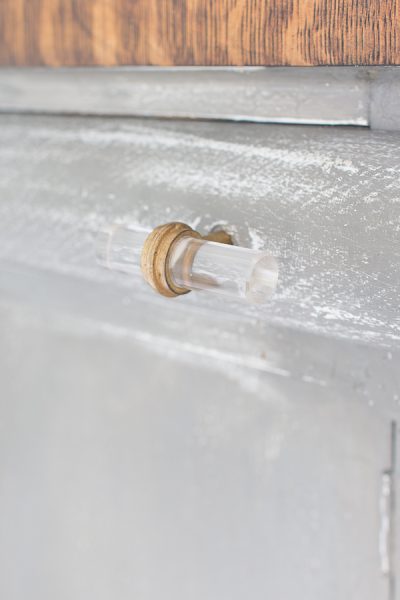 I love how they catch the light!
The painted finish is sealed with Miss Mustard Seed Clear Furniture Wax
. I love the matte finish you get with this wax.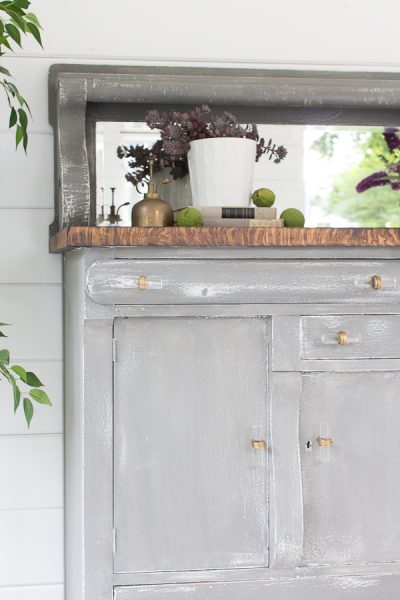 Before bringing it to Jann's house, I decorated it simply in the she shed. I think it looks so pretty against the shiplap walls.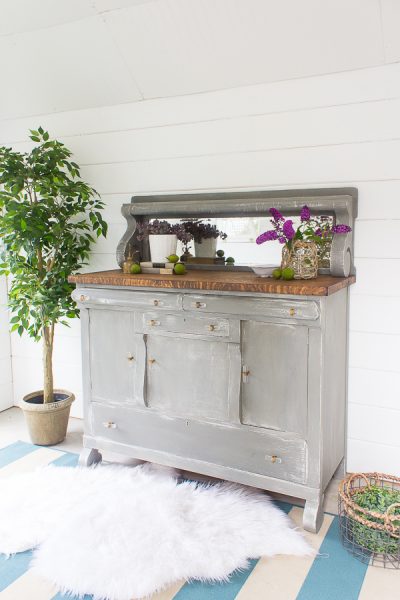 I used simple plants, some books and added a few black walnuts which are currently falling from a tree in our yard.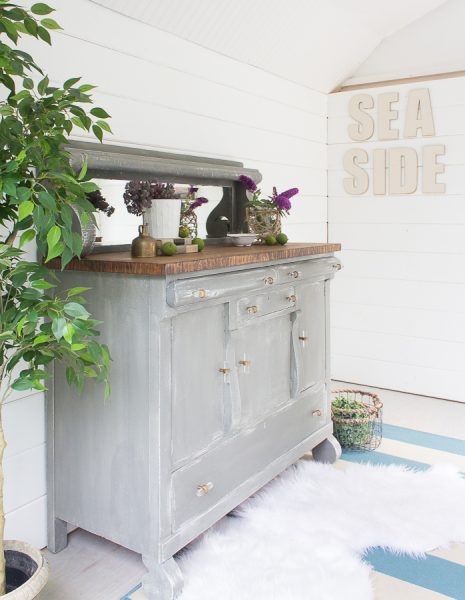 Now that the Murray dresser is painted and reloved, all the charm really shines – the curved feet, the heavy wood, the beveled mirror.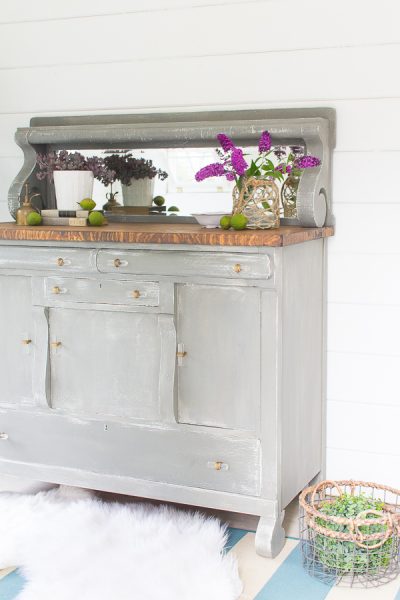 The after really is such a far cry from the before! As a finishing touch, I rubbed hemp oil
into all the drawers and cabinets, that way items can be stored inside and there's no worry of unpleasant smells.
My friend plans on using this piece in her dining room.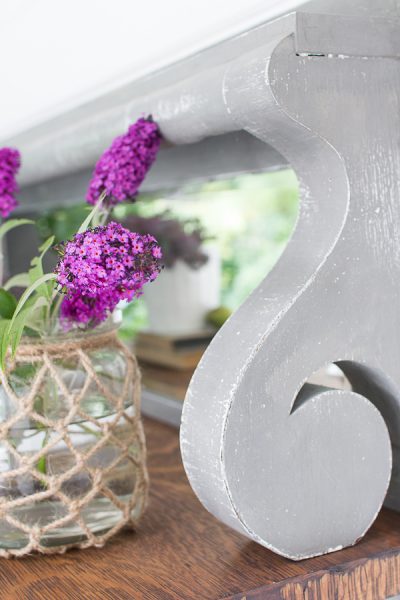 It's lovely when I can help rescue a bit of the past. They certainly don't make furniture like this now. It may not look big in the shed but it is and so heavy. So heavy, in fact, that Jann's husband, Chris, had to help move it out of the basement. Solid wood.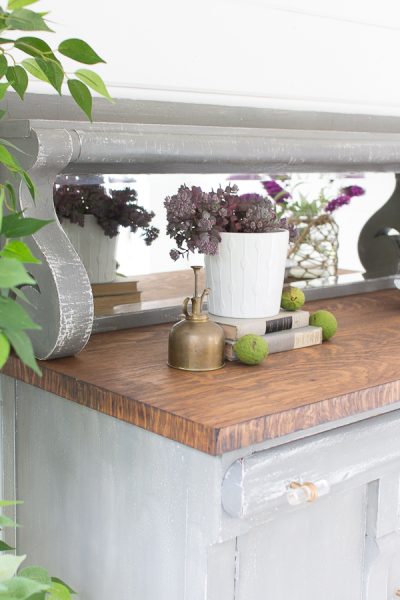 Think of all the parties this piece saw in the past and all the parties yet to come.
I hope you enjoyed the story of the Murray Buffet. I enjoyed trying out some new products on it.

If you're interested in redoing your own furniture, you might enjoy my eBook. It's 150+ pages of furniture tips and tricks, along with lots of faux finishes.