Thank you all so much for your lovely comments on our Christmas house tour!  I know everyone is so excited about decorating for Christmas and the coming holiday.  I know my little boys are so excited, but I thought I'd mix things up and show you something that isn't Christmas-y.  Recently, I've been working on many painted projects in the basement and this is one of them!  The Nantucket Sound Console Table: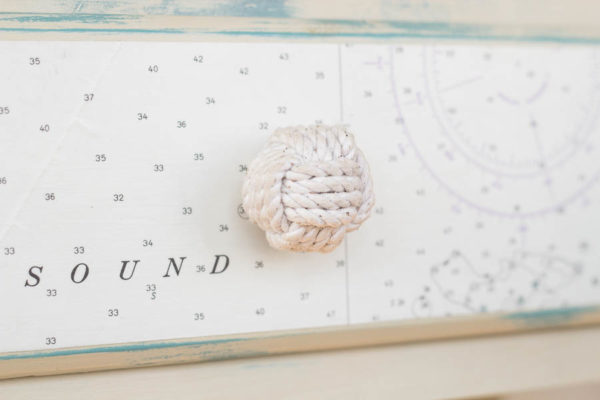 You may recognize these map pages, I used the same in our nautical garland for our tree!
Anyway, you all know how much I love seaside decor and maps.  I used both in this piece!  But first here is what it looked like "before":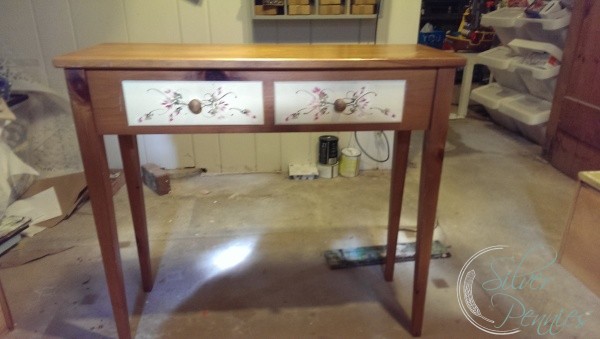 Before, it was a simple pine console table.  It was all natural wood except the drawers, someone had lovingly painted them with flowers.  I felt bad painting over them, but I was going for the coastal look.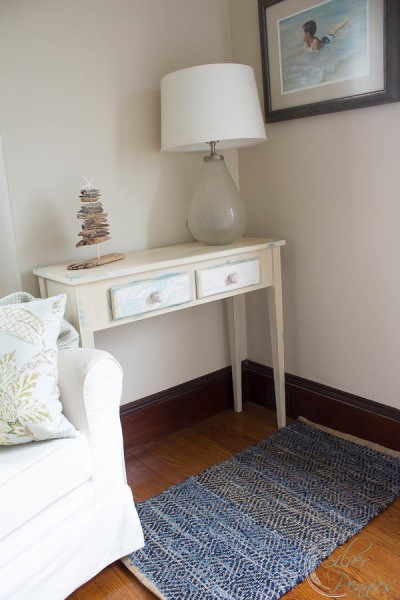 I started by using my usually chalk paint prep.  I scuff sanded it and did a bit more sanding on the drawers to created a smooth surface. Then I washed it down with with mineral spirits, then denatured alcohol and then warm water.  Then I wiped on two coats of clear shellac.  The first coat was painted in Provence and the second coat was painted in Old Ochre Chalk Paint.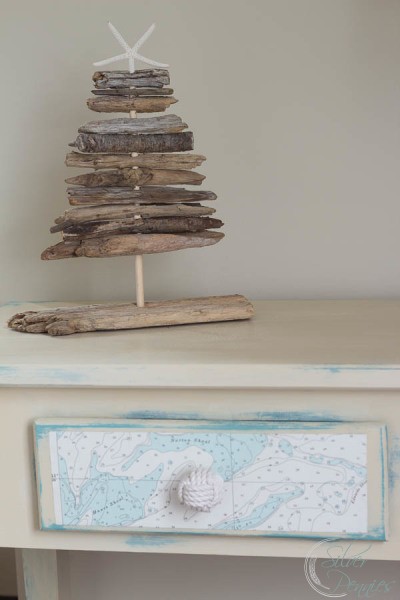 Once it was dry, I wet distressed to show the Provence through.  To wet distress, you simply take a wet cloth and wipe the paint back.  This only works after the paint has been dry a short time.  I also used some fine grit sand paper and on top to create a smooth finish.  The Provence picks up the color of the ocean on the nautical charts.
It also adds a pop of color inside the drawers: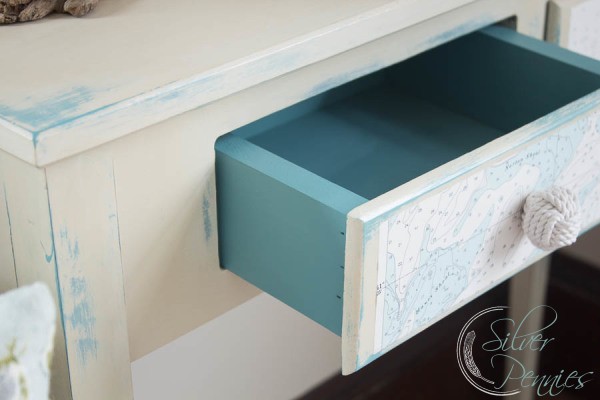 I decoupaged the map pages with Annie Sloan's decoupage medium.  I really love this product.  It is easy to use and reposition the image if needed before it dries.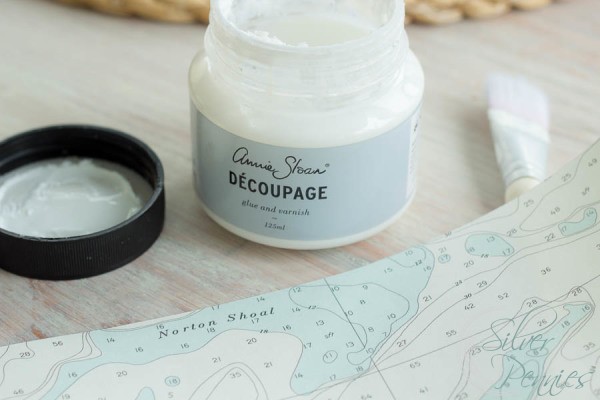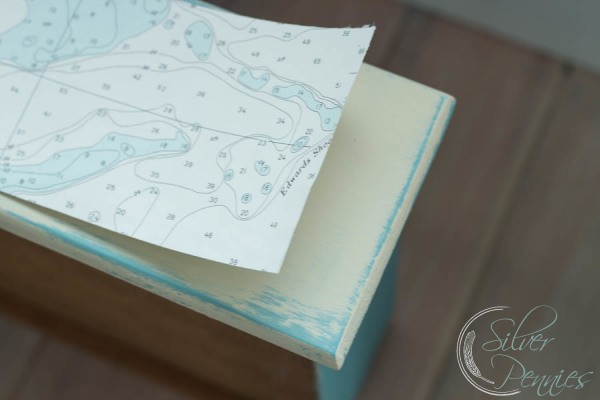 The decoupage medium acts as a varnish, so I did a number of coats over the entire drawer. The rest of the piece was waxed with natural wax and buffed to a light shine.
I'm in love with the monkey fist knobs which are from Nancy Chace's shop the Sea Rose Cottage and you can see them here.  I also buy all my chalk paint and MMS Milk Paint from Nancy!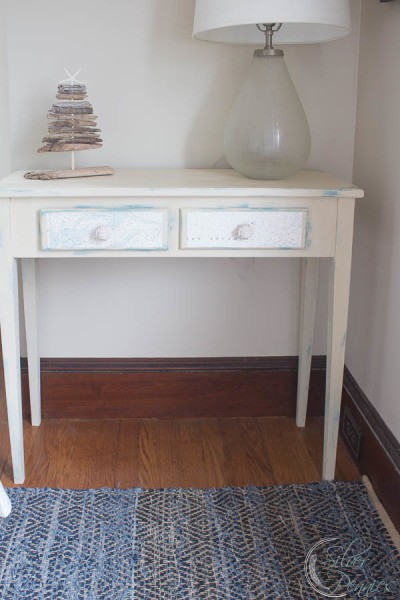 This piece reminds me of all things wonderful about the beach. The warm sand beneath my feet, the sun on my face and the tangy smell of the salt air.  As winter swiftly approaches, I'm already longing for lazy days at the beach searching for shells and driftwood with my boys.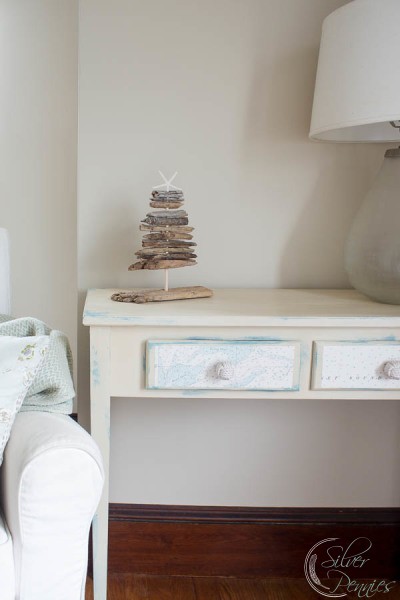 This table would be gorgeous in a small entry or even a seaside bathroom!  I staged a few pictures on my landing.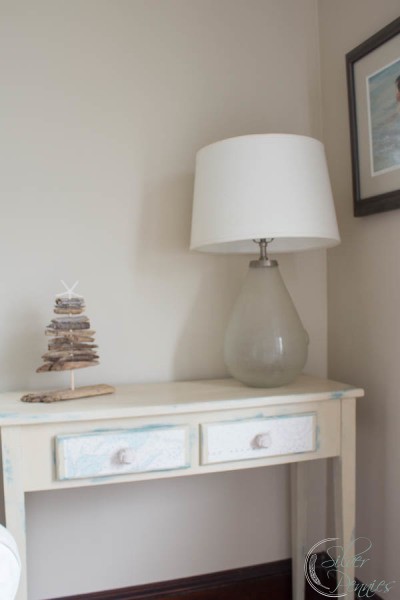 But I also took a few out in our sunroom.  I love how the light is hitting it here: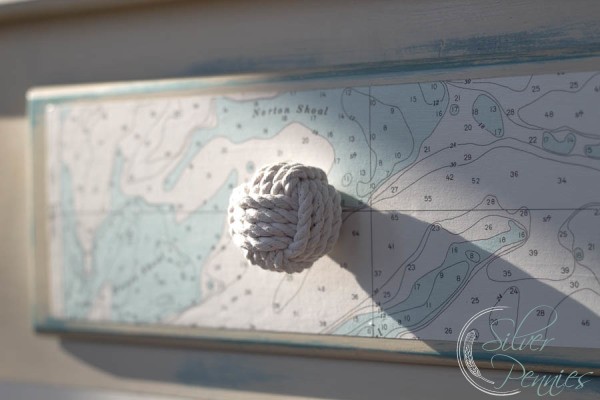 Not bad for a little pine table.  This one is now chic and ready for a day by the sea!
She's available for sale at Kjeld Mahoney Gallery along with this driftwood boat. I brought down a bunch of painted pieces and oars the other day!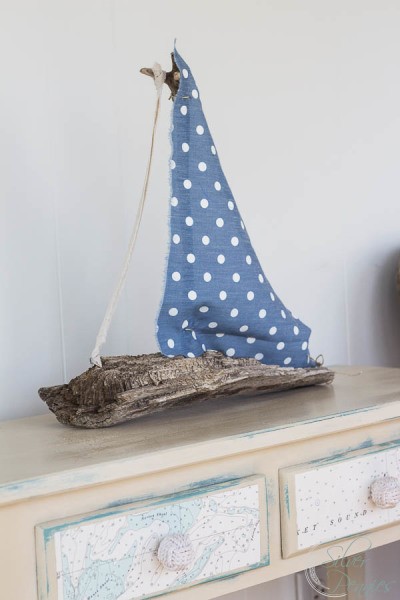 Oh, and we have a winner!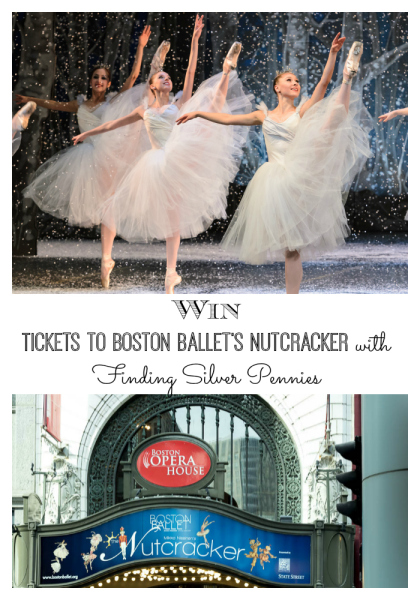 The winner of the Nutcracker Giveaway (through random number generator) is:
Lisa
Lisa said, "Oh what fun! I would love to take my daughters and son…he has a hand me down blazer that he has been dying to wear…this would be the perfect opportunity:)"
Sharing with: