Today's post is all about the Pearls of Wisdom from My Mom.  Life's lessons  like "don't forget your cardigan because restaurants are always cold" that I've learned over the past thirty something years.
My mom is my oldest friend!  She's my confidant.  I can tell her things – secrets, dreams, worries and know that it stays with her.  I have fond memories of going to the duck pond with her, our many joy rides for antiques and even now enjoying a chat over a warm cup of soup and, yes, we still go antiquing (this time with Conor in tow).
I talk to her each and every morning and she always reads my posts!  Hi, Mom!
Anyway, as it is Mother's Day this weekend – my mom and I are heading to Newbury Street for lunch and some window shopping – I thought I'd share 15 life lessons I learned from my mom.
15 Pearls of Wisdom
I learned from my mom
1. Good Things come in Small Packages (She always said this about me because I weighed 2 pounds when I arrived three months early, but I think she also means jewelry which is something else she loves).
2. Always make time to have your hair done.  It makes you feel better. (She let me highlight my hair before having surgery in 5th grade – she didn't want me to use sun-in and, to be honest with you, it was the perfect pick-me-up).
3. Your children (if you have them) are your treasures.
4. Joyrides are fun (we often got lost going on antiquing adventures).
5. Never underestimate the power of love and knowing someone is proud of you. To this day both my parents always tell me they love me and how proud they are of me.  It means so much.
6. The secret to good devilled eggs is horseradish and salad supreme.
7. How to see the beauty and value in unwanted and thrifted items.
8. "Can you do any better?" "What is the lowest you can go on this?" – antiquing and salvaging with the master.  I started quite young.
9. If you have kids, and a dog, your house will never be perfect; but it will be a well-loved and lived in home.
10. Coffee and English Muffins – the breakfast of champions!
11. Shoes make the outfit and if you're short like us always have a little heel.
12. One can never have too many pairs of shoes, jeans, cardigans or bags.
13. Pray to St. Anthony.
14. To always follow your heart.
15. Dreams really do come true.  If you believe in them, everyone else will too.
I still need to learn to do my hair as well as my beautiful mom and also do calligraphy like her.  Both were things that I thought I'd have learned by my 30s!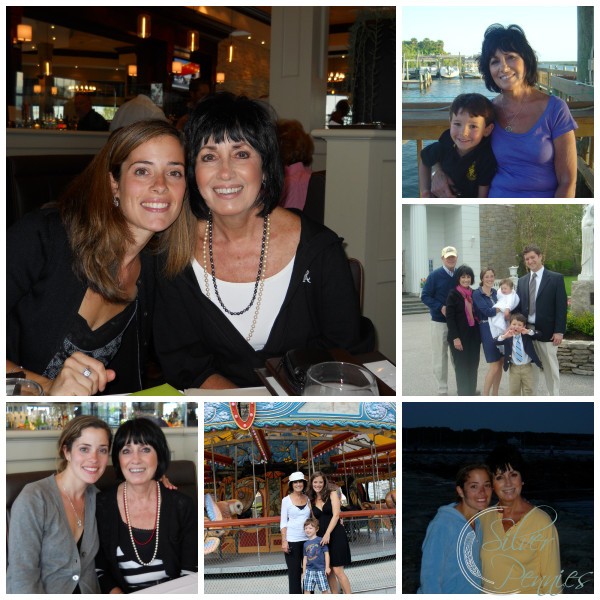 Thank you, mom, for all you have taught me.  I'm still learning from you each and every day!  I love you!
What have you learned from your mom? Would love you to share your thoughts and your mom's pearls of wisdom here!