You guys, you probably think I'm such a slacker with the office, huh?  I was so motivated when I started back in September and can't believe this room isn't done yet.  Oh, well, real life DIYs, huh?
I do have some exciting news though! I found a loveseat. Our rooms aren't very big, being an old house, and many loveseats nowadays seem to be couch size.
I knew I wanted to have some comfy seating up there as well as the desk.  It is nice to maybe step away from the computer and to have a place to sit and read or look at some design inspiration with a cup of coffee.
My search for a couch / loveseat has held up the makeover process.  I shopped online, at outlets and a few trips to Ikea to sit on sofas there.  At first I thought I wanted a sleepsofa but those were all too big.  We decided to move the desk which was under the window and put the sofa there instead.  I think this set up works so much better and allows more light to come in our front window.
I've included some affiliate links in this post for your convenience:
Here's the sofa I got from Target: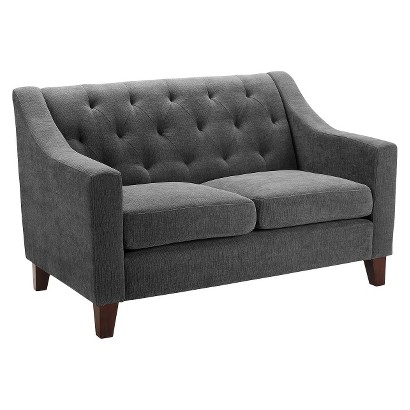 It is the Felton Tufted Loveseat in the Threshold collection.  I'm kind of at Target alot and I saw it one trip when I was with the boys and snapped a photo.  I showed Luke and he shrugged.  Then we were at the store for something else and it was $429 and then they were having an online sale and 10% off, so I ended up getting the loveseat for $100 less.  I love a bargain. Who doesn't?  This sofa is fantastic for the price.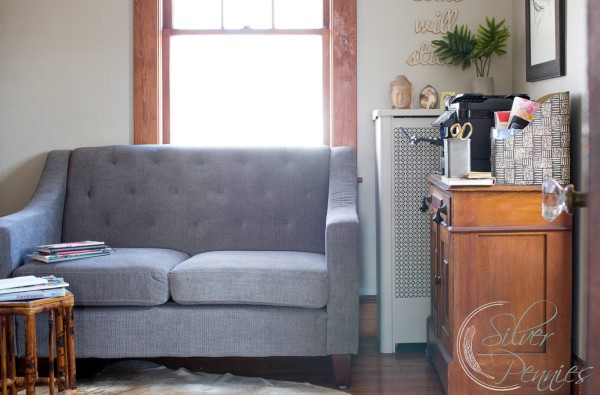 I love white sofas but with this being upholstered I thought it would be best to go with a darker color.
We got it in gray but it comes in a few other colors, including white.
We still need to get pillows and I'm discussing a custom little side table from a friend who is an amazing artist. I haven't decided if the printer is staying there or not yet.  I don't really like seeing it but I use it A LOT so it's something to think about.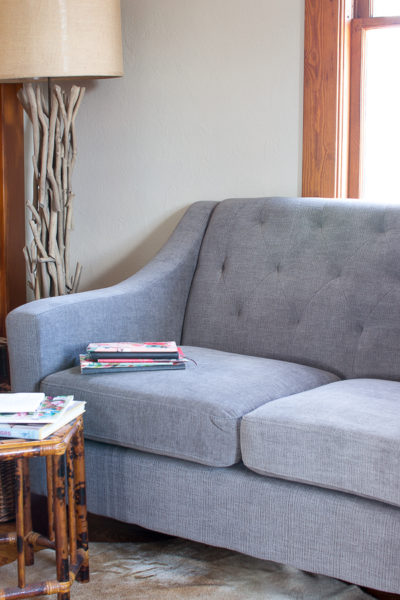 The tufting and fabric are beautiful.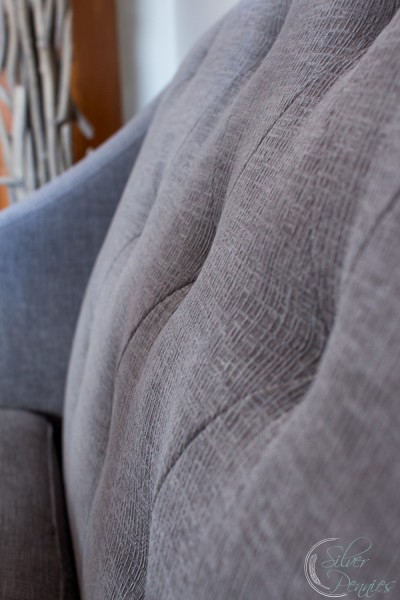 I also love the dark wood legs.  This loveseat is both modern and traditional.  The tufting gives it an old world look which goes with our house but the arms are quite modern.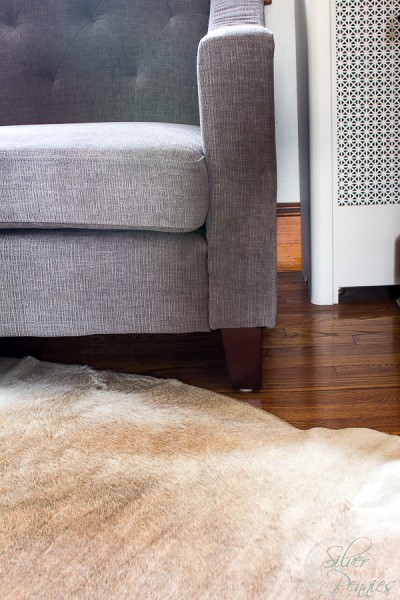 Do you love the rug? It's hide from World Market. I just looked online and the hide rugs are on sale right now!  I'll share more about it soon, but LOVE how soft it is underfoot and it has made the whole room seem larger. I know these aren't the prettiest of photos because the room is still very much "in progress" but I wanted to give you an update.
If you end up buying it just know it comes in a big box but assembly is required.  Luke and I lifted this huge box up the stairs not realizing.  If we'd opened the box we could have just taken it up in pieces.  Ha! ha!  Oh well. Conor loved the box and ended up making a home out of it.  It was a sad day when the big box had to go to the dump.
I thought I'd share a few more loveseats to love!  They weren't all perfect for our space but just might be perfect for your space:

I love the elegant arms and shape of the English Roll Arm Sofa by Pottery Barn.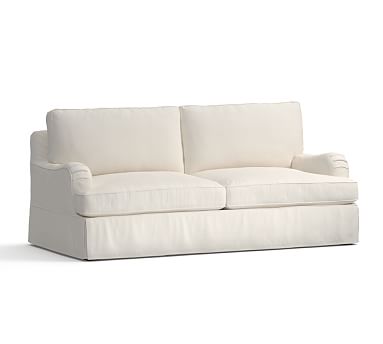 For a more relaxed look I love the PB Comfort Square Arm Sofa by Pottery Barn. It almost has a coastal feel to it.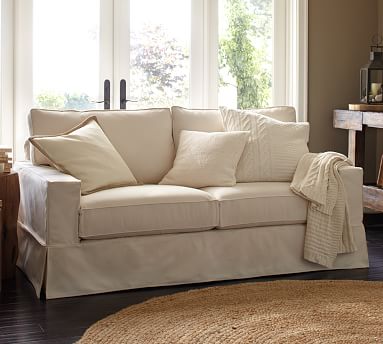 The Ikea Ektorp is always a nice option and now comes in several whites: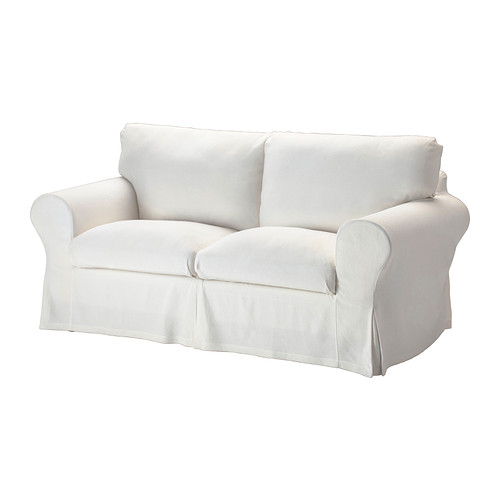 The slipcovers wash great and are affordable to buy more incase you need to.  A perfect option with kids. We have the Jenny Lund chairs and love them.
I also really love this new one by Ikea. It is the Himmene and is a sleep sofa. We tried this out at Ikea and LOVED it.  It was comfy but too large for our room, sadly.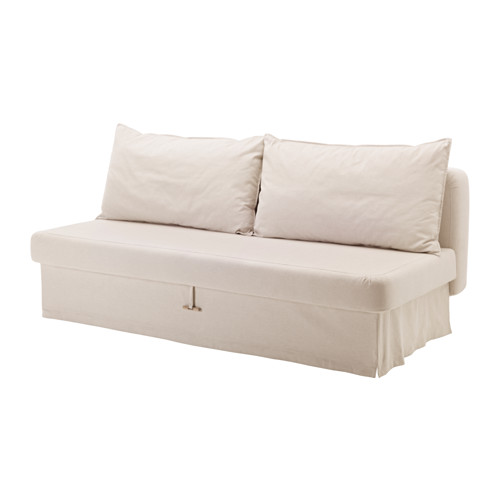 If you like a pop of color, then I think this emerald green just might make you happy.  It is the Emerald Marian Loveseat by World Market: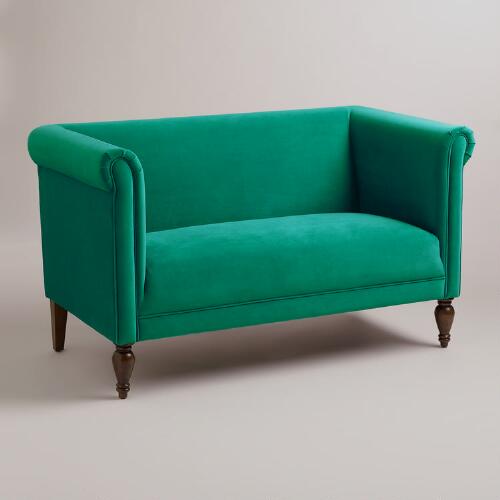 If you need me I'm up in the office lounging on my new loveseat 😉
Sharing with: