What is the most overlooked area of your home? An area you probably don't want guests peeking in? A place that might be overcrowded or disorganized? For me, it's our closets. I'm pretty happy with the way most of our house looks, but our closets….  hmmmm. They leave a lot to be desired. They're painted in bright old wall colors or are so full of stuff (that's how I tidy when I'm in a rush, I throw everything in the closet). Does anyone else feel the same? As many of you know, I've been working on the office, and slowly but surely, it's nearing completion. I shared a few bits and pieces here. So I thought what better time to look at the closets in this room. Today I'm sharing how to stencil a closet!
This post is sponsored by Royal Design Studio, they sent me some materials to makeover my closet and I'm so excited for you to see how it came out! I've also included a few affiliate links in this post. If you buy a product via the link it doesn't cost you more but I get a percentage of the sale. Thanks for helping support my blog in this way.
So here's the closet I'm talking about.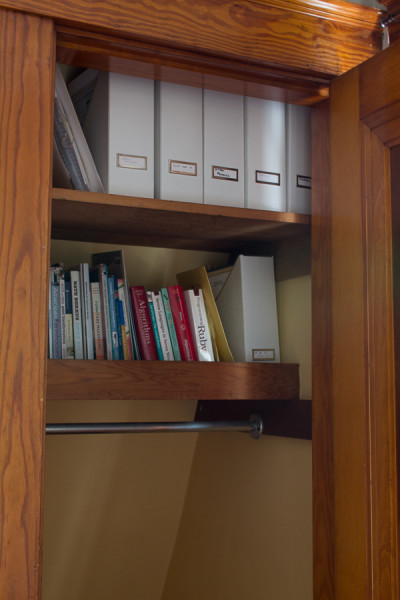 The closet was a bright yellow, the color that the office used to be. I already had a file system going and some of my design books. We also store the printer in here. I knew there was potential in this space.
I started by taking everything out of the closet. I took the railing down and removed the selves that I could. On a side note, we have another closet in this room that is lined with cedar that I use for clothes storage.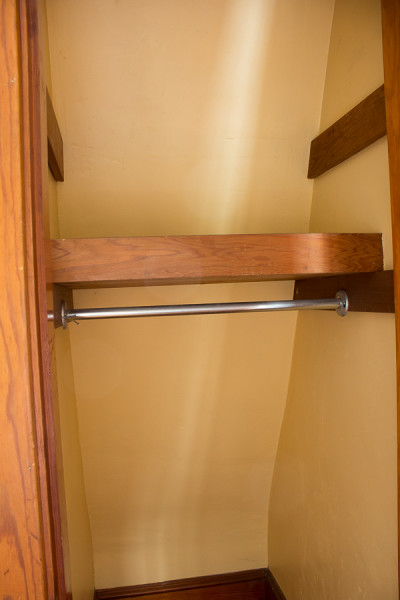 I'm not sure if you can tell but this closet slants and curves inside which isn't really an easy option to stencil – I didn't realize this before I started. Our house is a Dutch colonial and the curve in the closet is the roof line (above our front door).
I decided a dramatic black was the way to go inside the closet. I've always toyed with painting this room black, but I don't think I can do it. Painting the closet was the next best thing.
How to Stencil a Closet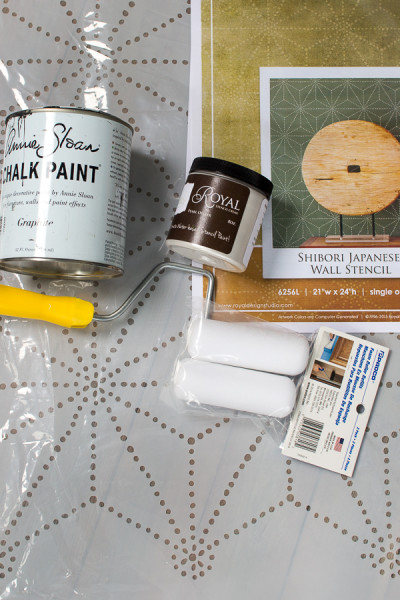 Materials
Method
Step 1  – Start by clearing our your closet. I put drop cloths down and taped off the molding.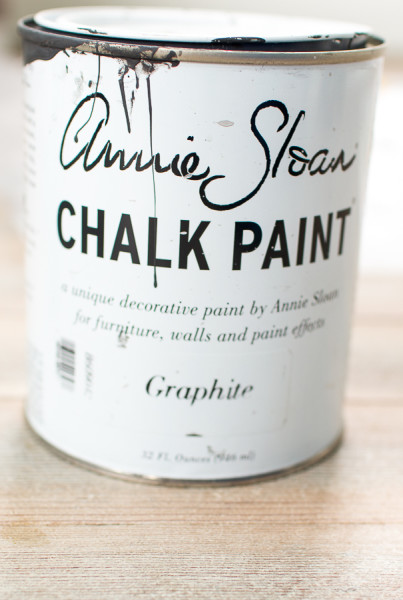 I decided to go with a dark color inside the closet. Graphite by Annie Sloan was a great choice because it's matte and a dull black so felt a little softer than going with something like a jet black.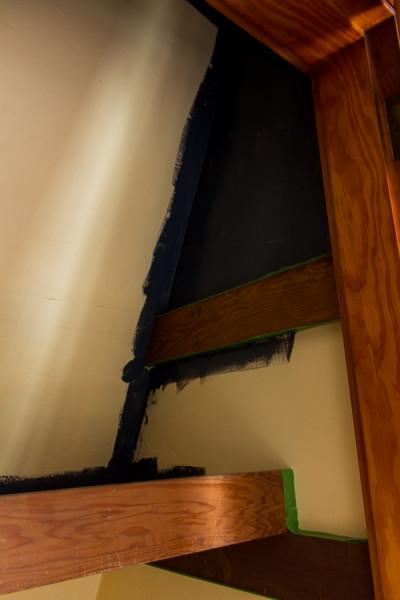 I applied two coats and allowed it to dry before stenciling. I used a brush and a paint roller for this step. I cut in with a brush and also painted some areas with a large brush. The color went on better with a brush, I thought.
Step 2 – Decide where you want your stencil. For this closet, I decided not to stencil all the way at the top because the books and file folders will be up there anyway. I really wanted to to match the stencil on the sides but because the closet slopes and curves the sides would never meet up. So I decided to leave a band of Graphite on either side of the back.
Step 3  – Spray adhesive is a must when doing walls, I like Easy Tack. It allows you to stick the stencil to a vertical surface without the worry of it shifting position while you're working. Lightly mist your stencil and allow to set before sticking to wall.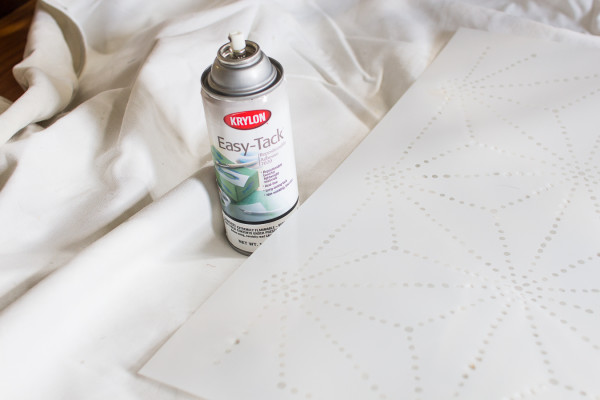 Make sure you have it in position and press to the wall. You can see below how it the stencil sticks to the wall without tape.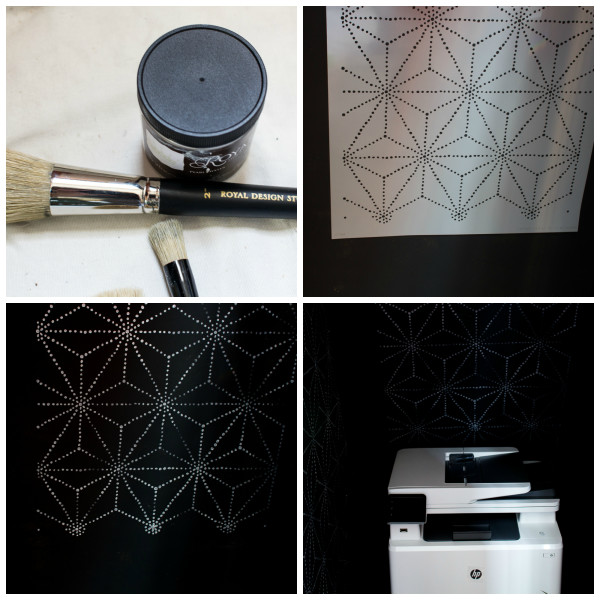 Step 4 – You can use a small roller or a brush. I thought for this pattern a large stencil brush would be quicker and wouldn't absorb to much stencil creme. I love working with the stencil creme for two reasons: it has a beautiful iridescence so looks gorgeous against the matte paint but it also dries so quickly. How quickly? It was almost dry when I was peeling the stencil away from the wall?
To stencil you want to line up the stencil, place some stencil creme on your brush then blot it on paper towels (you'll need lots of extra paper towels for this). Blotting the excess off prevents creme, or paint, from bleeding under your stencil. I work my brush in a circular motion across the stencil. For this project I did two passes because I wanted a very deep color, one coat of stencil creme offers a more sheer stencil finish. Carefully peel your stencil away from the wall and line up on the guide marks – you can see the two dots above.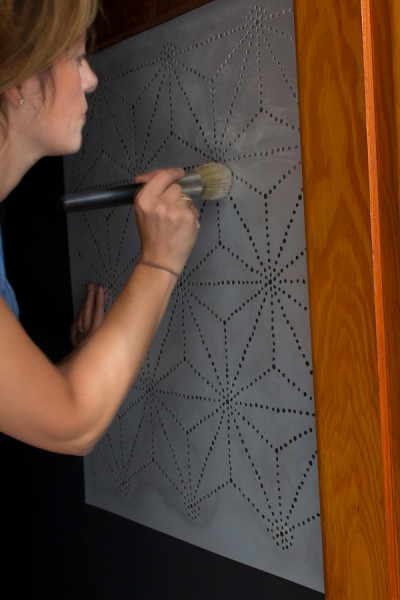 Step 5 – Repeat the above steps to stencil the entire closet. In order to do the corners of the sides, I had to bend the stencil around. The stencils are good quality and bend easily, they will not tear.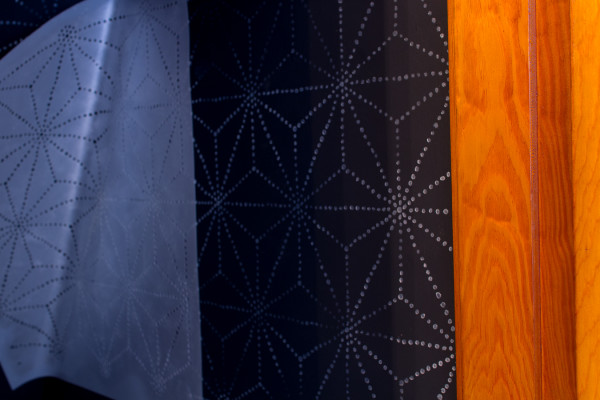 I did wipe the backs of the stencil every so often with paper towels to remove any creme that had gotten on the back. I reapplied the spray adhesive every so often when it felt like it was loosing its stick.
Step 6 – Allow to dry. Wash brushes with warm water and soap. To wash the stencil, I like to use Motsenbocker's lift off. It removes and of the sticky residue so the stencil is nice and fresh when I want to use it again.
Step 7 – Put everything back in the closet and enjoy your new space!
Here's how the office closet looks now: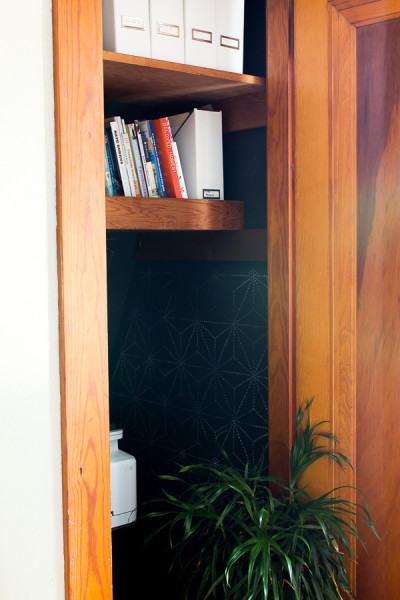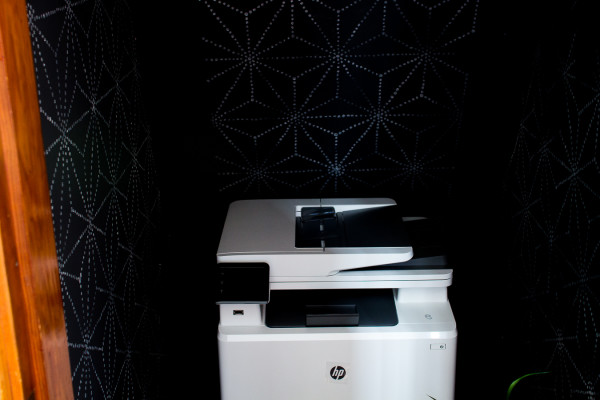 What do you think? I love the graphic shibori wall stencil! It adds such a modern twist to our historic home.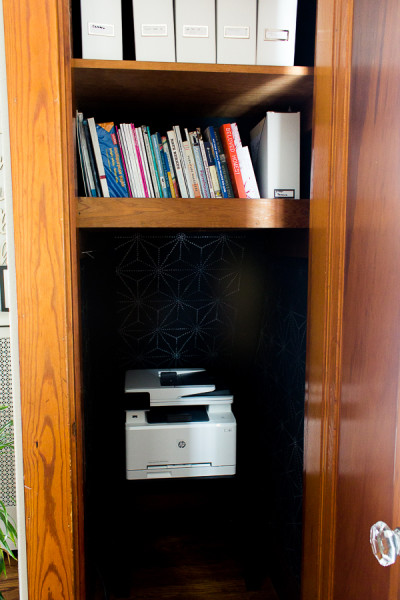 This closet is open quite a bit because I'm scanning, or printing stuff, or I need to get files out.
Here's the full closet: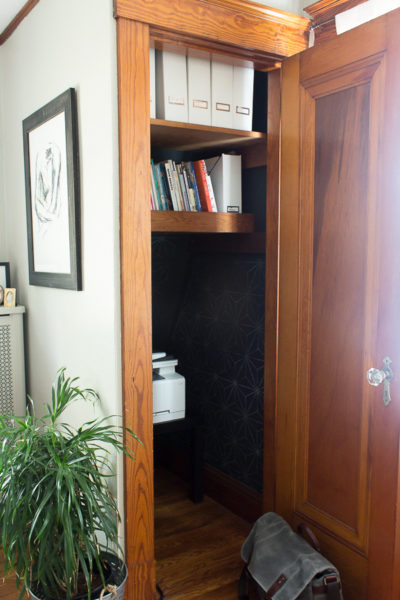 Apologies for the sun glare, we have a very bright window by this closet.
The room walls are painted a Revere Pewter and the Graphite in the closet compliments it so well. I love the light against dark, dark against light. I'm learning about that from my watercolor classes.
Here's one more photo. I just can't resist.

I can't wait for you to see the finished office! Do you think you'll try this at home?
I've also stenciled our guest room wall. You can read all about that here: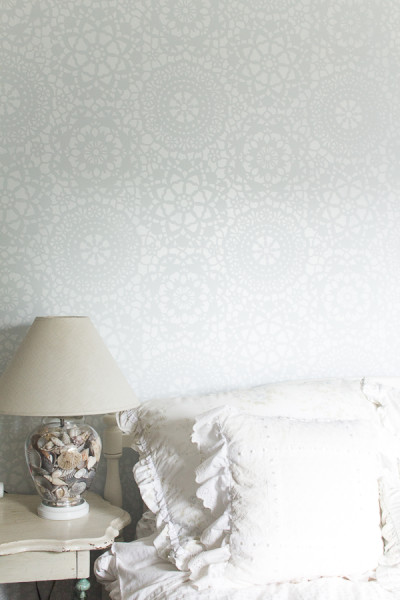 I love how stencils can make a blank wall much more interesting, and it's a lot easier than hanging wallpaper.
The nice thing about closets is you can even go bolder inside them if your decor is usually more neutral in your home.
If you enjoyed this post, you might also enjoy my eBook. I have a whole chapter on stenciling. Furniture is a great spot for more stencils 😉 Click here for more on my ebook: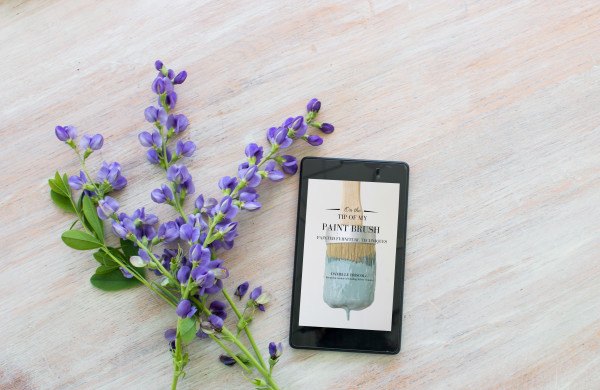 Sharing with: