I partnered with Royal Design Studio and there are some affiliate links in this post.
The best gifts are always made from the heart. Don't you think?  I thought it would be fun to make some handmade Valentines with my boys this year. I started off with simple boxes from Michaels, Chalk Paint® and stencils.  They really turned out quite cute.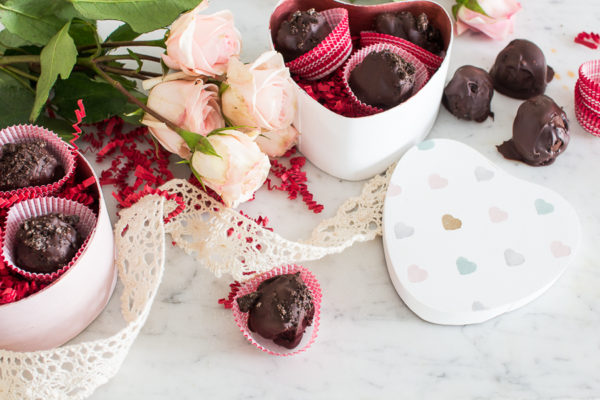 We also made chocolates to go inside which makes this sweet treat even sweeter.  Ha! ha!
I LOVE chocolate and didn't realize it was so easy to make your own truffles.  My friend, Kristen, makes these unbelievable truffles and I asked her for the recipe. She told me they this one on the Kraft site – Easy Oreo Cookie Truffles.  I had no idea that we could make such tasty chocolates.
Would you like to give this little craft project a try?
Here's what you need to make your own Valentines:
Materials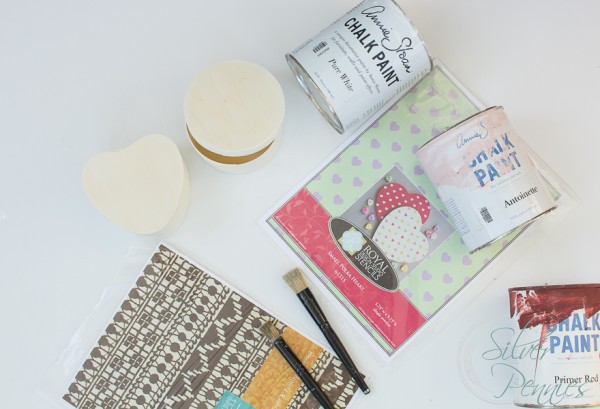 Chalk Paint® in various colors
Waxing Brush
Crinkle Cut Tissue from Dollar Tree
Method
Step 1: Paint the inside of your boxes.  I chose Primer Red Chalk Paint®. This color goes with so many colors and also gave a pop of Valentines on the inside.  Allow to dry.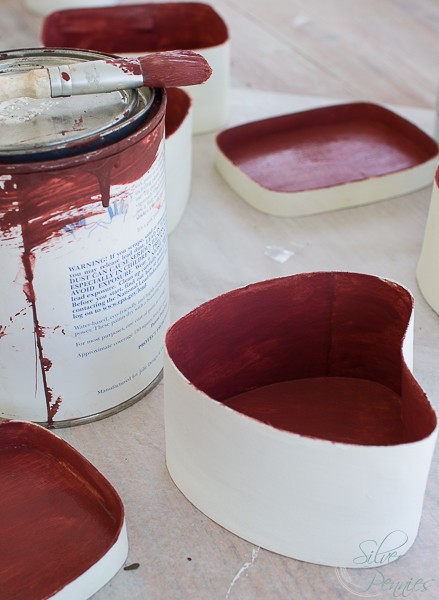 Step 2: Paint the exterior of your boxes.  I did different colors for each box but you could also do one color.  I chose to paint mine in Duck Egg Blue, Antoinette, Pure White and Paris Gray Chalk Paint®.  Allow to dry.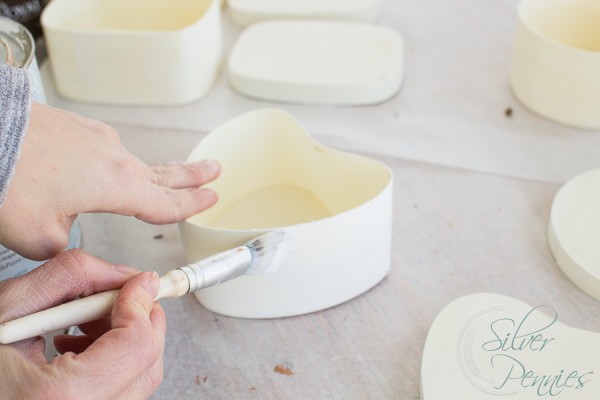 Step 3: Time to stencil!  Place your stencil on the box and hold in place with your hand (I usually use tape but these are so small there wasn't room to tape them down).  Get paint on your brush and unload the brush on a paper towel.  You want the bristles of the brush to be dry. You then dry brush over the stencil in a circular motion.  "Dry Brushing" the stencil will prevent the dreaded bleed through under the stencil. It is fun to mix and match stencils. You can use large room stencils  or mini craft stencils. I loved using the heart stencil on the heart box.  Allow the stencil paint to dry.

Step 4: Once dry, lightly sand with fine grit sandpaper (this will remove any raised stencil).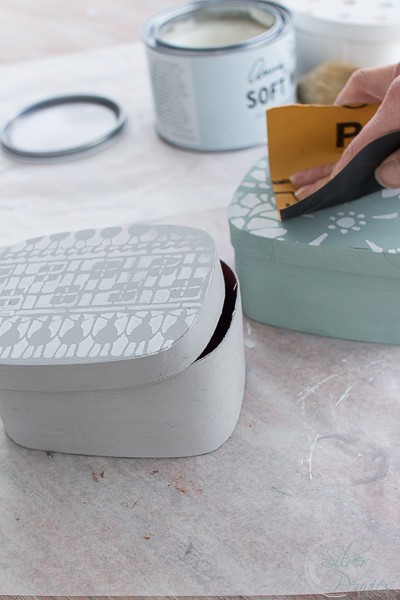 Step 5: For added protection, I waxed my boxes on the outside.  The key to waxing is to apply a small portion and rub it in. I like using the mini wax brush and then cheese cloth to wipe off the wax.  A little wax definitely goes a long way.
Step 6: Fill your boxes with your handmade chocolates and spread love!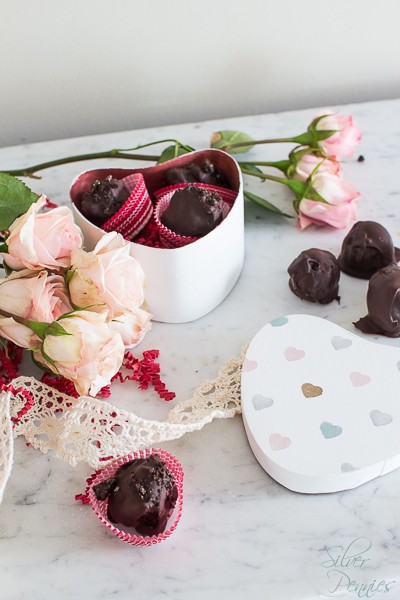 Stencils can add so much to these little boxes and give them each a different personality, nice when you're making more than one Valentine.  I used a different stencil on each box.  You may recongize them from different projects in my house. The Parlor Lace Stencil on the pink box was the wall stencil in our guest bedroom.  You can read more about the guest room makeover here and how we stenciled the wall here.  The Primitivo Lace Stencil I used on office supplies here.  The Fleur de Lace Stencil I used on this dresser here. The Polka Heart craft stencil was a new one and it reminds me of conversation hearts.
Do you think you'll try this at home?

Sharing with: