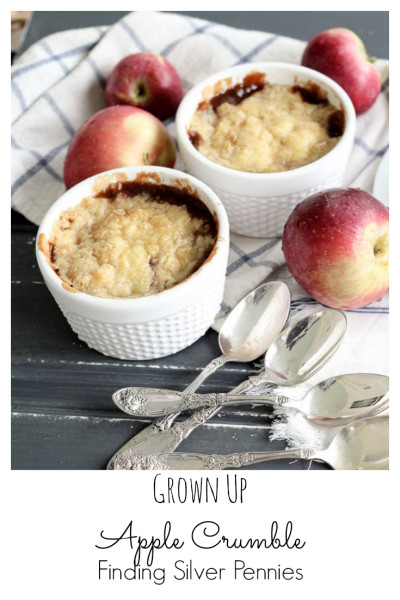 Each year it is a Driscoll Family tradition to go apple picking and this year was no different. Here are the fruits of our labor: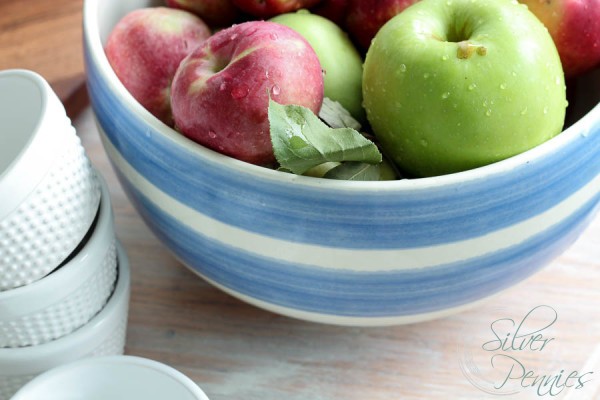 We actually went to a new-to-us orchard, Nashoba Valley Vineyard, and had so much fun with the boys.  It was a sweltering hot day for this time of year, 84 degrees, and many people had the same idea we did.  I had hoped to squeeze in brunch and a wine tastings but it was so busy so I think we'll go back. Oh, and if you're local and have a dog they are welcome in the orchard (we didn't know this but will bring Poppy next time).
Anyway, Conor and I decided it would be fun to do apple crumble with some of the cooking apples and I wanted to try out these new ramekins (from Target's $1 section!).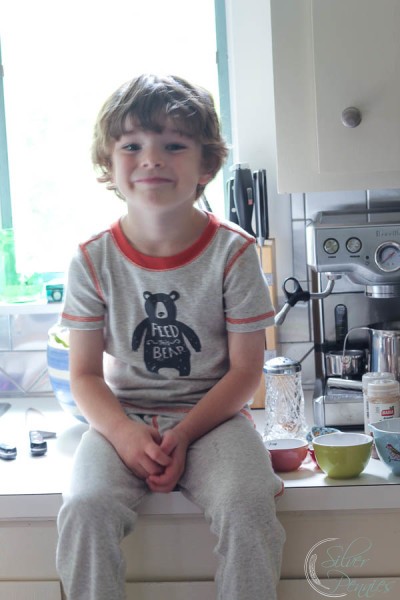 Oh, he doesn't usually sit on the counter, but how could I resist snapping a photo of him in his cute "Feed This Bear" jammies?!?
I think you're gonna love this recipe!  We couldn't believe how delicious it was.  The house also smelled amazing with all the wonderful fall flavors – nutmeg, vanilla, cinnamon, allspice and apples.
Grown Up Apple Crumble
Ingredients for the apple mixture:
6T salted butter 3 lbs. apples, cored, peeled, and sliced 1 C dark brown sugar 3/4 C sugar 3/4 tsp salt 1/2 C Calvados 1/2 tsp cinnamon 1/2 tsp allspice 2 tsp lemon juice 3 T flour  
Crumb Topping
2/3 C flour 2/3 C salted butter 1/3 C sugar 2 T vanilla 1/3 C rolled oats   Preheat the oven to 375 and spray your ramekins with cooking spray.     Slice your apples!  Conor loved helping with this (even though he got a bit carried away with the chopping)…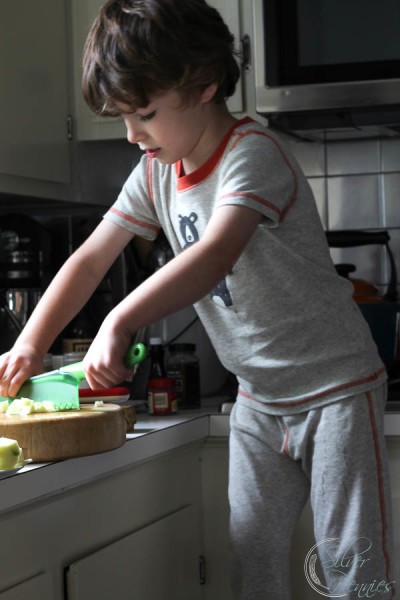 In a large skillet over medium-high heat, melt the butter. Add apples once the foam has subsided and sauté for 2-3 minutes.  Add the remaining ingredients except the flour, and continue to sauté for 8 to 10 more minutes, until the sauce is a rich carmel and the apples are soft.   The Calvados really makes the sauce.  So delicious!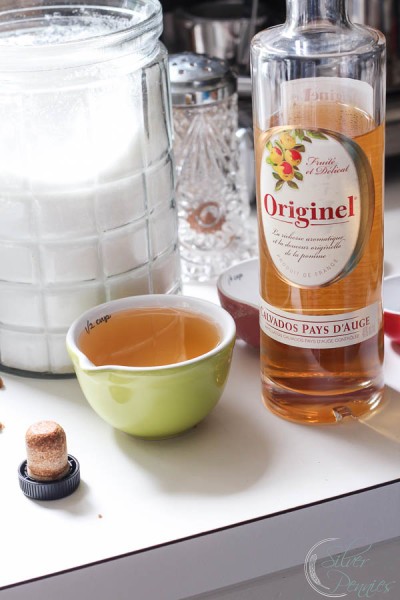 Add the flour and stir to incorporate.  Sauté  for another 2 minutes. Remove from heat.   For the topping, take the flour and butter and work together between your finger tips until the mixture feels like breadcrumbs, then add the sugar and work that in.  Finally, add the vanilla and rolled oats.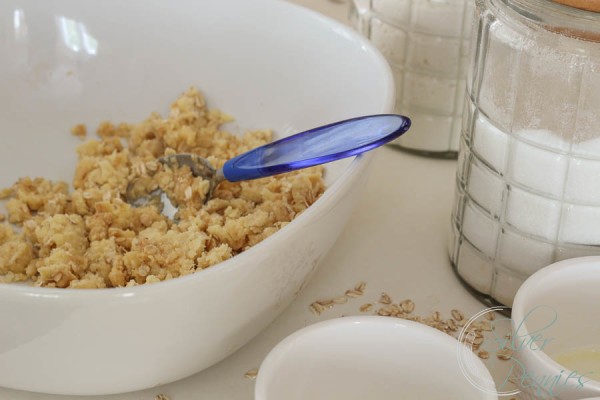 Spoon apple filling into ramekins and top with the crumb topping.  Bake in the oven for 30 minutes or until golden brown and the sauce is bubbling.  I put a cookie tray under to prevent any of the mixture dripping in the oven.
  * This recipe is a combination of something I found in House Beautiful, my mother-in-law's crumble and my own!
Here's how they came out: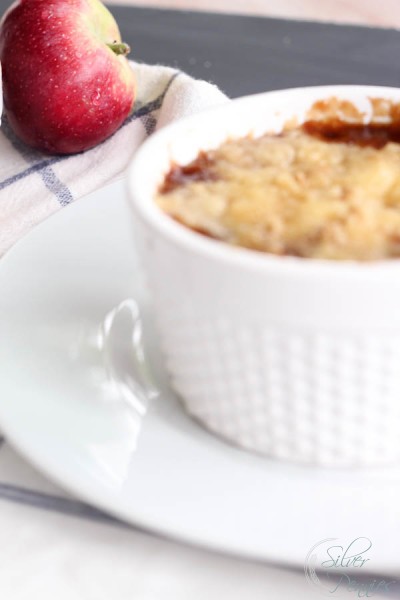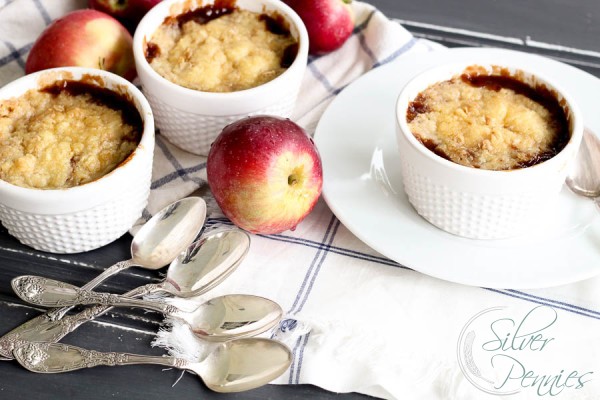 This recipe is soooo delicious and decadent.  The caramel-like filling has so much flavor and is so rich.  It is a comfort dish for sure.  Perfect for after a Sunday roast or a long session of raking leaves.  It is the type of recipe that you can't help but blurt out "mmmm" "mmmm" "mmmm" between bites.  Well, Conor and I couldn't.  He kept putting more ice cream on top too.
The Cavaldos also heightens it to a "grown up" dessert!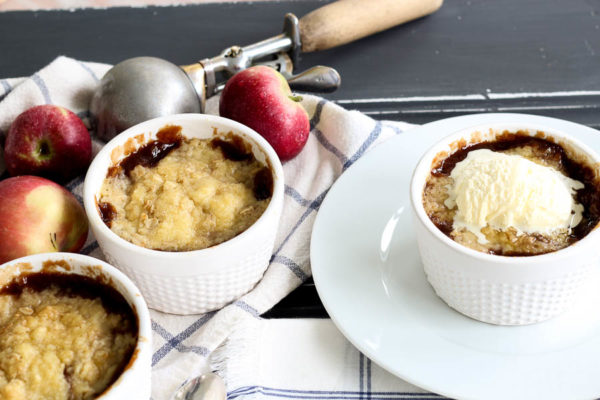 It is even better when paired with vanilla ice cream.
This dish might become another tradition the day of apple picking…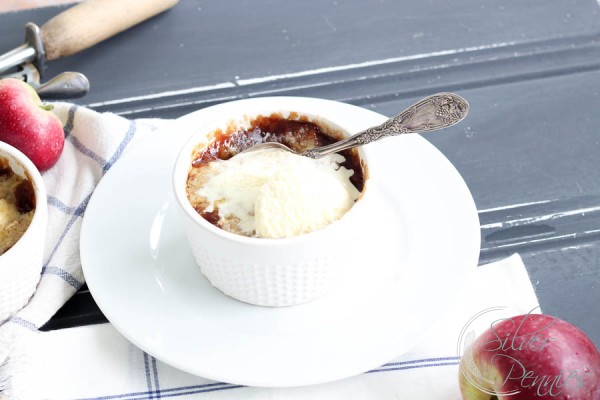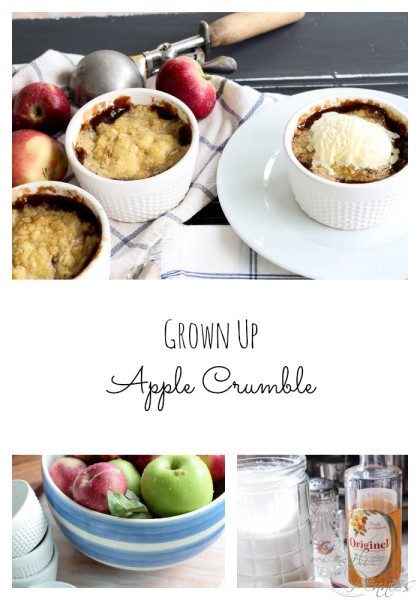 Be sure to visit my friends to see what they've been cooking this season!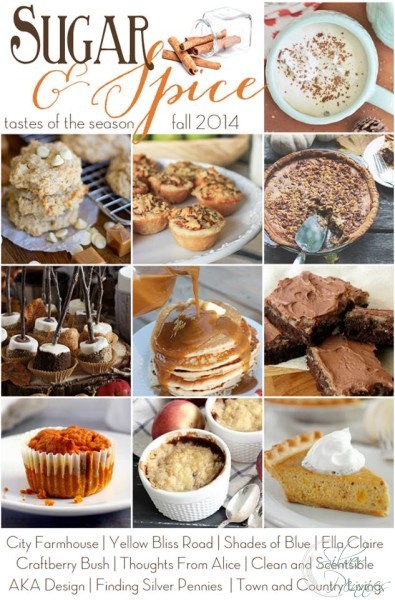 Spiced Pumpkin Mocha Latte by City Farmhouse | Caramel White Chocolate Chip Cookies by Yellow Bliss Road | Almond Apple Pear Tarts by Shades of Blue | Spiced Pumpkin Maple Syrup by Ella Claire | Fall Marshmallow Pops by Craftberry Bush | Pecan Walnut Pie with Cream Cheese by Thoughts from Alice | Chocolate Pumpkin Cream Cheese Swirl Bars by Clean and Scentsible | Gluten Free Pumpkin Muffins by AKA Design | Grown Up Apple Crumble by Finding Silver Pennies | Pumpkin Pie Made From Scratch by Town and Country Living
Sharing with: