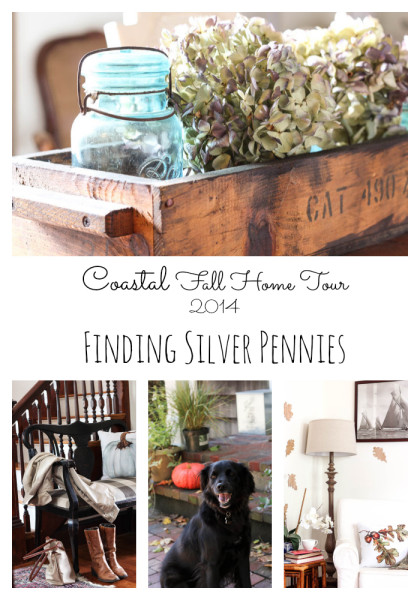 I'm still in denial that summer is over, BUT it is October and we've been baking apples as you know from yesterday.  I do love fall – jumping in leaves with the kids, apple picking and, of course, cozying up inside over chili or a delicious stew.
I'm delighted to be taking part in Cherished Bliss' 2014 Home Tour!  Welcome to those of you who are coming over from Making Home Base.
You've found your way to our home in Scituate Harbor –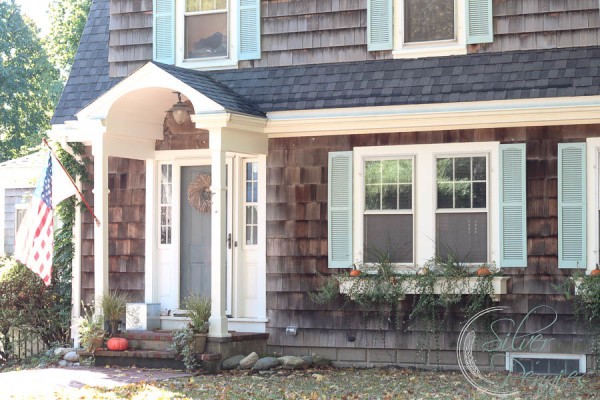 We are all so happy to see you including Poppy –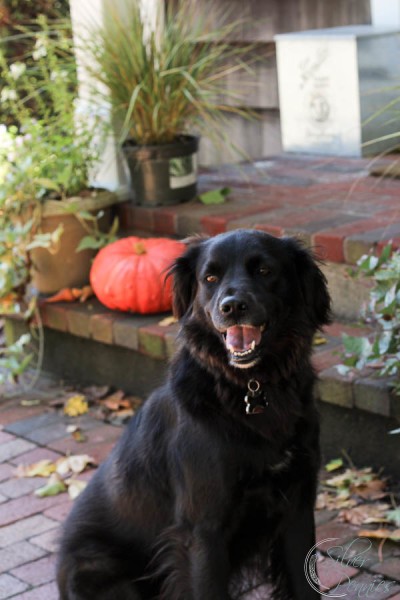 Come on in and stay a while.  This is the entry when you first come in our home.  I haven't really shown it in all its' glory on the blog before.  It was on this very spot, surrounded by the dark woodwork (and green walls – we've since painted with Benjamin Moore Muslin) that I fell madly in love with this house.  I knew before seeing more of it that this was our home.  That was a little over 15 months ago.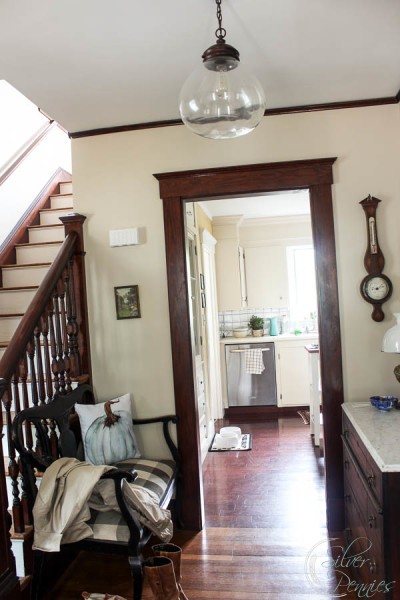 The pumpkin pillow is from my friend Lucy's shop, Craftberry Bush on Society6: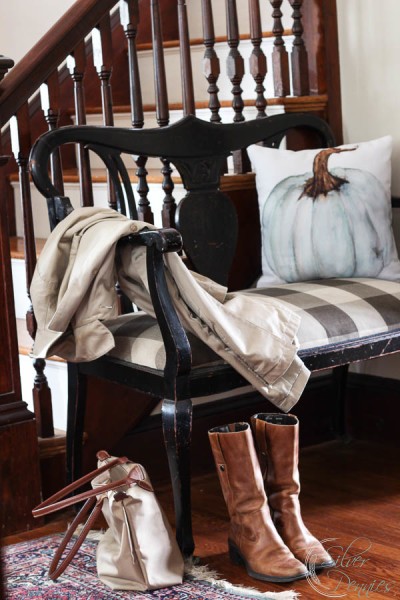 You probably can tell I like old things and have a weakness for antiques, like this Victorian marble-topped dresser: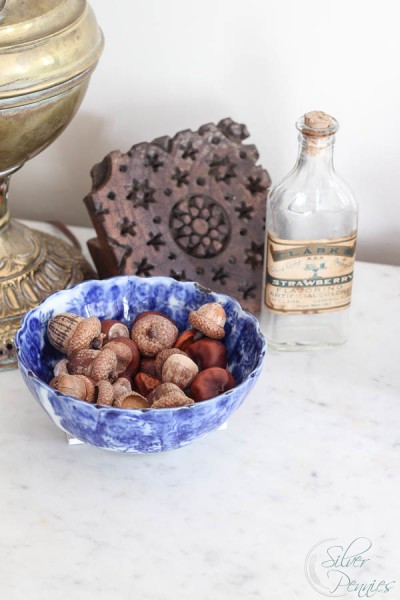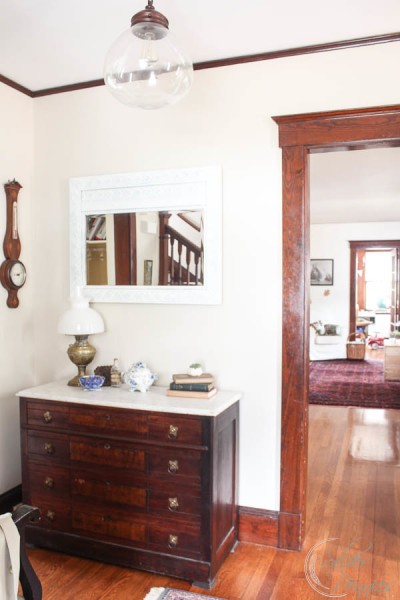 I enjoy decorating with nature, books and old bottles.  Our entry leads right into our living room. This room is still a work in progress, but I guess everything in life is.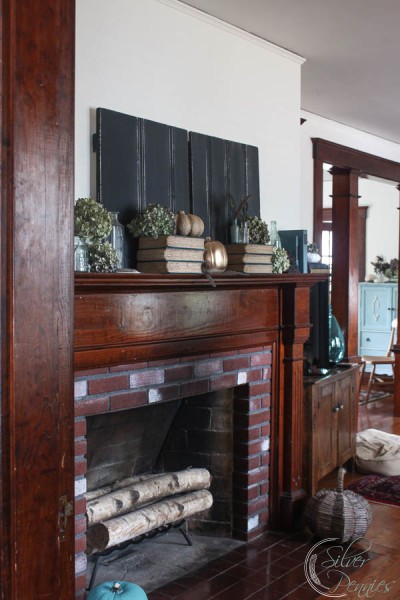 I shared my mantel and a way to antique brick a few weeks ago on the blog.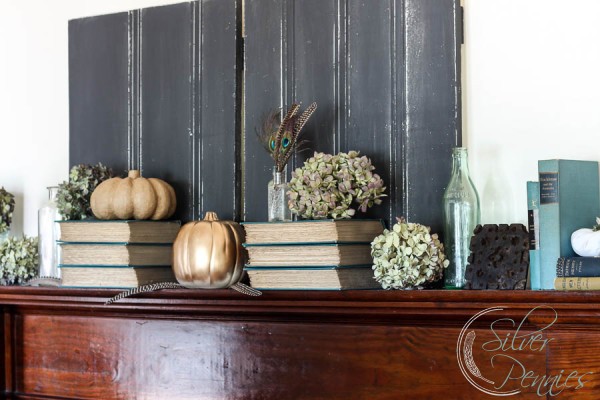 I've created a reading nook in the corner of the living room: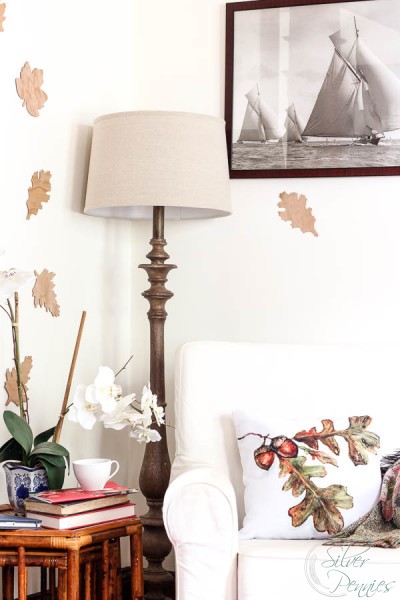 On the walls are cherry wood leaves I found at Paperscapes: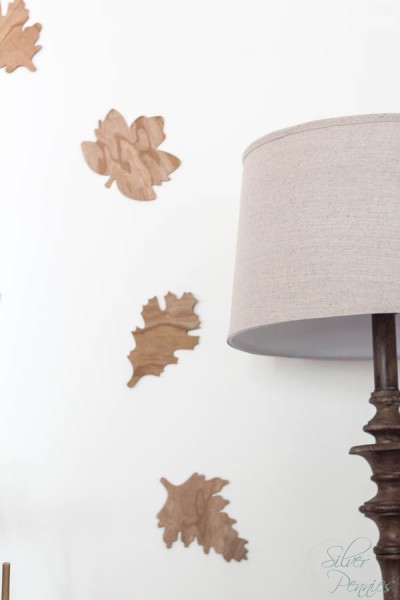 I love sitting here all cozy with a cup of coffee and stack of design magazines or a good book.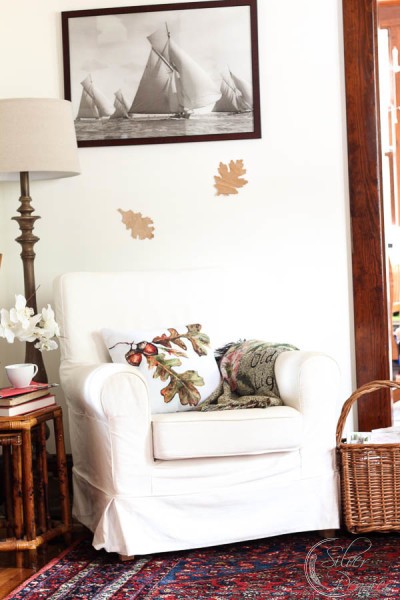 This is another pillow by Lucy!  Isn't it gorgeous?!?
Just to the right of the chair (if you're looking at it) under two windows is my brown leather chesterfield.  This was the one thing that I wanted for this room and I found it a few months back on Craigslist.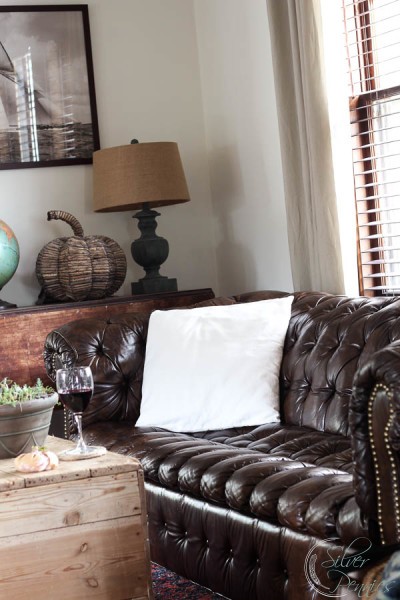 I adore sipping red wine and watching movies with my husband.  Oh, we're currently obsessed with The Killing too.  Have any of you watched that?  Some nights we watch two or three in a row.  Crazy!
I've discovered succulents and Chesterfields go very well together.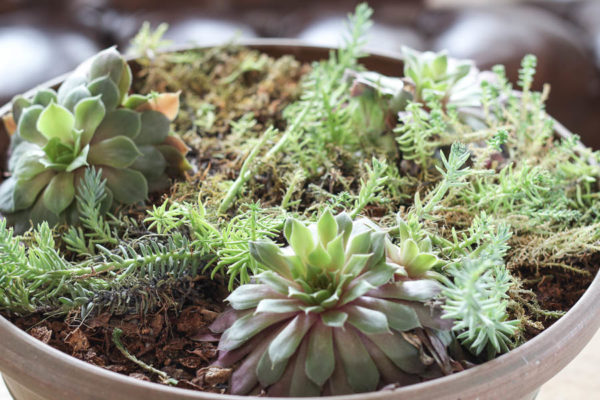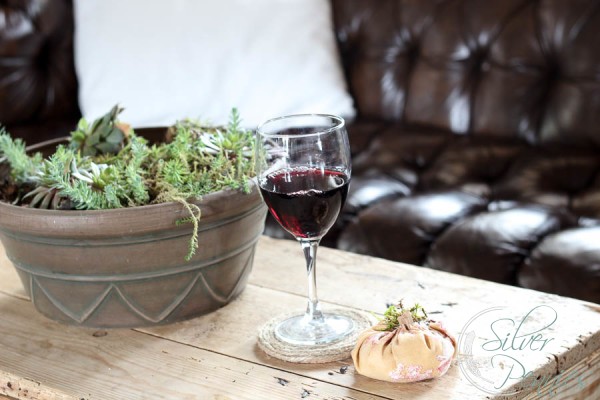 Through the columns you can see into our dining room, which is also decorated in a very relaxed way for autumn.  I love a home to feel lived in.  I love our friends and family to feel like they can just sit down and kick back in our house.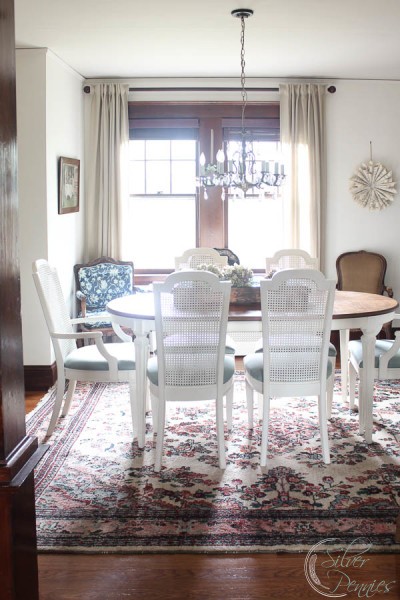 The sun is glorious in this room!  Hydrangeas can be found in every corner: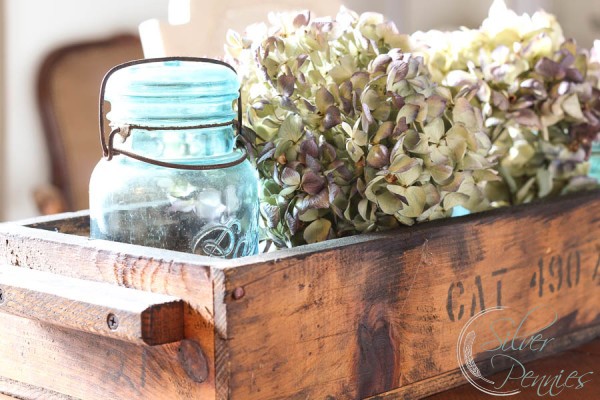 In an industrial crate from Sea Rose Cottage paired with blue jars from Gentleman & Daughter Antiques. Piled on top of the hutch.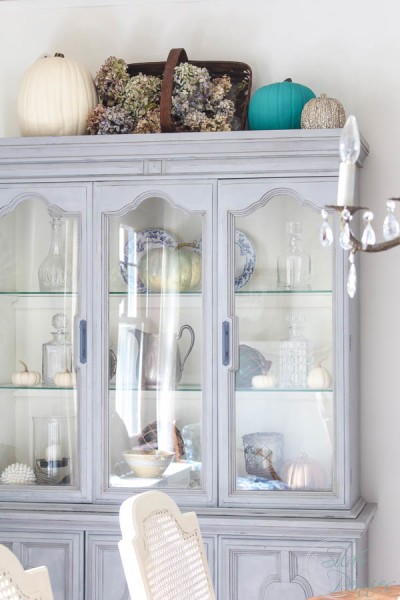 Oh, and here with one of my favorite Jane Austen quotes: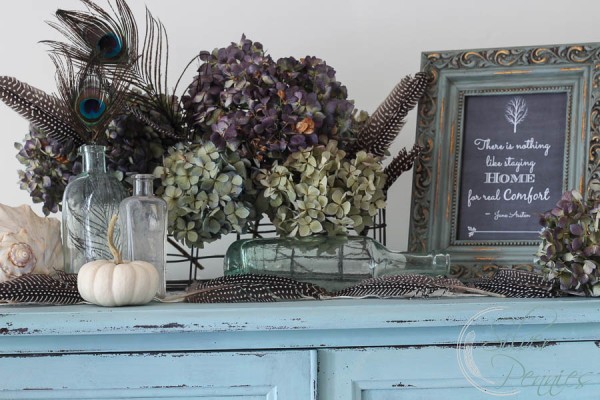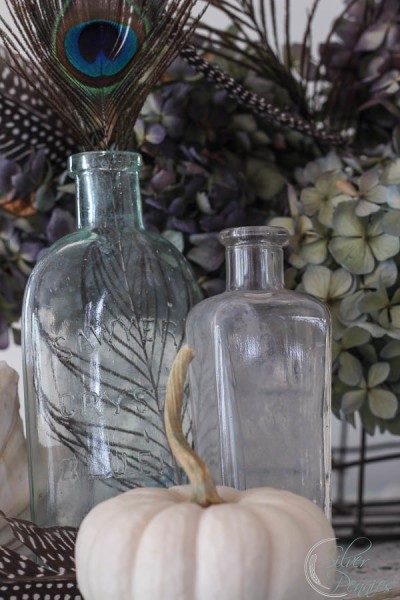 This is the first room I worked on in this house and it is filled to the brim with yard sale, freecycle and antique finds.  So many upcycles in this room.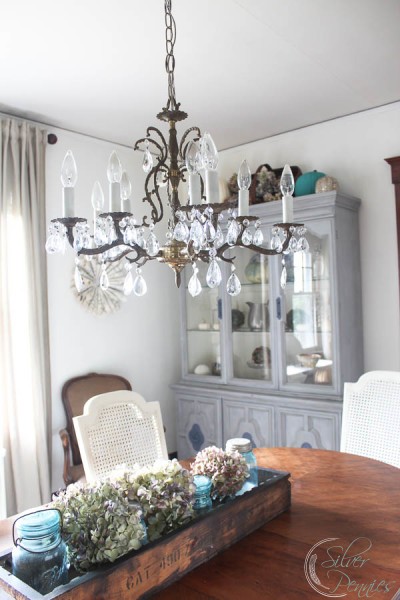 I never tire of this view and always feel like Pollyanna when I look at the chandelier and the rainbows that dance around the walls.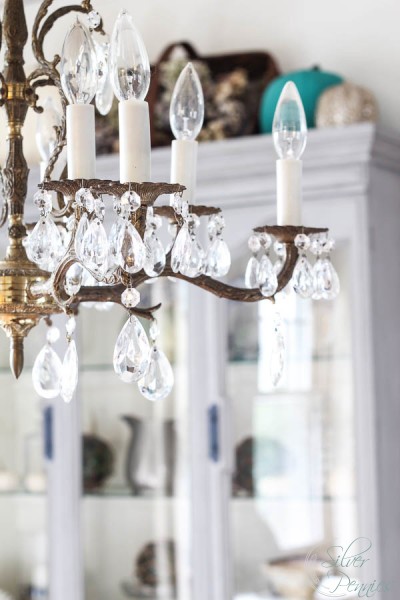 Before, we step into the sunroom (which is the last stop on our tour) would you care for some apple crumble?!? Conor and I just made it…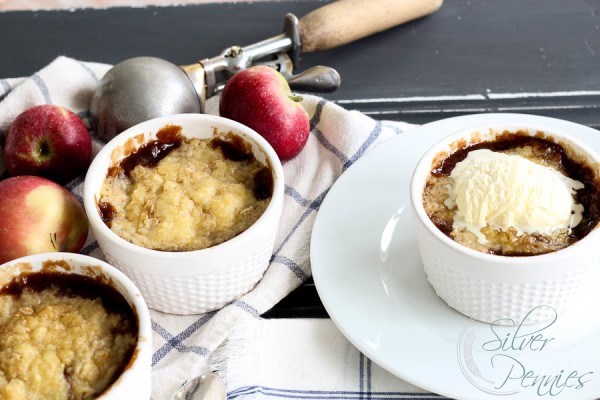 Isn't it delicious?!?
Right we're going to walk right through the kitchen.  It is still a mustard yellow and hasn't been touched at all.  I have BIG PLANS for this space but it is going to have to wait for now.
Here we have the sunroom, you remember the one we worked on in June.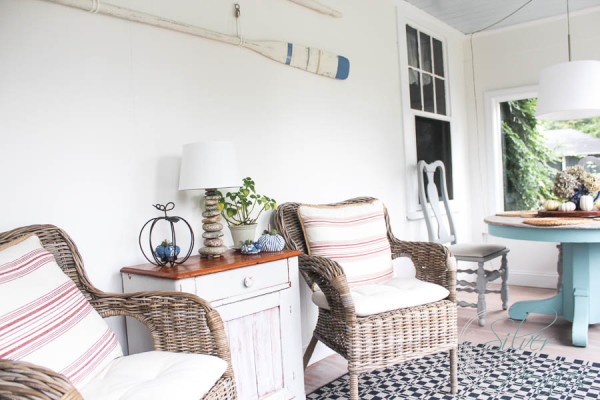 I'm happy to report that we enjoyed many, many hours this summer in this room.  We are still enjoying time out here, but will soon have to bid farewell until spring (because this room isn't heated).
This room is decorated simply with handmade fabric pumpkins.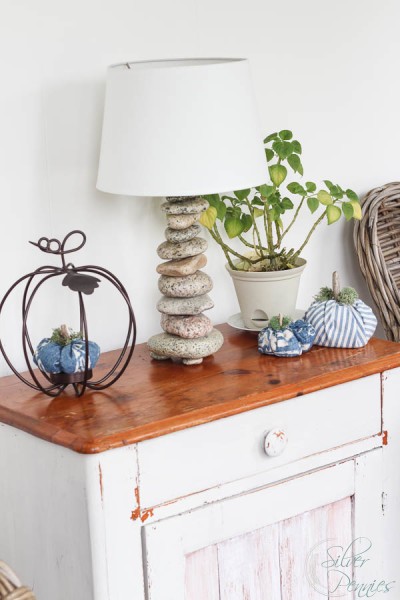 Also, more dried hydrangeas and some faux pumpkins and painted ones we did last year.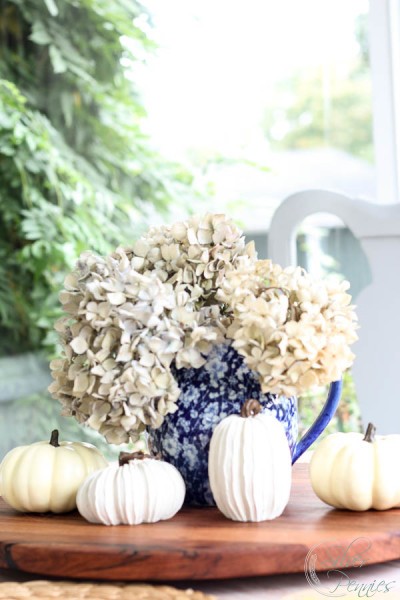 So that is how our home is looking for autumn.  My two little boys are dying to decorate for Halloween so I have a feeling some things will get a little "spooky" around here pretty soon.  Halloween is BIG here in the harbor: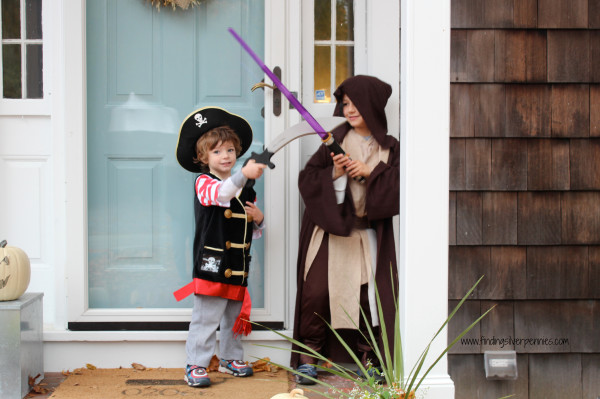 Thank you so much for stopping by our home and thank you to Ashley over at Cherished Bliss for organizing such a fun tour! The tour ends with me today, but will be picking back up again tomorrow and will be starting with my friend, Alice, over at Thoughts from Alice.
"There is nothing like staying home for real comfort." – Jane Austen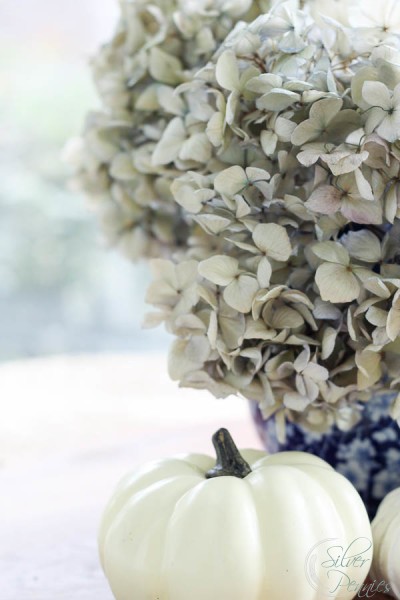 For even more inspiration, take a stroll through these fabulous fall home tours: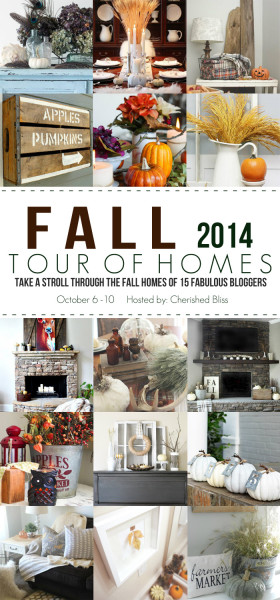 And you can catch up if you are just joining in. Here is a list of the fabulous ladies participating this year!
Monday
Rooms for Rent
Live Laugh Rowe
Maison de Pax
Tuesday
Design Dining and Diapers
Setting for Four
The Golden Sycamore
Wednesday
Honeybear Lane
Making Home Base
Finding Silver Pennies
Thursday
Thoughts from Alice
Cherished Bliss
Ask Anna
Friday
Refresh Restyle
The Caterpillar Years
Too Much Time
Sharing with: