As promised, a furniture makeover!  Meet Tug, the Grain Sack Dresser!  I actually finished this one before Christmas but didn't have a chance to pull a blog post together until now.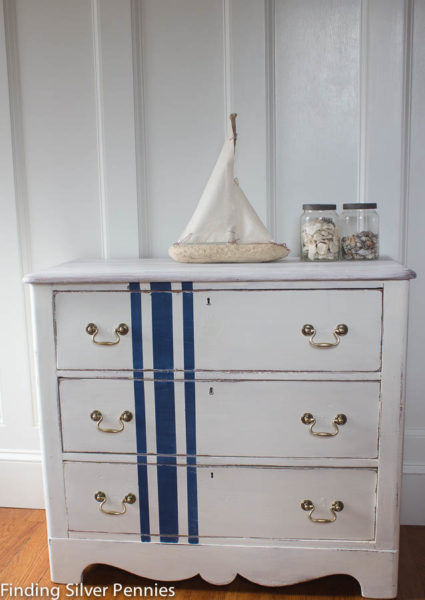 I LOVE this style.  You may remember that I've done a few of these in the past.  Conor's dresser is very similar: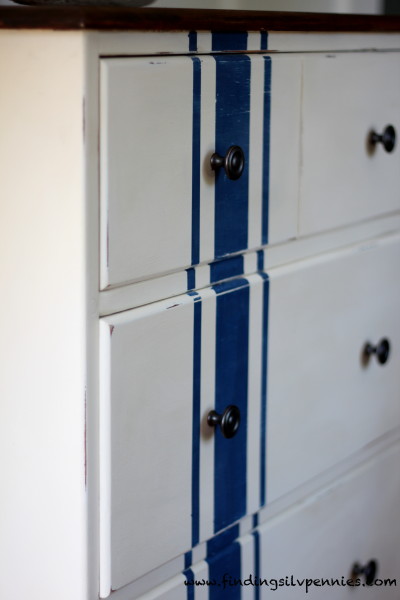 I also did one with a red grain sack stripe for my first open studio here named Owen: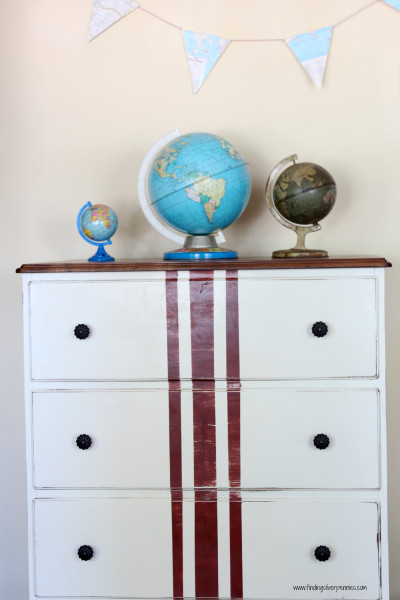 Here is what Tug looked like "before":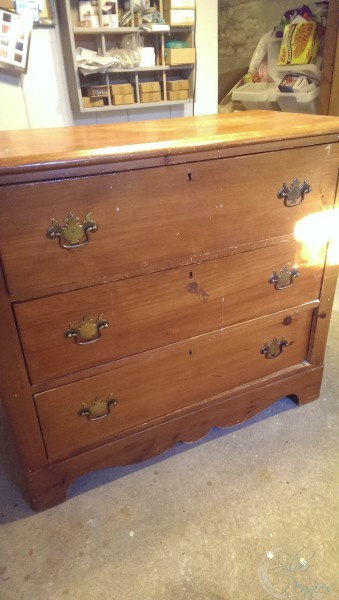 And the top,which had quite a large scrape: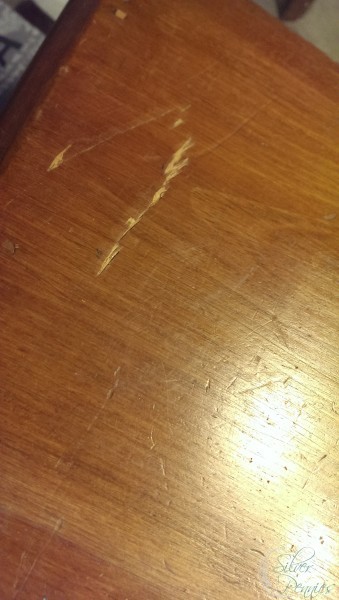 It is a pine dresser from the about the 1890s and I love the rustic appeal of it.  It was a good candidate to be painted because the surface wasn't in the best of shape.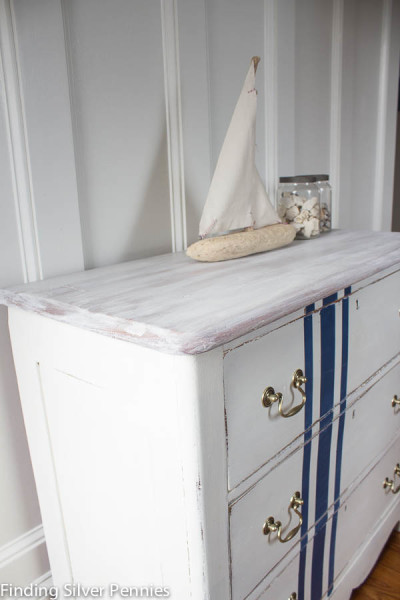 I started by stripping the top because I thought I wanted to stain it, but I just felt like I might have issues so I sanded it down and washed it in Annie Sloan Chalk Paint instead (after using clear shellac to prevent any bleed through).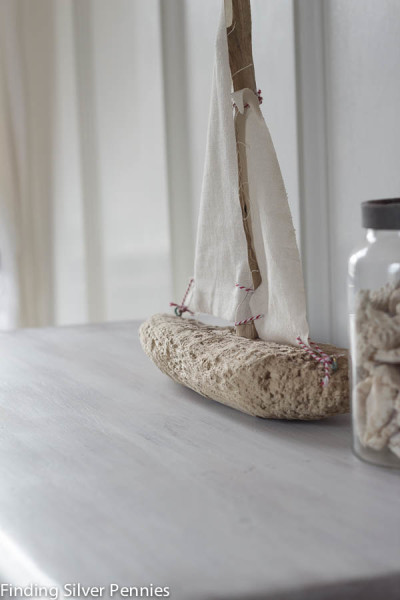 For this piece I used Annie Sloan's wonderful flat brushes that my friend Nancy, from the Sea Rose Cottage, sent me as present for my 3rd Blogiversary!  As I'm sure you can imagine, I LOVE the color of them.  Blue!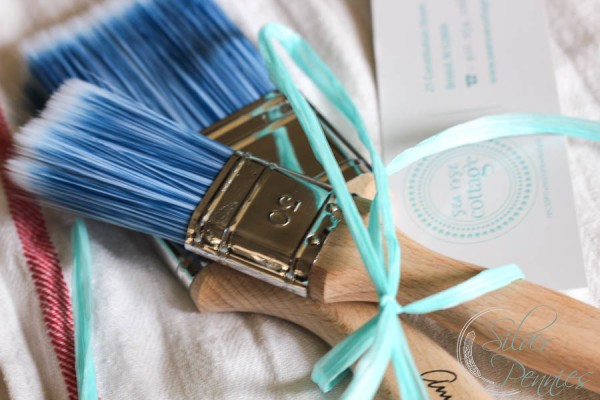 You can find them at Nancy's online shop here.  These brushes offer a very smooth finish in comparison to Annie's other brushes which give a light textured finish.  This finish would be great for a 1960s mid century piece, but I also really like it on this since it gave the effect almost of milk paint – very flat, matte finish.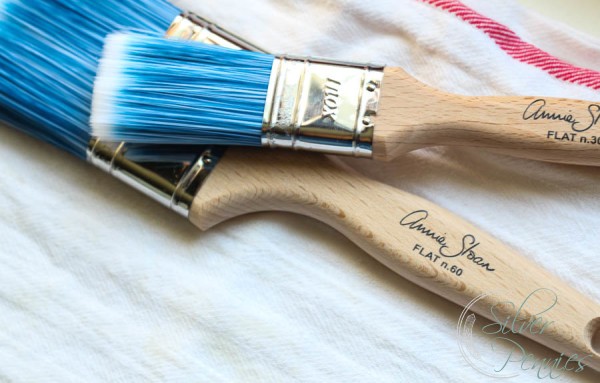 I prepped the piece as normal sealing with clear shellac. Then I applied two coats of a custom white. I mixed together Pure White and Old White Chalk Paint; sometimes Pure White can be thin and Old White can look to creamy.  This is the perfect coastal white.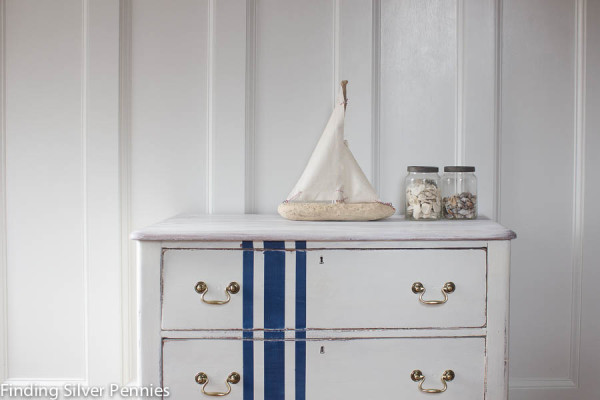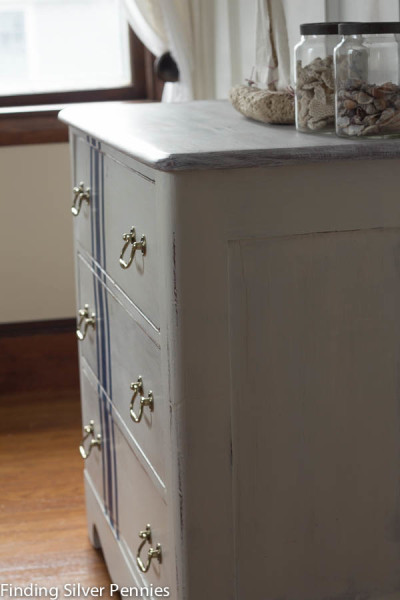 The grain sack stripes are painted in Napoleonic Blue Chalk Paint.  I simply love this blue.  I used it on John's Union Flag Dresser and Conor's grain sack dresser.  The blue is beautiful – very nautical and rich.  To get the lines crisp I used delicate surfaces Frog Tape.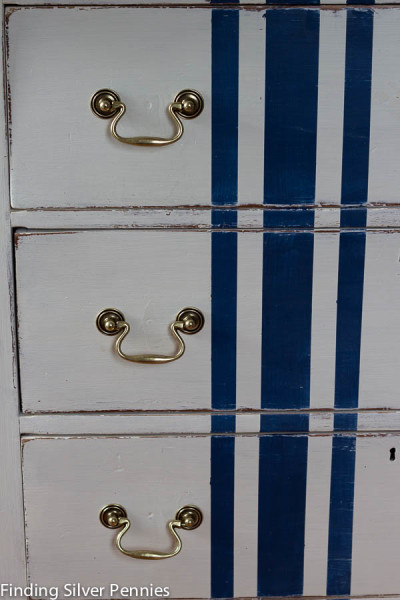 I then distressed with a sanding block around the edges of the drawers and over the stripes.
Annie Sloan Clear wax was applied to seal the piece.  I waited 24 hours between coat 1 and coat 2, then lightly buffed.
The brass pulls are the Antique English Bail Pulls by D. Lawless Hardware.  They are also a fabulous price and the brass is nice and heavy. I love the brass against the painted dresser.  I think it really adds to the coastal charm of this piece.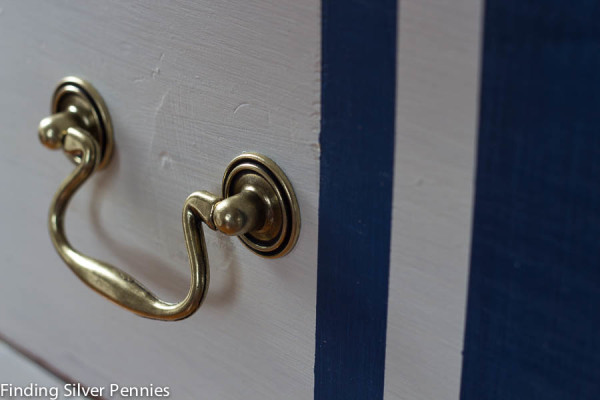 As you can imagine I think this dresser would be lovely in a little boys room, but it would also be nice in a girl's room, coastal living room, sunroom, entry or bathroom.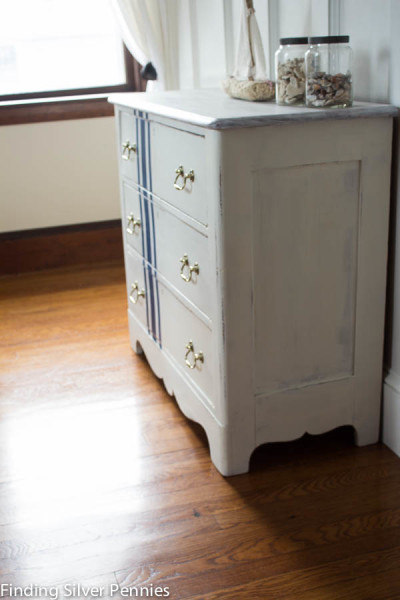 Tug is rugged and in search of adventure on the high seas!  If you'd like to meet him in person, he's available at Kjeld Mahoney Gallery in Scituate Harbor.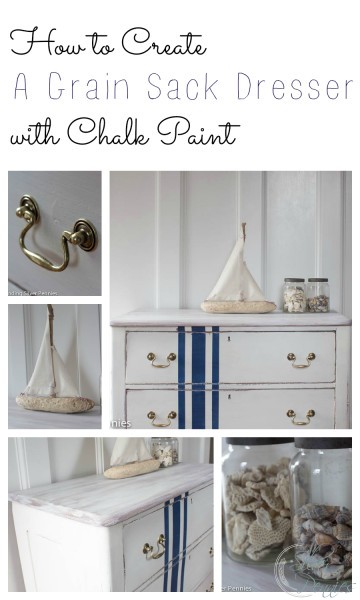 What do you think of him?
Sharing with: