One more week and Easter will be here!  I know today is St. Patrick's Day and that is really big where we live on the Irish Riviera but I thought I'd share another Easter craft today.  You guys loved my decoupaged eggs last week that I thought I should try and share one more really easy and fun egg craft.  I used the same wooden eggs as I did for the decoupaged ones but these eggs got some glitz.

Gold Foil Eggs are so easy to make and so glamorous!  You only need a few supplies, you actually may already have some of them.
Want to create this look?  Here's what you need (I've included some affiliate links below for your convenience):
Gold Foil Eggs
Materials
Method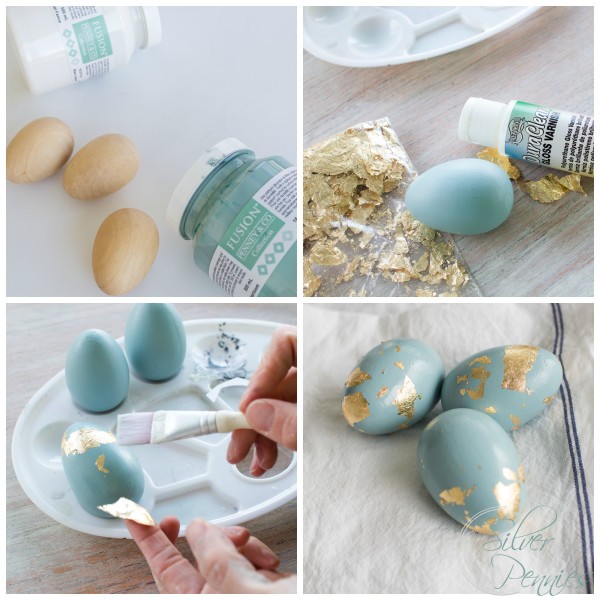 Step 1: I wanted a lighter, almost robbin's egg blue so I mixed together Picket Fence and Heirloom paints by Fusion Mineral Paint. The color is luscious.  You may remember the Leighton Dresser which was painted in Heirloom.  LOVE this color and variations on it so much!
Step 2: Paint your eggs and allow to dry.  I did two coats.
Step 3: Lightly paint where you want the gold with the Duraclear Varnish and while still wet place the gold flake.  I found it helpful to place the foil with my finger and pat down the the small decoupage brush.  Then go over with  more varnish. The metal leaf is very fine and light.  Have a few pieces of foil ready to work with and work in sections.
Step 4: Once you've covered all the areas you want with gold and varnish, allow to dry.  I used a palette to stand my eggs in for drying.
Step 5: For added protection apply a top coat of the Duraclear Varnish.
Once dry your eggs are ready!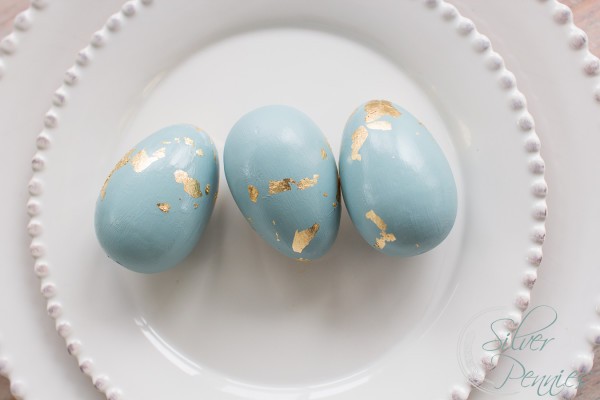 The gloss varnish makes the eggs and gold leaf shiny. In a way the remind me of Faberge eggs with a modern twist.
They look so pretty simply placed on white plates: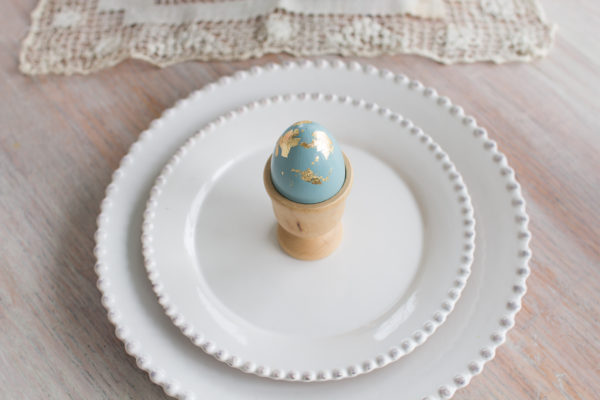 The color almost matches our table base: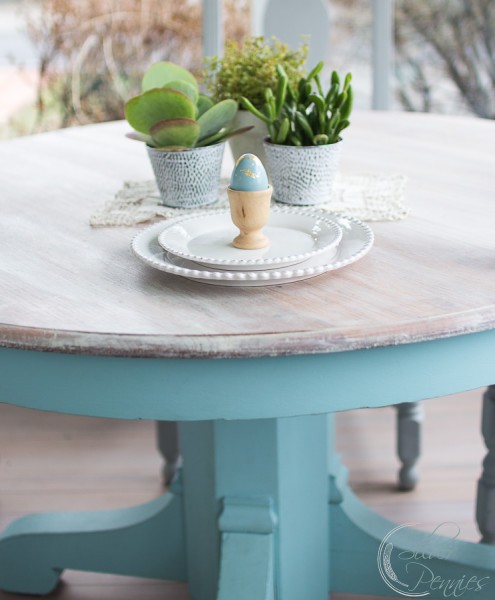 Add a bunny in the mix and your ready for Easter!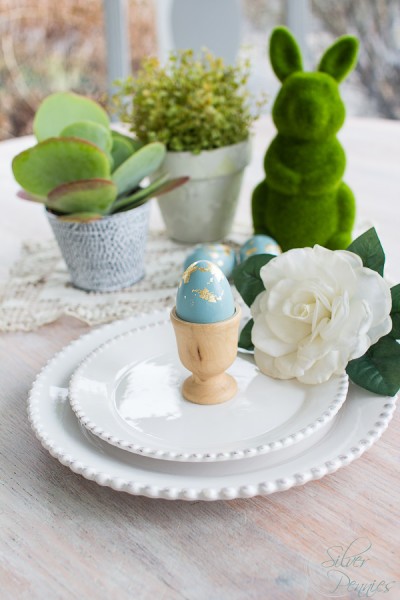 Do you think you'll give this a try? I hope so. I had so much fun making them!
Sharing with: