Santa brought us lots and lots of Ferrero Rocher chocolates in our stockings. It's one chocolate I just can't resist. Today I'm sharing delicious Ferrero Rocher Cookies.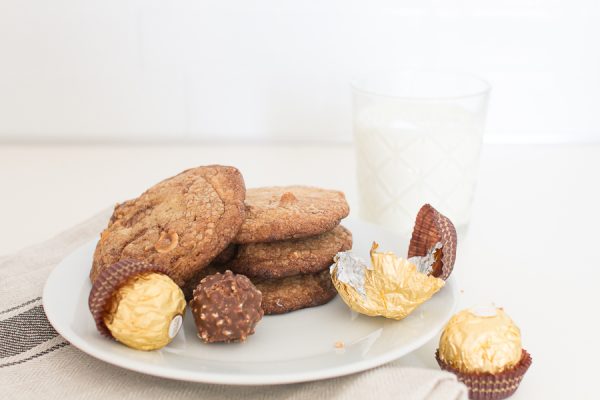 We have  boxes and boxes of these chocolates, which I'm not complaining about.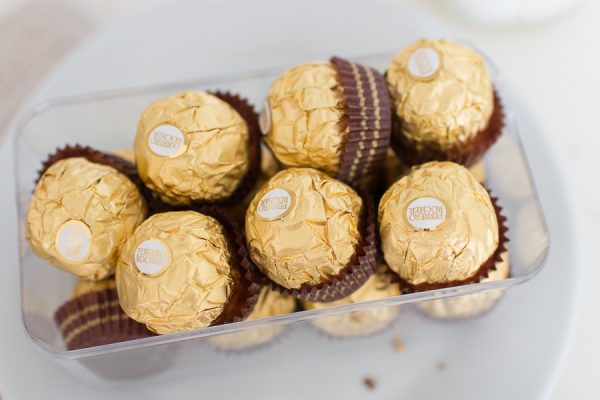 Santa and my husband know I like them a lot. They are great with a cup of tea in the afternoon.
We had so many I thought they'd be fun to use in cookies. I have this baking tradition with the boys, when it's a snow day, we turn on the oven and bake to our hearts' content. I like to think that all the brownies and cookies I consume on these days don't count, like holiday money in other countries, it's fun money 😉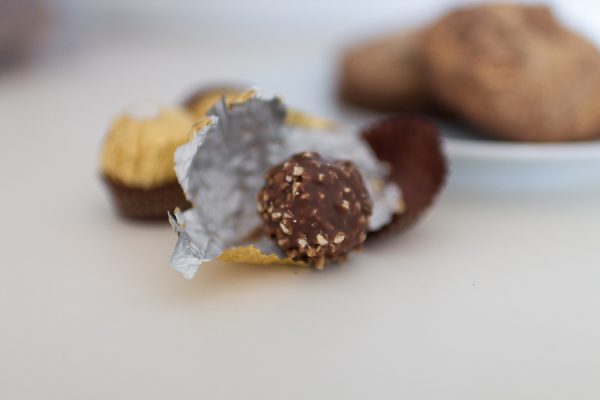 The first time I ever had a Ferrero Rocher is in England. Biting into one takes me back to my uni days or Christmas-time at Luke's parents house. Have you ever tried one? They have a hazelnut in the center, surrounded by a chocolate hazelnut spread and coated in a chocolate shell encrusted in hazelnuts. If you love hazelnuts, you'll love these cookies!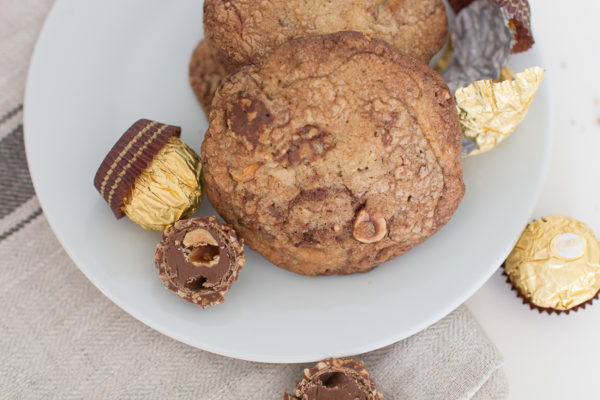 Ferrero Rocher Cookies
Ingredients
1 Cup butter, softened
1 tsp salt
1 tsp baking soda
2 eggs
2 1/2 Cups all purpose flour
2 tsp vanilla
1 Cup light brown sugar
1/2 Cup white sugar
16 Ferrero Rocher chocolates, chopped
Method
Preheat oven to 350 farenheit.
In your mixer, beat butter, eggs, sugars and vanilla. Beat until creamy.
In a separate bowl, sift flour, salt and baking soda. Add this mixture slowly to the above wet mixture. Make sure to add flour mixture slowly or it can make quite a mess.
Chop the Ferrero Rocher up and add to the batter. Once comined chill in the fridge for at least an hour.
Either use a reusable baking mat or baking spray on baking sheets. Place rounded tablespoons of the batter on baking sheet. Bake in oven for 10-12 minutes. You want the edges to be golden brown.
Allow to cool on a cooling rack.
Serve with milk or tea!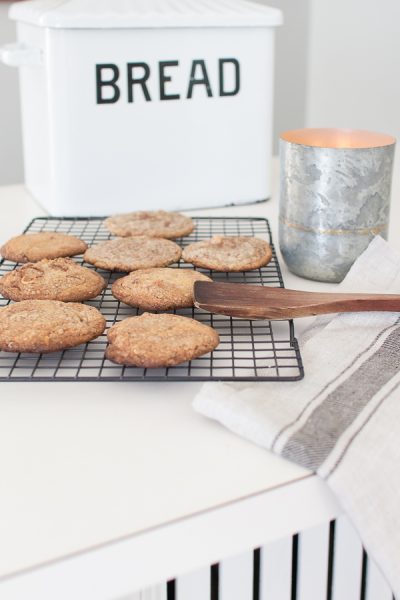 They are lovely when warm, the chocolate is all melty.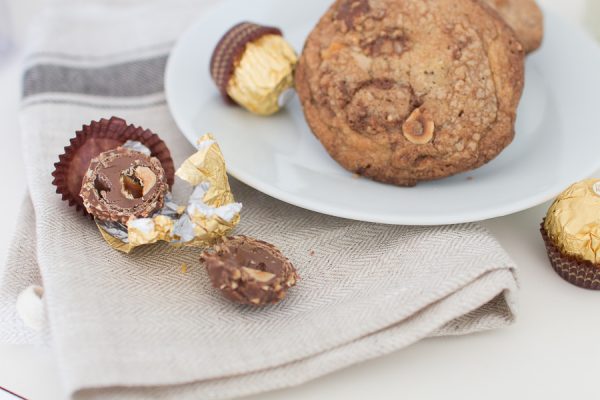 We all oooohed and ahhhhed over these.
A real crowd pleaser here and a perfect way to spend a stormy day.
They'd also be nice to make for your Valentine, all boxed up with ribbons. You might like these chocolates we made a few years back, click here.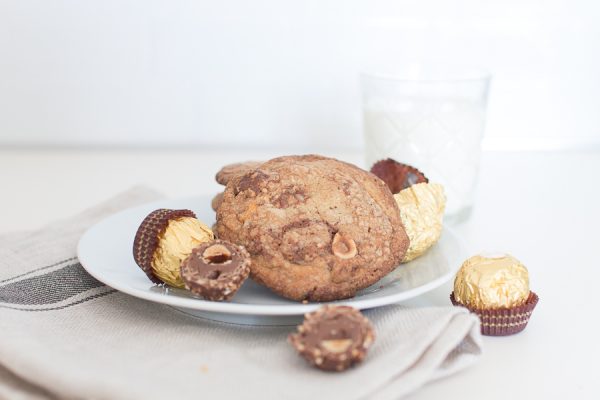 Do you think you'll make these at home?
Be sure to pin this recipe for later!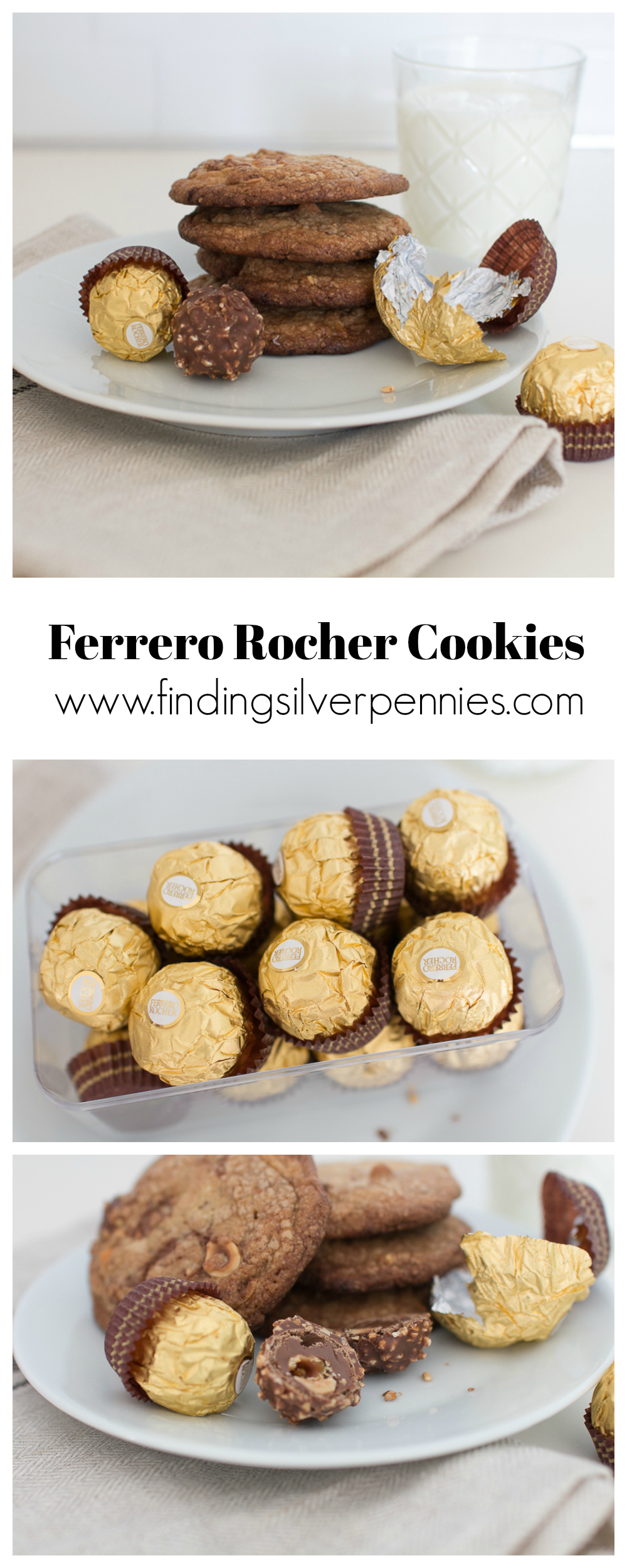 If you enjoyed this post, you might also like some of my other recipes.