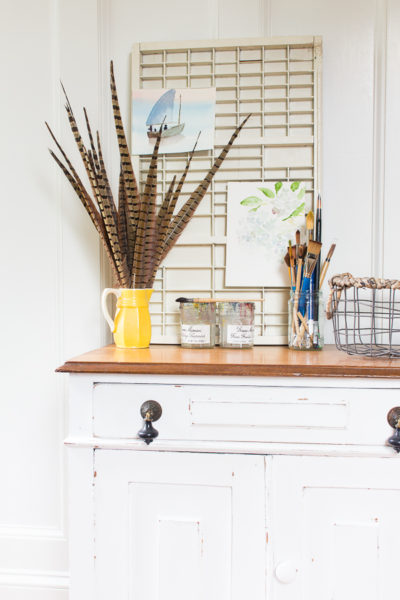 Guess what? Today I have a fun little farmhouse cabinet makeover for you. Over the summer I painted this antique cabinet white for my home office / art studio. I'm also sharing a few tips on getting a naturally distressed look.
Here's a look at the before and after:

Okay, I'm going to wait for a moment as I know some people will be mad that I painted this piece… The day I posted a  picture on Facebook saying I was painting it, there was an outcry. I was just so excited the boys were at camp and I had some free time to paint something. Please know I NEVER EVER paint furniture that is perfect AND I just thought those pulls would pop with a white background. The other reason I decided to paint is because there's so much wood (trim, desk, doors, tables etc) in our office I thought I needed to brighten the space up. I know you haven't seen the finished room yet but I promise soon you will. I have a project planned for the closet and once it's done, get ready for a big room reveal!
Anyway, those were my reasons for painting this piece and I had all these plans to use Miss Mustard Seed's Farmhouse White. It's a creamy white that looks so dreamy and mellow especially on old furniture.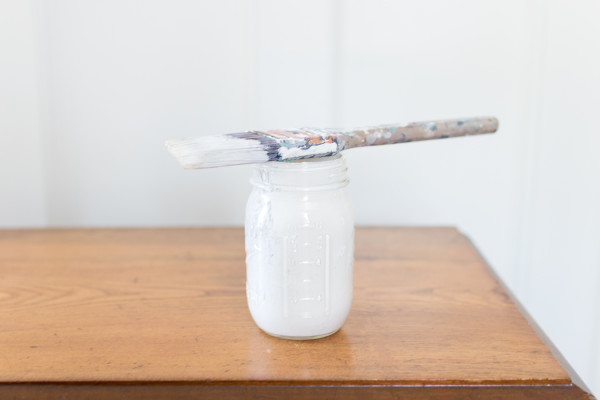 Unfortunately, this piece had other plans.
First there was bleedthrough issue. Yuck! I hate those: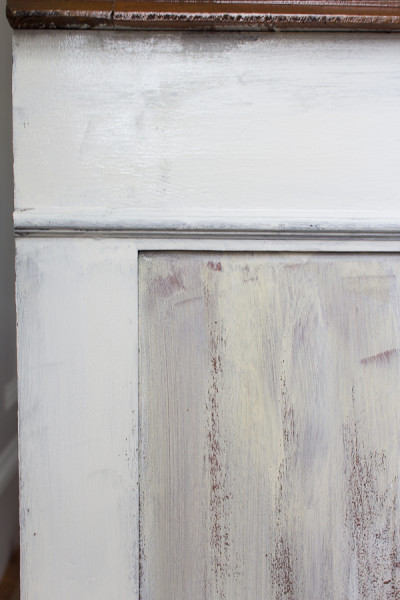 I used tough coat which didn't work. Followed by shellac and then I used a primer which worked but then the paint didn't want to stick (even with bonding agent). BIG SIGH.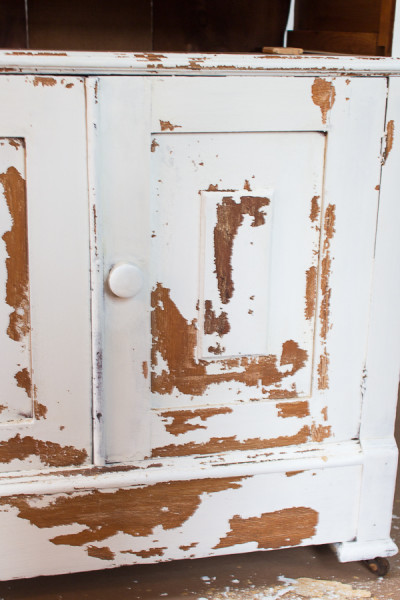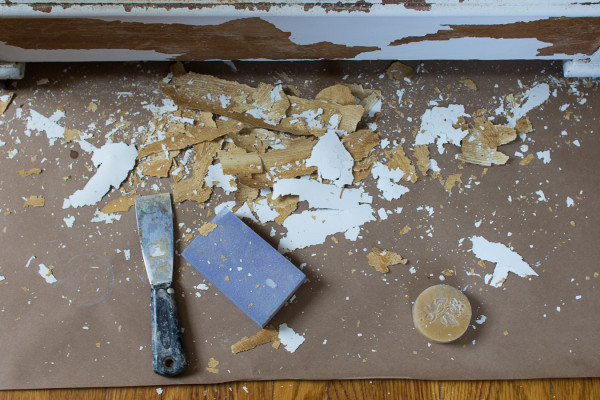 This is NOT what I had planned! Sigh.
When this happens it is disheartening. Fed up, I let it sit for a bit and then I scraped and scraped until no more paint would come off.
I did more shellac and primer to make sure they're wouldn't be bleed through and my little farmhouse cabinet got two coats of Pure White Chalk Paint®.
This is how the cabinet came out: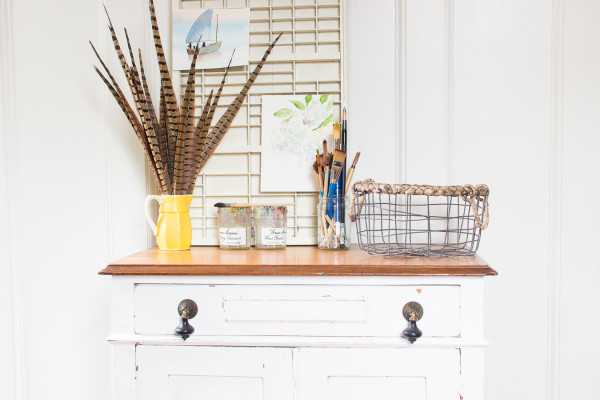 There's still some milk paint that remained on it so the piece has a cool texture that you find on old vintage pieces with layers and layers of paint. When I paint I like my furniture to look as if I found it that way. I like it to look like I just pulled it out of an old farmhouse or barn and it naturally chipped and flaked in certain areas.
Tips for Distressing Naturally
So when I distressed this piece I was very careful to only distress around the drawers and high points, where furniture would naturally distress. I used my sanding block with 220 grit sandpaper and also a little 120 grit sand paper.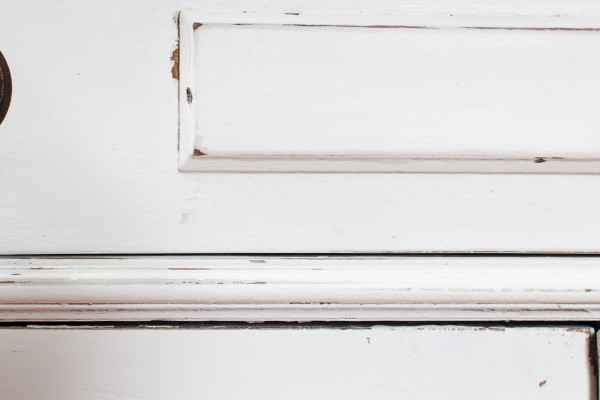 I'm not sure if you can see from the photos but there is some Farmhouse White milk paint peaking through and some warm wood. Here's another distressing tip: layer a few colors underneath your solid topcoat so when you distress you get some fun colors (even if they are varying shades of white or gray) it gives a lovely farmhouse look!
I didn't just use sandpaper to distress through, I also used my paint scraper. I gouged the paint in certain areas to look like it had been done over time.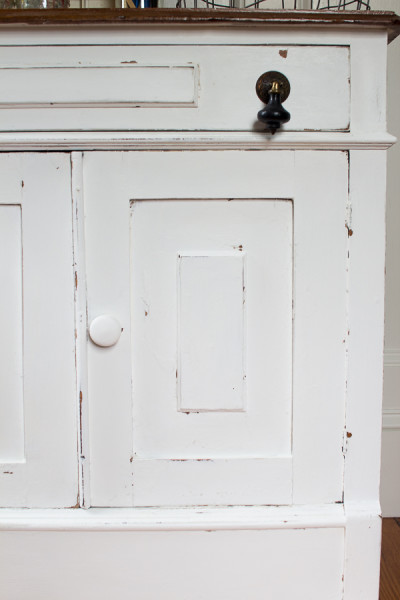 I did this specifically near the hinges or where the cabinet closes or where someone might bump the drawer.
I left the top the wood finish and I did one coat of clear wax all over but didn't buff. I wanted this to have a matte finish.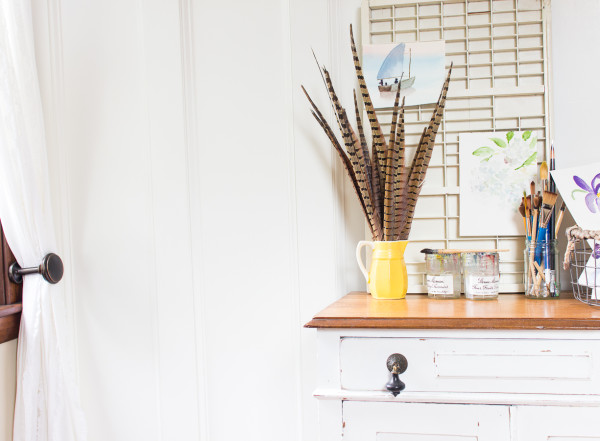 The pulls look amazing now, I think they got a little lost in all the wood before.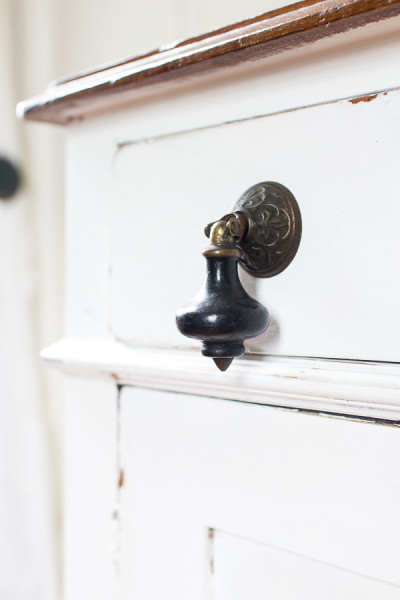 Aren't they so pretty? They don't make them like that anymore…
Since, I plan on storing my watercolors and supplies in here I staged the finished cabinet with some of my brushes, paintings and jars.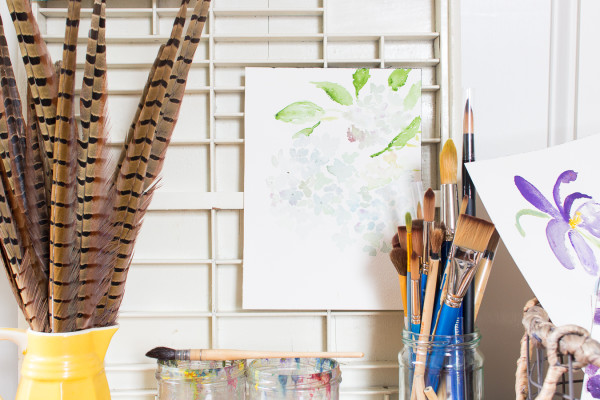 You'll notice a sailboat (in the top) and hydrangeas (above), I was inspired by some I just picked.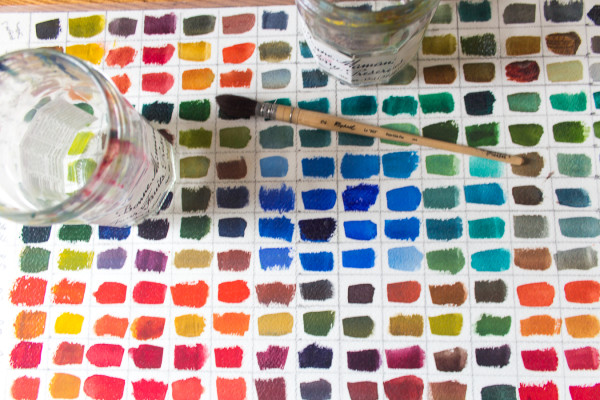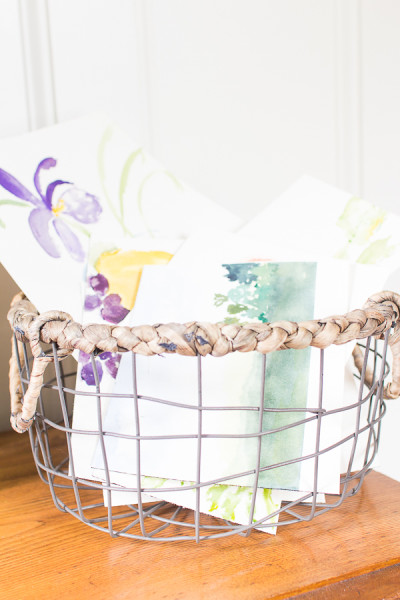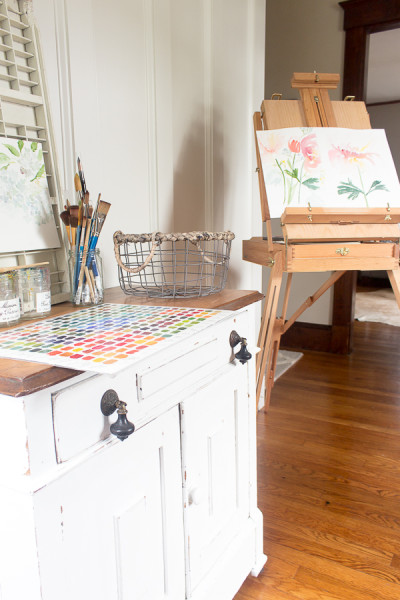 I still have a lot to learn with watercolor but I'm so happy I can share my progress with you. I took my first class two years ago and I remember sitting in that class with tears in my eyes (I had the wrong brushes, the wrong paints) and I was the only one who hadn't done it all before. I now find watercolor so relaxing. What I love most is watching the watercolor interact with the paper. The boys gave me an easel for my birthday so now that I have a place to store the paints and place my large pallet I'm all set!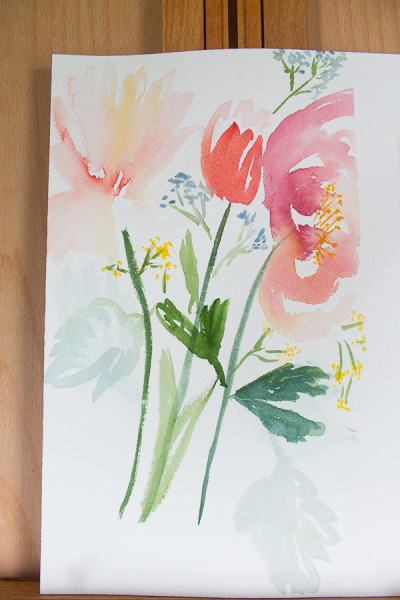 On Wednesday, I'll have a few harvest watercolor printables for you! I can't wait to share them.
I hope you enjoyed how my farmhouse cabinet came out.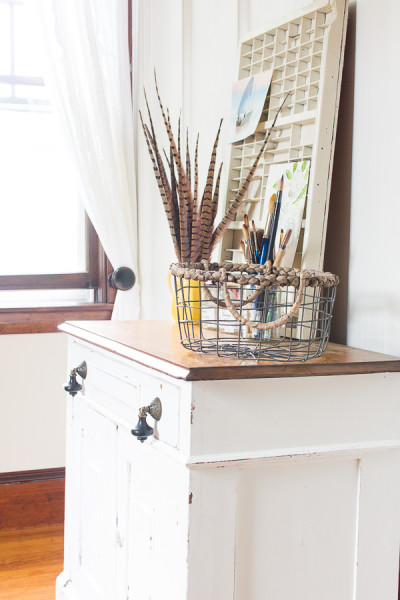 As you all know I name my pieces and I can't forget to name this one! This chippy farmhouse cabinet is names Eliza for her feisty spirit!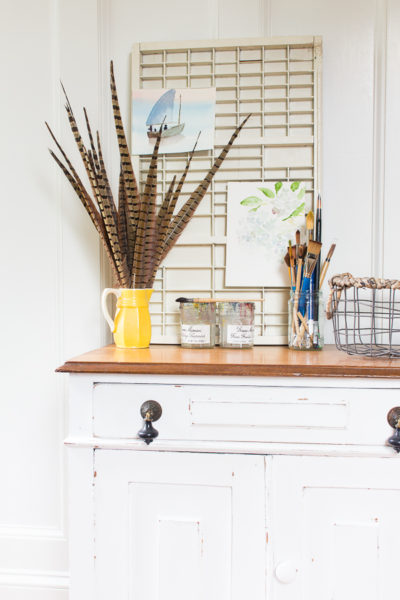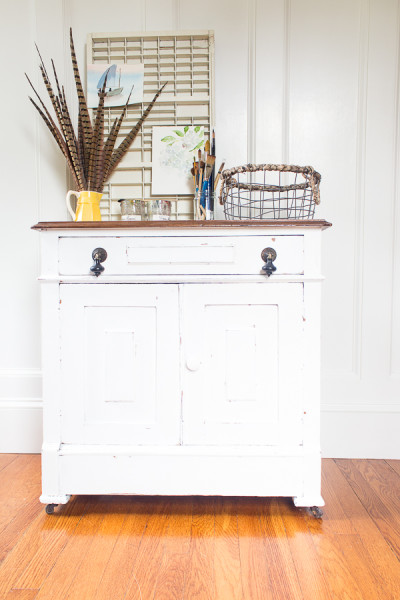 If you enjoy this post you, might enjoy my eBook filled with tips and tricks on creating furniture you'll love for your home!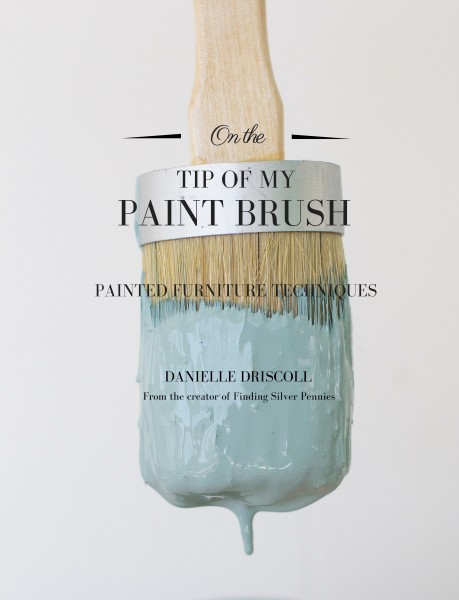 Sharing with: