When I shared highlights from my open studio, you got a little glimpse of Alastair.  He is regal, he is classy, he has a past…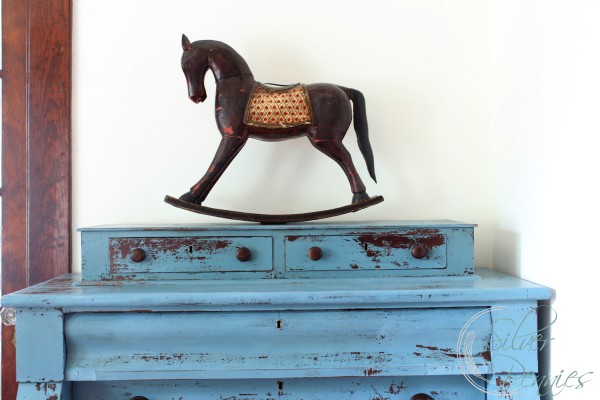 So I thought Alastair really needed a post of his own.
This is my first empire piece and I was so excited to find one in our area.  I don't see them often here in Massachusetts.
When I found him, he was in a bit of a sorry state.  Years, and I mean years, of enjoyment had caused missing veneer, drink rings and a broken leg.
This is how he looked when we brought him home: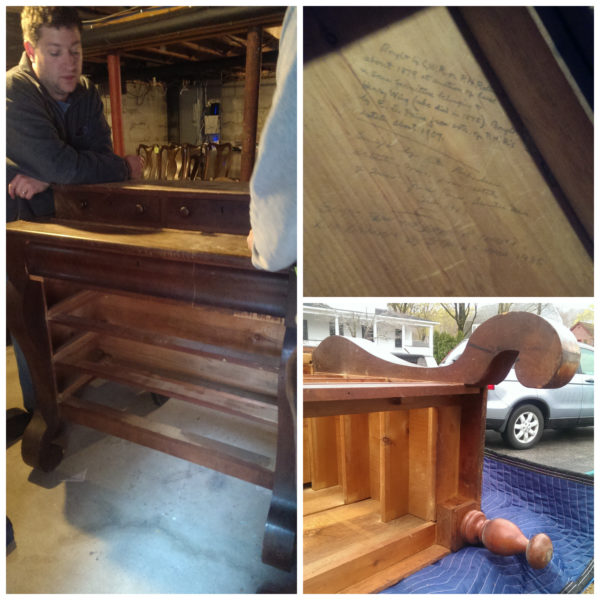 The most amazing thing about this piece, is the inscription in the drawer.  It reads:
"Bought by C.W.R or P.H. Robinson about 1879 at auction of house and some furniture belonging to Henry Wing (who died in 1878).  Bought by E.S. Paine from ext. of P.H.R's estate about 1907.
Bought by Rita Richardson Scitaute, Mass from estate of Mrs. Paine Braintree, Mass. February 1963.
Bought from estate of Ernest and Rita Richardson by Stephen Gammon 1985."
How amazing is that?!?  I knew we had to work on this piece.
Here's another "before" photo.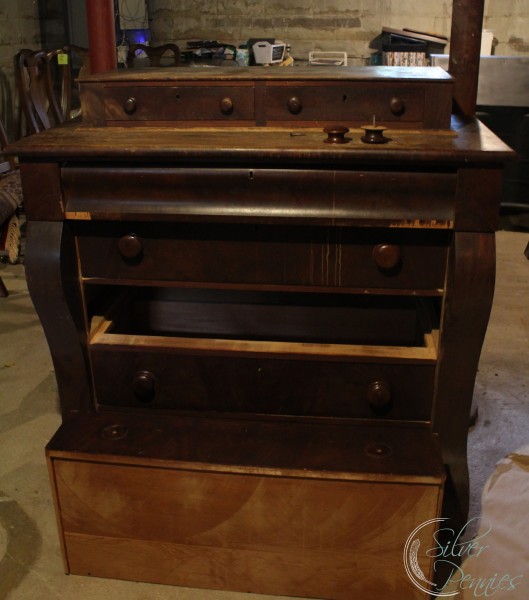 The top was well loved and in need of some TLC.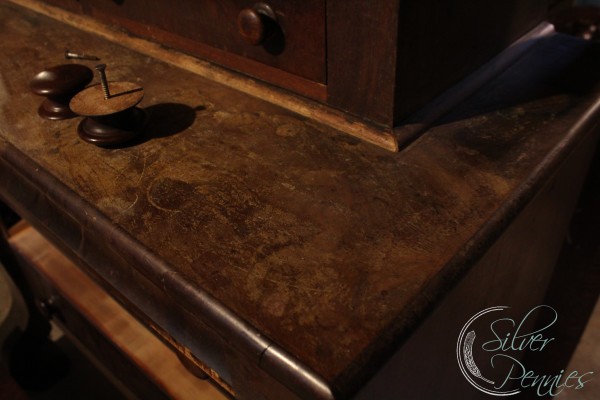 BUT there was a lot of work to do.
First my wonderful husband had to take the broken leg off and replace them with new back legs.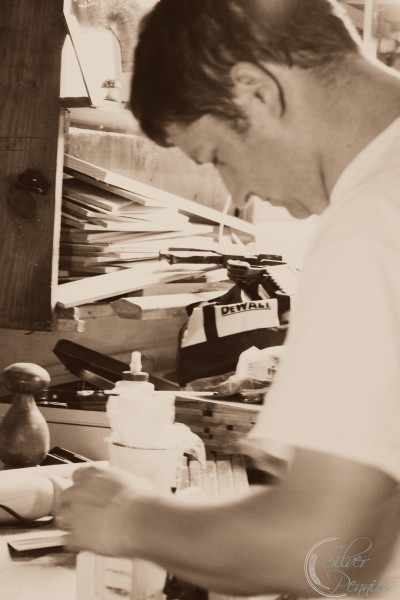 The new legs going on: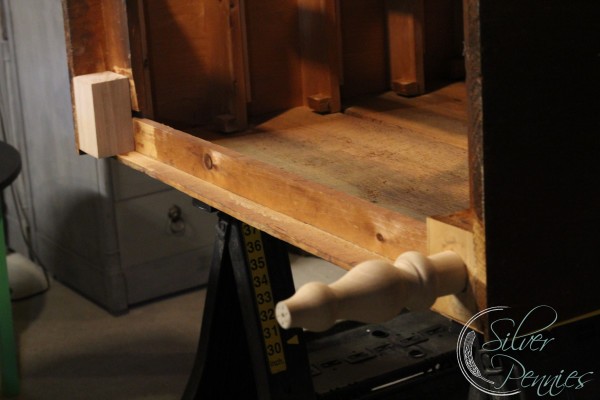 I think he did a great job!  Then he made sure all the drawers were sliding properly, some were off being such an old piece and I'm sure the broken leg didn't help things.
Then it was time to paint!  Hooray!  I went over the whole piece with a sanding block and scuff sanded. I really wanted the chippy look on this one.  I painted two coats of Miss Mustard Seed's French Enamel.  I've used this color before and loved it for the Grantham Dresser.
It is a beautiful blue.
The paint chipped and flaked just as I'd hoped.  Here's what it did after the second coat dried: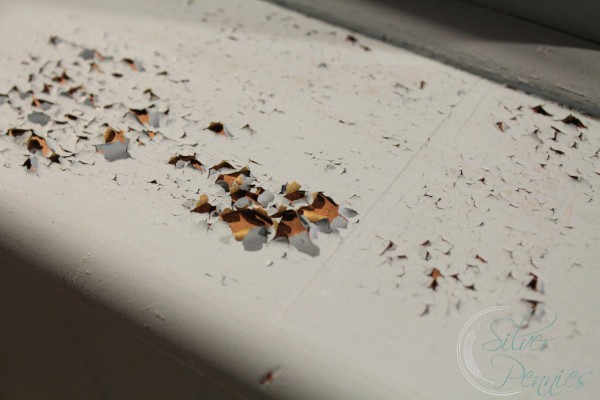 I scraped away all the raised paint with a paint scraper. Then I vaccuumed and then I sanded the entire piece down.  Then I vaccuumed again.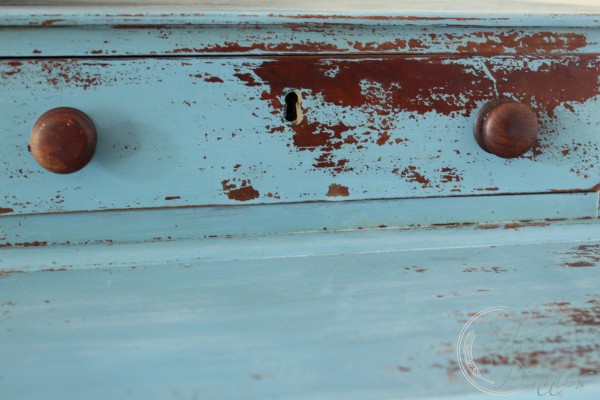 I usually use Miss Mustard Seeds Clear Wax to seal her paint by since this was soooooo chippy I decided to use a polyurethane.  For this piece I used AquaZar in Flat.  My local hardware store carries this brand and thought I'd try it.  I applied three coats and sanded in between.
I absolutely love the gold key holes and the knobs!  I'm not sure if you can tell from the photos but the knobs are gorgeous and I love how they bring a bit of the history and aged patina of the piece.  The edges are very thin and I simply love them.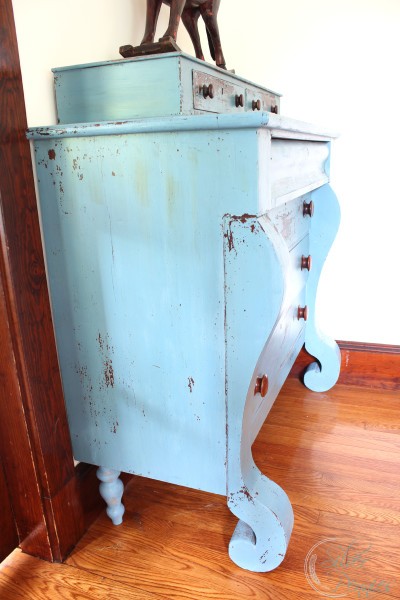 I love the empire shape.  Don't you?
The horse is from Gentleman & Daughter.  I was very sad to give it back.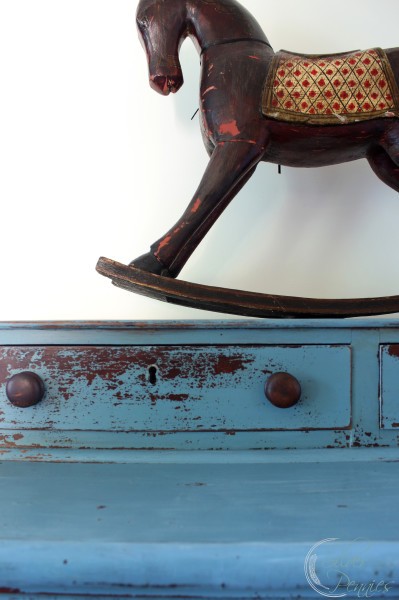 I'm not sure if you can tell by these photos I had to crop them so you don't see the playroom and all the kids toys, but he's quite a substanial piece in size, measureing 45″H x 44″W x 21″D.
He didn't sell at the open studio, so if you love him as much as I do, let me know!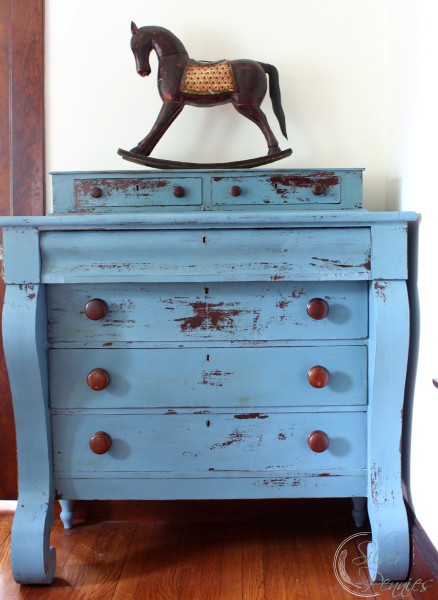 If you take him home, you can add your name to the list inside the drawer.
Sharing with: