Happy Thursday, Friends! I hope you all had an amazing 4th of July Weekend! We did! It was so nice to spend so much quality time as a family.
I'm excited about today's post! It's time for another installment of Creativity Over Coffee! I feel so lucky to be a blogger and to meet so many creative and interesting people. Today I'm chatting with Carol and Jaime Hunter of Saltwash® and Saltwater Salvage. I met Carol last year though Nancy over at the Sea Rose Cottage, though we've never met in person, I've chatted with Carol and Jaime online and over the phone. This husband and wife duo are so amazing and inspiring! Carol has the best laugh and outlook on life! Both are so positive and full of energy.
I am a brand ambassador of their amazing Saltwash® Powder and represented the company at General Finishes Flippin' Furntiure Expo. I love this product for an easy coastal look. My readers get 10% off when you click the Saltwash® in my sidebar. You can see all of my Saltwash projects here. I have a few more coming your way with summer inspiration.
Grab your coffee (or tea) and join us for a really inspiring chat:
Creativity Over Coffee with Carol & Jaime Hunter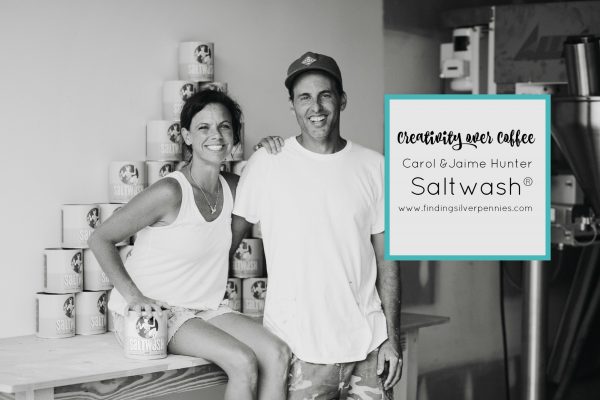 Carol and Jaime, thank you so much for joining me! Can you tell us a little more about Saltwash® and the sister company, Saltwater Salvage Designs?
Carol: Jaime and I had both worked for ourselves before getting married, after our wedding, we took off and traveled around the world for 5 months. After returning we really needed…money basically…so I went back to what I knew, which was painting furniture and creating art, I linked up with a fabulous local store to sell my items, and thus Saltwater Salvage Designs was established. It of course required a lot more work, which is when Jaime came to the rescue. In Saltwater Salvage Designs, he had found his niche for his creative and artistic side, and topped it all off with an attention to detail and a self taught fine woodworking skill. He would take the pieces that were wobbly or broken, and make them "high dollar beach house" ready, it really brought everything to a whole other level once he decided to join forces. Our designs were getting noticed by high-end designers and it drove us to keep reaching for a look to not only stand out but also be true to the look we were trying to recreate. Our coastal look and theme of our designs are intended to be weathered and worn as if years on the coast, but this required a lot of time and consideration to give them authenticity, that is when Saltwash® was born. We spent years in our garage bouncing ideas back and forth, until we created a product that gave us the layered and weathered look and feel that we would typically see on the coastal cottages in our beach community.
Jaime: Saltwater Salvage Designs was our first company. In the beginning we were making furniture and art from all reclaimed materials. After a while, we realized that most of the reclaimed materials that were painted were painted with lead based paint so we set out to create a way paint new or non-painted reclaimed materials look exactly like they had been salvaged from a historic beach home. That is how Saltwash was born! At first we were just using Saltwash for Saltwater Salvage Design products, but we kept getting so many people asking us how we achieved that look that we decided to package it, get a patent, and we started Saltwash LLC and haven't looked back.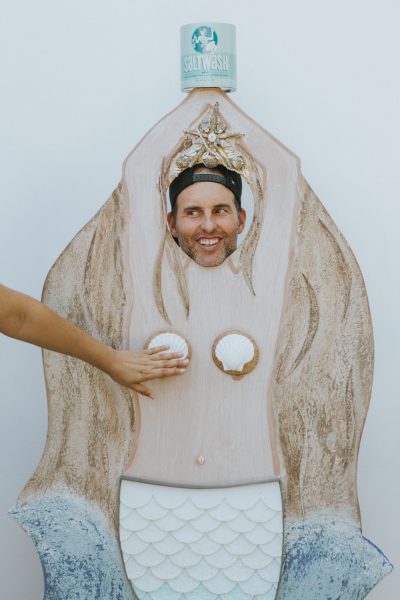 How do you find working together as husband and wife? My parents owned a restaurant together and I know sometimes it can be hard.
Carol: I think that it's not for everybody, and there is nothing wrong with that. It takes a lot of patience, and thank goodness Jaime has got tons! We are very similar, from our characteristics down to our hobbies including our love for surfing, we are two peas in a pod for sure…I know, insert gag sound;) I think overall if you are doing something you love, and being able to be creative on a daily basis, it's hard to take any rough patches too seriously. We have a lot of fun and we are so thankful to be in an environment that suits us both and share it with each other. Its not typical this life we've chosen and we couldn't be more excited about it and what the future holds!
Jaime: I think it's great! Don't get me wrong, it is hard too. Working together as husband and wife can be tough because working and building a company requires a lot of important and sometimes stressful decisions which open up a lot of opportunity for disagreements and arguments. But ultimately it's a good thing, I think it's made our relationship stronger having to compromise and work through about 10 times more issues than most couples experience.
When do you feel most creative or happy?
Carol: I love being in the workshop, surrounded by paint, with my music on. I know when I wake up and put my paint jeans on, I am ready for anything that day creatively… I try to wear them everyday!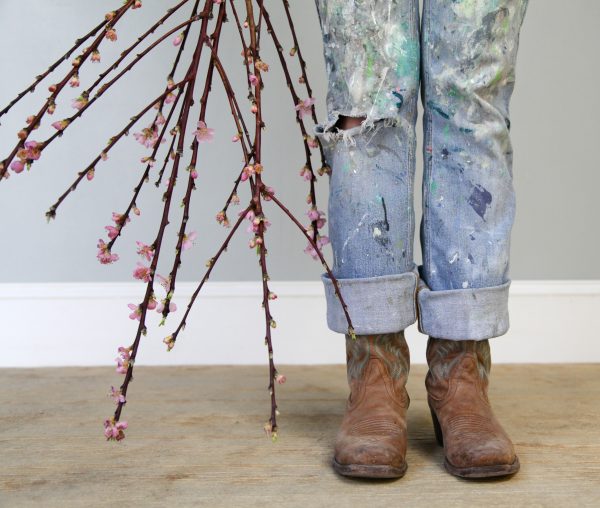 Jamie: Usually after I have done some sort of activity on the water.  Whether it be surfing, sailing, fishing, or diving, a good time on, or in, the ocean always seems to clear my head.  It's those times when I'm content, not stressed, and really not thinking about much of anything that I seem to have the most truly creative thoughts.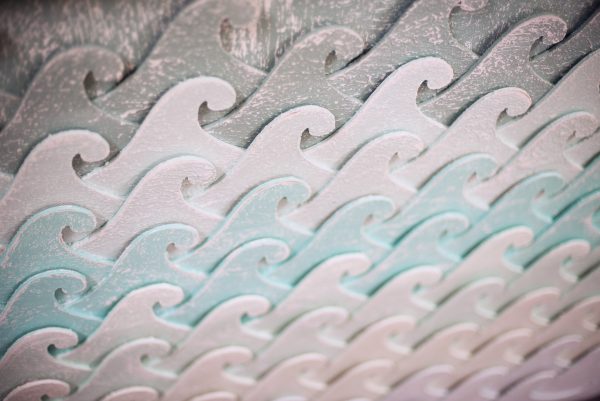 What is your favorite project?
Carol: It changes, but looking at what's on trend at that time and then putting our own unique twist and look to it, is really enjoyable.
Jaime: My favorite project is a Hawaiian outrigger sailing canoe that I have been building in my spare time for a couple years now.  It's a little out of my comfort zone as a woodworker and it has really pushed me to evolve my woodworking skills.  Also I really love sailing.
Who or what inspires you?
Carol: Kids inspire me, not just mine but all little ones, they are so energetic and happy about life,they aren't scared about what people think. And my dad, he is definitely the one who gave me confidence to go for whatever I wanted to do.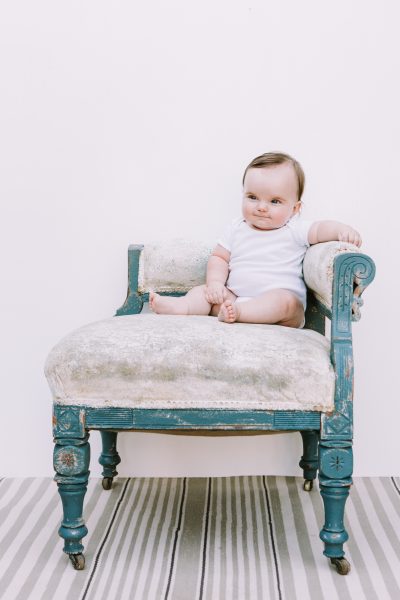 Jaime: I'm inspired by all kinds of things and people. But I get inspired by people who just kind of decide that they can do something and then go do it. Carol is like that.
I love the packaging for Saltwash® The colors, the design. How did you come up with that?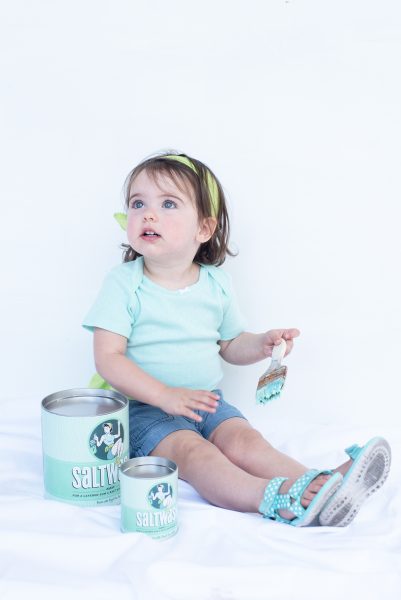 Carol: We wanted to incorporate an idea and place in time, that Saltwash®, as a product, reflects. Saltwash® gives a vintage look to any surface, so we wanted a vintage look to the packaging. I love anything aqua, but it also gives a nostalgic retro feel, and "Pin Up" girls are just so cool and iconic of years past!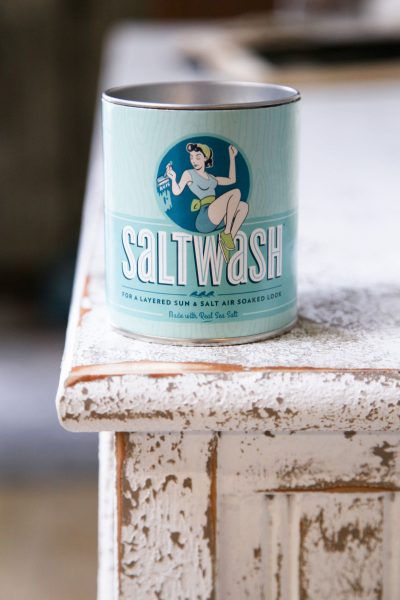 Jaime: The color of the packaging is a color I call "Carol Green". It's a color Carol has always seemed to gravitate towards and we have tons of things in our house either purchased or painted in that color. It's pretty funny, even our friends refer to that aqua color as Carol Green, so that was an obvious choice for the color of the packaging. As far as the logo, it was an idea that Carol dreamed up one day and we just sketched it out and liked it and that was that.
What is your favorite color? Is there any color you don't LOVE?
Carol: Any color that reminds me of summer I love, aquas and minty color tones, "my friends even refer to it as "Carol Green"! Fall tones are definitely not colors I love, they remind me of the cold coming, and I immediately want to go the other way!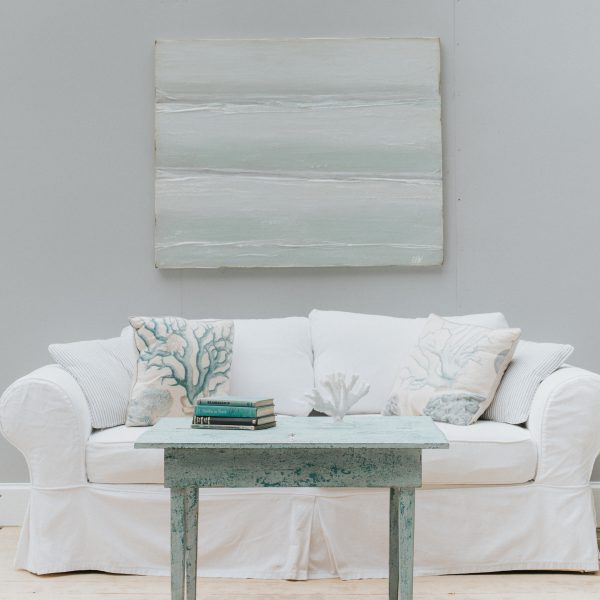 Jaime: My favorite color is the dark cobalt blue that the ocean turns into when you get way offshore. I really don't have any colors that I just don't like.
You guys have two children and a busy work life, how do you balance it all?
Carol: I honestly don't know, and I find that the less I think about how hard it is to manage and balance everything the better, it can be so daunting to think about. As cliché' as it sounds we really just go one day at a time and…coffee…a lot of coffee!
Jaime: The way I feel like we balance it is that we devote 100% to our kids and 100% to work. Ha! I know that doesn't really add up but that's what it feels like. If I'm with our kids I try and not think of work or anything else and just be present hanging out with them. And when I go to work I try and really focus on work. Our friends and hobbies have just had to take a back seat for a while.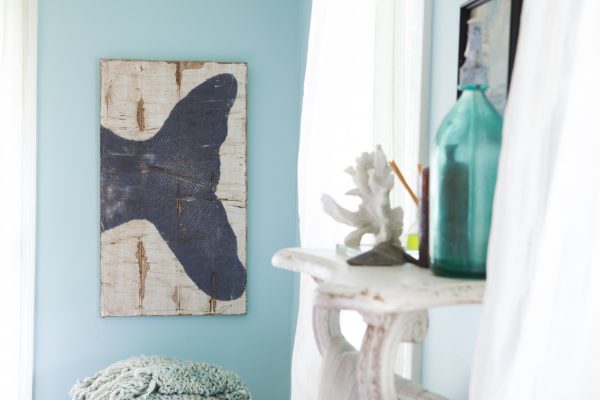 What's next for Saltwash®? What would you like to see on the horizon?
Carol: We have so much interest in Saltwash® all over the world, we want to be able to easily bring Saltwash® to other countries. It would be so amazing to be in Australia or somewhere and pass by a shop and look in and see Saltwash® sitting on their shelf!
Jaime: From a product standpoint we have created some really great DIY "workshop" items that are stylish, functional, and once Saltwashed really make a statement in a home. From a business standpoint I want to go global. Saltwash is an amazing product with endless artistic applications and I would like to introduce it to artists the world over.
What advice would you give to someone who is interested becoming more creative or following in your footsteps?
Carol: Anyone can be creative and if you enjoy doing or making something, don't worry what someone else may think. It is such a great outlet and release in a stressful world. If it's enjoyable to you, that is the most important thing first, scenarios and opportunities can grow from there if it is meant to be.
Jaime: I would say work hard and don't decide that you can't do something. I think it's easy to have a cool idea and then dismiss it because you've never really seen that done before or it seems really hard to do. Our idea for Saltwash® came 5 years before we introduced it on the market. It took 5 years of hard work, research, trial and development, and lots of mistakes. If at any point during that time we had decided that it probably wouldn't be possible, then Saltwash® wouldn't exist today.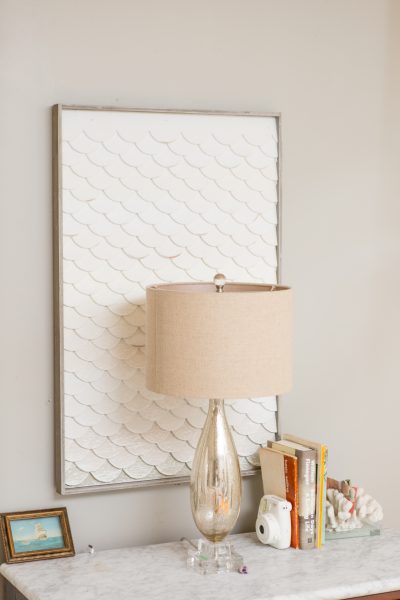 Growing up I was a huge follower of INSIDE THE ACTORS STUDIO. At the end of the program, they would ask the interviewee these questions:
What is your favorite word?
Carol: any word said with a British accent, Jaime: Fun
What is your least favorite word?
Carol: "poot", it creeps me out, Jaime: Can't
What turns you on creatively, spiritually or emotionally?
Carol: A good movie with a hero or heroine, it gives me confidence, like I want to be that person in the movie and can take on anything, Jaime: Surfing
What turns you off?
Carol: Cold weather, Jaime: Negativity
What is your favorite curse word?
Carol: Crap, its audience friendly , Jaime: Damnit – just seems to be my go to every time I hurt myself
What sound or noise do you love?
Carol: The ice cream truck, its always a happy surprise to hear and reminds me of summer time, Jaime: water slapping against a boat hull.
What sound or noise do you hate?
Carol: An alarm clock, Jaime: The sound of traffic
What profession other than your own would you like to attempt?
Carol: A cartoonist/creator for Disney, you would be surrounded all day by so much creativity!, Jaime: Adventure guide – like fishing or diving charters
What profession would you not like to do?
Carol: Accountant, Jaime: Phone solicitation
If Heaven exists, what would you like to hear God say when you arrive at the Pearly Gates?
Carol: I'm glad to see you too!, Jaime: Come on in.
A huge thank you to Carol and Jaime for sharing so much of themselves with us today! I hope you enjoy this glimpse into their lives and their creative talents.
They are truly inspiring!
I love their attitude, their creative spirit and their generosity.
Be sure to follow along with them:
Saltwash®
Site * Instagram * Facebook * YouTube
Saltwater Salvage Designs
*All photos courtesy of Carol and Jaime Hunter