This post is sponsored by The Home Depot.
I was so excited to see all the gift cards that The Home Depot has on offer for the holidays. They are super cute and make great gifts. They are also reloadable. Look at these fun designs: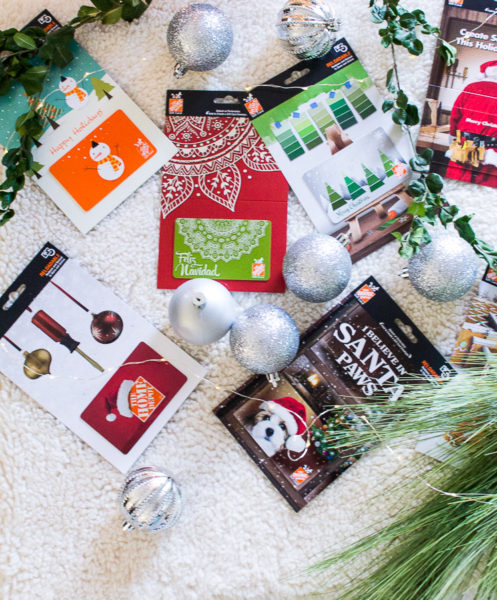 I love Santa with the tool belt and I have a soft spot for puppies (as you all know). I've decided I'm giving Luke a gift card (Shhhh! Don't tell him) because he needs a new table saw and I want him to pick it out. Gift cards make great gifts for family, friends, coworkers.
Even though these are super cute, I think it's fun to personalize gift cards with your own creative touch. The Home Depot asked 15 bloggers to come up with some of our own. All the links to the participants are at the end of the post, so be sure to check them all out – we're having a Virtual Party!
Luke and I came up with a page of ideas and we created three variations for you with step by step tutorials below, all the products and tools were purchased at The Home Depot.
Creative Gift Card Holders
Chalkboard Gift Card Holder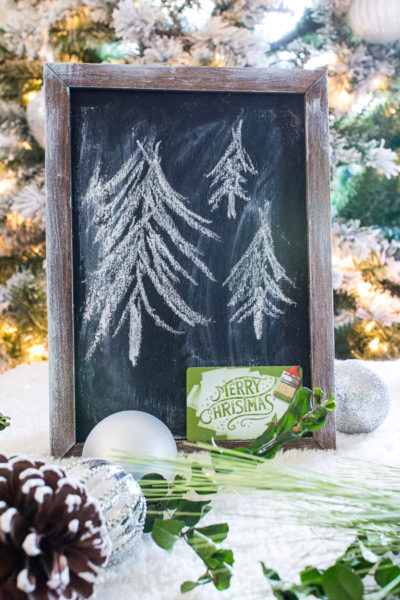 Inspired by the farmhouse and coastal looks, I thought a wood framed chalkboard would be a fun gift card holder, but also something that could be used long after the holidays.
Materials
1/4″ Plywood
1/4″ x 2″ Poplar (For Frame)
Chalkboard Spray Paint
Wood Glue
Shellac
Minwax Stain in Special Walnut
DecoArt White Paint
Purdy Brush
Compound Mitre Saw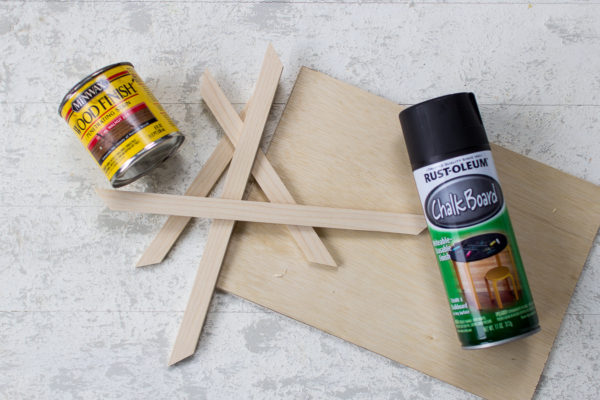 Step 1 – Cut plywood to desired measurements. Cut wood to make a frame around the chalkboard. Using a compound mitre saw cut 45º corner on the ends of each side of the frame.
Step 2 – Prime wood before spraying with chalkboard paint, roll it on to prevent streaks.
Step 3 – Spray your board outside or in a well ventilated room with Chalkboard Paint. I applied two coats, waiting for it to dry in between.
Step 4 – Stain frame pieces with Minwax Special Walnut stain. This is a great warm mid-tone color. I've used it on lots of furniture and our DIY "reclaimed" wood headboard. Once dry, wipe on a layer of clear shellac with a clean cloth. This is to prevent the stain bleeding through when you add paint over it.
Step 5 – Using Titebond II wood glue, glue your frame pieces to the chalkboard. We placed a heavy book on top to keep it square while it dried.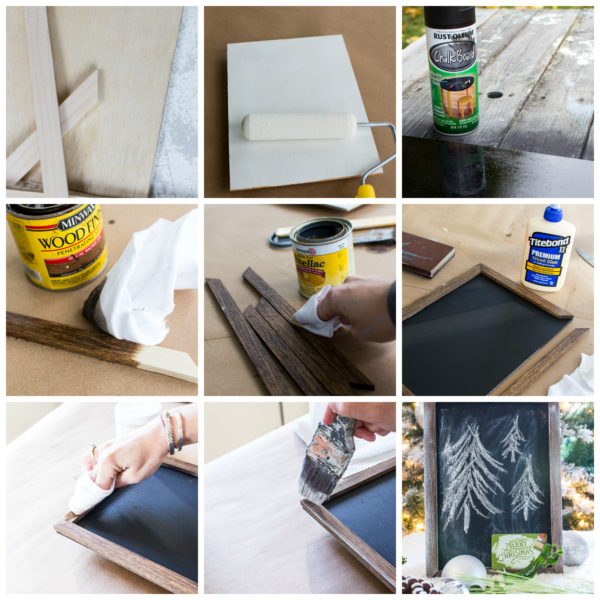 Step 6 – Lightly dip your brush into white paint, I used DecoArt Chalky Finish in Everlasting. To dry brush you want to offload your brush on a paper towel and move the bristles of the brush ever so slightly on top of the wood in long strokes with the grain.
Step 7 – Once dry, apply your desired topcoat. I used the wax that went with this paint.
Step 8 – Season your chalkboard by rubbing white chalk along it.
Step 9 – Draw a picture. I did some snowy evergreen trees and attach your gift card with an adhesive dot or mounting putting.
Here's how it came out: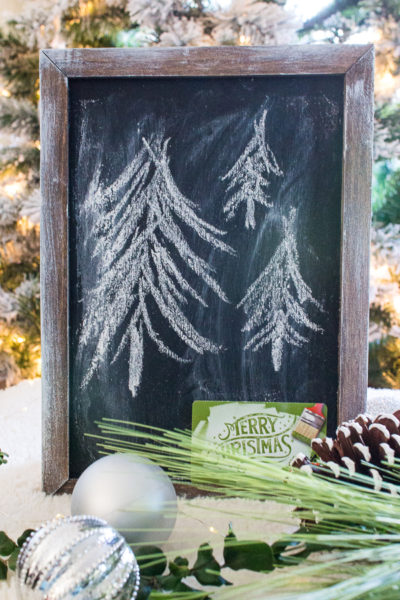 Stocking Gift Card Holder
We did two variations on this one because our boys thought the stocking should be red and white. Here's our traditional stocking gift card holder: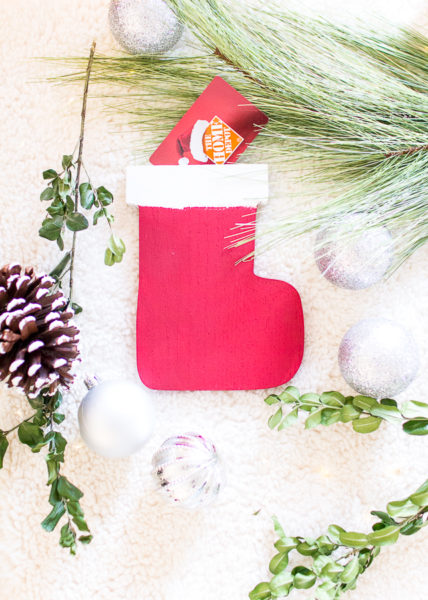 Traditional Stocking Materials
Pencil
1/2″ x 6″ Oak
Paint (DecoArt Chalky Finish in Everlasting and Rouge)
Clear Wax
Scroll saw
Router with a 1/8″ milling bit (a router table makes it a lot easier to use)
Step 1 – Trace your stocking or draw it directly onto your wood.
Step 2 – Using a scroll saw cut along your template. Sand wood.
Step 3 – Along the top edge use the 1/8″ milling bit to cut a groove for your gift card.
Step 4 – Lightly sand and clean off.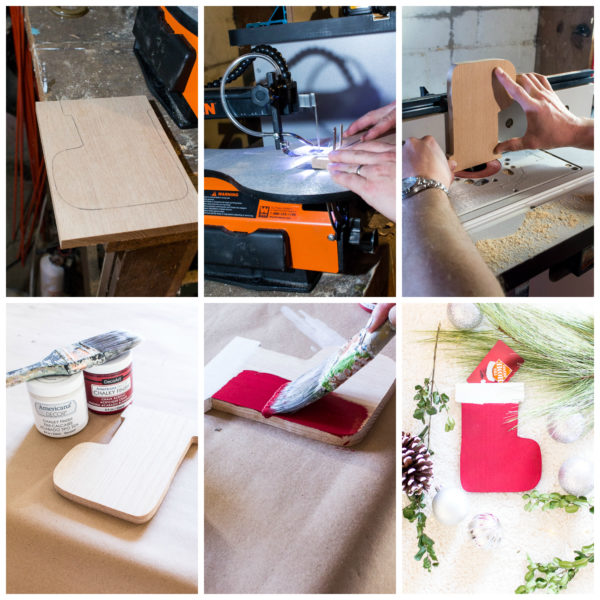 Step 5 – Paint top of stocking with white paint and the body of the stocking with red.
Step 6 – Apply wax top coat to stocking.
Step 7 – Insert Gift Card
I think my boys were right. The red just makes it so cheerful.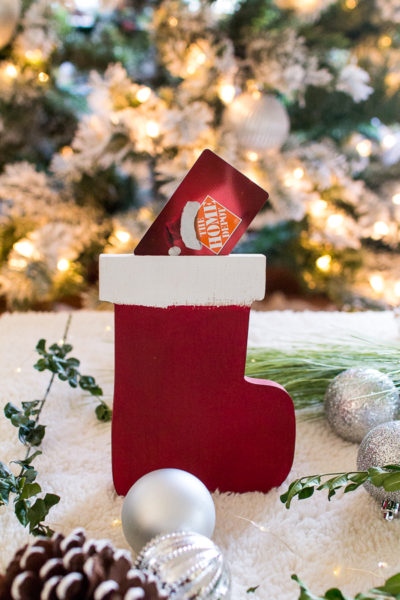 It goes so well with this shiny Home Depot Gift Card.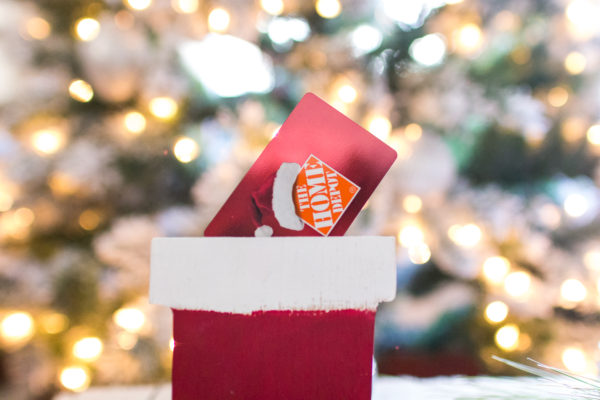 The other stocking we did was more rustic. I really love how stained wood looks and this such pretty oak.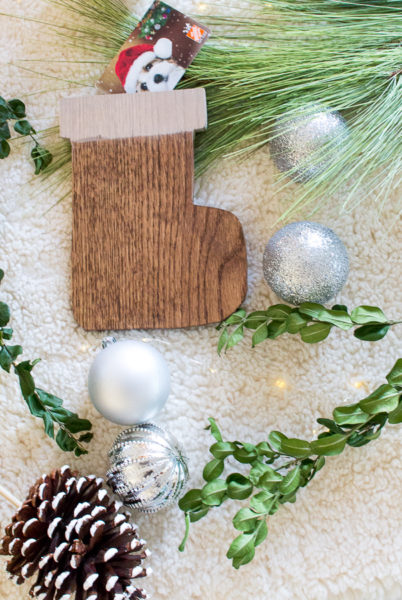 The steps were the same as above except for applying stain instead of paint. I used Sunbleached by Varathane on the top of the stocking and Minwax Special Walnut on the body. You may remember that we used Sunbleached on the table out in our she shed. LOVE that stain so much.
Here you can see the step by step in images. I sealed this one with Varathane's topcoat.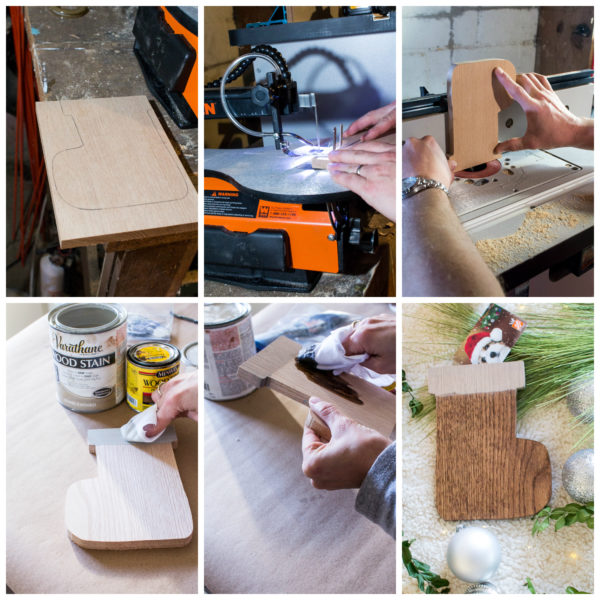 I think this one came out so sweet and I love how you can see the wood grain through it, so rich.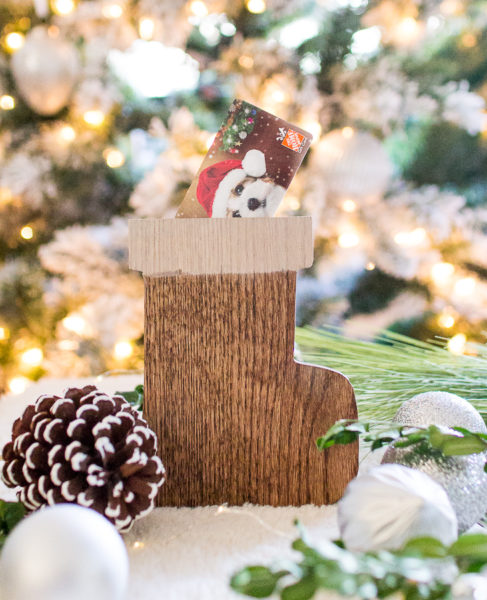 This would be perfect for someone who loves farmhouse or cottage style. All are easy to ship too, in case you're sending gifts.

Which one did you like the best?
How will you display your gift cards?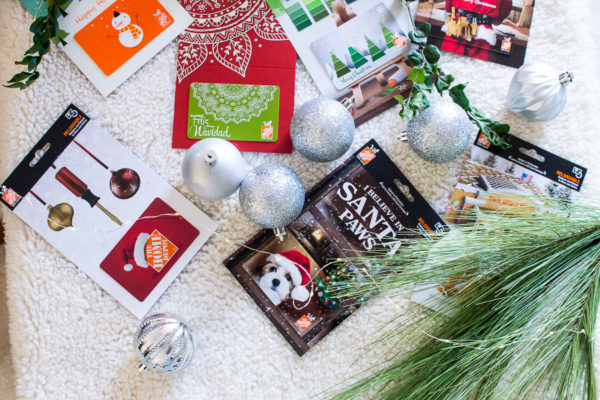 Please visit my friends below to see all their creative and fun display ideas:
Virtual Gift Card Party
The House of  Wood * Ciburbanity * DIY Huntress
That's My Letter * Just Destiny Mag * Sawdust 2 Stitches
My Sweet Savannah * Look Linger Love * Finding Silver Pennies
Love & Resolutions * Petite Party  Studio * Classy Clutter
Mr. Buildit * The Proper Blog * All Things Thrifty
I acknowledge that The Home Depot is partnering with me to participate in this shed program. As a part of the Program, I am receiving compensation in the form of products and services, for the purpose of promoting The Home Depot.  All expressed opinions and experiences are in my own words.  My post complies with the Word of Mouth Marketing Association (WOMMA) Ethics Code and applicable Federal Trade Commission.
Sharing with:
Home Stories A to Z * French Country Cottage * Shabby Art Boutique * The Inspiration Exchange