Meet Rebecca!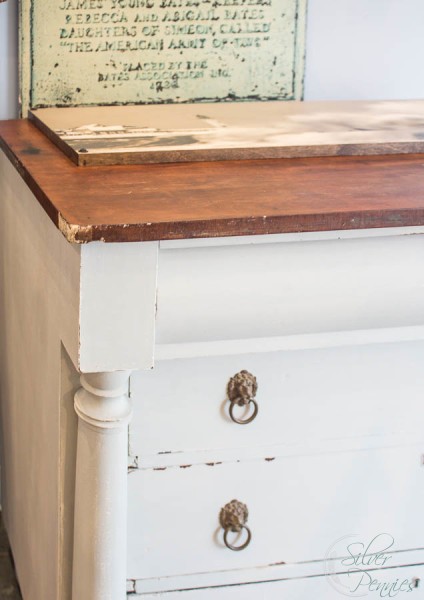 I've been wanting to work on her for ages and each time I'd go into Kjeld's Gallery I would say how much I wanted to redo her.
Perhaps I should show you the before.  She was all white but covered, I mean covered, in paint splodges slopped all over the place.  The hardware was even painted in place and stuck on.
Before: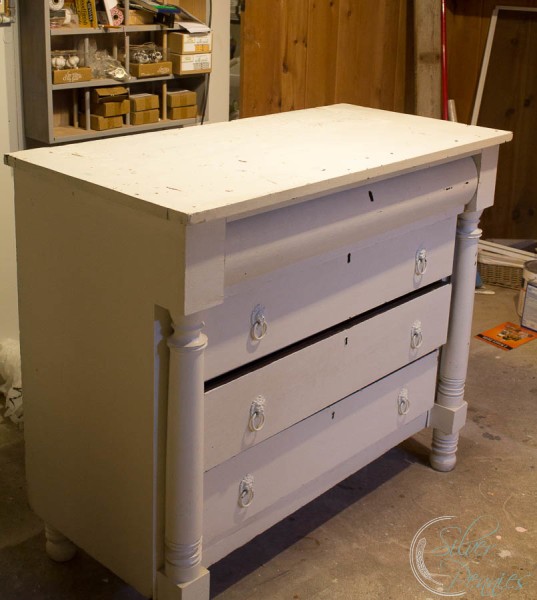 The drawers weren't opening.  The top was a mess.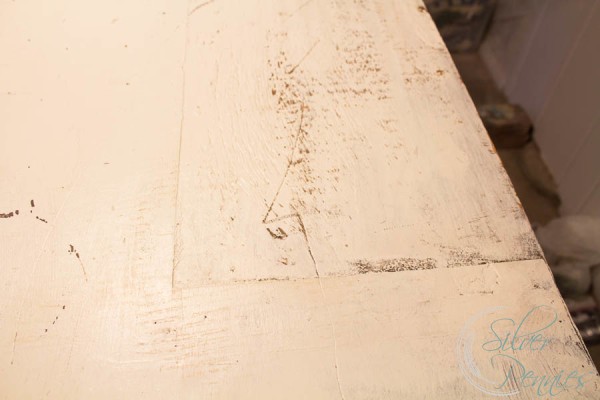 Chips, dings, too much paint…. You get the idea, right?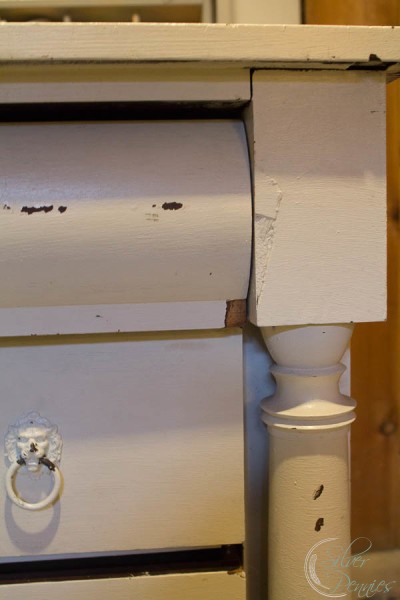 The first step was to strip the top.  I applied a few applications to rid the top of paint.  If you want to strip furniture with this natural stripper click here for a video I did last summer.
You may have seen this photo on Instagram while I was stripping it.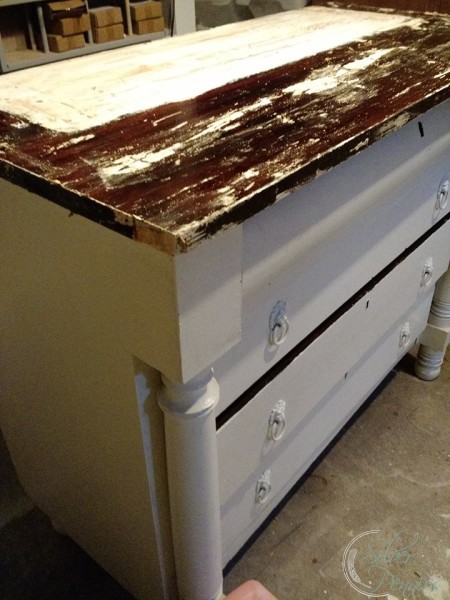 I was sooooo sad that part of the top was missing because the wood was so gorgeous.  It has a rich color and is so smooth.  I knew I wanted to leave the natural wood.
Then I had an "Ah, ha!" moment down in my little dark basement. The missing area was almost the shape of a panoramic photo. I snapped a picture and asked Kjeld if he thought we could attach one to the top.
And here it is attached: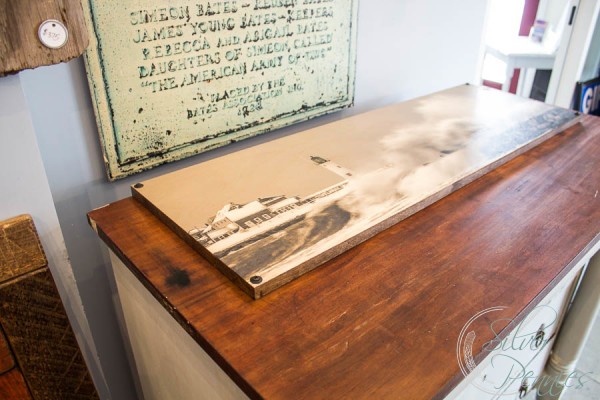 I simply sanded the area and applied a coat of General Finishes High Performance Top Coat in Flat and attached to the top, printed on wood, is a gorgeous image by Kjeld of the lighthouse with the waves crashing.
If you've been following along for a while then you know I love lions head pulls.  I love them so much. These were covered in paint and I know people like painted hardware but these are old and they are brass. So I tossed them in my crock pot (won't be cooking in that one anymore) and cooked them in hot water and then scrubbed the paint off of them.  Thanks to Nicole Curtis of Rehab Addict for that tip!  As an aside, that is one of my favorite shows on TV.
Here's how the pulls look now: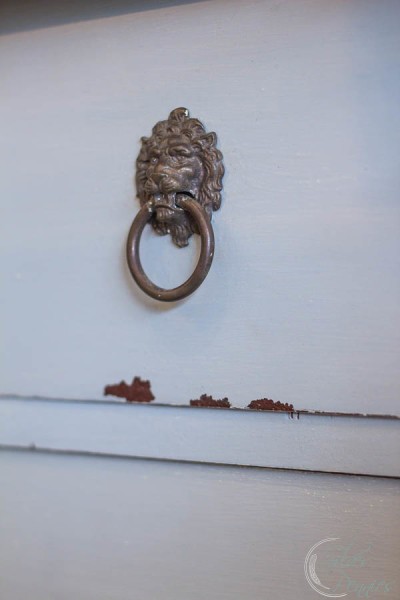 Gorgeous, right?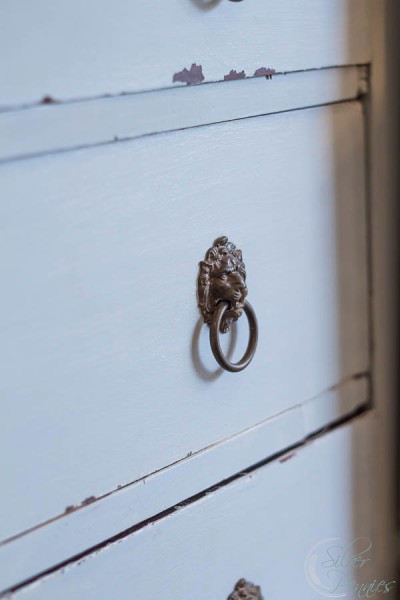 Rebecca is painted in Mora Milk Paint.  It is part of Miss Mustard Seed's new European line and this color is gorgeous. It is even prettier in person.  It is a soft muted, gray green.  It is so serene and calm.  I sanded down the whole piece and cleared off the sanding dust and applied the first coat of milk paint with bonding agent.  Then I did two more coats.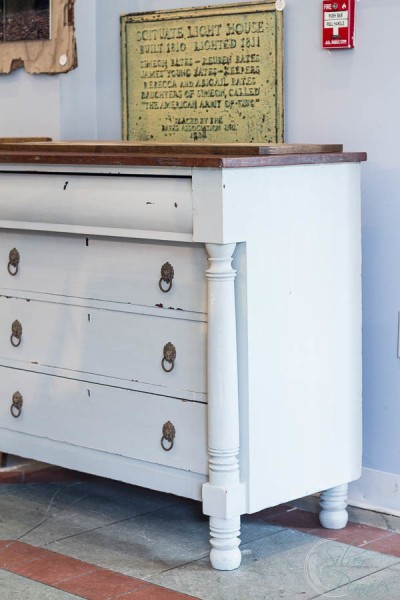 I sanded around the drawers and also used a paint scraper to distress it more.  You can see some white paint showing through. The paint is sealed with MMS Clear Wax.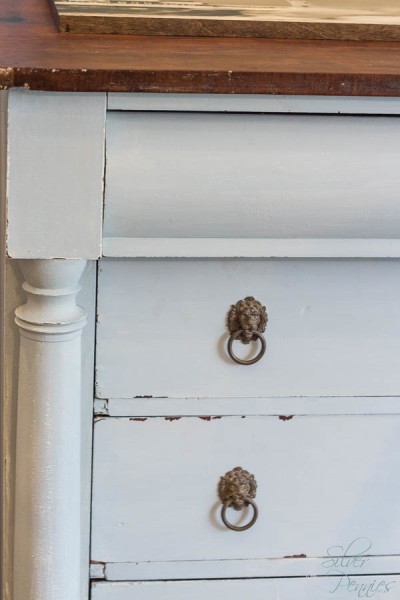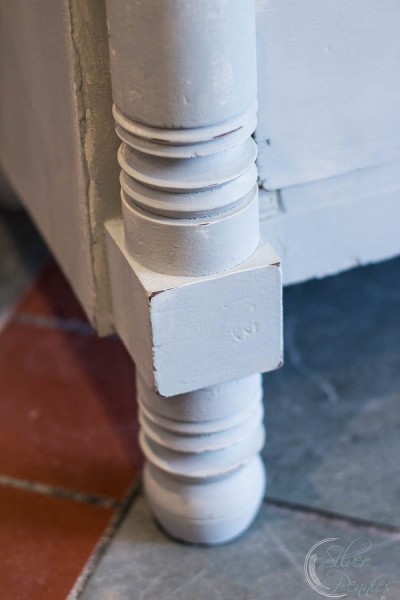 I also love how different colors come through in the milk paint: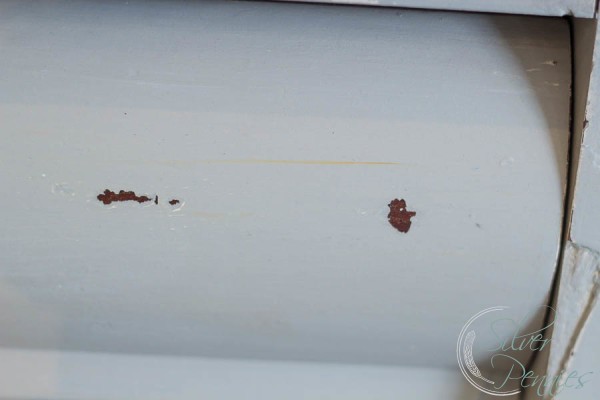 The wood on top has such a lovely patina and I left some paint in areas too.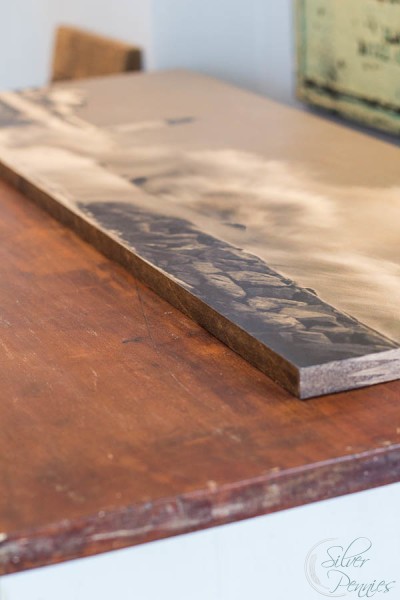 Here you can see Kjeld affixing it to the top. I took this photo yesterday at the gallery: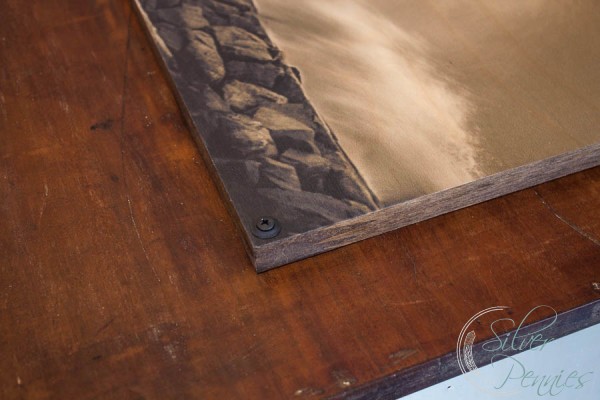 I should probably tell you Rebecca is named after Rebecca Bates. She and her sister, Abigail, were known as the "American Army of Two"and they fended off the British army near the Scituate lighthouse with a fife and drum during the War of 1812.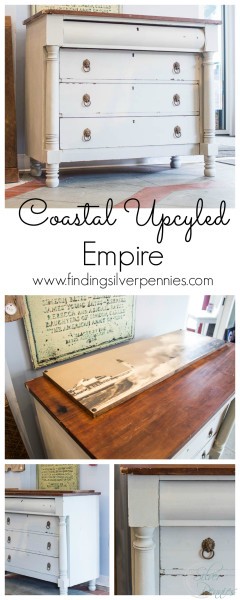 If you'd like to meet Rebecca in person she's available at Kjeld Mahoney Photography.  I will also be there this Friday night as part of Scituate Harbor Art Walk.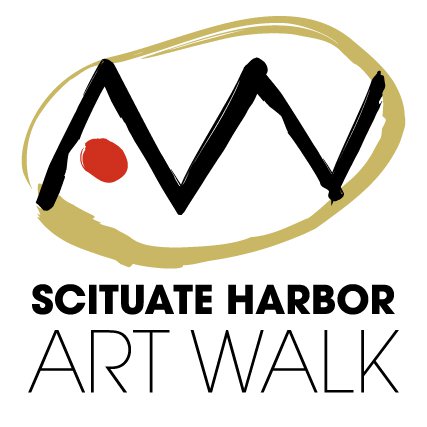 I'm going to try and share some more photos tomorrow of available pieces and how lovely his gallery looks.
What do you think of Rebecca?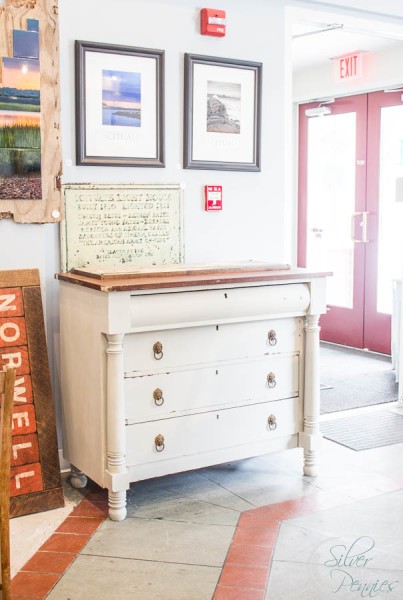 Sharing with: