I'm not a BIG Valentine's person.
I don't really decorate much for it.  We usually just get takeaway or make chocolate fondu with the kids.
I'm more of a tell-them-you-love-them-all-the-time girl 😉
For me that means, telling them how proud I am of all the wonderful things they do and how amazing they are.  That means squeezing their little hands 3 times (I-love-you) – it is our secret code.  Don't tell them I told you.  That means, doodling with them and snuggling them close.
It also means making heart shaped pancakes.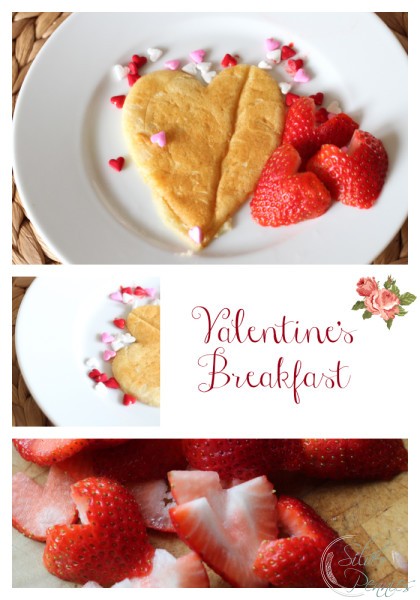 We make them a lot over here.  Conor even picked up a special stirrer to help the last time we were at Target.  We cut the strawberries in little hearts: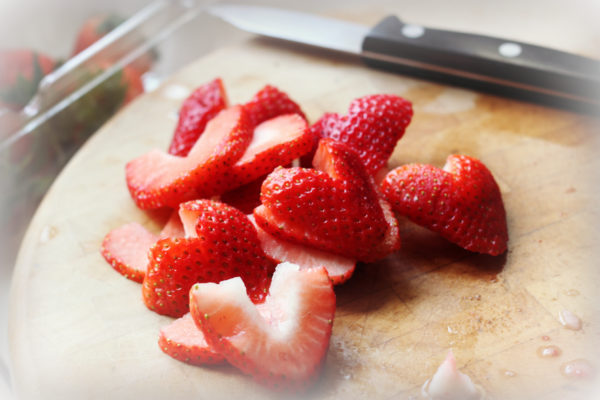 Just slice and cut the top into a little V.  I promise your kids will love this.  Conor and John thought it was so "cute".
For our extra special pancakes here's the recipe:
Delicious Pancakes (That Tell Them You Love Them)
1 1/2 C All-Purpose Flour
3 1/2 tsp. Baking Powder
3/4 tsp. salt
1 tsp. baking soda 1 Tbsp. granulated sugar 1 Egg 2 C Milk  3 Tbls, melted butter For slightly sweeter pancakes, add 1 teaspoon of vanilla extract. 
We like it this way!
1. In a large bowl, sift together flour, baking powder, baking soda, salt and sugar. Make a well in the center and pour in the milk, egg, and melted butter; mix until smooth.
2. Heat a non-stick pan over medium high heat. Pour or scoop the batter onto the griddle, using approximately 1/3 C for each pancake. Brown on both sides and serve hot. Yields 6-8 pancakes.
Oh, you can't forget the toppings.  For these, I did heart shaped strawberries and heart candies and cut the pancakes out with a heart shaped cookie cutter.  John, our 7 year old, loves chocolate chips in his pancakes and has been known to also top that chocolate-y goodness with Nutella.  Conor loves fruit – those strawberries and blackberries.
So this is one of the ways I tell them I love them.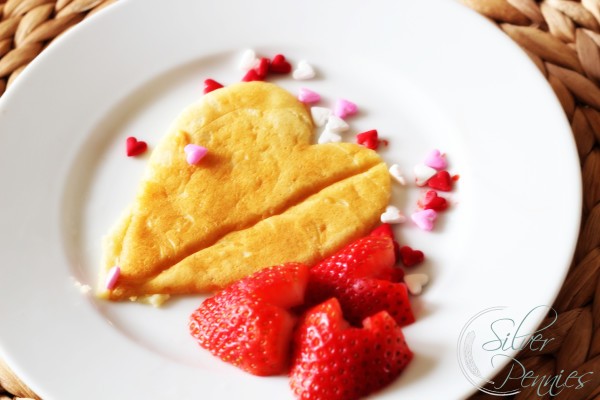 Conor tells doggie with a big squeeze and shares his pancakes!