For some time now, I've debated what to do with this 1930s (I think) buffet in my basement. You may remember I posted this photo. I loved the shape and the hardware but I kept scratching my head. Should I paint it white? Navy? Black? I had planned to sell this at our open studio but then my friend Chrissy saw the photo and decided it would be perfect for her bedroom. The image below is the one my dear reader, Rachela sent me. This piece used to reside in Rachela's dining room, but they were moving: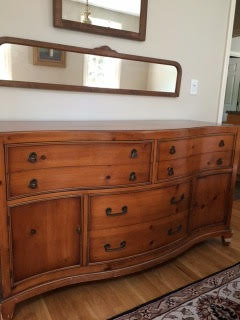 Aren't the lines exquisite?
There was some damaged here on the leg which made this piece a great candidate for painting: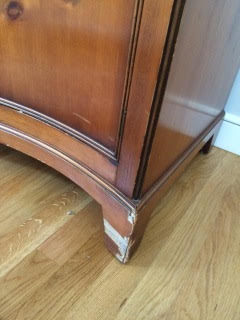 I know some people get quite upset when I paint wood that is "too good".
Well, Chrissy and I decided French Linen would be perfect for this piece. We talked about Chrissy's bedroom which is also home to a beautiful antique empire dresser and a rustic wood sleigh bed and some red and cream bedding.
French Linen is a color I've used often on different types of furniture and always love. It can look coastal, shabby chic, rustic and classy.
I showed her a few pieces in our own home before committing.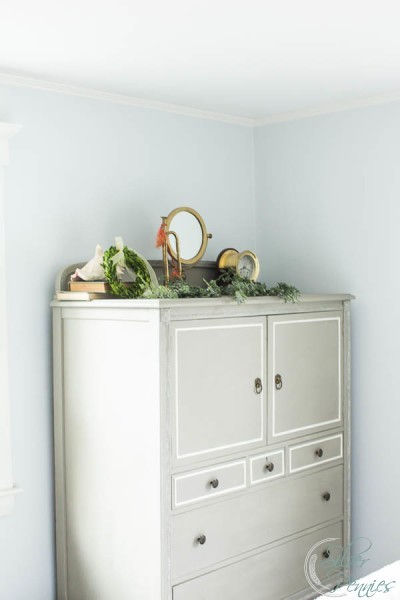 As well as our coffee table (seen last Christmas), this one is done with a Restoration Hardware style effect.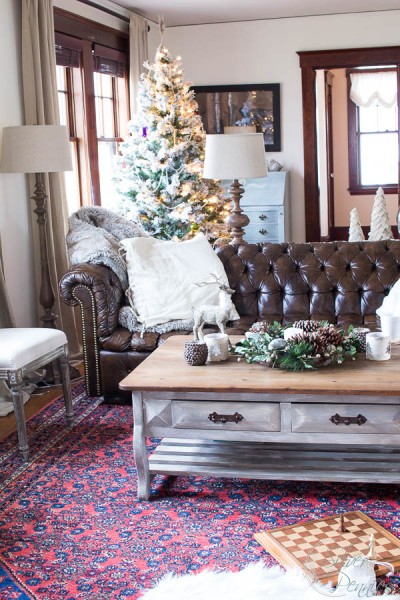 I think we made a good choice because this pretty buffet looks like it was meant to be painted in French Linen: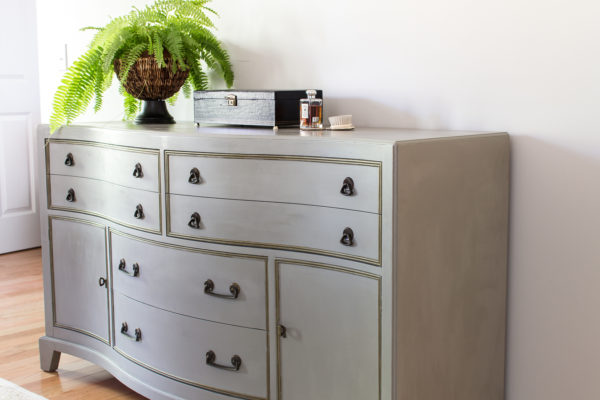 It is so warm now!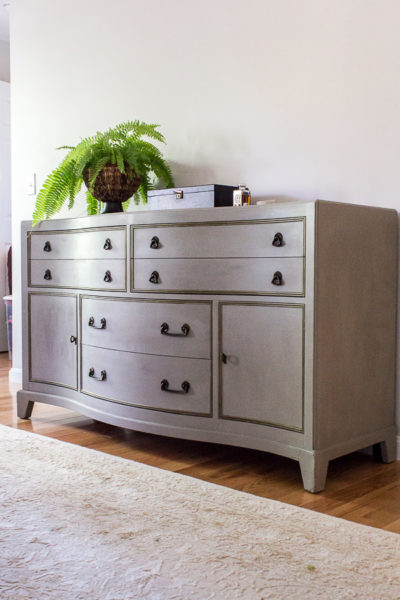 As many of you know I name my pieces! This one I'm naming after my friend. Meet the Chrissy Dresser! Okay, I know this is actually a buffet, but it is being used as a dresser. This a great example of repurposing furniture. There's plenty of room for heavy winter sweaters.
This piece is very large. Chrissy's room is spacious and it fits on this wall perfectly.
This dresser is by Morganton and is solid wood. It is extremely heavy. I'm so glad Troy (Chrissy's husband) helped Luke move it up from the basement and up the stairs to their bedroom 😉 Thanks, Troy.
Upon placing the finished piece, Chrissy and I "shopped her home" to stage it.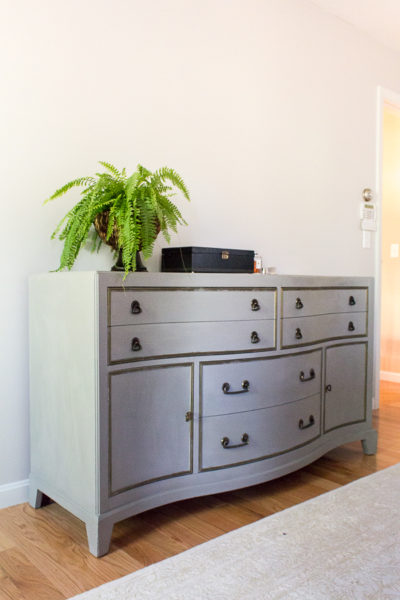 A pretty fern from the bathroom: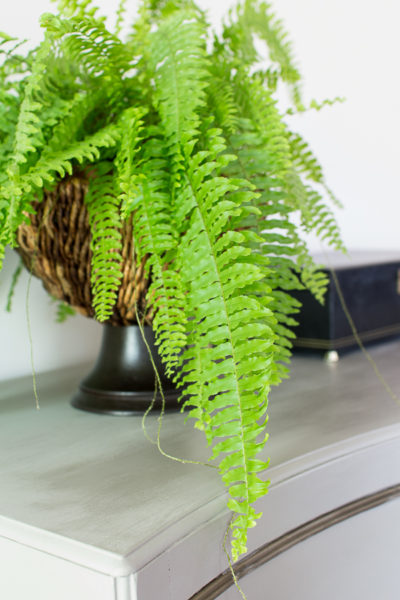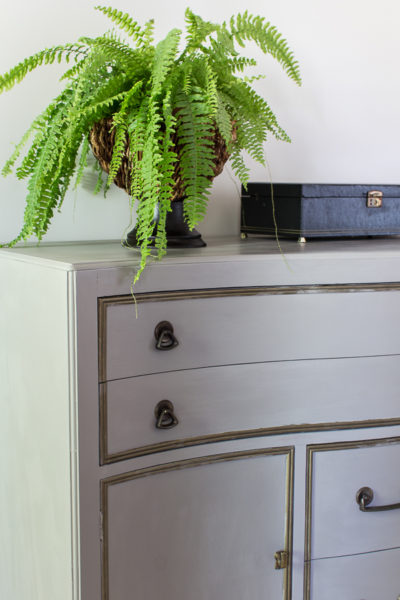 The beautiful jewelry box is an antique and belonged to Chrissy's grandmother.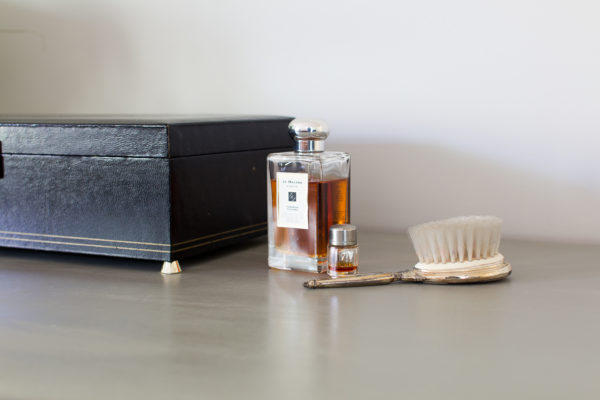 Perfect right here: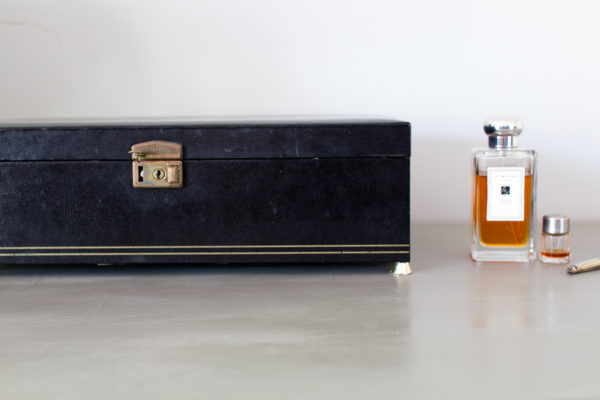 In case you want to recreate this look at home, this is what I did:
I've included a few affiliate links below. If you purchase a product through the link it doesn't cost you more but I get a percentage of the sale. Thanks for supporting our blog in this way.
I thoroughly prepped this piece. I know many people say you don't need to prep for Chalk Paint® but I always do. I scuff sanded then I vacuumed off. I washed this down with mineral spirits as a degreaser, then followed up with warm water. I also patched the area that was missing wood. Then I wiped on two coats of clear shellac. Clear shellac seals a piece and prevents any bleed through. This piece despite being varnished could still bleed through because I scuffed the surface. Pine usually bleeds through a yellow(ish) color.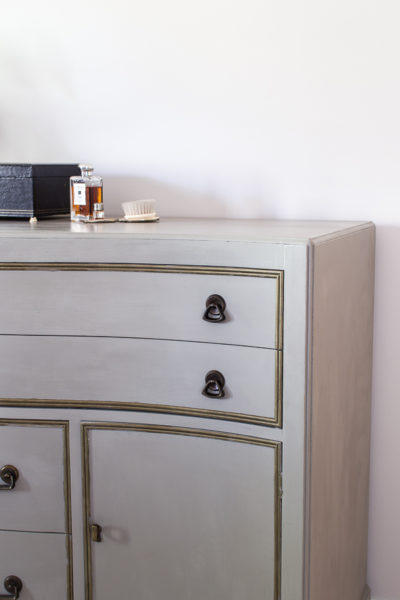 I applied three coats of French Linen with Annie Sloan's Modern Finish Brush. This prevents brush strokes. Since this buffet has modern lines I didn't want a rustic finish, I wanted it to be smooth.
The hardware is original to the piece and is beautiful.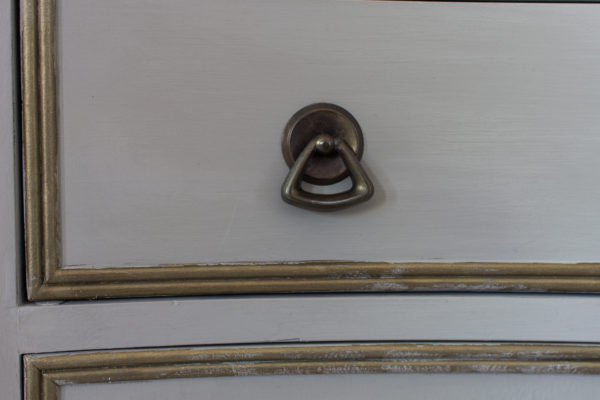 To highlight the hardware I used Matthew Mead's Studio Metallics by Fusion Mineral Paint in Bronze. I tried a few different golds and bronze metallics and this one matched best with the hardware. I dried brushed in some areas to make it look a little distressed.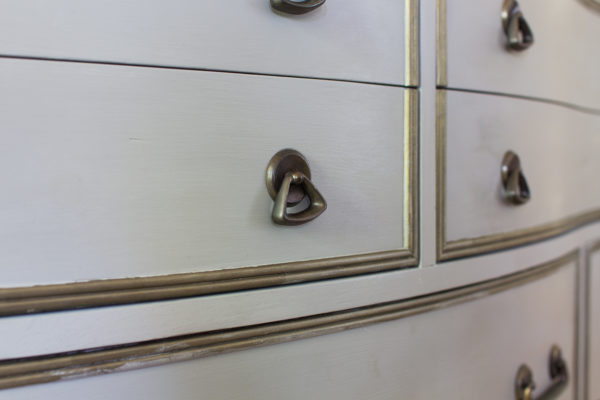 I sealed the entire piece with Annie Sloan's Clear Wax. It's one of my favorites to work with because you can do so much with it. I find that it gives over all protection. I buffed lightly to give a light sheen. We wanted a more matte finish than the original.
I'm so happy with how this one came out. Here's a side by side (before and after):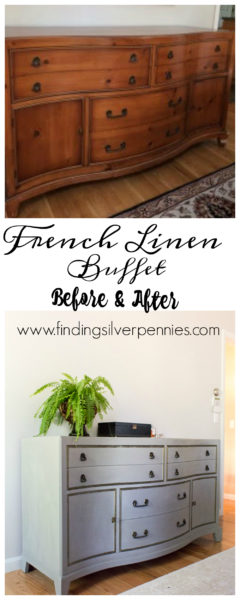 If you enjoyed this post you might also like my eBook! Click here for that. I will also be teaching two classes in December on painting techniques in Scituate Harbor on December 8th and 15th, you can call Little House of Arts (781-545-9326) to sign up!
Sharing with:
Home Stories A to Z * French Country Cottage * Shabby Art Boutique * The Inspiration Exchange