Map Bunting in our Playroom
As this is the start of February vacation week and we'll be spending many hours playing, I thought I'd share my kids' playroom with you.

Last week I showed you our guest room. The playroom is also on the lower level and is an extremely large room. This is how it was looking when we moved in:
Playroom (Before)
Here is a look now:
Playroom (After)
The room is filled to the brim with toys, vintage items and artwork (the kids' pictures and drawings and my own).
John loves to draw and spends many hours creating art on the blackboard we made for his 3rd birthday.
Artist at work!
The room is a playful green which I love. The previous owner picked the color and it really works for an area for children. Vibrant and fun with the white! We carpeted the room in a beige berber carpeting which is so soft for the kids to play on and much warmer than the linoleum tile.
We made a built in to cover the sump pump and also installed hooks for dress up clothes:
Playroom (Before)
Playroom (After)
Many hours are spent reading or hiding in the teepee:
My three guys!
Storage is a big thing in the playroom and we try to keep the clutter contained. We have great modular sets from Ikea with chalkboard tags I made:
Ikea Storage Units
We also use woven baskets for dress up hats and light sabers and milk crates for coloring books.
They've enjoyed many hours drawing on their
chalkboard table
& playing with wooden trucks:
They build towers out of pillows, duplo and create millions of worlds out of lego. Thorny Devils, barns and fire engines, oh my! I'm so happy that they have such a wonderful space to play and create.
Playroom (After)
If you'd like to recreate any elements of this playroom, here is my source list:
Source List:

– Wall Color – Apple Green by Benjamin Moore, Super White
– Natural Roman Shades – Target
– Berber Carpeting – Shannon Flooring
– Modular Shelving – Ikea
– Wooden Tags (for chalkboard tags) – Pick Your Plum
– Annie Sloan Chalk Paint on Subway Sign Chest and Antibes Blackboard Table – Sea Rose Cottage
– Teepee – Land of Nod
– Don't Give Up the Ship Sign – My Etsy Shop
– Globes, Camera and drawers – Vintage
– TV cabinet – $50 craigslist find
– Pendant light – Ikea
Featured on: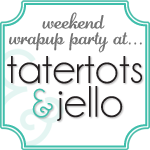 Linking to: