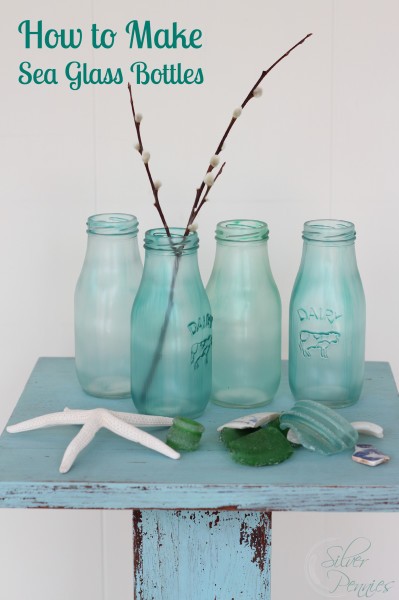 It is no secret that I love sea glass.  If you've been following the blog for a while then you know that we love taking the dog for walks on the beach to search for driftwood and sea glass.  To find a bit on Egypt Beach's rocky shore is quite a treasure.  I love how it sparkles on the sand, glittering like a long forgotten gem in the summer sun.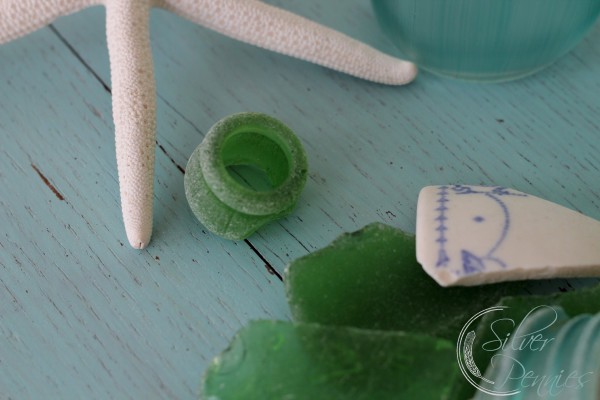 I wrote a post about our mini adventure to the Boston Harbor Islands and was in heaven with all the sea glass on Spectacle Island.  We had so much fun looking at all the different shades and pottery shards. Look how tiny Conor was!  That was in August 2012!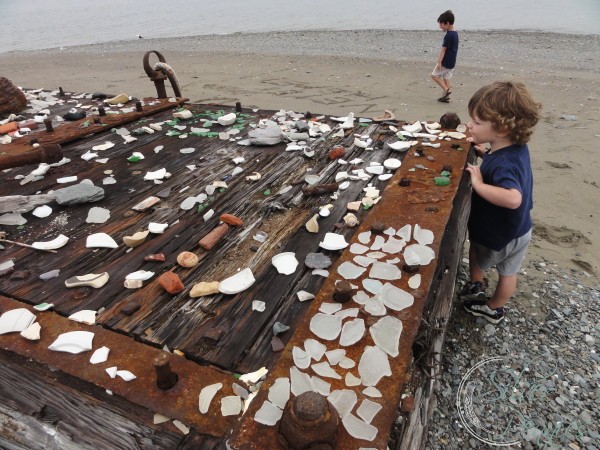 Well, you may have noticed the sea glass bottles in my dining room post last week: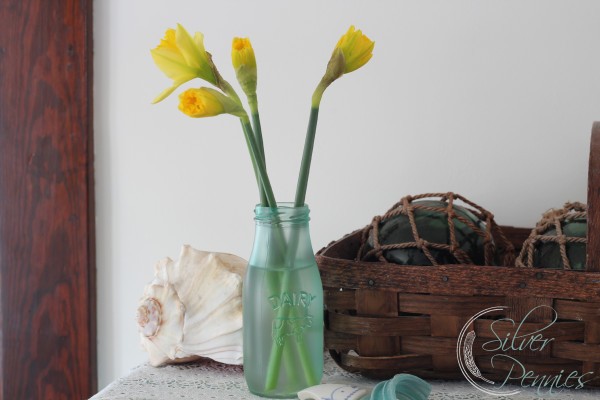 These are not really sea glass, I made them with bottles from Michaels.  Do you want to learn how to make them too?
This isn't a new idea but it is so fun  and easy.  The best part is it really goes with our coastal style.
How to Make Sea Glass Bottles
Materials:
Bottles or vases (any kind of glass you desire).  I fell in love with these milk bottles from Michaels.
Mod Podge in Matte Finish
Food Coloring
Decoupage brush
Wax Paper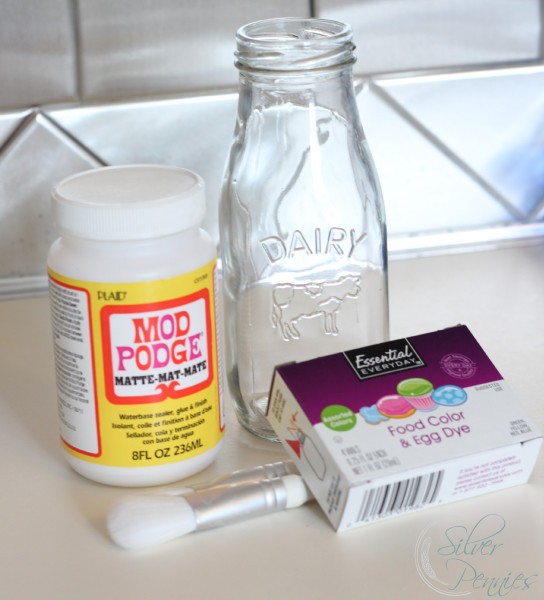 Method:
Mix together food coloring and matte Mod Podge.  I played around with the colors.  The lightest colored bottle has 4 drops of blue & 1 green, the mid range shade is 4 drops of blue & 4 drops of green, and the darkest bottle is 10 drops of blue & 4 drops of green.
I mixed the lightest color first and did two bottles in that then added more food coloring to make the additional shades.
I made sure the bottles were clean before painting.  To paint, I used a small amount of paint on my brush and stroked down.  I found the decoupage brush to be wonderful to work with.  Only a few lines are visible on the darkest bottle.  Try not to over work the paint. It will look streaky while wet but dries smooth.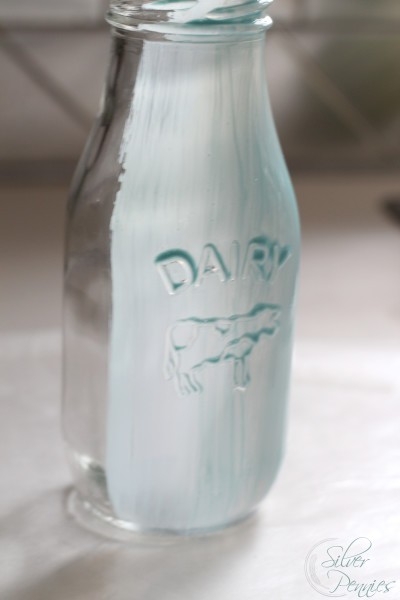 I put my fingers inside the bottle to move it as I painted.  I painted the bottles on top of wax paper so they didn't stick.  The bottles dried pretty quickly.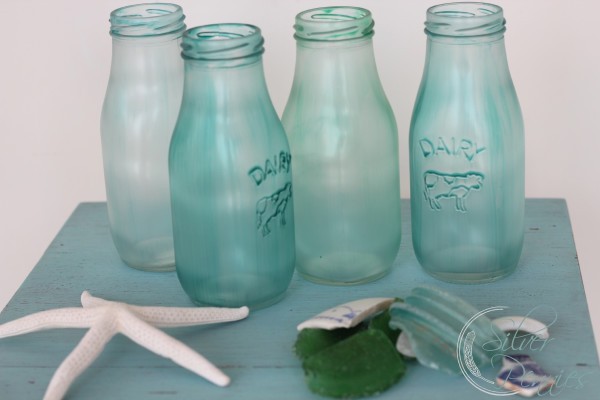 Which color do you like the best?
I LOVE all of them.  These were so fun to paint and I'm amazed at how much they really do look like the real thing.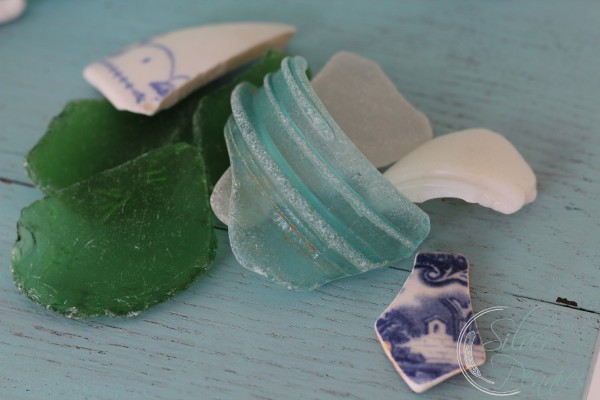 Wouldn't you agree?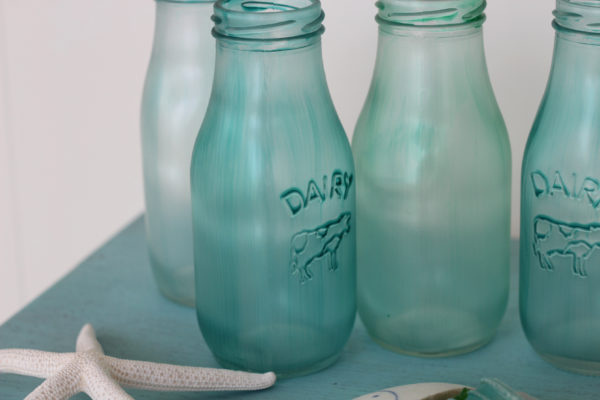 Pretty as bud vases for spring, lovely empty mixed with shells or gorgeous in an industrial crate with peonies or roses.  I'm so excited to use these pretty little sea glass bottles in all seasons.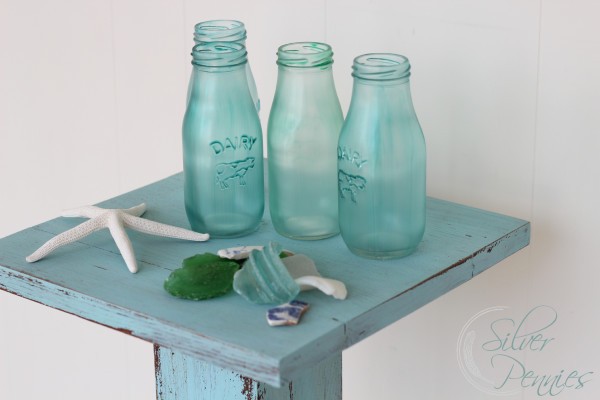 The pretty pedestal is painted in MMS Milk Paint in Eulalie's Sky and is at Kjeld Mahoney's Gallery.  It will soon have one of his images on it and be for sale!
Let me know if you give this DIY a try.  I had so much fun with these little bottles (and the pedestal for that matter).
Sharing with: