Early in the morning, I love to venture down our garden to this little quiet spot. The sunlight is just so beautiful in here. Thank you all for your lovely comments on our summer home tour the other day. I took soooooo many photos of this space that I promised you a few more.  Come enjoy a summer morning in the she shed with me.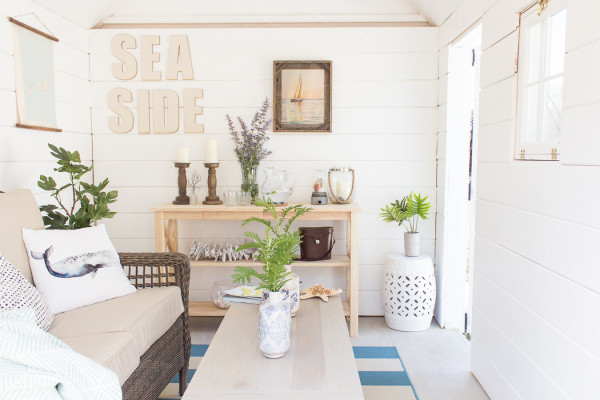 I partnered with Home Decorator's Collection on this post and am excited to chat with you about outdoor rugs. You can follow along with this tour with this hashtag – #hdcrugsforthesummer
Anyway, this is my special place. A place I can go to think and relax. A spot away from our sometimes hectic house filled with boys (who sometimes fight and argue, but are usually pretty good).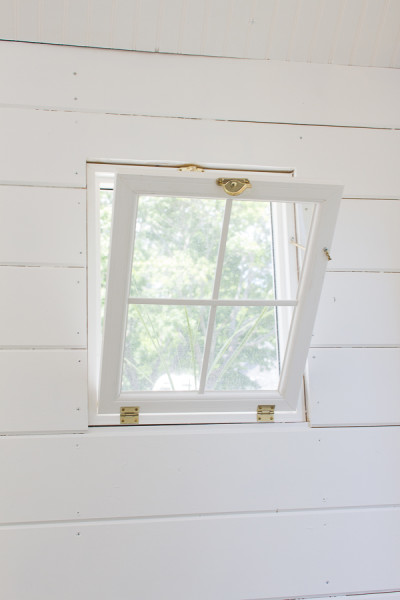 We completely did over this shed from Home Depot last year, click here to see all those posts. We installed the shiplap and opted for screened in windows. We painted, crafted and DIYed.
When the windows are open it is heaven. I can enjoy the soft coastal breezes coming up from the harbor and enjoy the sound of birds singing.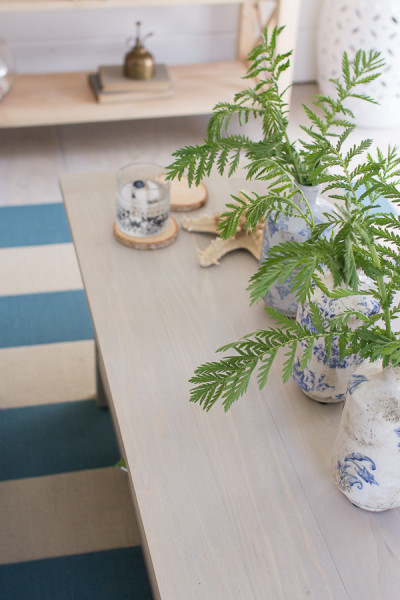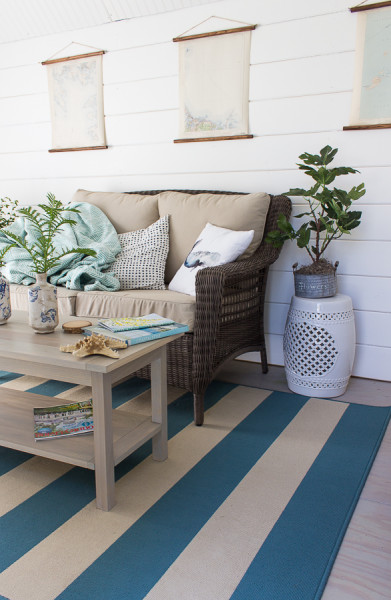 When designing the space, I opted for this gorgeous Nantucket Area Rug from Home Decorators Collection. I love the large coastal stripes, but you know from my home I have a LOVE for this particular color blue.  LOVE it! 😉 This rug comes in 6 fun coastal inspired colors.
The original shed looked like this when it arrived:

The bottom image was from right after completing. So you can see it is a pretty basic space. Layering this beautiful outdoor rug on top of the pressure treated wood (which we stained in a driftwood colored stain), makes this basic shed feel very warm and inviting.
I love decorating with outdoor rugs even inside because they are so durable. They are great with young families, pets and really withstand the elements.
Can you believe we've had this rug for a year and it looks brand new???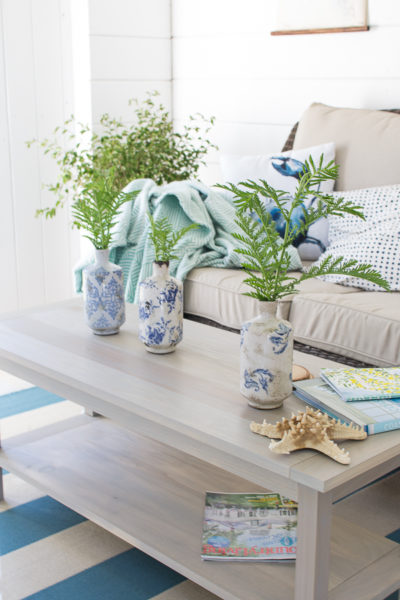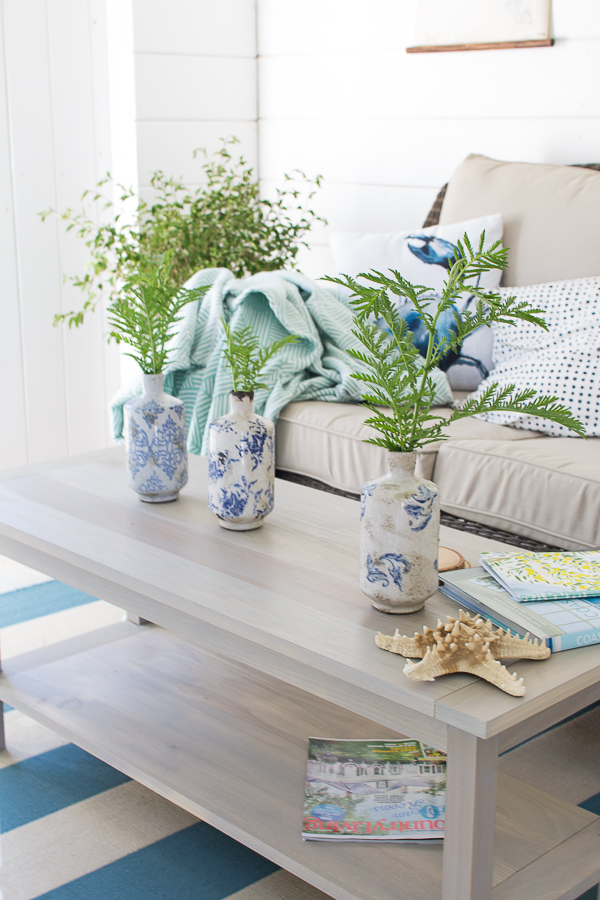 It is soft underfoot and ties in with all my blue coastal accents in this room – my nautical chart wall hangings, my terra cotta vases and this plush blanket.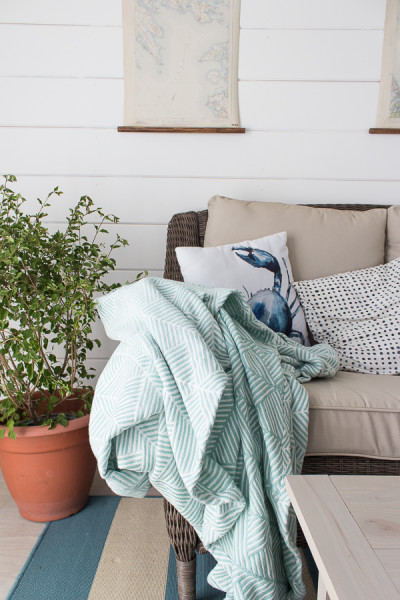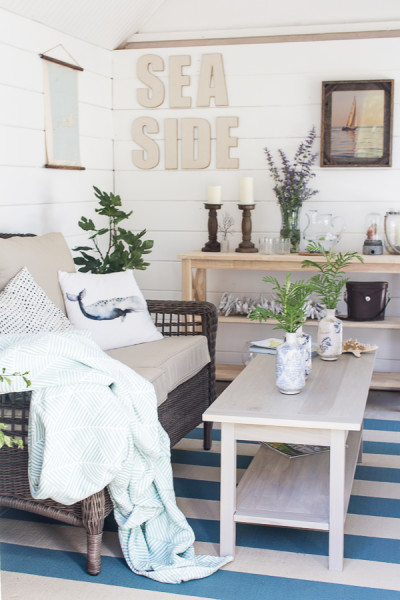 I think the stripes also help make the space feel bigger!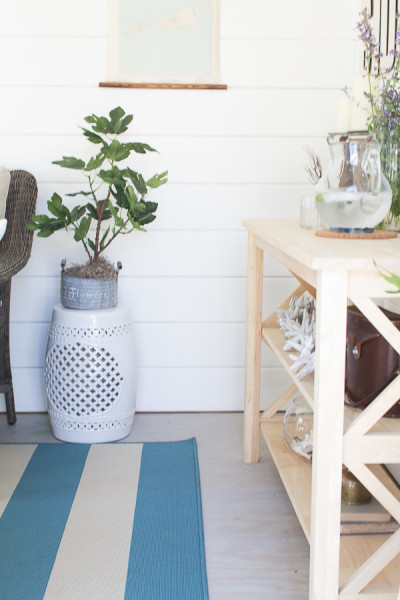 I often get asked about decorating down here as it is an outdoor space which isn't heated. I bring anything that could crack inside and store them in our basement for winter when the temperature drops below freezing but I left the rug and settee out here. If you're looking for more outdoor furniture and decor items Home Decorators Collection has a lovely variety.
Would you care for some blueberry infused water?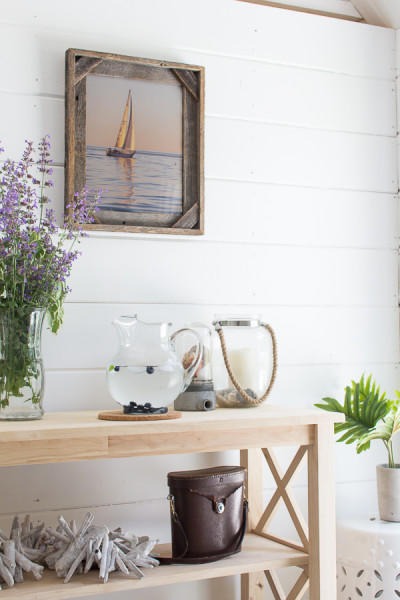 I've started bringing a large pitcher out here and infusing it with fresh fruit and herbs from our deck.  Today I have blueberry and mint – so refreshing.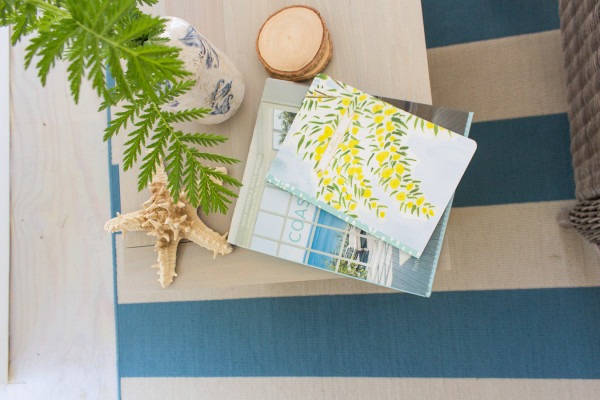 I adore sitting out here reading or writing.
It is my little corner of heaven with a little bit of Nantucket inside.  Next time you're thinking about buying a rug for your space, I hope you'll consider an outdoor rug. I'm so happy with mine.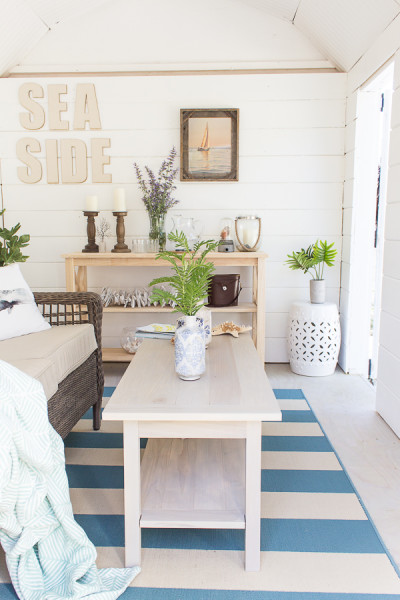 I'm also including a few sources below which include some affiliate links for your convenience.

She Shed Source List
Sharing with: