Come on in and make yourself cozy. Today, I'm sharing summer in the dining room. We don't really use this room for dining in the summer months as we spend more time eating and sipping coffee out on the deck or in the sunroom, but this room is one of my favorites in the house.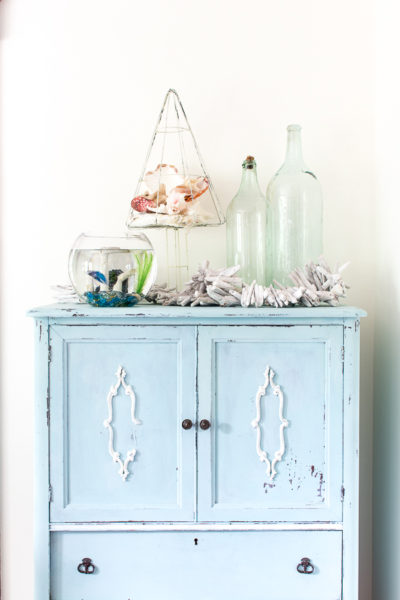 I adore the white walls, the soft blues and grays and, of course, ALL my shells!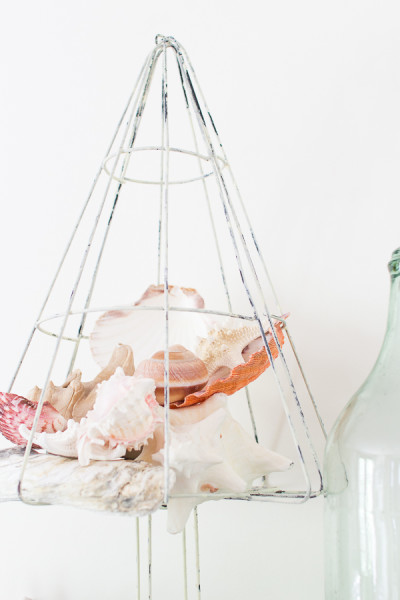 If you've been following along then you know this room was one that we had to do over. We renovated this room, the living room and the boys' bedroom. So this is the first glimpse of the makeover 😉 Things may not look too different in here because all the furniture is the same but there is no longer a crack across our ceiling and we replaced the picture rail and had it stained to match our trim.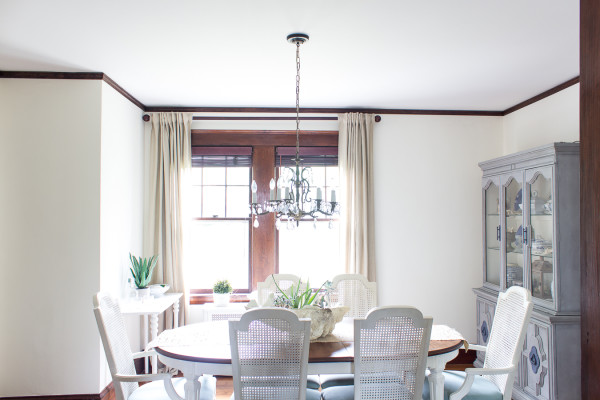 The dark picture rail makes such a huge statement and helps to frame the room adding warmth to the creamy white walls. I will be hanging photos but just haven't gotten around to it yet (as we're in summer mode here 😉 ).
Here's a side by side of this room currently and without ceilings:

Can you believe the difference? The new ceilings add so much light as does the new coat of paint on the walls. For weeks this room was just a shell. Even after we moved everything back in it sat undecorated. I just needed some time to decide what I wanted to do.
I, of course, decided to be very simple in here and bring in all my shells and my favorite color combination – blue and white.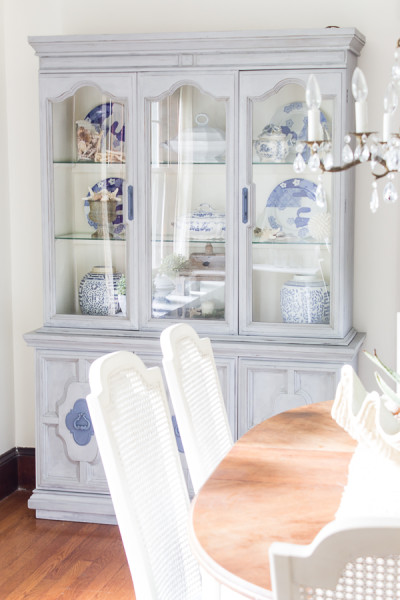 Vintage Asian pottery and ginger jars grace the shelves in the china cabinet along with some ironstone and other vintage pieces.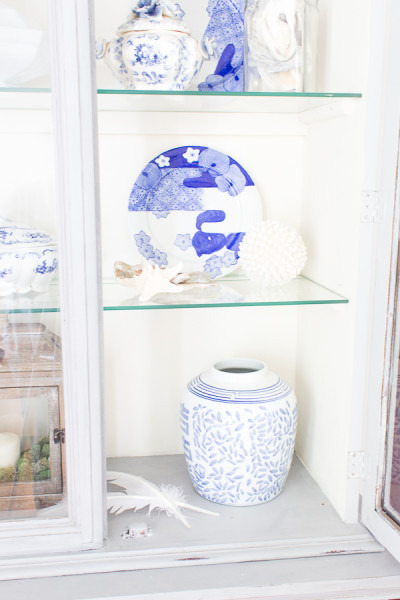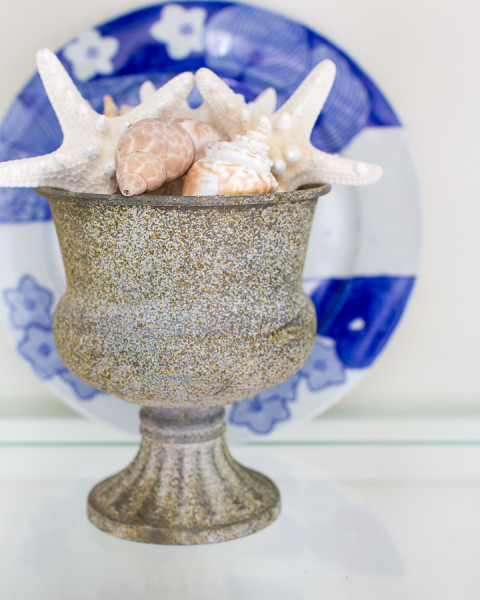 I love nestling shells in unexpected spaces.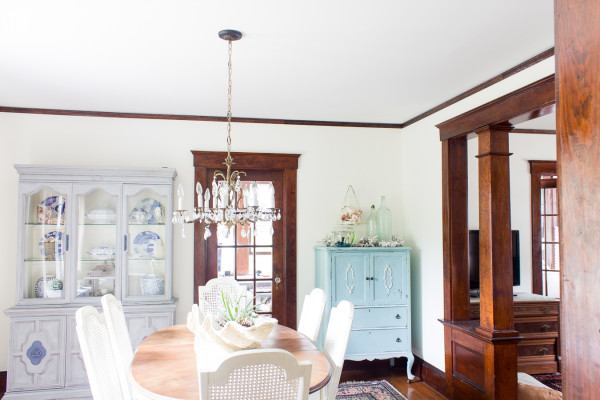 Six weeks went by without my beautiful chandelier and I'm so glad it's back up!  Yay!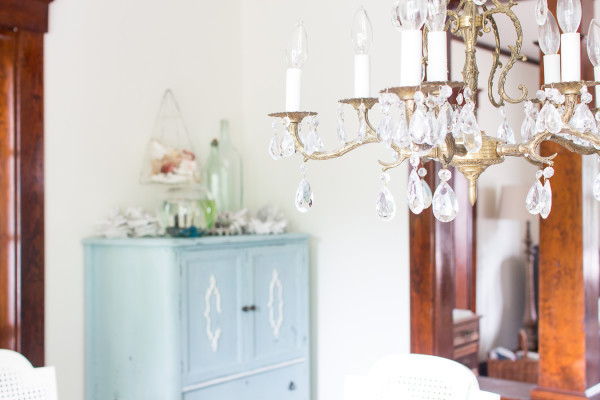 Oh, and you may have spotted a new pet! This is Glowstick, John's new beta fish. Conor got one too but he's in the living room so you'll have to wait to make his acquaintance.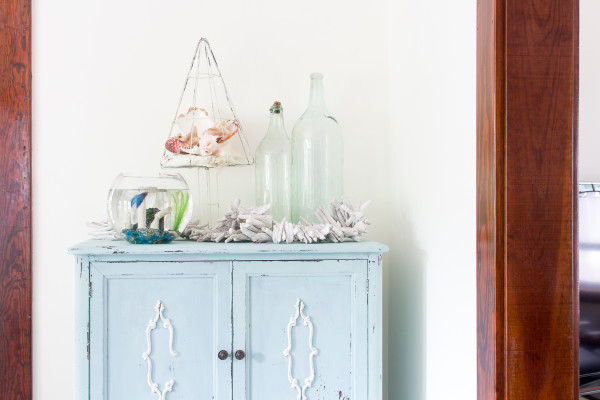 This fish is so graceful swimming perched on top this milk painted cabinet.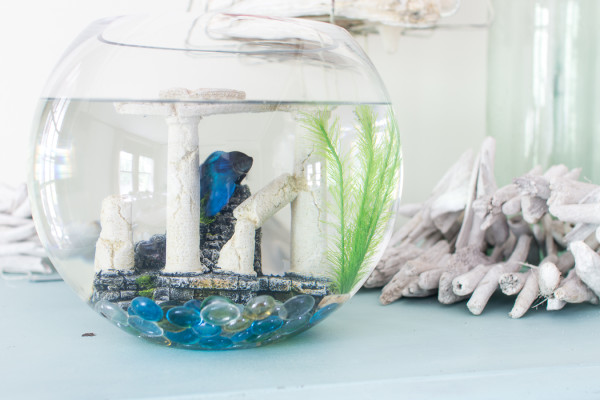 You guys are going to think I'm crazy but I'm actually thinking I might want to change up the dining set in this room. I still want a shabby chic style but think after three years I may be ready for something slightly different. I'm on the hunt, but not sure what I want yet. Just don't tell Luke. I think he's had enough change for awhile.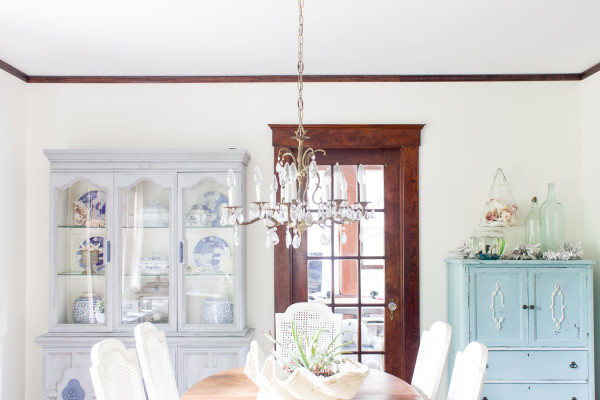 The giant shell with succulents is now in here: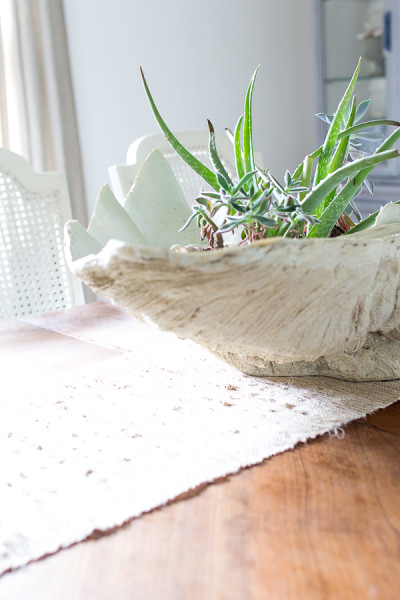 It's so pretty when it catches the morning light.
The other side of the room is pretty much the same.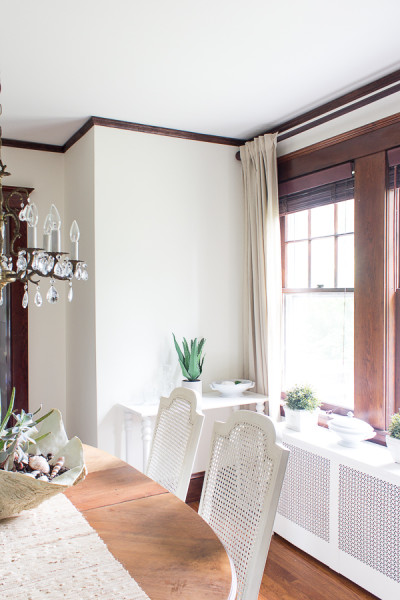 Our faux marble table is the perfect place to display sea glass in ironstone.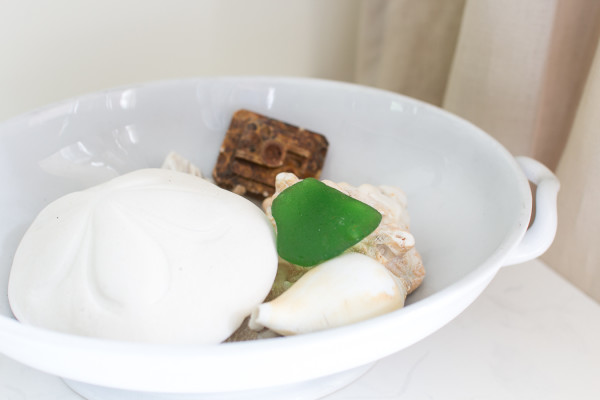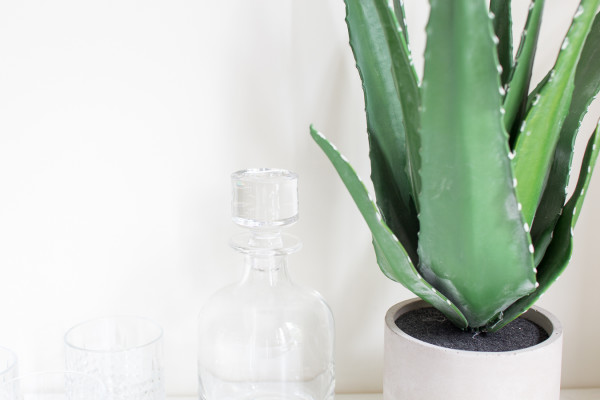 What do you think of our summer dining room? Easy and relaxed coastal elegance! Can you smell the fresh ocean breeze?

I often get asked for sources, so here's my complete source list. There are a few affiliate links in this list.
Source List
Wall Color – Mascarpone in Matte by Benjamin Moore
Dark Woodwork – Original
Chandelier – 3A Antiques
Dining Set – Craigslist Find and redid with Annie Sloan Chalk Paint in Old White. Can see more of the makeover here.
Faux Marble Bar Console – See tutorial here
Woven Runner – Target
Faux Plant (on marble console) – Target
Vintage Blue and White Jars and plates – Antiques
Linen Curtains – Ikea
Gray Hutch – Tutorial here
Simone Antique Armoire – Tutorial here
Driftwood Garland – Birch Lane
Glass Bottles and decanters – Antiques
Topiary Form filled with shells – Matthew Mead
Sharing with: