The other day I shared the HGTV Dream Home Tour in Martha's Vineyard. Today I have another home tour for you.  My home.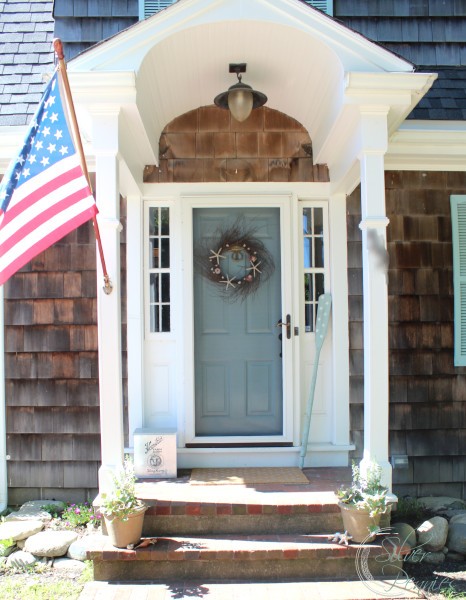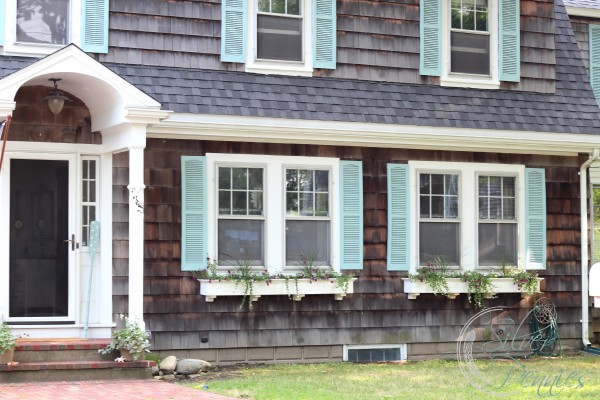 It is my dream home.
I grew up in an antique Cape in Andover and my parents owned an historic restaurant in a colonial mansion.  I always, always wanted an old home of my own.
Can you believe Saturday marks our 2 year anniversary in this house?  I can't! It feels like we just moved in. Do you remember?  The excitement? The worries the days leading up the move as I packed our old house up?  I remember my boys running from room to room so excited about our new home and their secret passage way.
I took this photo on that day. Sweet Conor sitting on the back steps taking in his new yard.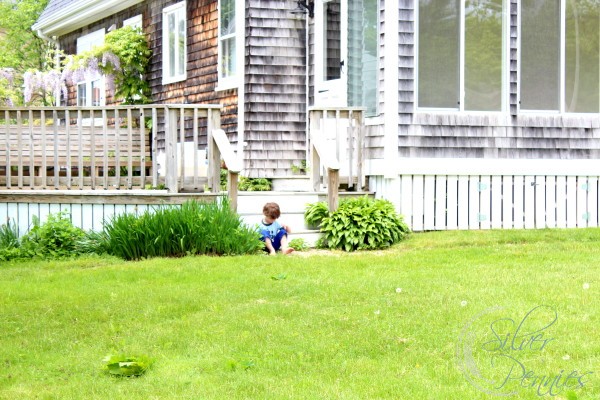 A LOT has happened in two years – a skunk incident, a few antique shows and open studios, room makeovers, blizzards, magazine features and so many wonderful memories.  So I thought today, we'd take a look back two years and now so you can see how each room has changed and transformed with the needs of our family.
I'm so inspired by my home.  The antique details, the coastal charm.  My home has become my canvas and a way of showcasing my style.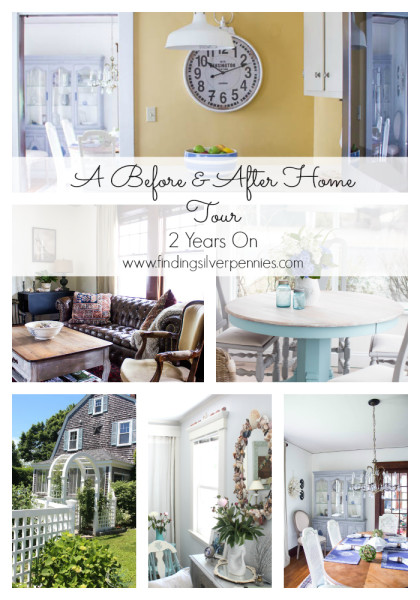 Our first change was on the exterior.  Our friend Andy Lane painted the exterior for us, including the door and the shutters: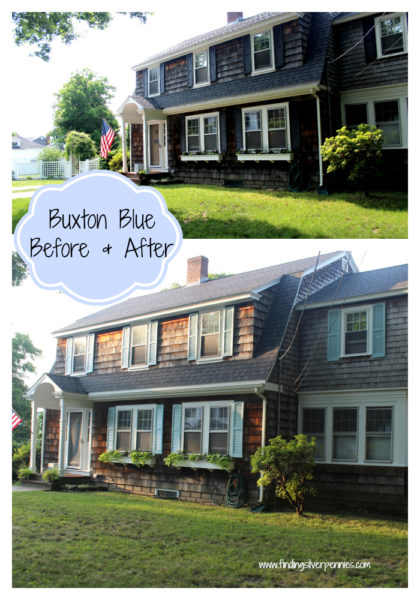 Exterior Paint – Trim Super White Benjamin Moore, Shutters and Door Buxton Blue in High Gloss.
Come on in and see what we've done: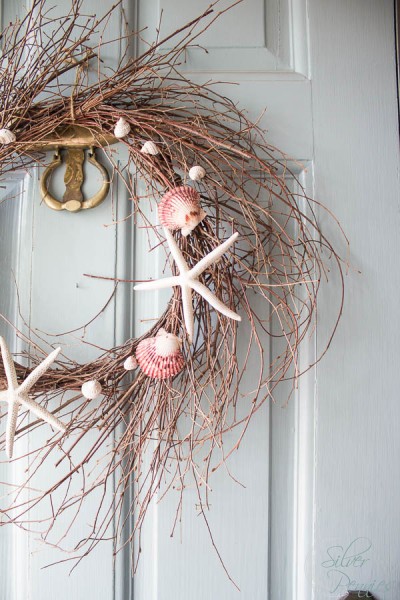 Our Entry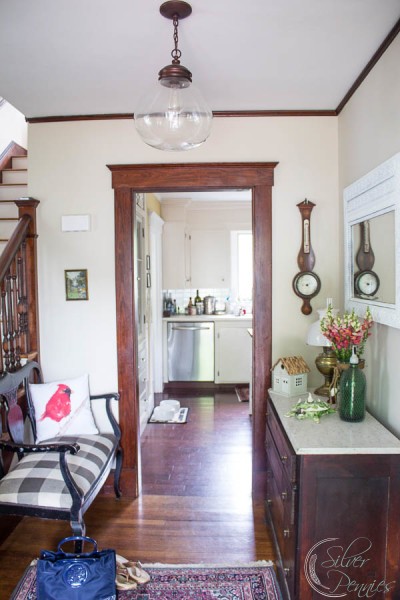 This is what it was looking like when we moved in: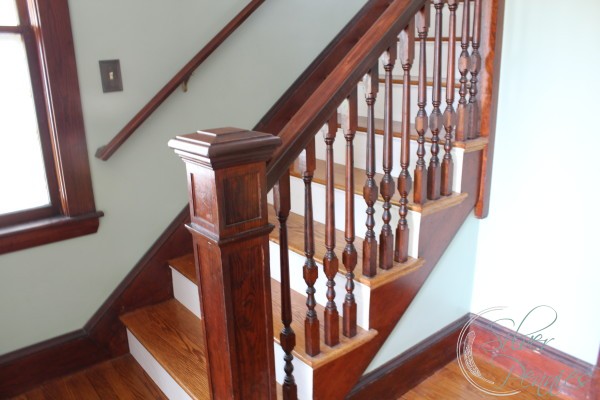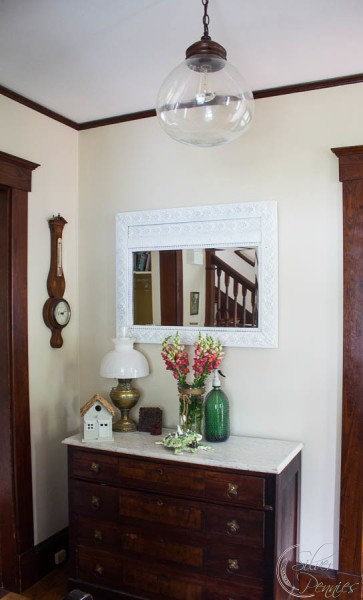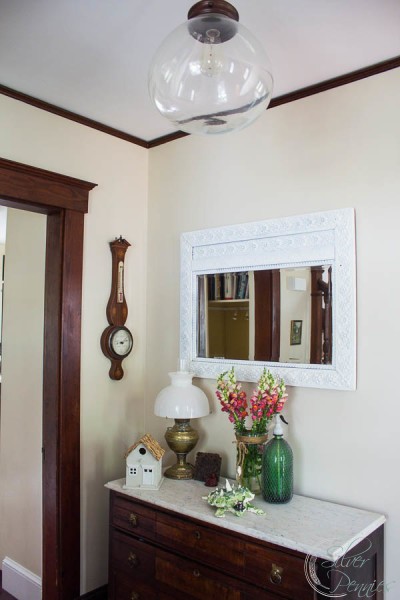 A view of the entry in the fall: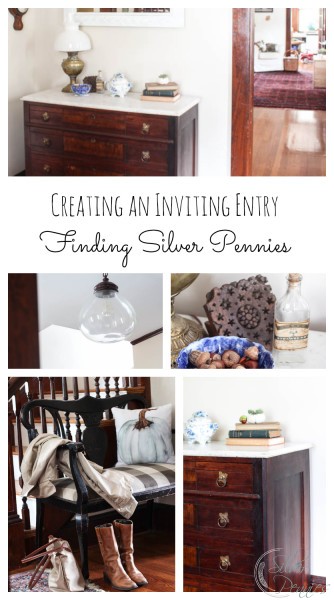 We lightened the walls and added some new lighting and antiques!
Entry Source List
Wall Color – Muslin by Benjamin Moore in Flat
Antique Bench – Consignment Shop
Antique Marble Topped Dresser – Gentleman & Daughter Antiques
Antique Brass Light – Bent Nail Farm Antiques
Oriental Rug – Yard Sale
Ceiling Pendant – Lowes
Cardinal and Pumpkin Pillow – Craftberry Bush on Society 6
English Cottage Bird House – I made click here for tutorial
The Kitchen
The entry leads right into our kitchen.  I don't often show this room as we haven't done a huge makeover in here.  We've hung some stuff and got a some furniture, but I really want to paint in here and do new counters and a subway backsplash.  We are also thinking about maybe expanding our kitchen slightly so HUGE makeover on hold until we have the funds to do it.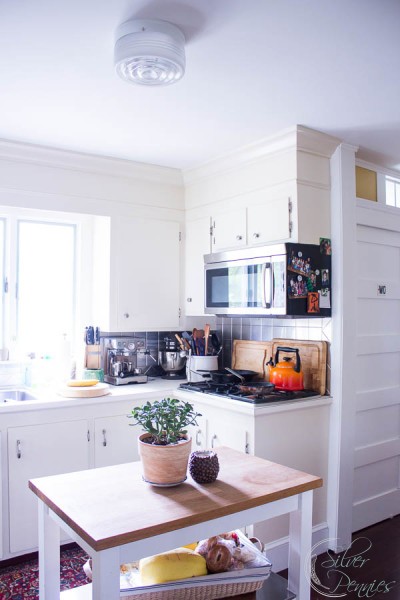 Here's a look at before and after: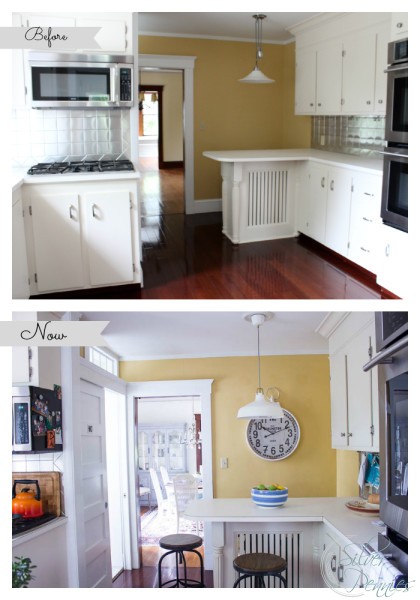 I know not a huge change but it gives you an idea what a few decorative elements can do to a space.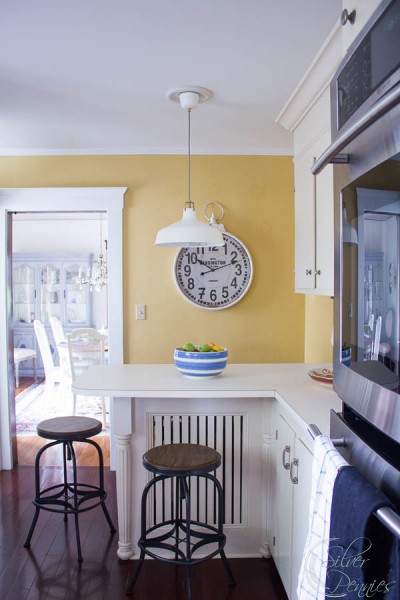 Another view of the kitchen: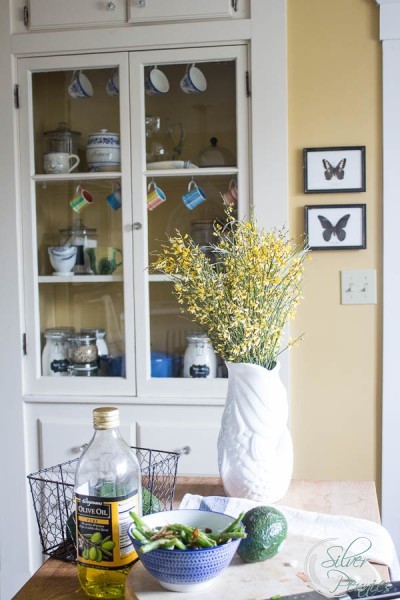 Kitchen Source List
Pendant Light – Ikea
Flush Mount Light – Restore
Stools – Ballard Design
Wall Clock – Decor Steals
Fruit Bowl – Ralph Lauren, Consignment Shop
Fish Pitcher – Christmas Tree Shoppes
Antique Framed Butterflies – Yard Sale
Wire Baskets – Target Dollar Section
Jars – Ikea / Target
Island – Ikea
Oriental Rug – Grillo, antique
Kettle – Home Goods
Wooden Spoons, Polders Old World
Wall Color – Chestertown Buff Benjamin Moore
Cabinet Color – Bone White by Benjamin Moore in Semi Gloss
Half Bathroom
This is the world's tiniest bathroom!  It used to be a pantry for the kitchen and the previous owner converted it to a 1/2 bath and laundry room. We invested in a new washer and dryer. The color is still the same as the previous owner.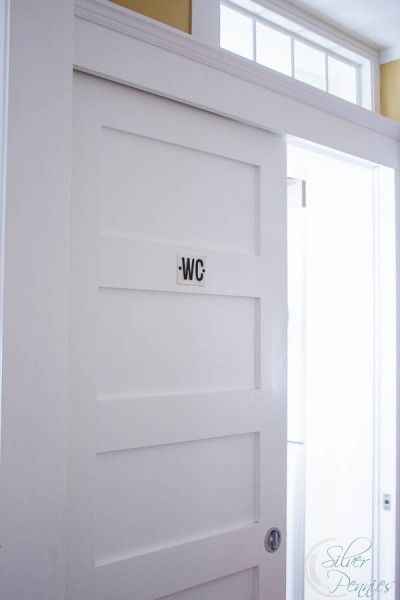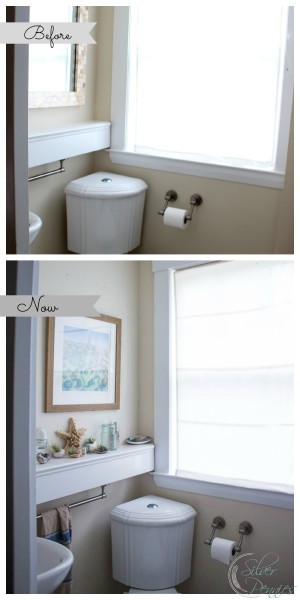 Half Bath Source List
Wall Color – Bone White by Benjamin Moore in Eggshell
Towel – HomeGoods
Air Plants – Etsy
Shells local store
Print of Bristol, wedding gift
WC sign on the door – Farmhouse Wares
The Dining Room
The kitchen leads directly into the dining room.  We did a lot of work to this room from replacing lights, lightening the walls and refinishing all the furniture.  You can see a whole post on this room here.  It was our first makeover in this house. The most expensive thing in the whole room is the chandelier, I think we spent $350 for it. This is the dining room I was dreaming about.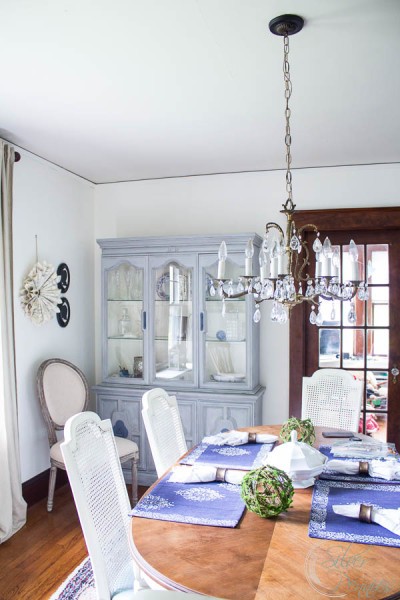 Here's a before and after image: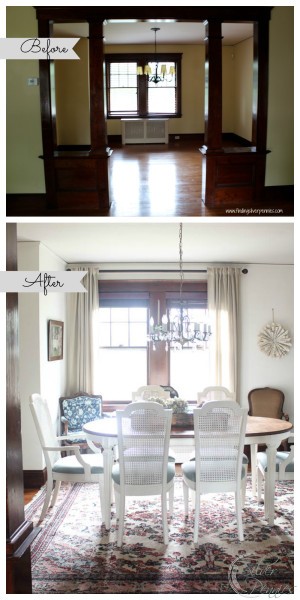 A few other images that I love from this room: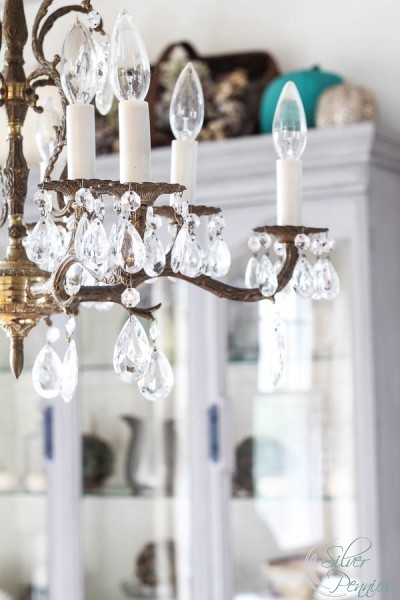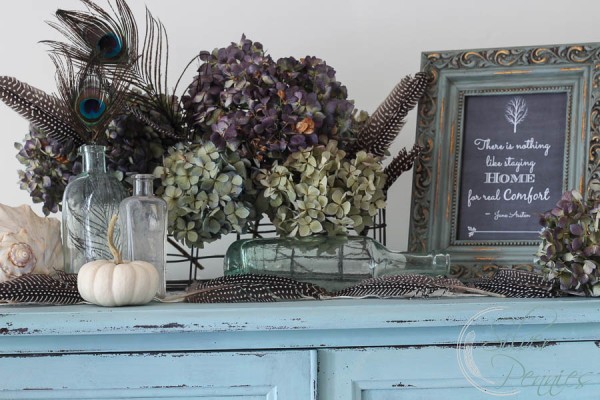 Free Printable – click here
Ready for brunch – stenciled tablescape tutorial here.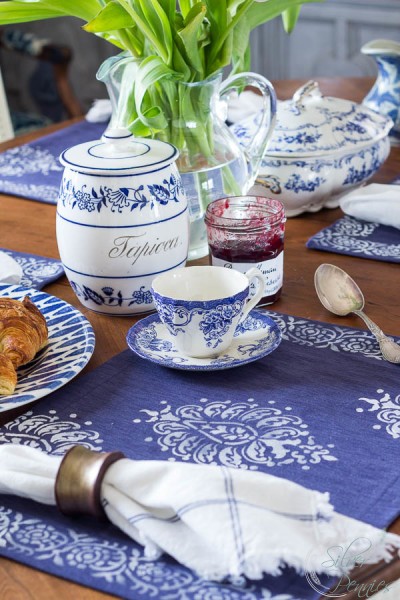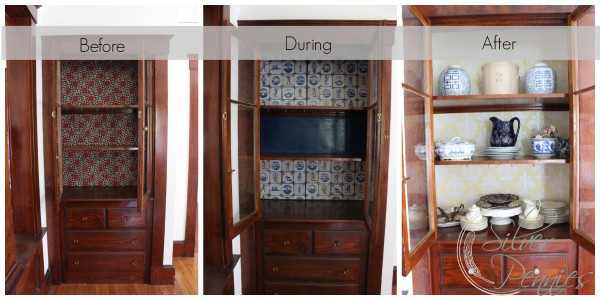 Using Target Wallpaper inside the china cabinet.  Click here.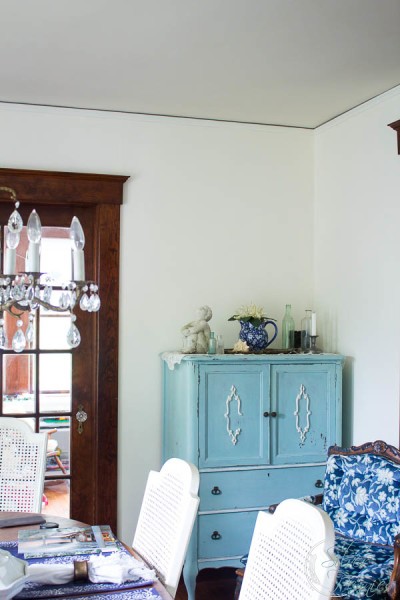 Dining Room Source List
Wall Color – Mascarpone – Benjamin Moore in Flat
MMS Milk Paint and Chalk Paint® on Furniture
Linen Curtains – Ikea ($49.99 a pair)
Curtain Rods / Hardware – Lowes
Dining Room Set – Freecycle, Old White Chalk Paint® and Dark Walnut Stain by Minwax
Chair Fabric – Canvas Spa by Sunbrella from Online Fabric Store ($21.95 a yard)
Chandelier – 3A Antiques ($350)
Lady Grey Hutch – ($50), Consignment Store, Old White, Paris Grey and Old Violet Chalk Paint®
"Simone" Antique Dresser – ($20) Yard Sale, painted in MMS Milk Paint in Eulalie's Sky with Old         White Chalk Paint® accents and drawers
French Chair in top photo, World Market
Silhouettes created with the Silhouette Machine, click here for tutorial.
Indigo Placemats – World Market and stenciled with Chalk Paint®
Oriental Rug – Yard Sale
The Living Room
The living room is probably the hardest room in the house to decorate due to the length – it is so long!  This room is still a work in progress but we're getting there.  I'm trying to fit an antique French day bed in here in front of the fireplace, but I'll share more if I make it work.  My idea for this room was to combined my love for the sea with my love for England.  I wanted this room to feel very clubby.  The Chesterfield was an amazing Craigslist find!  The room is painted in the same color as the dining room and has the same window treatments.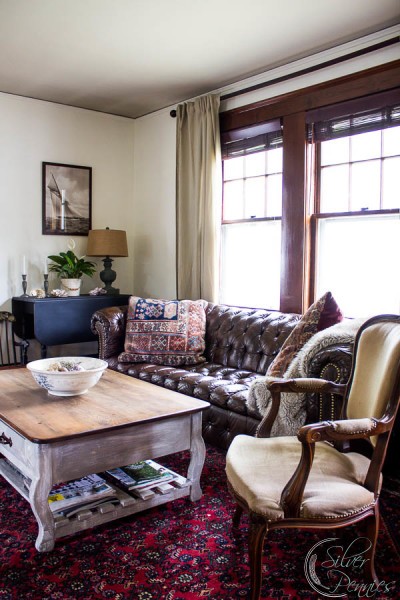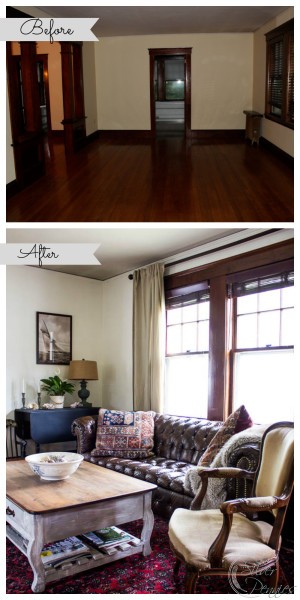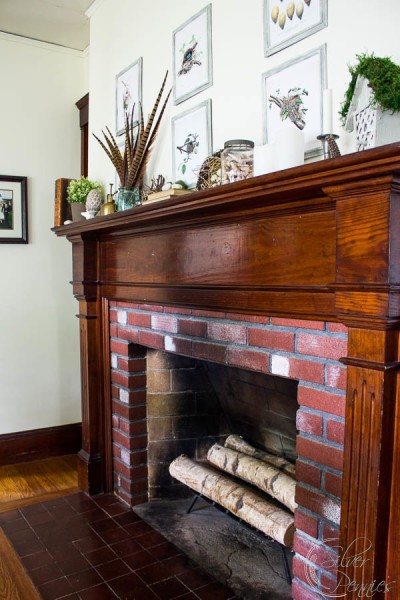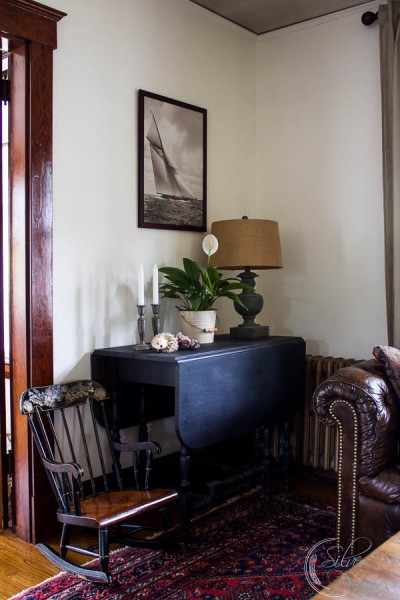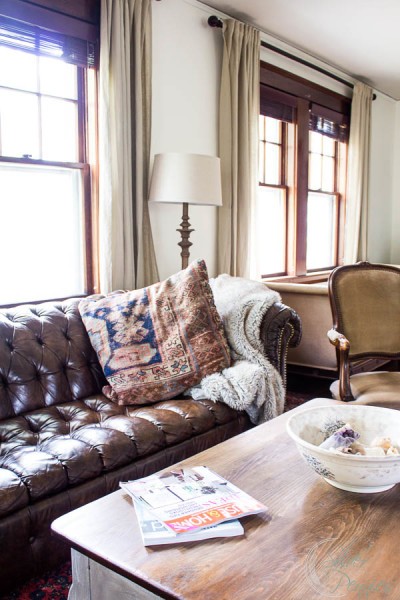 You can glimpse the day bed in the picture above!!!
I've added some of my grandfather's things over by our white chair.  I never met him so it is nice to have mementos of his life.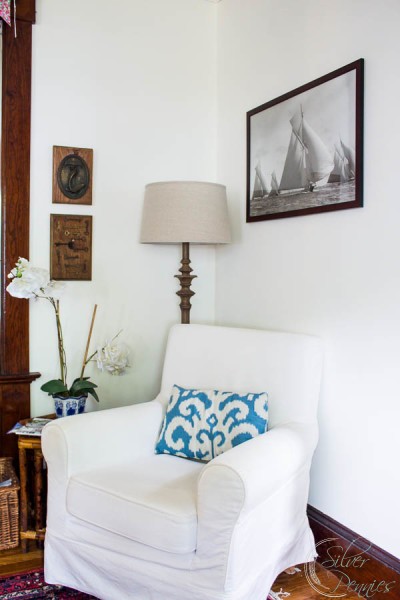 A look at the mantel from the fall: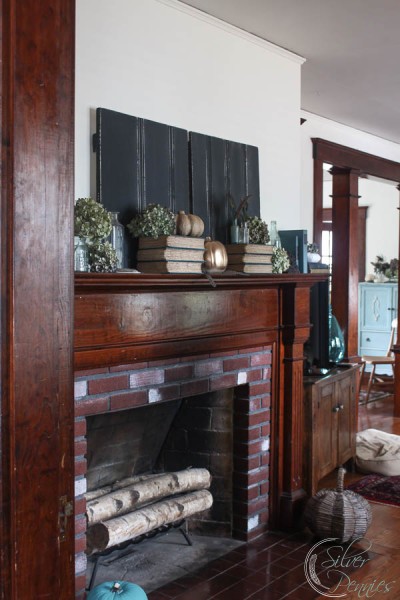 and some fall decorating in the other part of the living area: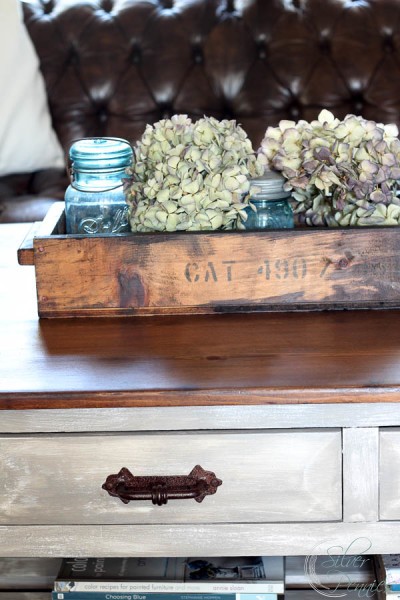 Living Room Source List
Wall Color – Mascarpone by Benjamin Moore
Curtains – Linen by Ikea
Curtain Rods and Hardware – Lowes and Home Depot
White Chair – Ikea
French Chair – Consignment Shop
Chesterfield – Craigslist
Oriental Rug – Yard Sale
Orchid – HomeGoods
Light on Black Table – Home Goods
Coffee Table – Consignment Shop – painted tutorial here.
Black Gateleg Table painted in General Finishes Lamp Black
Ship Photographs – Crate and Barrel
Standing Lamps – Target
Black Rocking Chair – My childhood rocking chair
Fireplace Bricks – weathered with Chalk Paint tutorial here.
Playroom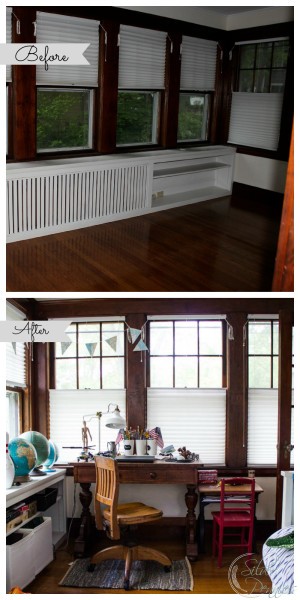 To be honest, we haven't painted this room but we have added a lot of kid artwork and antiques.  Yes, my son has a Stickley desk and you may remember the old school house desk I refinished for Conor. The printer's tray holds legos.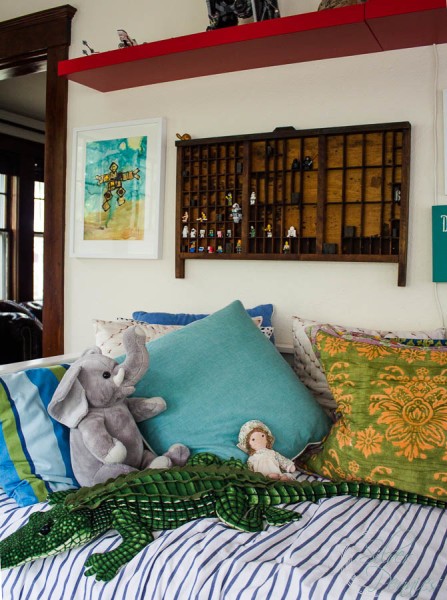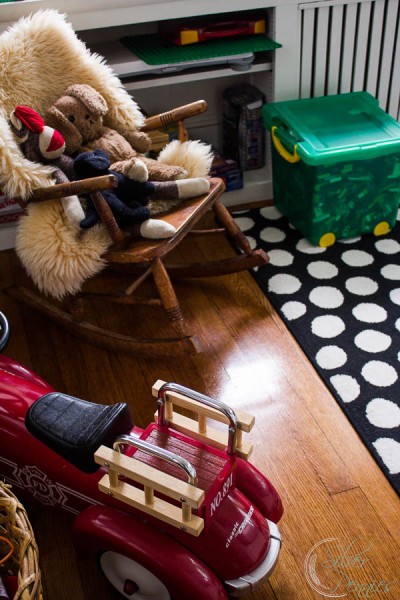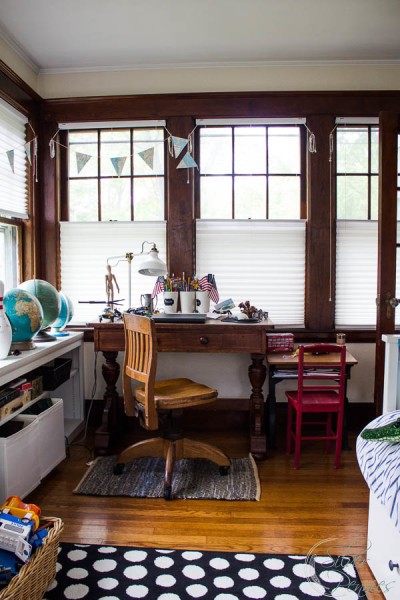 Playroom Source List
Wall Color – Navajo White by Benjamin Moore
Black and White Rug – Ikea
Day Bed – Ikea
Striped Duvet Cover – Ikea
Small Rug – Target
Stickley Desk – Salvage Chic Antiques (it used to be my desk)
School House Desk, Antique Chair – Yard Sales
Frames – Ikea
 Desk Light – Ikea
Globes – Antique Stores / Yard Sales
Pillows – all different shops
Wooden Rocking Chair – my mom's chair when she was little
School House Desk Makeover click here
Printers Tray – Goodies II
The Sun Room
I think my favorite room in the house is our sunroom.  We did a complete overhaul on this room mostly because Poppy got sprayed by a skunk in the face and the smell and blood was all over the rug.  Sigh.  All has a happy ending though.  This room is used for breakfast, dinner, relaxing and playing.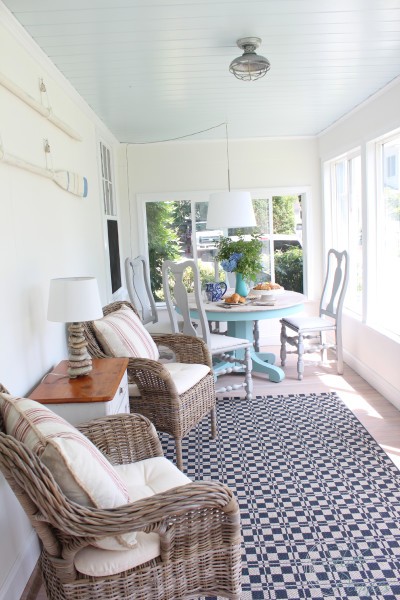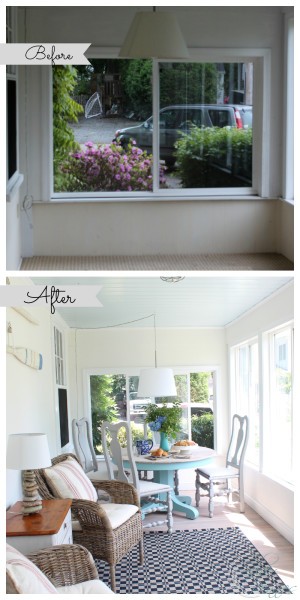 Oh, wait, here's how it looked before we refinished the floors after ripping the rug out: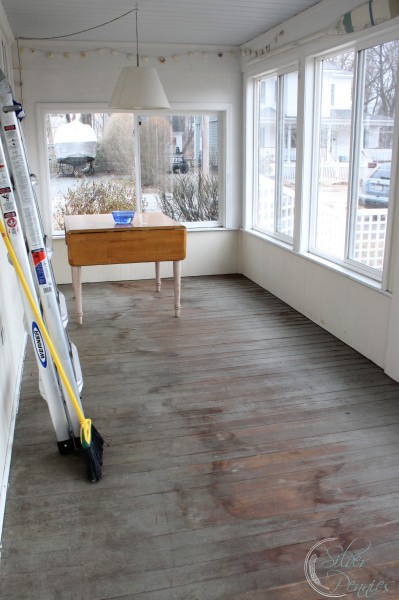 A few other photos of this room: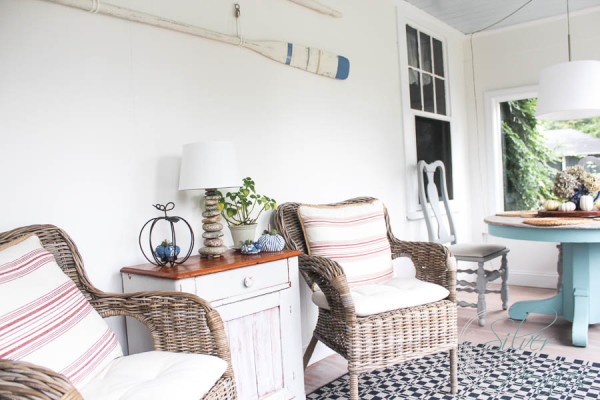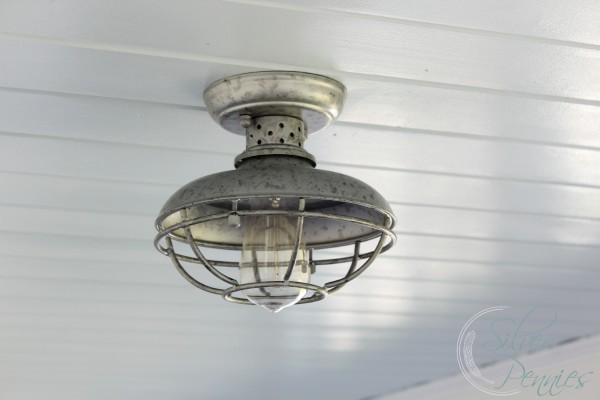 Two photos from the shoot from Matthew Mead's Magazine Upcycled Style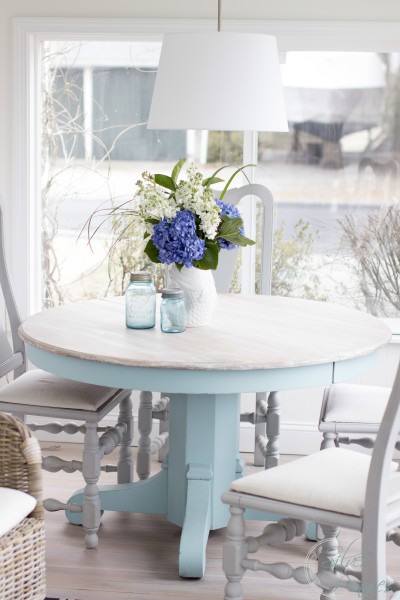 .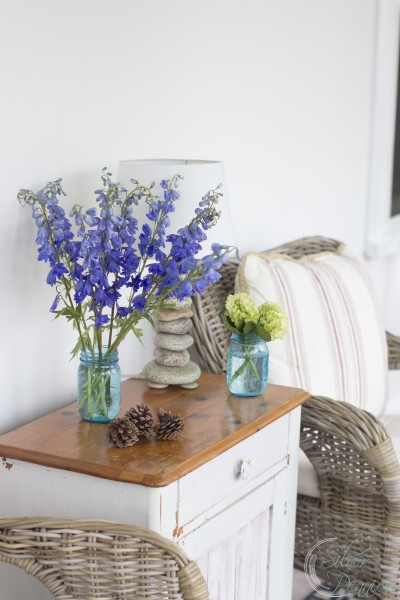 Sun Room Source List
Ceiling Paint – Color – Ocean Air by Benjamin Moore, MooreGlo Exterior, Soft Gloss
Wall Paint – Color – Simply White by Benjamin Moore, Moorlife, Flat Finish
Trim Paint – Color – Super White by Benjamin Moore, MooreGlo, Exterior, Soft Gloss
Floor Stain – Color – Silver Gray by Benjamin Moore Oil Based Exterior Finish, Translucent
Galvanized Ceiling Light – Lamps Plus
Vintage Chairs – Goodies II and I refinished them with Paris Grey Chalk Paint®
Empire Style Table – Bent Nail Farm Antiques, we refinished painted with Chalk Paint®
Enamel Pitcher – Consignment Shop
English China and Pitcher – Goodies II and yard sale find
Wicker Chairs – Ikea
Woven Mat – Ikea
Indoor Outdoor Rug and jute rug – Ikea
Ticking stripe pillows on wicker chairs – Pier One
Oars – Freecycle find, painted them in our old house
Baseboard – Home Depot
Pulleys and rope, to hang oars – Lowe's
White Pendant Light – Ikea
Pine chest between wicker chairs – yard sale find and refinished, painted in MMS Milk Paint in Grainsack
Rock lamp – hand-crafted by local artist – Saltwater Stones
The Landing
This is the spot at the top of the stairs.  I've created a little seating area.  This is the white wall you see in many of the furniture before and after photos.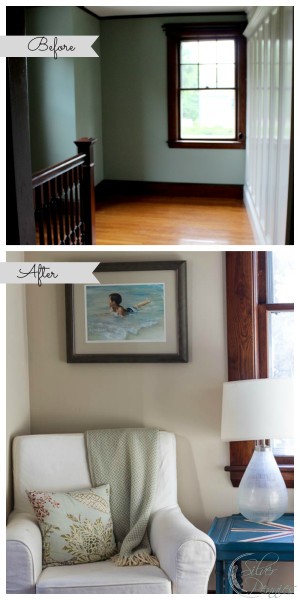 Landing Source List
Wall Color – Muslin by Benjamin Moore in Flat
Chair – Ikea
Lamp – Crate and Barrel
Pillow – Online Fabric Store
Union Flag Table – I painted click here for tutorial
Upstairs Hall
We have quite a long hallway upstairs and it was feeling very long and dark when we first moved in.  We created a family gallery wall and opened it up with lighter paint and soft wool runners.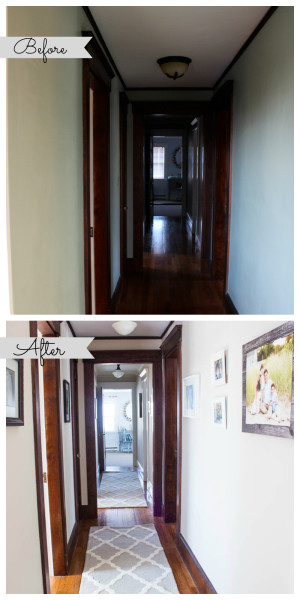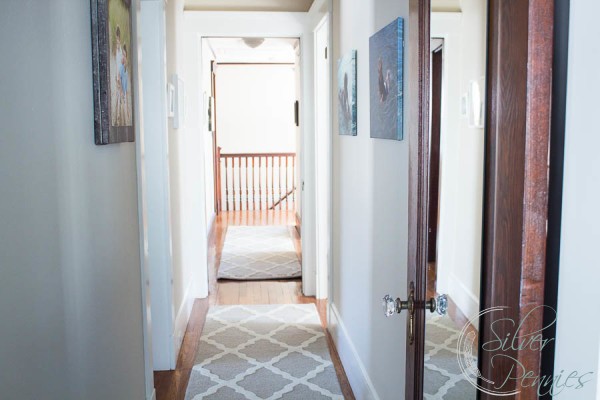 Hall Source List
Wall Color – Benjamin Moore Muslin in Flat
Frames – Ikea
Runners – Moroccan Trellis Rugs in Tan by Rugs USA
School House Lights – Lowes
John's Bedroom
John is our oldest and I haven't shown his room much on the blog.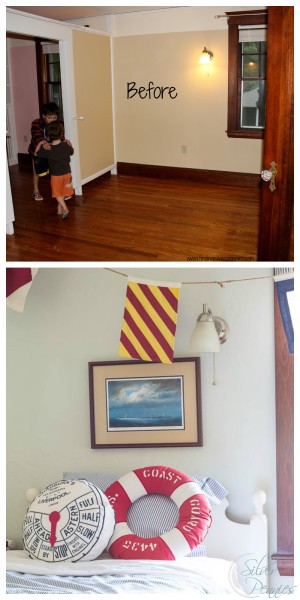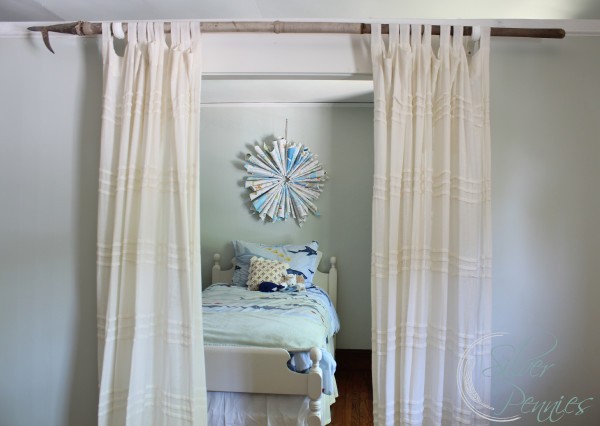 I promise to share more of John's room on the blog!!!
John's Room Source List
Wall Color – Color Matched Pale Powder by Farrow and Ball with Benjamin Moore Paint
 Striped Bedding – Ikea
Pillows and Nautical Banner – Land of Nod
Boat Hook as curtain rod from Bent Nail Farm Antiques
Curtain from Target
Conor's Room
Conor is my little beach boy.  I decorated this room with this in mind.  He loves days at the beach, adventures and most importantly he hated that his room had pink walls when we moved in and he thought they'd be painted by the time he got up. Sigh.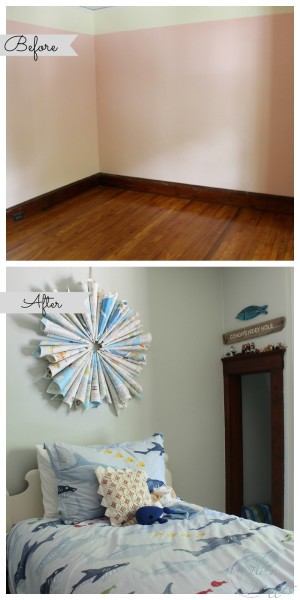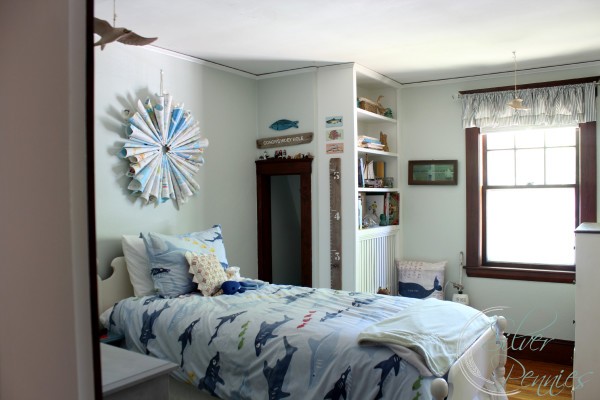 Conor's Bedroom Source List
Wall Color – A color match of Farrow and Ball's Pale Powder using Benjamin Moore
Duvet – Pottery Barn Kids
Small Pillow – Handmade in Hingham
Height Chart – I made, click here for tutorial.
Ticking Stripe Curtains – Country Curtains
Guest Room
As many of you know this has become Poppy's room!  It started off a vibrant blue but now is soft, serene and ready for guests if Poppy gets off the bed.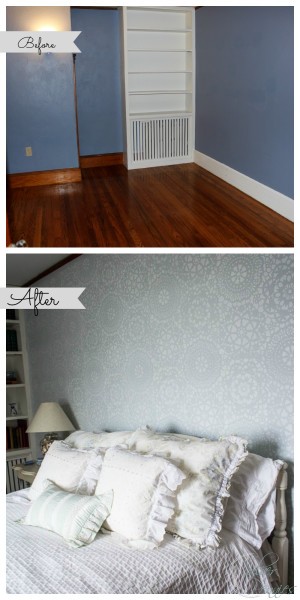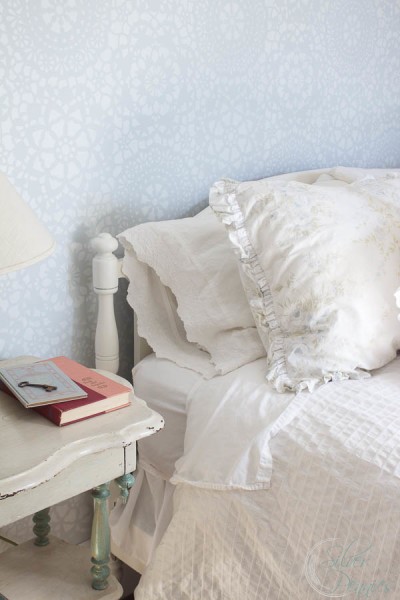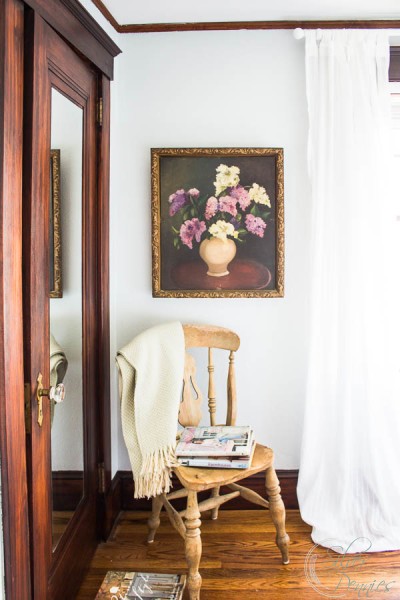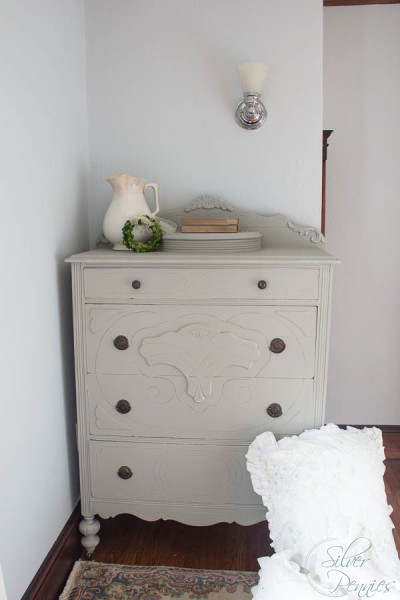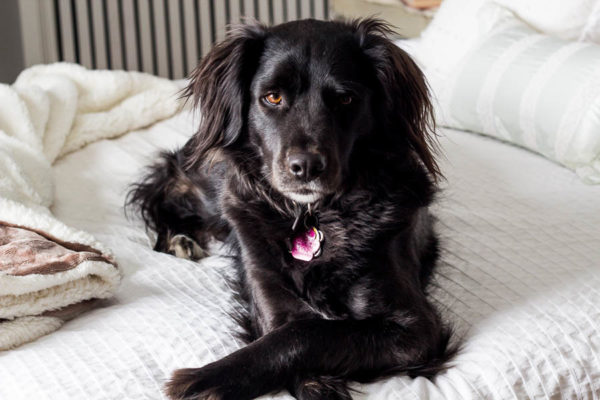 Guest Room Source List
Wall Color – Glass Slipper by Benjamin Moore in Matte, Stencil Color – Simply White by Benjamin Moore in Aura in Satin
Parlor Lace Stencil – Royal Design, click here for tutorial
Wood Stain – General Finishes, click here for tutorial
Oil Painting – Goodies II
Bedding – Ikea and Target
Blanket – Home Depot
Oriental Rugs, Side Table, Pitcher – Antiques
Books – Gentleman & Daughter, Consignment Shops and Library Book Sales
Curtains – Ikea
Master Bedroom
I don't often share our bedroom.  I'll try and do better with that from now and share some updates soon.  This image was by Matthew Mead for the Upcycled Style Feature: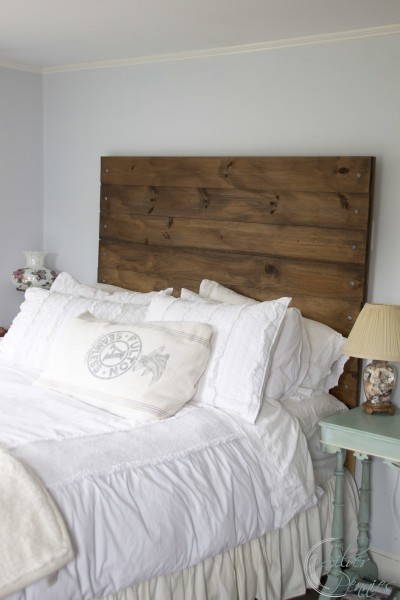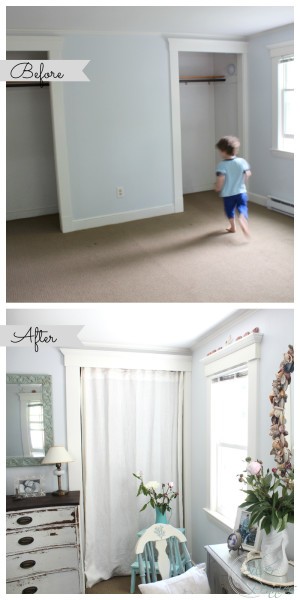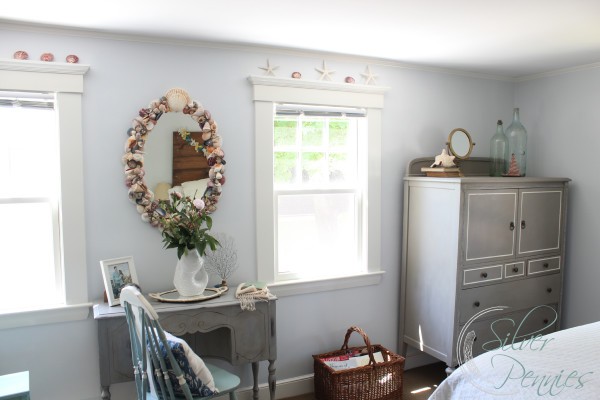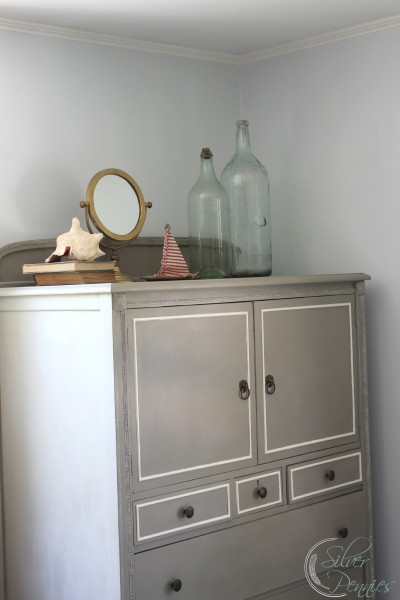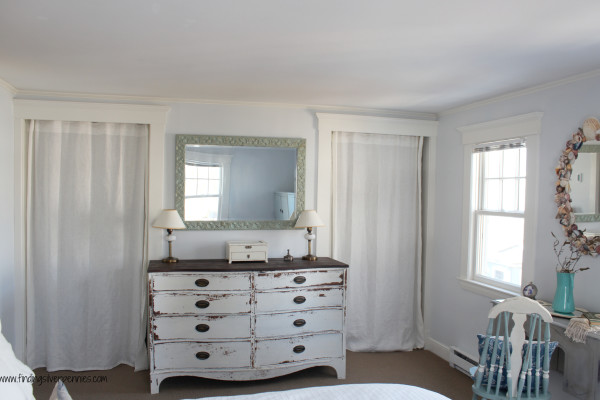 Wall Color – Benjamin Moore Silver Cloud, Trim White Dove, Semi Gloss (by previous owner)
Chippy Dresser painted in MMS Milk Paint in Ironstone with Ebony Stain by Minwax
Duck Egg Blue and White Chair in Chalk Paint®
Wood Headboard – we made it.  Click here for tutorial
Linen Curtains – Ikea
Armoire – in French Linen and Old White Chalk Paint®. Click here for tutorial.
Shell Mirror – Brimfield
Bedding – Simply Shabby Chic for Target
Woo hoo!  I think this is the longest blog post I've ever written.  Please let me know via email or in the comments if you have any questions about sources or tutorials.  You'll notice that I didn't include our bathroom, office  or deck in this post.  Nothing has happened in our office since I posted my inspiration post.  Sorry about that. But soon there will be progress.  Luke is actually building me deck furniture and fingers crossed it will all be done for this weekend.  If it is I'll be sharing a deck refresh post early next week and a build tutorial.
Thank you for taking this stroll down memory lane with me.  Sometimes it feels like you haven't made much progress until you look at some before photos….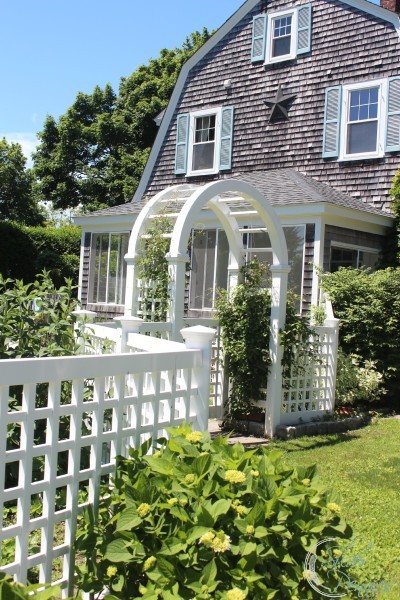 Sharing with: