First I need to say a huge thank you to all of you! Your kind words, encouragement and "oohing and ahhhing" over Beatrice left me speechless. I knew I was happy with her but it put a smile on my face to hear that so many other people liked her too! So thank you for all your kindness.
After finishing the dresser, I was feeling a bit frazzled and dizzy. All those scrolls. All that concentration. Today I want to share with you some fun tables. I actually have tons and tons of painted pieces right now because I'm taking part in my first ever boutique a week from today. So, I've been painting A LOT and am so excited to share everything in the coming days. Keep your fingers crossed that some people at the boutique in Scituate like the stuff!
So without further ado, here is Scarlet:
Scarlet (After)
Scarlet is a faux bamboo side table. She'd be great in a sunroom or make a pretty addition to a bathroom with space on the bottom shelf and in the drawer for storage. Scarlet was a little brown before:
Scarlet (Before)
And top:
Before
So I brightened her up with Old White.
She also got a new knob. I found a great antique brass one which I painted with Annie Sloan Chalk Paint in Emperor's Silk, then wiped away some bits with a wet cloth to look aged.
You may be wondering why I've named her Scarlet and it isn't because of the knob. It is the pop of red in the drawer:
Emperor's Silk Drawer
While working on Scarlet, I also started on this brown table.
Before
I loved the classical lines and the carved bits, but they just disappeared in the dark stain. This side table got some Old White too! You all know I can't resist blue and white stripes. I'm in love with the whole nautical thing. I also really love all things Cornwall (where my hubby is from and where we got married).
Striped Cornishware
So I couldn't resist adding some ASCP Greek Blue stripes.
Cornish Table (After)
Here's another shot of the pedestal:
Detailing
Doesn't the detail show up better now?
What do you think? I know they aren't as detailed as Beatrice, but I'm loving their simplicity.

Featured on: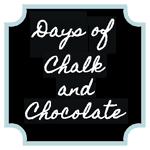 Linking to: