Each year I paint some kind of pumpkins, last year I did metallic ones, but this year I thought I'd try something with a little more texture. Saltwash pumpkins!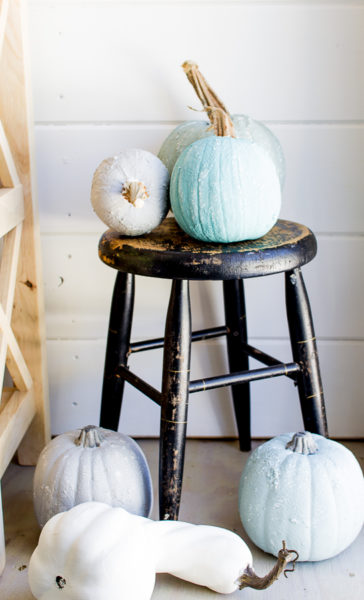 Perfect for our coastal life!
The other weekend I shared how to paint these at the Marketplace at Adams Farm along with some other techniques.
To create these pumpkins I mixed some Pure White Chalk Paint® with Saltwash.  You really want to have the right consistency. Think about the consistency of thick icing.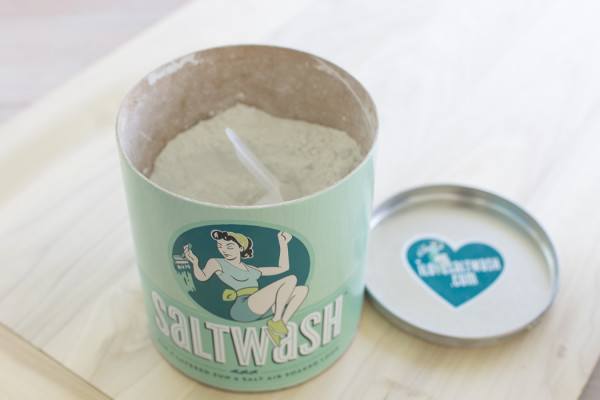 Saltwash is a powdered paint additive that contains real sea salt for authentic textured coastal finish.
I LOVE this product.
Here's the look you can get with it on wood: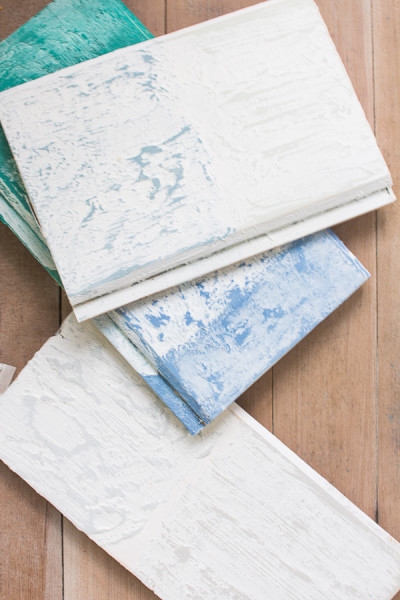 You can add it to any paint and paint a virtually any surface.
In the past I've painted furniture, trays and frames. So I thought pumpkins were an obvious choice. I applied the Saltwash / White Chalk Paint® mixture to all the pumpkins in a globbing motion. When applying you want to make sure knock down the swift peeks. Once dry it's time to apply your second layer of paint.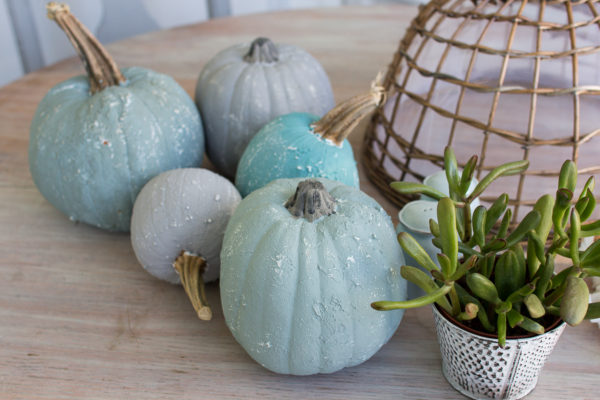 I decided to go with blues and grays. I used Duck Egg Blue, Provence and Paris Grey. I had all of these in the basement already and they speak to my coastal loving soul.
Once dry sand with 220 grit sandpaper, I just wrap sandpaper around a sanding block.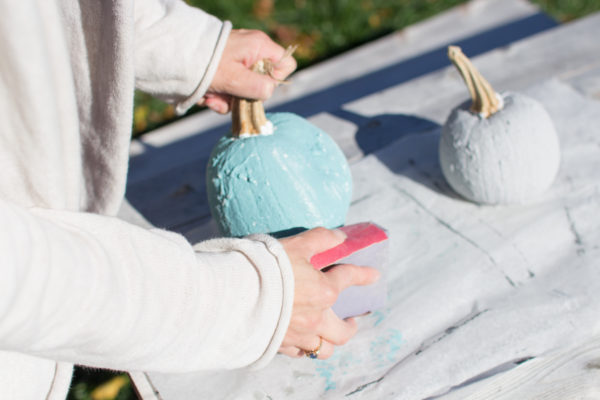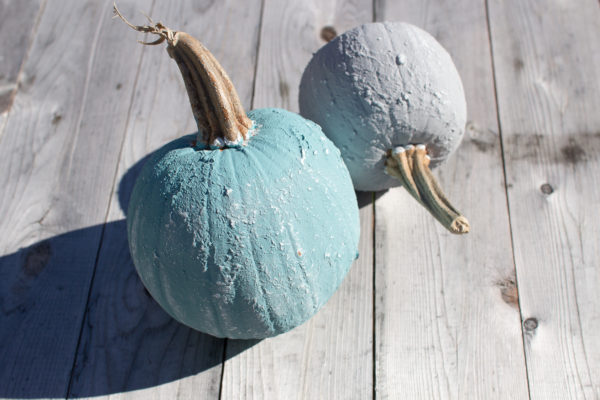 I added some tung oil with a tiny bit of dark wax to age them.
Isn't the texture wonderful? I love them in our sunroom: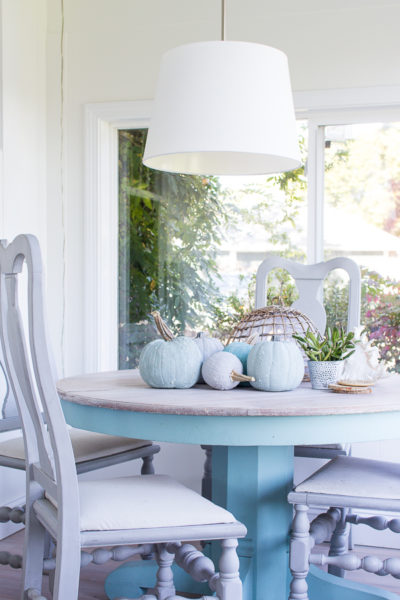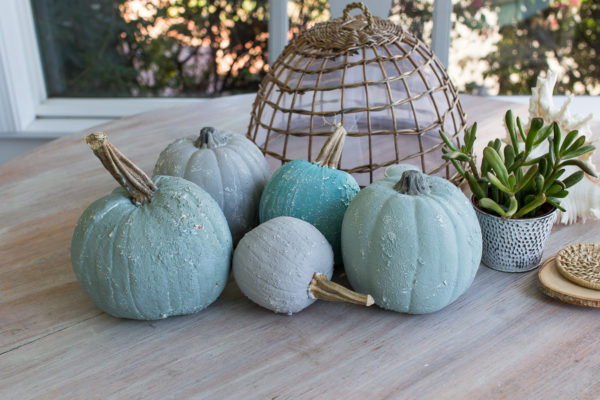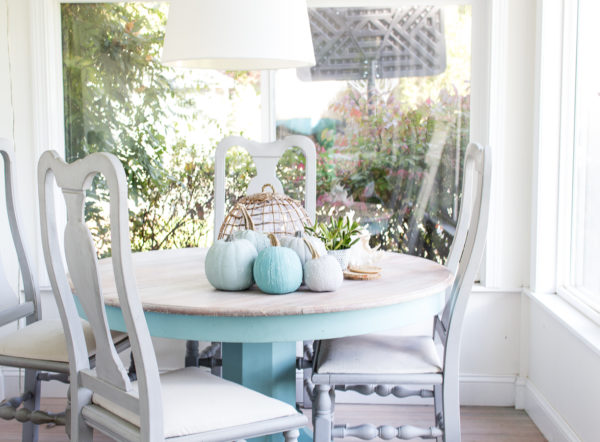 But they also look great in the She Shed: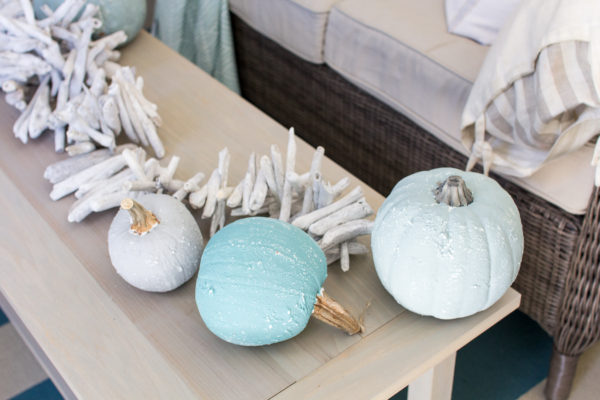 I did a mixture of real and faux pumpkins. I actually like the look of the real pumpkins better because I love their stems. 😉 I love the texture of them, the wonky shape and that they aren't perfect.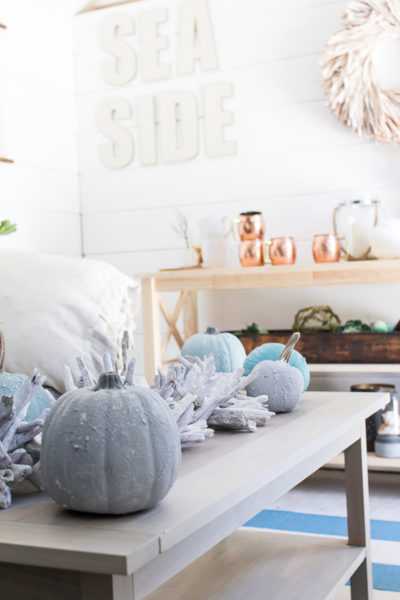 This weekend I'm heading to Chicago (I'm so excited as it is my first trip there) and I'll be teaching some Saltwash classes at the General Finishes Flippin' Furniture Expo, click here for more on that!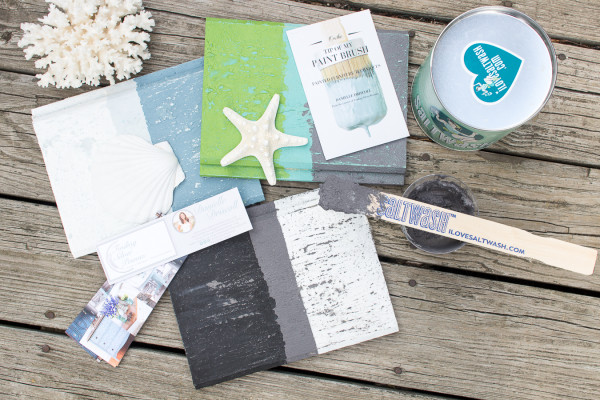 I'll be doing a mix of boho and classic coastal looks. Above is a sampling. I'm so excited to make some new friends, catch up with my friend Jennifer over at Town and Country Living and spread my love for Saltwash.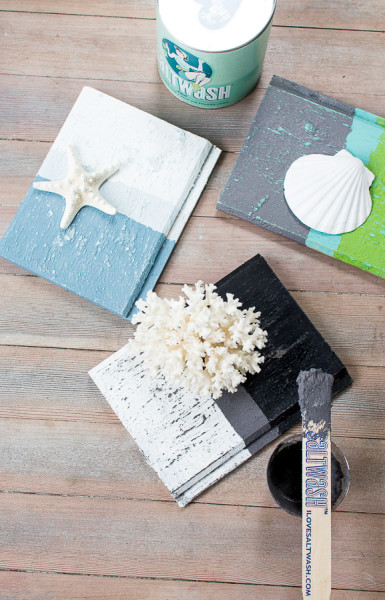 If you enjoyed this post, then you might enjoy my eBook, On The Tip of My Paint Brush: Painted Furniture Techniques.
Happy Friday, everyone!
Sharing with: