There's nothing better than gathering as a family whether it be inside or out and today I'm gonna share how you can make your own chef's board.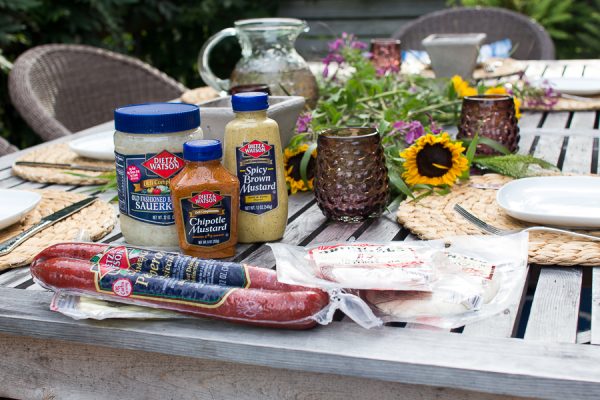 This post is sponsored by Dietz & Watson all thoughts, words, and ideas are my own.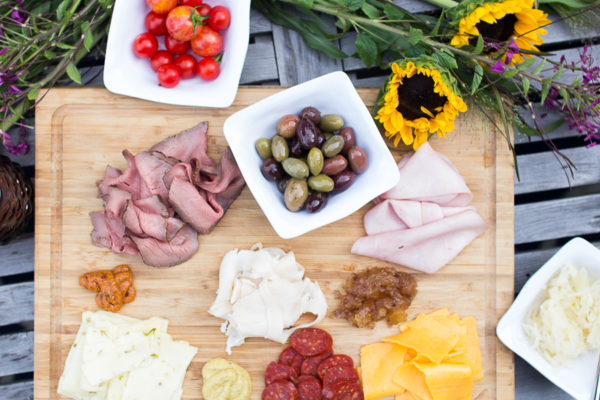 I'm very excited about today's post because my family is the most important thing in my life. I love spending time with Luke, the boys, and our two dogs. You guys all know how much we enjoy our deck and our yard. I've partnered with my friend's at Dietz & Watson on a fun campaign called #ChooseTheTable.
You'll want to read the whole post as there's a fun giveaway at the end.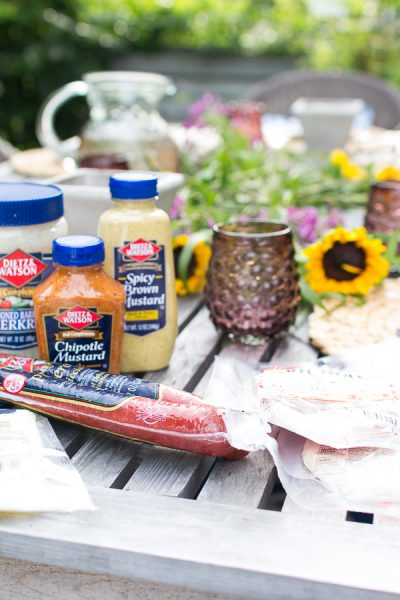 The other day I went to a local grocery store and picked up a bunch of Dietz & Watson delicious meats and cheeses.
I was surprised by the selection and also all the varieties and their new originals line which is organic and without antibiotics. This is very important to me, and my family, and I try to buy organic whenever possible. Since we like to keep things simple here on the coast, I thought it would be fun to fire up the grill, make some paninis and a DIY chef's board with everything we bought. Conor loves helping out in the kitchen and dreams of being a chef so the chef's board was fun for him to help out.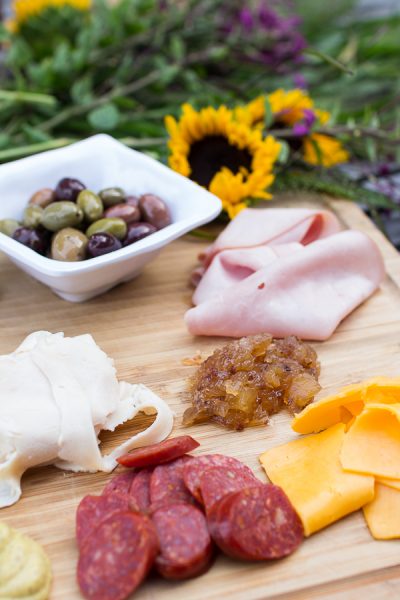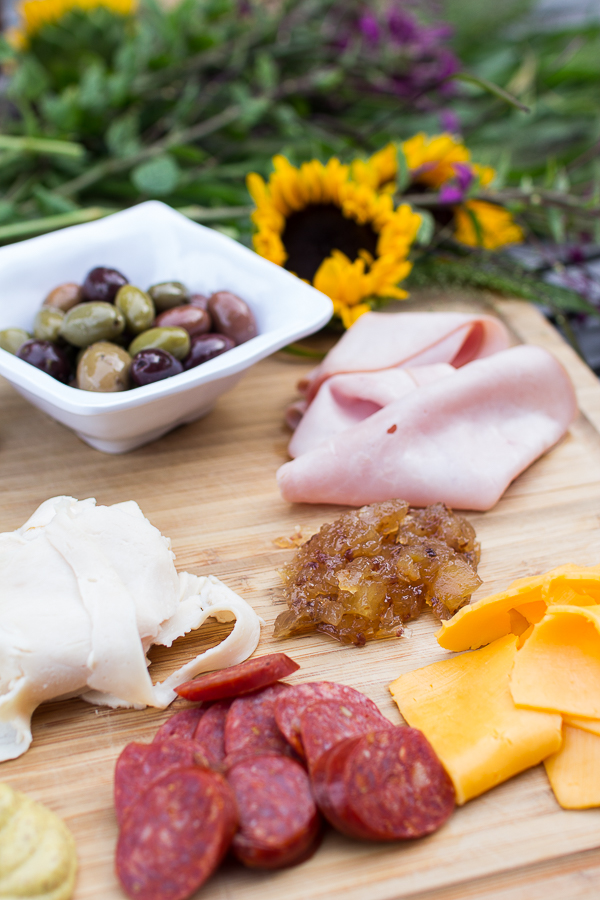 For the table I scattered wild flowers from a local farm. Laying them on the table looks pretty but also enables the conversation to flow, no need to peer over a large arrangement 😉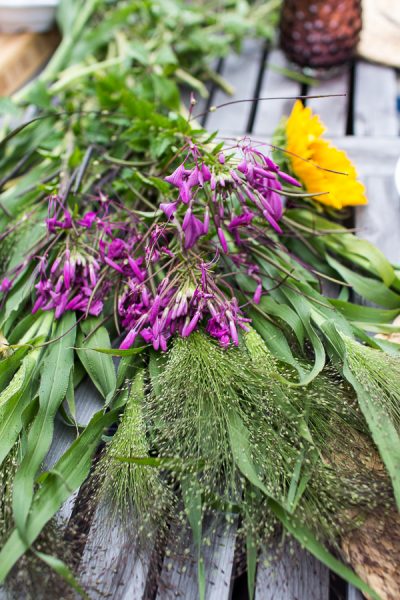 Make Your Own Chef's Board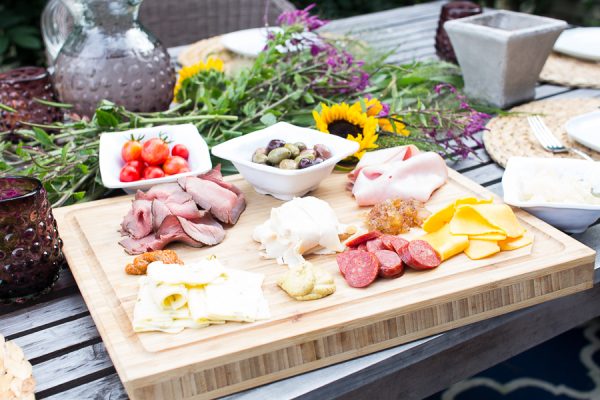 The nice thing about a chef's board is you can tailor it to your likes & avoid any dislikes. It's a great way to get family members, especially kids to try new things. I bought some London Broil because our boys don't usually eat it and I wanted them to try it.
We've had some great family holidays and we were introduced to this idea while we were in Spain. We love to pick different meats and cheese, fresh vegetables from the garden and delicious mustards. Really you can put whatever you'd like on this chef's board, but here's what we decided to include-
Ingredients
Marinated Olives
Fresh tomatoes from our garden
Onion marmalade

Conor loved helping me roll the meats and cheese and spoon everything onto the wooden chopping board. It actually was really quick to pull together. Then I brought it outside.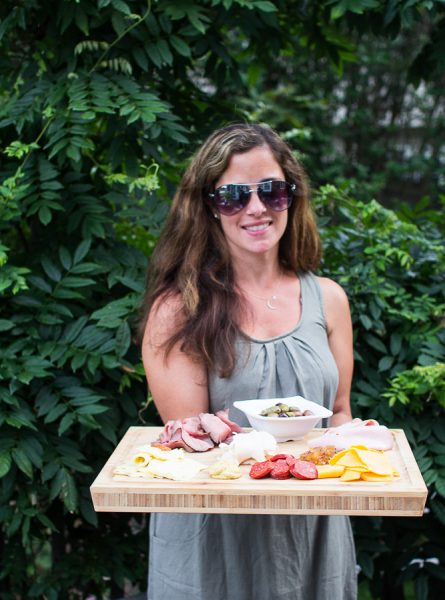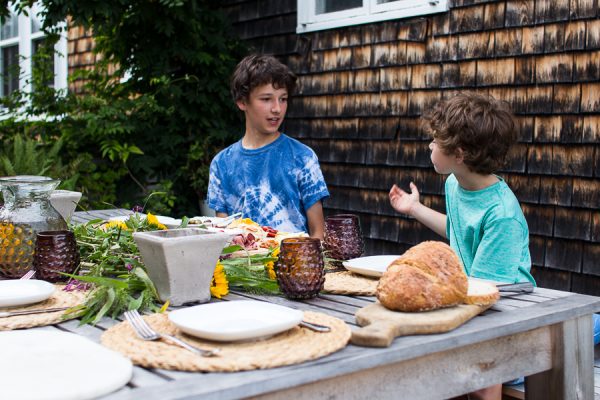 The boys were so excited about the chef's board.
Luke fired up the grill and started grilling sausages.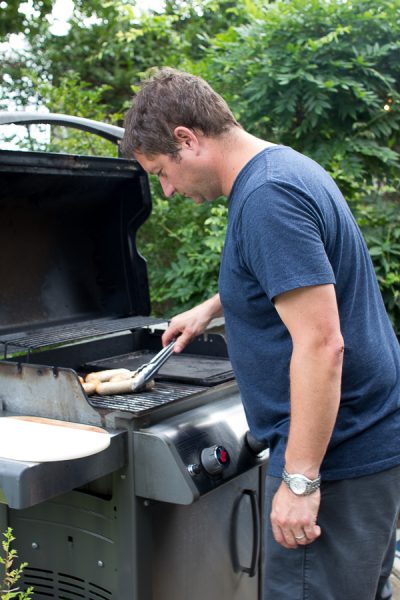 While I made some delicious chicken, American cheese, and pesto paninis on the panini press.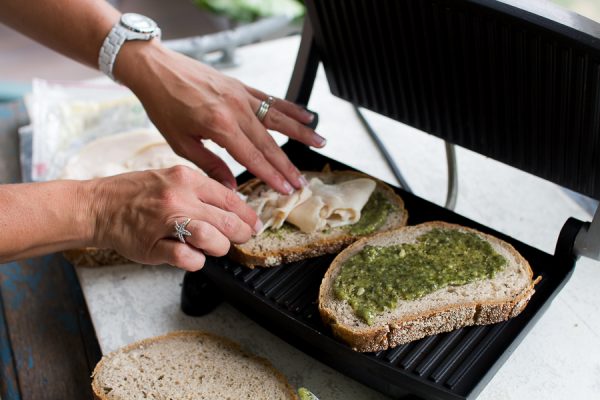 The cheese melted perfectly on these.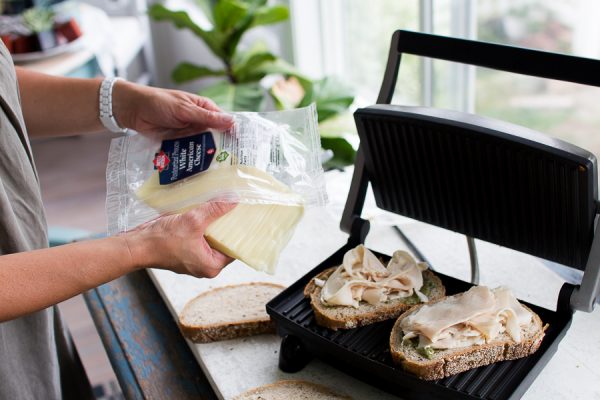 Here they are on the table: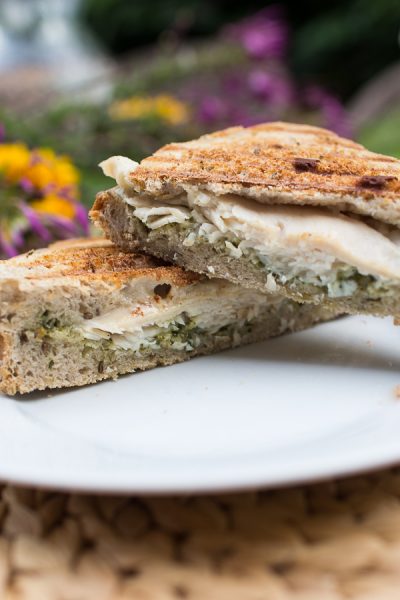 I used some artisan rye bread and it was the perfect mix of flavors. The boys were going "mmmm" between mouth-fulls of food.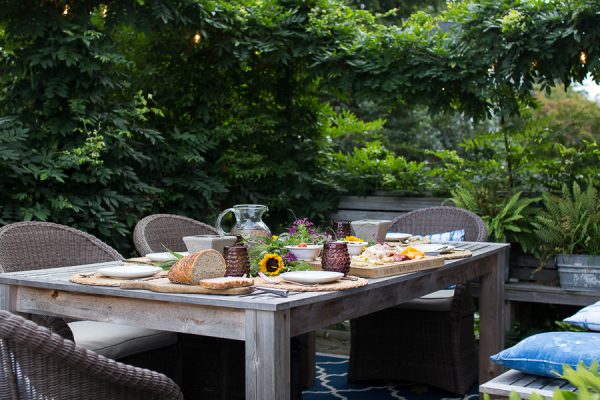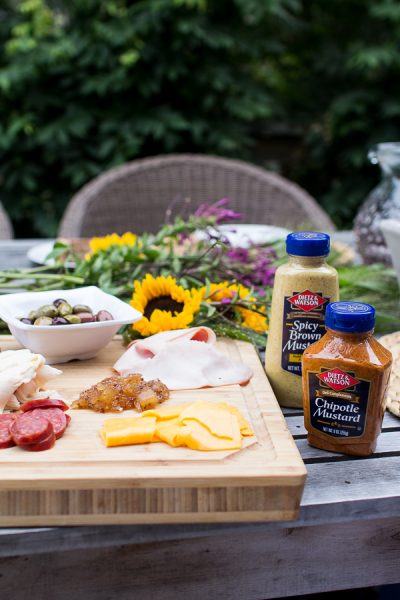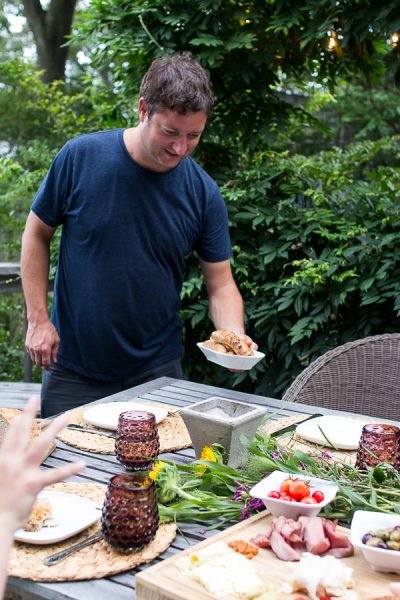 Dinner didn't take that long to prepare which meant we had more family time to talk about our day or what we plan to do next week on our staycation. Connecting over food and sharing a great time together is so important.
Of course our family isn't complete without our two dogs, who came racing over when they smelled the cheese and meat.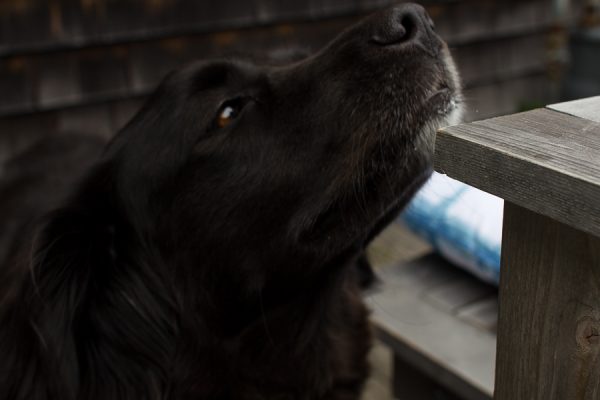 Can you see the longing in Poppy's beautiful brown eyes?
Don't worry she and Max both got their fair share of delicious food.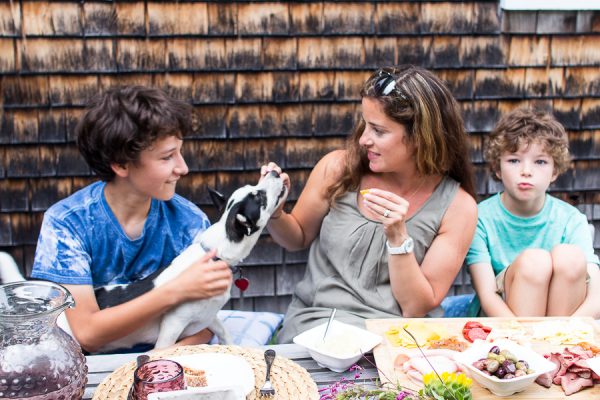 I can't even tell you what everyone's favorite was. It was all so good.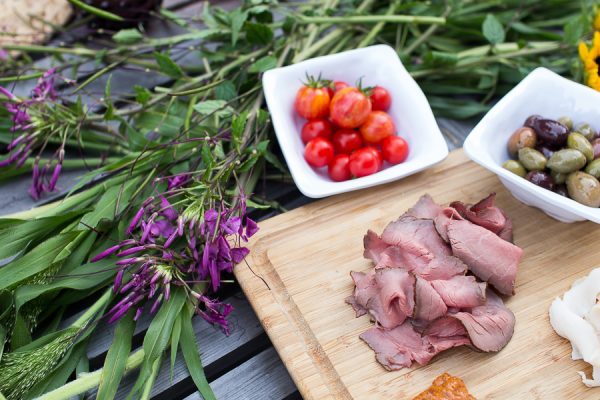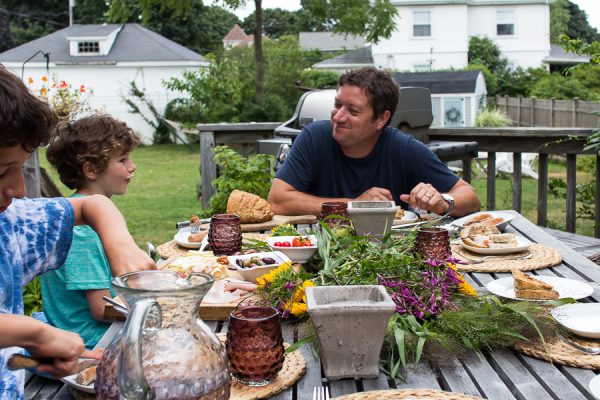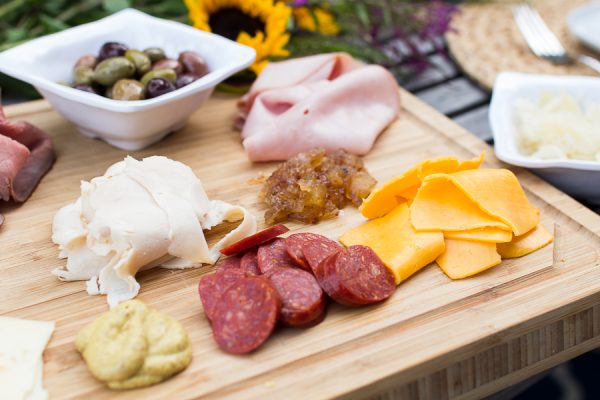 Thank you to Dietz & Watson for making this a truly delicious meal, one which our family will always treasure.
Okay, so I promised you guys a giveaway. Well, Dietz & Watson has this amazing #ChooseTheTable Sweepstakes. This fourth-generation family owned company is celebrating 75 years of being at your table and they'd like to invite you to their table. Chefs in 10 cities are creating a fabulous dinner with Dietz & Watson for you to enjoy.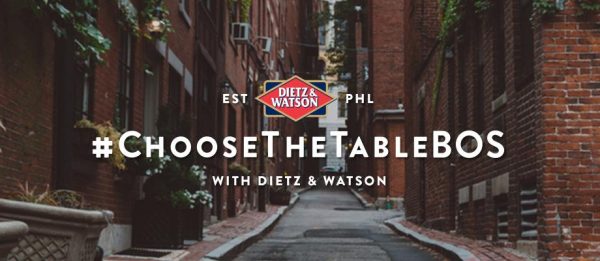 I had the privilege and honor of attending a dinner at Doretta Boston hosted by Chef Michael Schlow. Six influencers attended and enjoyed a dinner right in the kitchen. We feasted on a four course meal right in the hard of the kitchen with wine pairings. The meal was fabulous.

We enjoyed a Dietz & Watson salad, Rigitoni Con Sugo di Salumi (spicy tomato sauce over pasta featuring dried sausages), Prime Steak with Corn and Gorgonzola and a Goat Cheese Cheesecake made with Dietz & Watson Cranberry Goats Cheese. The dessert was light and airy.
Click the image or link below to enter to win this amazing dinner opportunity.