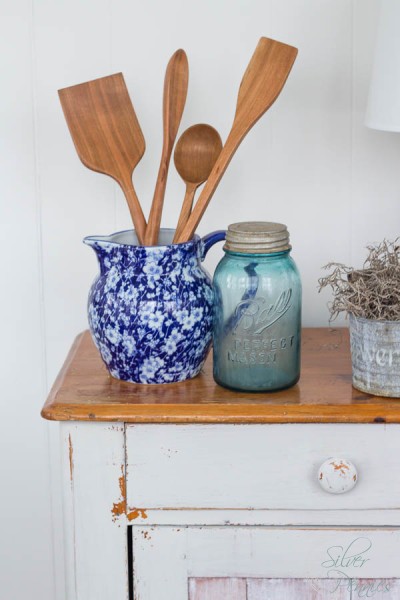 Happy Earth Day!  I thought we'd celebrate with some beautiful hand carved wooden spoons and a delicious and easy stir fry!  If you've been reading the blog for very long then you know just how much I love wood.  I love stripping away paint to uncover the gorgeous wood grain underneath and the dark woodwork in our historic home made my heart skip a beat at first glance.
If you love wood, then you'll love these beautiful handcrafted wood utensils from Polder's Old World Market.  The Polder Family sent me these gorgeous utensils for me to try and I love them.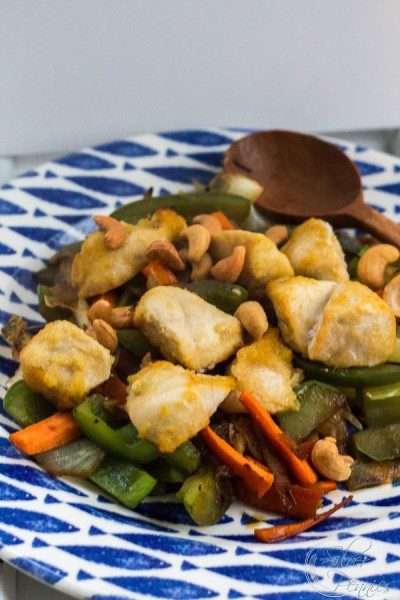 I LOVE cooking and a chef is only as good as their tools.  Polder's Old World Market is a family run business.  Every single spoon and utensil is carved by a member of the Polder family from fallen trees on their farm.
They call their line Dreamware and it's truly  a dream come true to cook with these.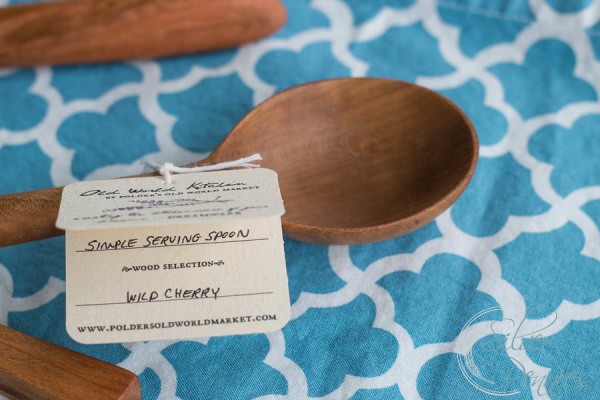 Loran Polder sent me these gorgeous spoons and spatulas in wild cherry.  The color is amazing.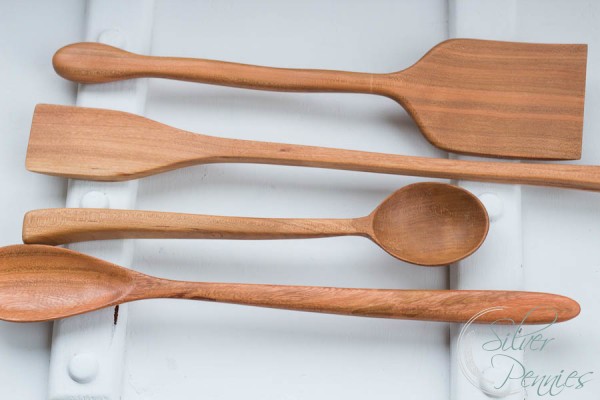 I'm not sure if you can tell from the photo but these spoons are so, so, so smooth, perhaps even smoother than a baby's bottom.
Each is hand stamped: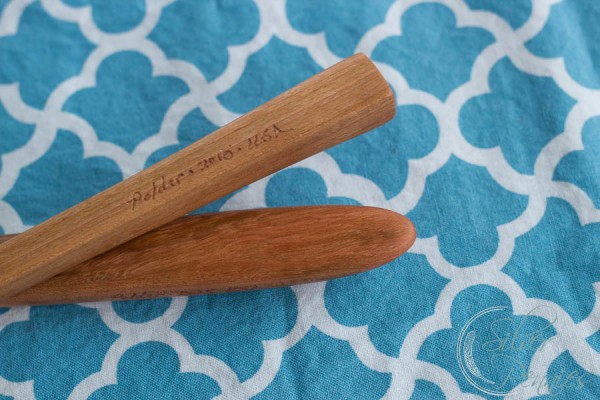 They arrived with beautiful care instructions and beautiful packaging: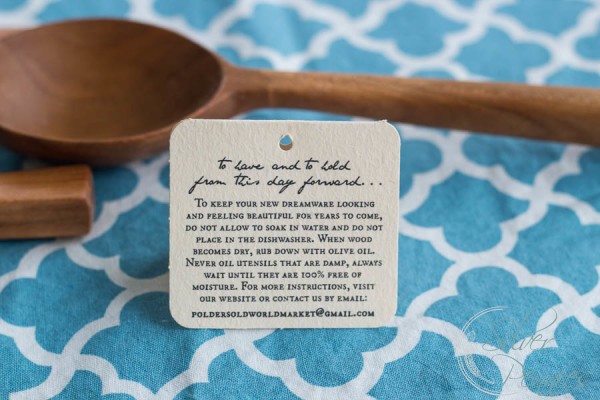 "To have and to hold from this day forward…."
The Polders story really touched my heart.  I grew up in a family business, my parents restaurant.  It was from my parents I learned, that after lots of hard work and many long hours, dreams can come true.  The Polders Family is a good example of this.  I'm delighted to be able to share these truly beautiful utensils and kitchenware with you.
I also have the most delicious recipe to share in celebration of Earth Day – Glazed Chicken Stir Fry.  Don't worry this is Paleo and Whole30 friendly. You wouldn't even no the sugar or starch is missing from this recipe!
Glazed Chicken Stir Fry
Ingredients
Organic Chicken, in large chunks
2 Cups Mango, cubed (I used frozen)
Juice of two limes
1/4 C + 2 Tablespoons Coconut Amino (for marinade), then additional for stir fry 2 Tablespoons
1/4C water
3 Tablespoons Chopped Ginger
5 Cloves of Garlic, Chopped
1/4 C Coconut Oil (for marinade), then about a Tablespoon for stir fry
Half an Onion, Chopped
Green Pepper, Sliced
3 Carrots, Chopped
2 Celery Ribs, Sliced
1 Tablespoon Green Curry Paste (I like Thai Kitchen)
Cashews (optional)
Method
Mix together all the marinade ingredients in the blender and chop the chicken.  Place the chicken in the marinade in plastic bags and marinate in the fridge for at least an hour up to 24 hours.
Preheat oven to 400 degrees and line a baking tray with foil and put the chicken on a wire rack.  The glaze will drip into the foil below and can burn. This way your chicken can get golden without burning.  Cook for 20 minutes or until the chicken is cooked through.
Heat Coconut Oil in a wok and add vegetables.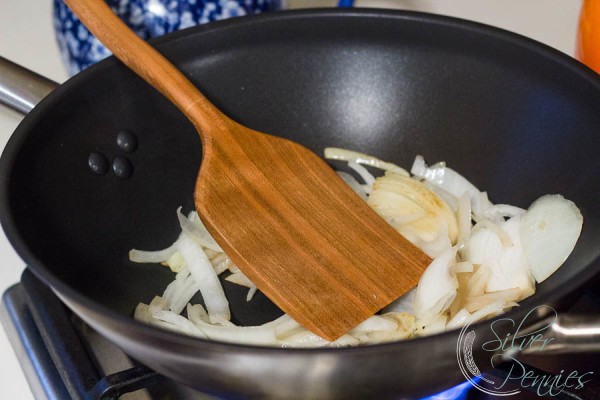 I start with the onions first.  Then I add the other vegetables, the coconut amino and green curry paste.  Stir fry veggies for about 10 minutes.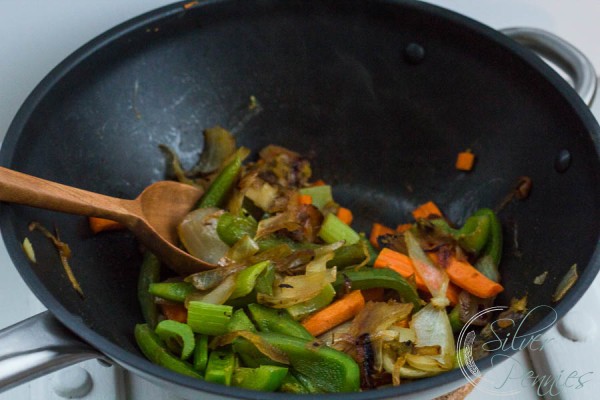 These wooden spoons and spatulas were such a joy to cook with. They are carved so that there is an indentation for you hand to hold.
Top stir fried vegetables with the glazed chicken and cashews and serve!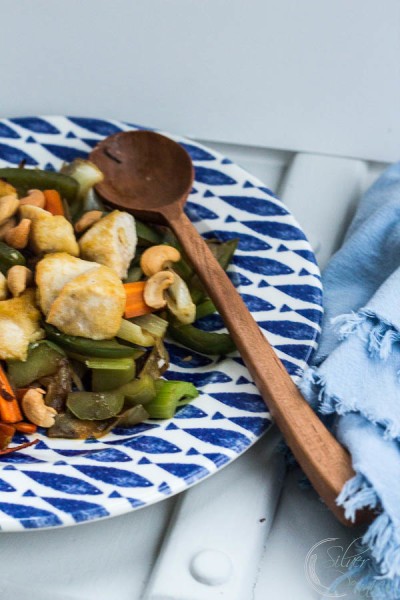 This dish is so easy and quick.  My little boys LOVED the chicken.  They prefer raw vegetables.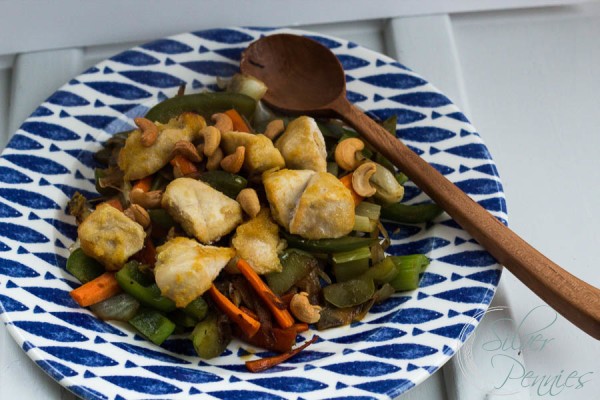 I hope you get a chance to visit the Polder family's beautiful online shop and blog.  Tell them I sent you over!  I'm excited to add to this set.