I'm so excited about today's post. This is our Family Friendly Halloween!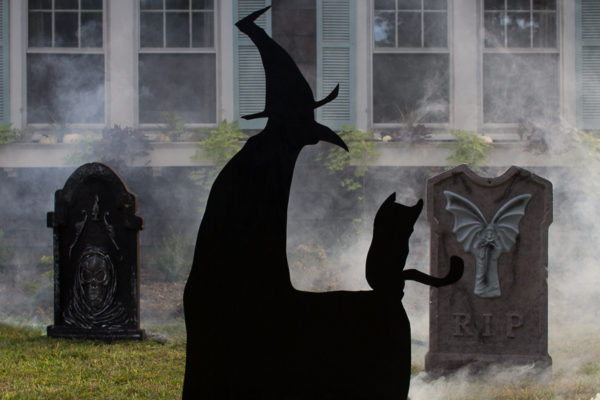 This post is sponsored by The Home Depot. The Home Depot provided me with products and the opinions I have shared about the products are my own​.
I'm so honored that I was asked to take part in the Home Depot's Halloween Style Challenge. In case you aren't familiar with the challenge, a group of bloggers recieve surprise packages from Home Depot. You don't know what you're getting. It could be Halloween, it could be Thanksgiving items or harvest. Along with the surprise package I was sent a Home Depot Gift Card to buy supplies to create projects to fit the theme.
Well, if you guys have followed the blog for some time then you know I LOVE Halloween. It all started when I was little. My mom would make me the most unbelievable Halloween costumes. She'd hand stitch sequins, create Michael Jackson's glove and do my make up. I was the fairy princess with heavy smoky eyes. Honestly, I still feel like a kid on Halloween, so you can imagine my excitement when my surprise box came and I was given Halloween!
The Home Depot sent me the 36 inch grave stones, a fog machine
, liquid for the fog machine
and the fog tube accessory kit
.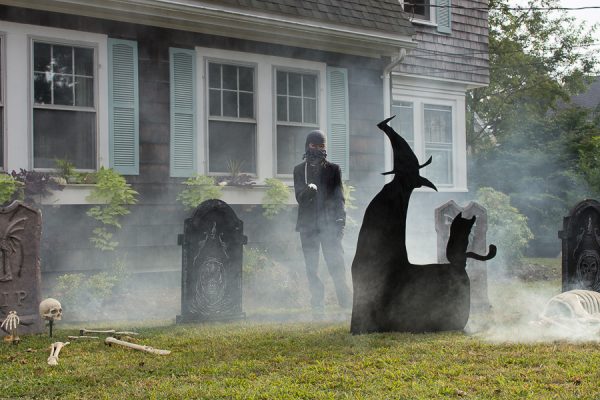 The fog machine was the boys' favorite. I can't tell you how many photos I have of them standing in the fog.
The machine is amazing. You add the liquid and plug it in and then use the remote control to generate the fog. It gives an instantly earie look to our whole yard.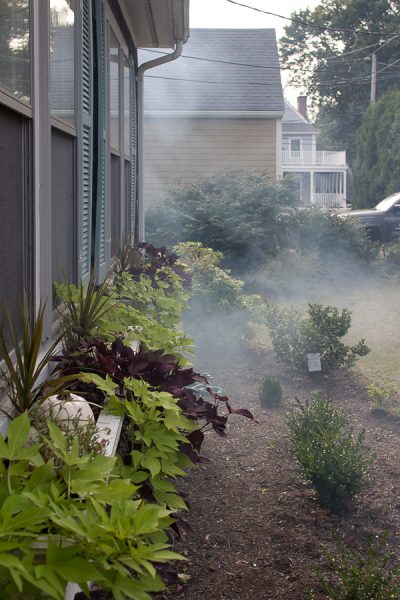 Doesn't it look haunted?
Since we all love Halloween so much, I wanted to create a family friendly theme around the gravestones and fog machine. We decided to create a large witch with a cauldron and a little cat. You can see my post over the Home Depot Blog for step by steps on the DIY witch and the other projects mentioned here.
The special thing about the witch is we used John's sketch to create her. Our 11 year old is such an amazing artist and it was fun to make one of his drawings come to life. We used pressure treated plywood and black spray paint
 to finish the creation.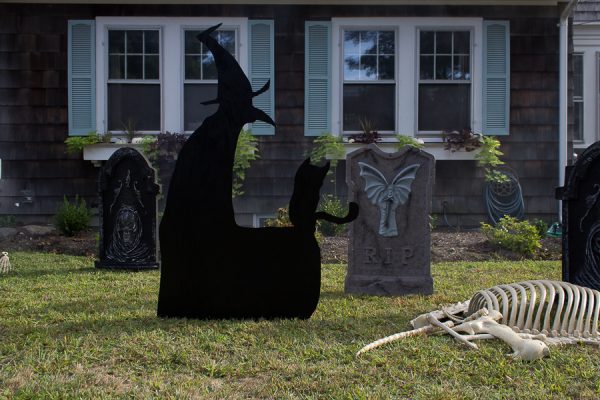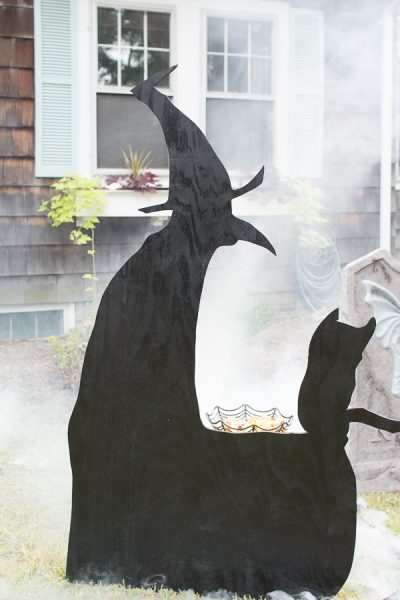 We put the candy "in the cauldron" to make it look as if it's part of the scene.
I think the witch is my favorite part!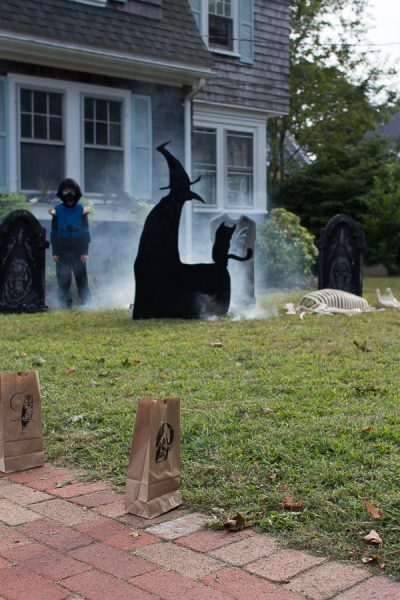 We really got into it! You should have seen people walking by.
People were saying things like "Isn't it a bit early for Halloween?" or "Wow! We're coming trick or treating at your house next week!"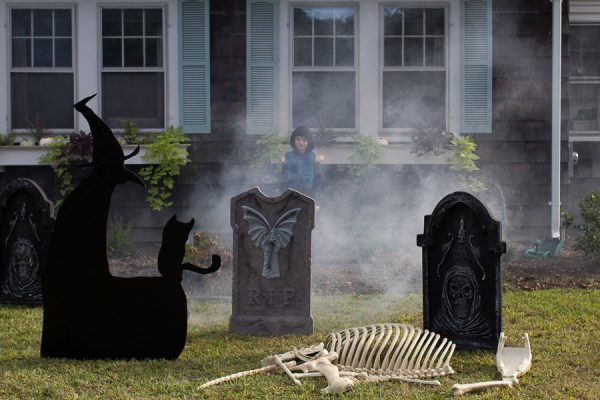 In addition to the witch, we used this bag of assorted bones and scattered them on the front lawn.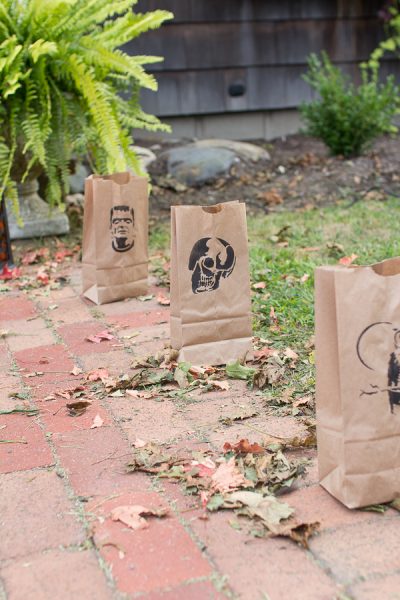 We lined our brick walkway with DIY paper lanterns. This is a fun project for kids to help out with.
Conor loved helping me stencil
and also filling the bags with rocks and faux tea lights
.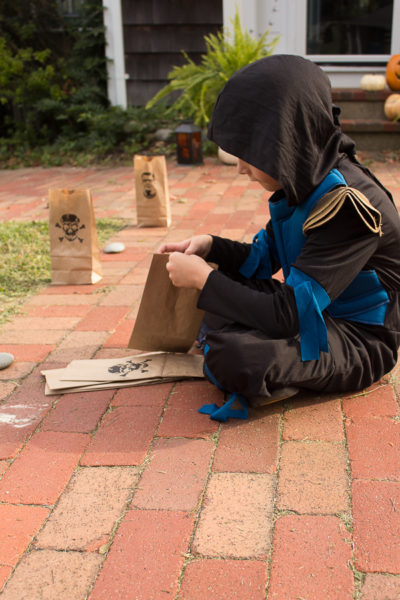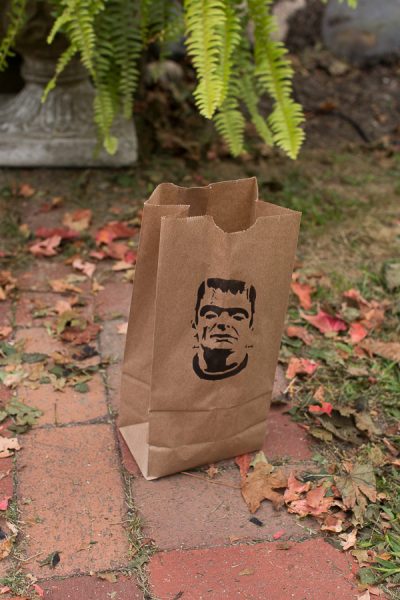 I love the Frankenstine ones.
The front steps are decorated with these fun lanterns
from Home Depot. They have cutest LED battery operated ones. We chose spiders and witches
to tie in with our DIY witch silhouette.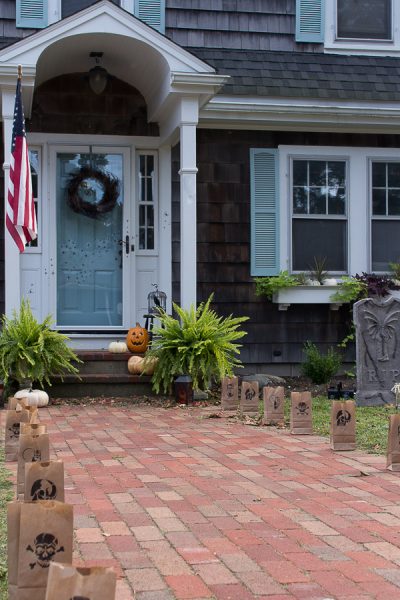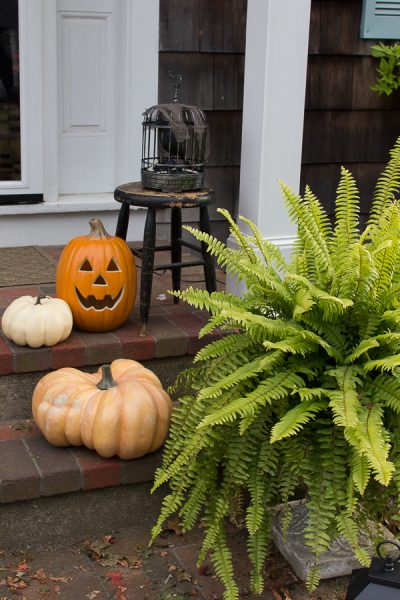 The carved pumpkin is electric. Nice and easy if you don't have time to carve your own pumpkins this year. It looks great a night.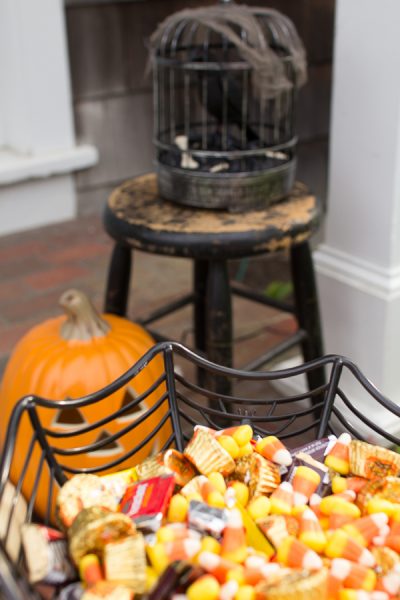 The raven
is so fun too. It actually squawks and is animated. It's a fun touch to surprise trick or treaters.
So we all got into it this year.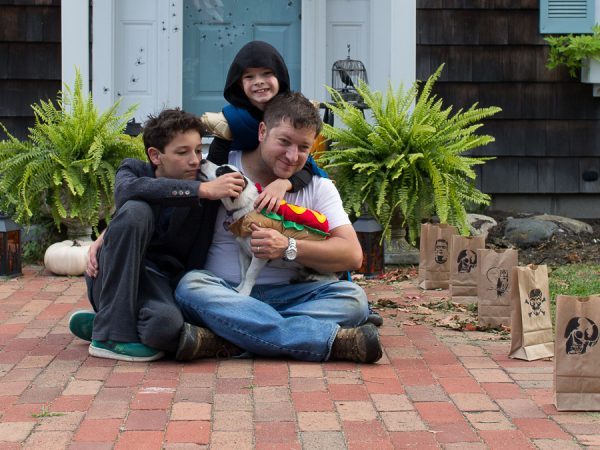 Even our sweet little dog Max. He's dressed as a hot dog! Last year he was too little – just a puppy. So this will be his first year dressing up.
Poppy, of course, doesn't like costumes. So she'll just be herself…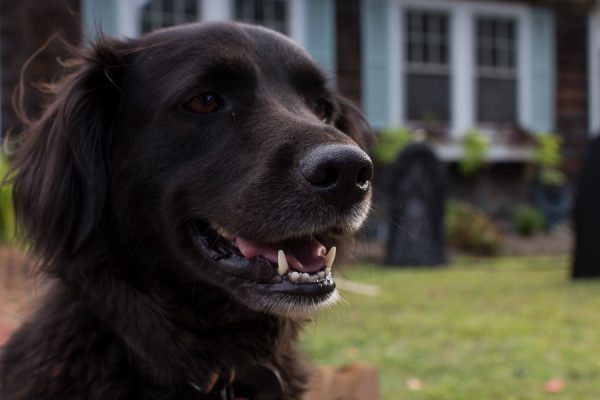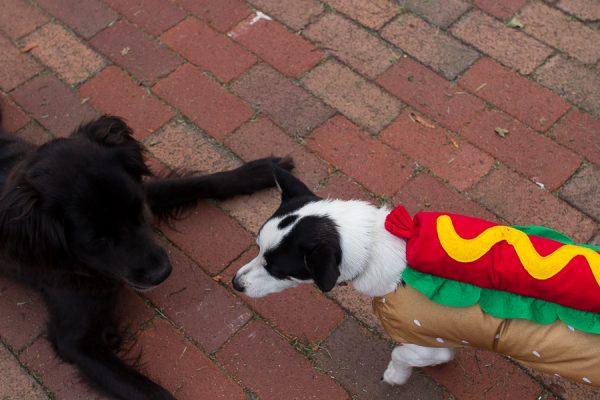 Ha! Ha! I think she might have been a bit confused to be honest.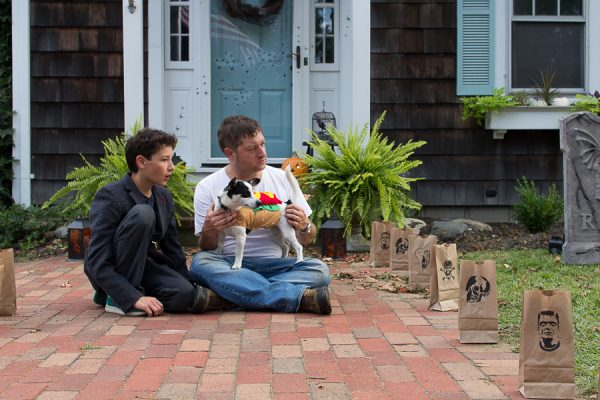 Oh, I almost forgot about the front door and wreath! We used WallPOP spiders
. Conor helped me stick them across our door and front entry. We wanted it to look like the spiders were crawling across the door.
I made the wreath using a branch wreath I had in the basement, some spray paint
, and ostrich feathers from a duster
.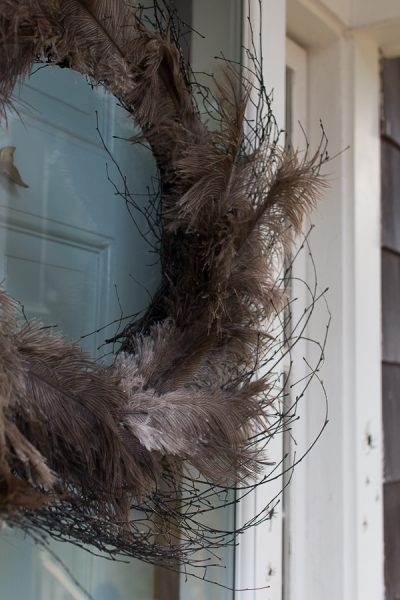 I love using natural elements in decorating and I think this gives a spooky look but in an understated way.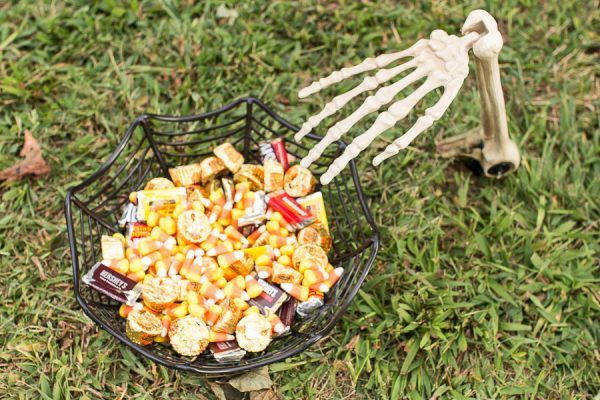 Care for some candy? This skeleton
sure wanted to help himself!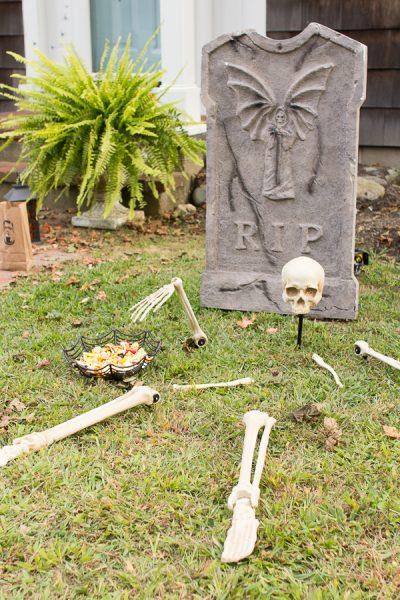 The eyes of the skeleton light up red and so do the eyes on this gravestone. You can see the lights on over on my post at the Home Depot Blog.
We had such a fun day creating this Family Friendly Halloween. Looking at these photos I'm feeling quite nostalgic. John is growing up so quickly. Doesn't he look grown up here?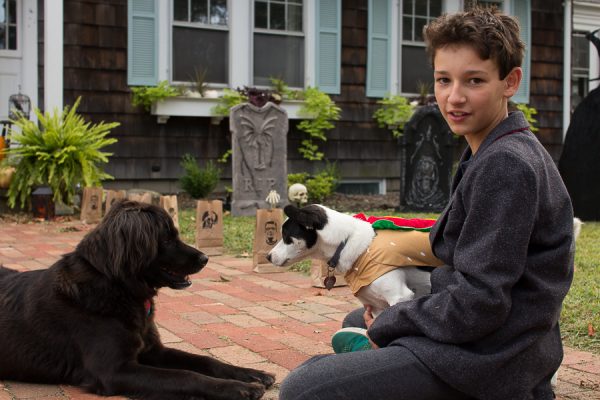 The boys had fun dressing up!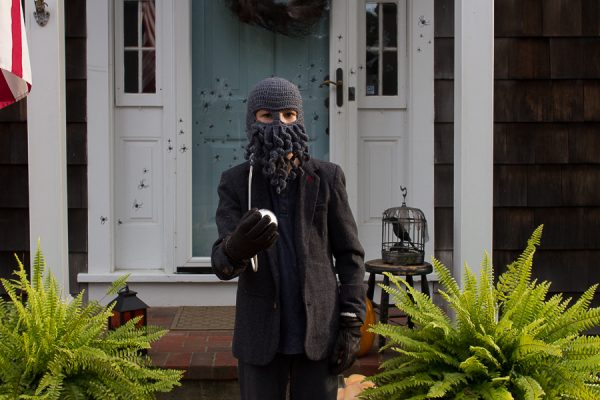 John is dressed as Ood from Dr. Who.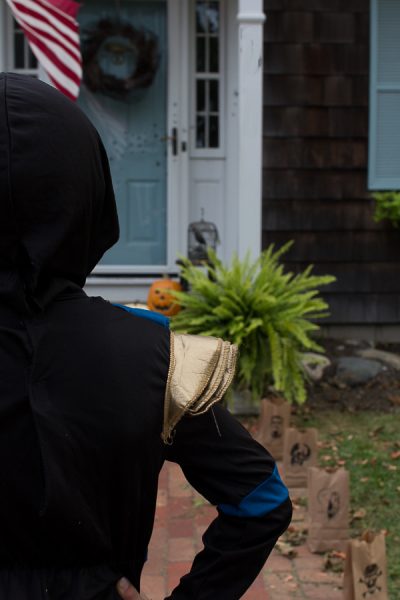 Conor, of course, dressed as a ninja.
The boys trick or treated and I gave them loads of candy for all the help.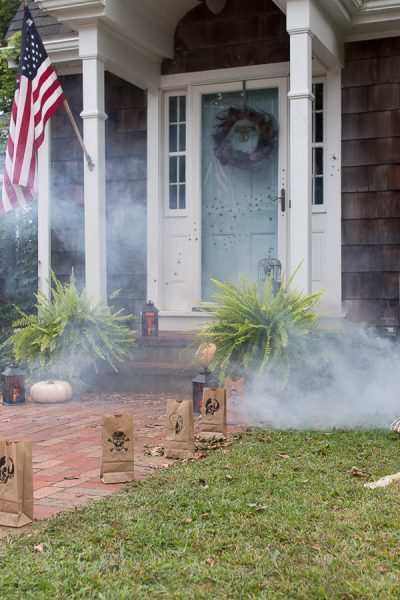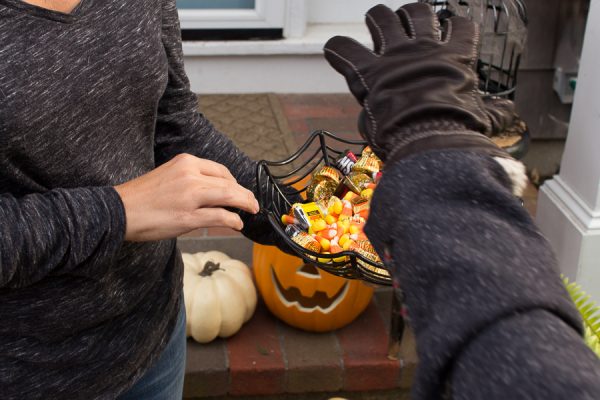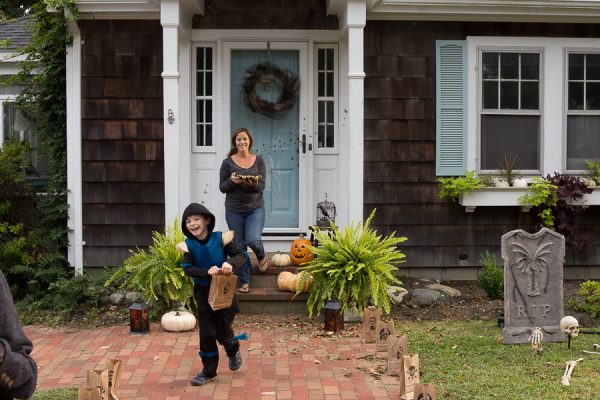 Look at the pure joy on Conor's face!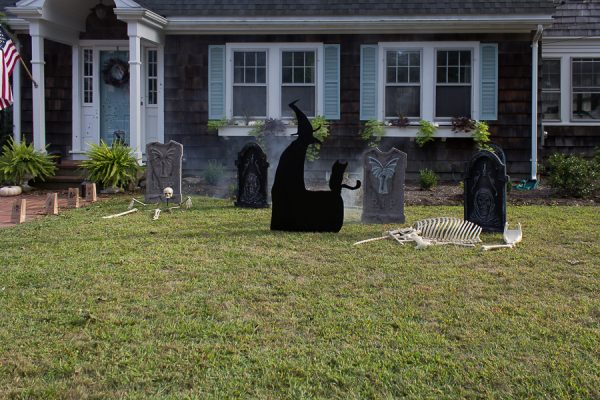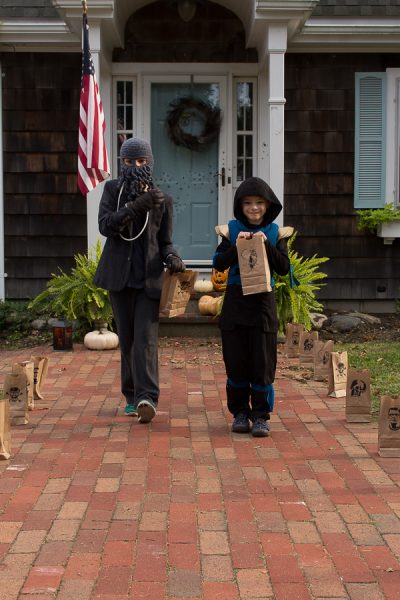 The stenciled bags also make great treat bags for Halloween!
One last look at the yard: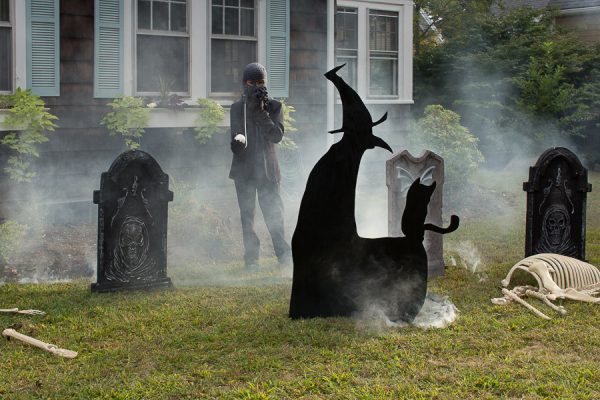 Oh, and here's a shot at night: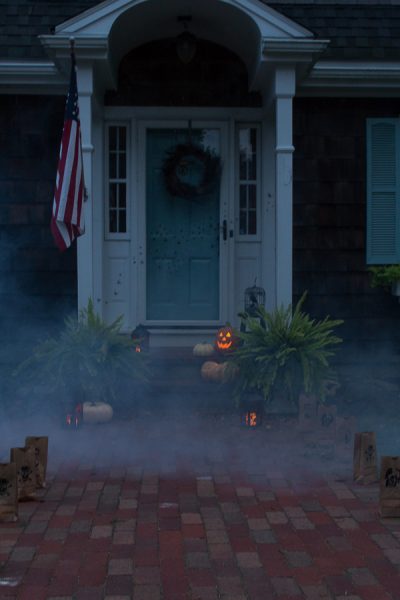 I hope you enjoyed this post as much as we did creating it. A huge thank you to Home Depot for inviting me to take part in the design challenge. Be sure to visit my post on their blog here. I've shared all the DIYs and also more night time photos.
I acknowledge that The Home Depot is partnering with me to participate in The Home Depot Halloween Style Challenge. As a part of the Program, I am receiving compensation in the form of products and services, for the purpose of promoting The Home Depot. All expressed opinions and experiences are in my own words. My post complies with the Word of Mouth Marketing Association (WOMMA) Ethics Code and applicable Federal Trade Commission.