This post is sponsored by Benjamin Moore. All thoughts, opinions, (and my love for Benjamin Moore) are my own.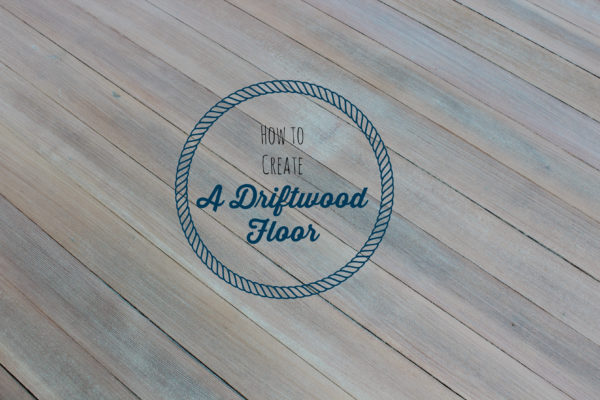 Finally… Finally you get to see  teeny tiny bit of the sunroom!
You guys have all been so patient waiting.
Grab your tea, or coffee or diet soda because today I'm going to share
How to Create a Driftwood Floor.
It is easier than you think.  You don't even have to go to the beach and look for driftwood for this one...
Okay, you may remember back in March that our lovely Poppy was sprayed by a skunk….
Due to this horrible and smelly incident we had to rip up the rug and we decided to sand the floors.  I told you all about that here.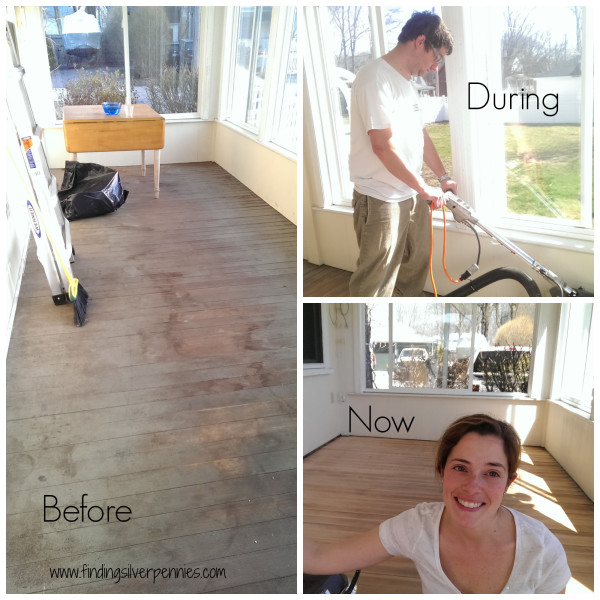 There was a few layers of paint and water marks all over the fir floors.  The color was kind of an army green which looked very dirty.  My first instincts were to paint the floors solid white, BUT I didn't do this for a few reasons.
The first reason, I didn't paint the floor was because this isn't a heated room.  Our sunroom is unheated and isn't insulated underneath at all – basically a screened in porch with windows.  I LOVE how white painted floors look but this wasn't going to be right for this room.
The second reason, we didn't paint them white is the wood was in such great shape and I wanted to enhance the wood.  I wanted to draw attention to the lovely wood grain.  I wanted to create Driftwood Floors.
I talked to my friends at Benjamin Moore and they recommended this product for the job: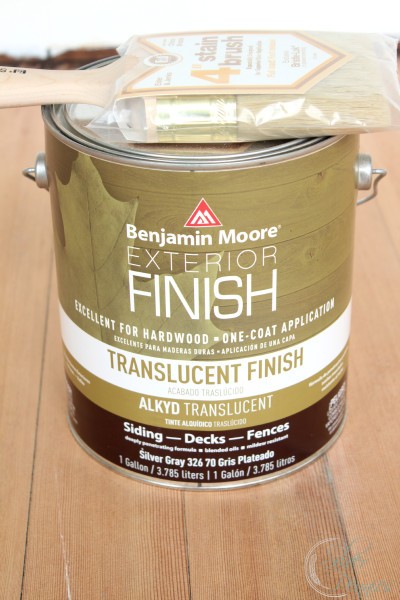 Benjamin Moore Exterior Finish in Silver Gray with a translucent finish.  The translucent finish will allow the wood grain to shine through but will cover the yellow wood with a soft gray / silver finish.
Soooo, before we started we made sure all of the current finish was off the floor.  We had sanded it a few weeks before but had to go back over some water marks and along the edge that the orbital sander didn't reach.  We used our palm sander for this.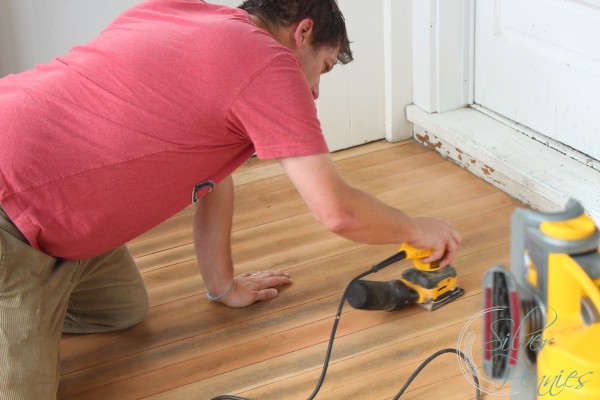 We vacuumed all the sanding dust up before we started.
How To Create Driftwood Floors
Thorougly stir your stain.  This translucent stain was very lumpy at the bottom so we had to make sure it was thoroughly mixed before starting.
With a floor staining brush which we bought at our local Benjamin Moore retailer – Hingham Lumber, brush the stain along the edge and the tip of the first three boards.
Then take a roller, don't load it too much and roll the stain along the whole length of the three boards.  Only do three boards at a time so the stain remains wet. You don't want it drying too quickly.
After you roll the stain, you want to back brush being careful to fill the stain in.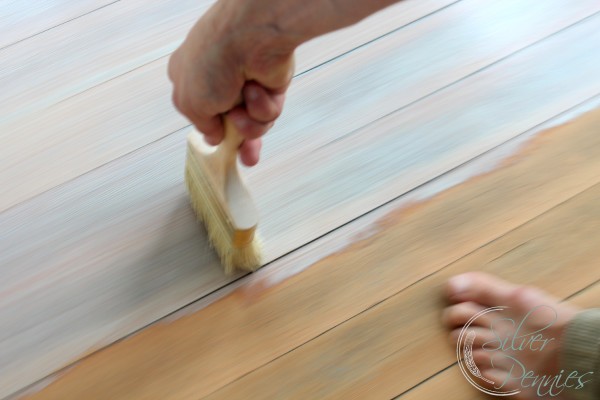 Here's how the floor stain looks when applied (it is wet in this photo):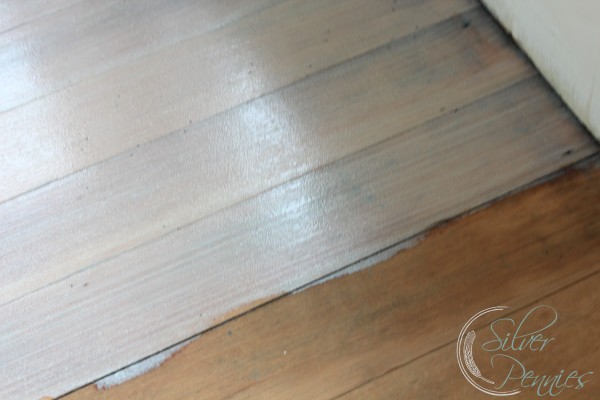 This might sound obvious but make sure you don't stain yourself into a corner and make sure to go with the grain of the wood.
Almost done!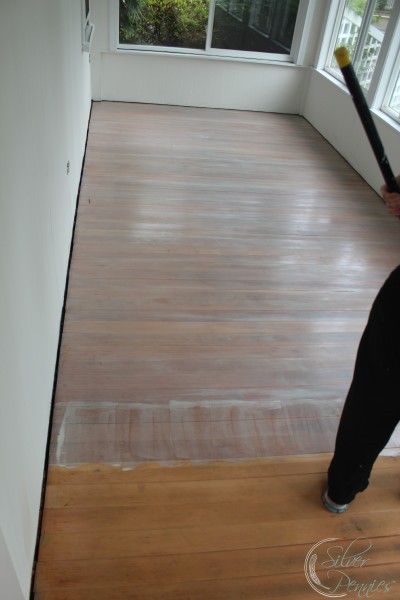 We alternated back and forth, Luke would do the edge, I'd roll and then he'd back brush.  He brushed the last few boards because the roller wouldn't fit.
As you can see, Poppy is once again giving us strange looks wondering what we're up to this time!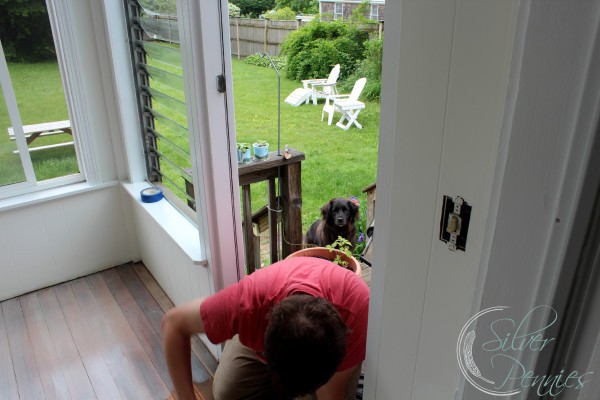 The floor dried within a few hours and was good to walk on and move furniture in after 24 hours.
I was actually really worried about staining the floor since it is something we hadn't done before, but the product was so amazing to use.  It was easy to apply and clean up.
Staining the floor only took about 45 minutes and we only had to apply one coat and nothing on top.  It is oil based so will work well for our unheated room and if there are any scratches or marks due to the dog or kids we can lightly sand an area and touch it up.
If you'd like to see a video tutorial, Benjamin Moore has one here.
We watched this several times before attempting our own.
Here's a peek at how our floor looks: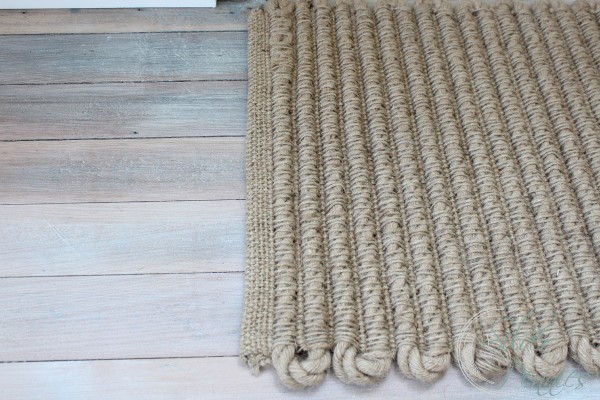 So that is how you create driftwood floors!
If you missed my room inspiration post you can see it here!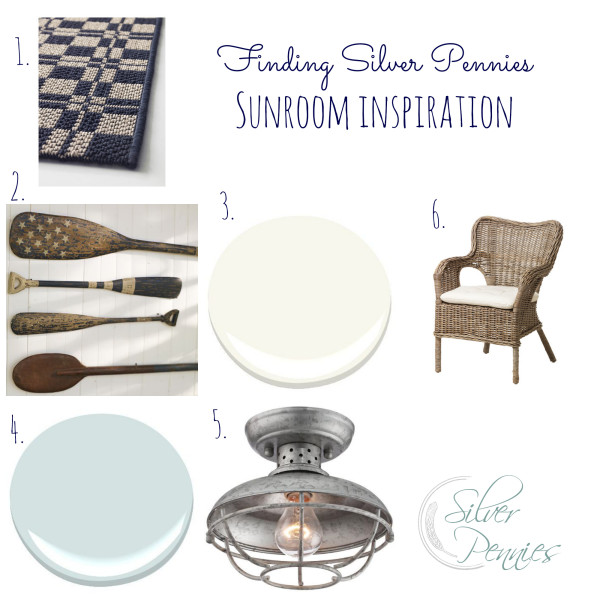 I'll be back on Monday to share the full room reveal! I can't wait for you to see the room I'm in LOVE with!
Sharing with: