Meet Adana! She's my latest and greatest! A mid century lady with a little twist: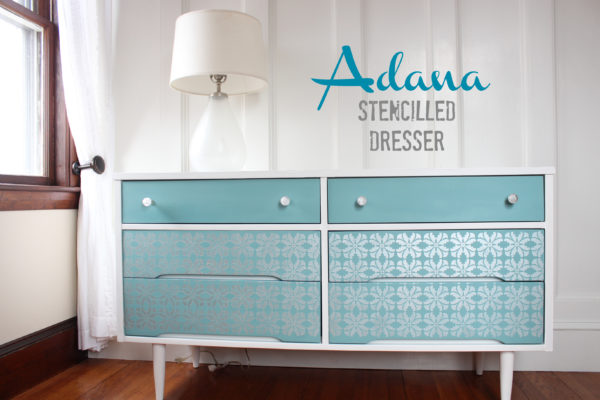 This is my first time ever using a furniture stencil and guess what?!?  It won't be the last!  Royal Design Studio contacted me about trying out their products and I, of course, said yes, please!  They even offered me this fantastic stencil, the Adana Floral Stencil, before it was released for sale.
But I'm sure you want to see the "before" first, right?!?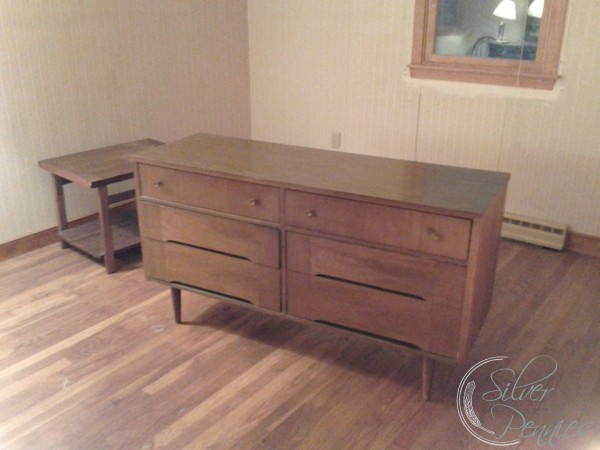 Ah, there it is….or was….  Mid century dresser complete with laminate top and brass pulls.  I thought she needed a bit of freshening up and a little modern twist.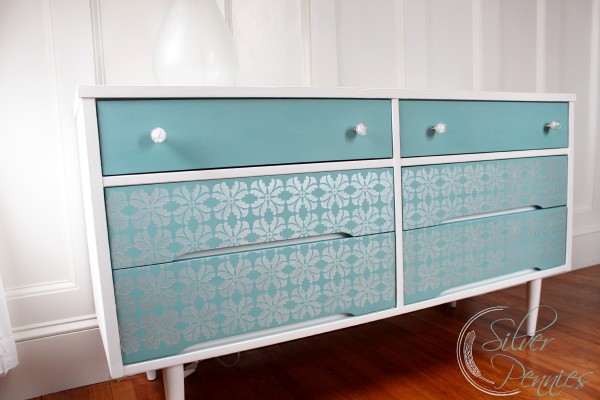 I painted the dresser in Pure White  and Provence Chalk Paint®.  Once that was dry I tipped her onto her back, to make stenciling easier.  I used the dry brush stencil method recommended by Royal Design Studio on their website.  For this method, I used a stencil brush and this wonderful, shimmery pearl oyster stencil crème, making sure to blot the brush on lots of paper towels before stenciling.  I was really quite nervous when I started doing the drawer, but it was pretty easy.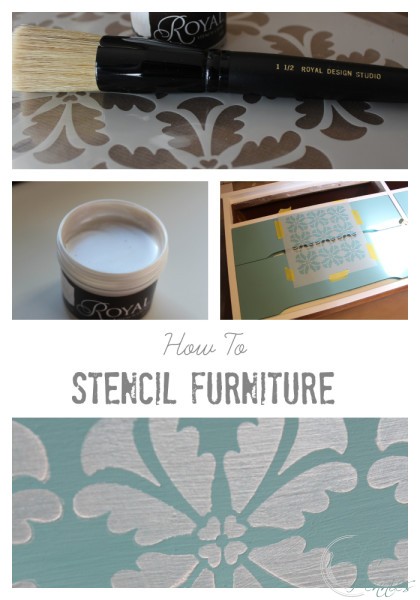 When stenciling you want to start in the middle of the drawer and then work out.  The hardest part was measuring the middle.  I swirled the brush around twice in a circular motion.  Then moved the stencil to the next position, using some delicate surface tape to hold it in place.  The stencil crème dries pretty quickly and goes on smoothly.
Here's a close up of the drawer: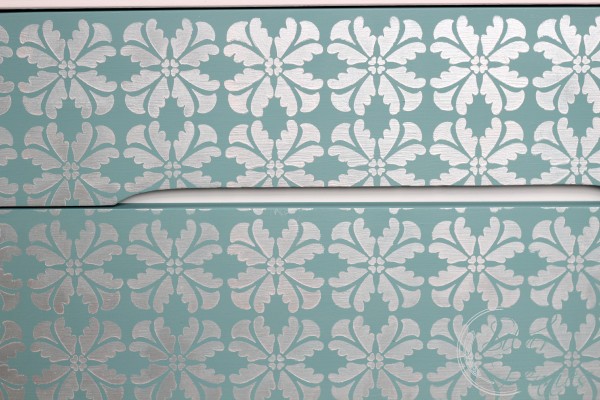 Isn't it yummy?  What girl doesn't love a bit of shimmer?!?  To tie in with the wonderful sparkly stencil, I've added some bubble pulls with chrome accents –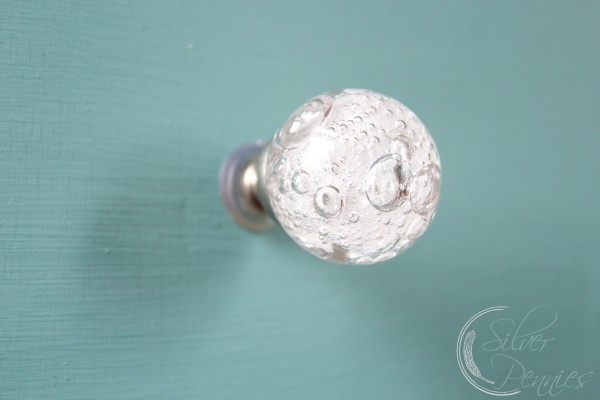 The entire piece is waxed with clear wax which went over the stencil crème beautifully.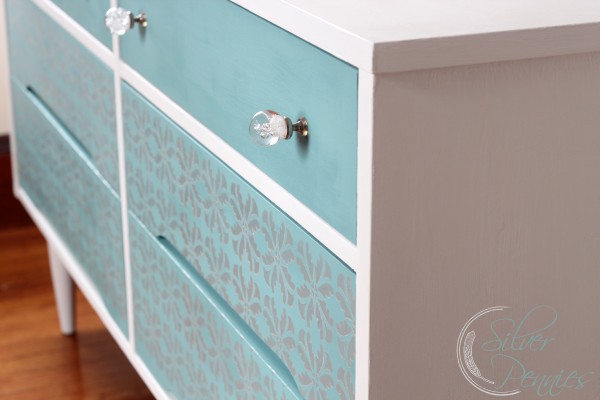 You may not have given the dresser a second glance in the "before" but I thinks she's a real stunner now!  I've named her after the beautiful stencil I used – Adana.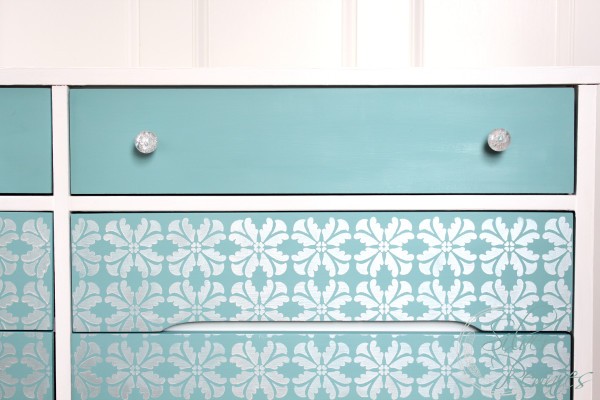 There are several other new modern stencils on Royal Designs site and they are all gorgeous.  I think you'll love them!  One lucky reader will get the chance to win a $50 stencil shopping spree at Royal Design Studio so be sure to come back next week to enter the Giveaway.  Until then, I'll leave you with a few more shots of the Adana dresser: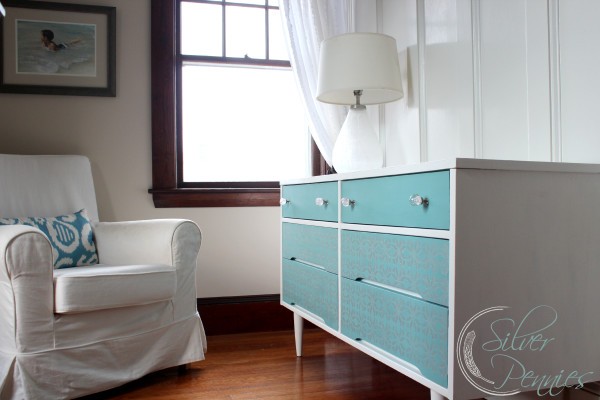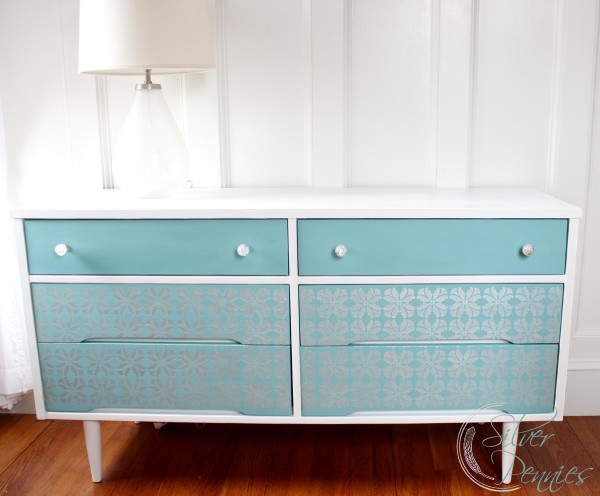 What do you think of of her?  Can't wait to hear!
Disclosure: This is a sponsored post with Royal Design Studio.  In return for this post, I received the Adana stencil, pearl oyster stencil crème and a stencil brush.  I enjoyed working with these products and think they elevated the look of this dresser.  I can't wait to use more of their products.  All thoughts and opinions shared are my own.
Sharing with: