Today I'm gonna share 6 ways to add greenery with easy to care for plants.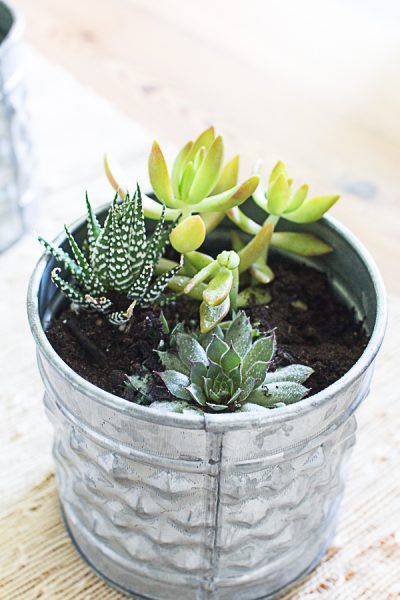 This post is sponsored by The Home Depot. The Home Depot provided me with product and compensation. The opinions I have shared about the products are my own​.
This post also contains affiliate links, if you purchase a product via the link I receive a percentage of the sale. Thank you for supporting my blog in this way.
I love plants. They add warmth, life and vitality to any space, whether in a bedroom, bathroom or sunroom. I wasn't always great with plants. Many times I'd buy an orchid and it would die (almost immediately). Plants are a great way to add life to your room. They are also a great way to transition a room between seasons. I've added some fun ones to our home as we move from summer to fall.
Now, I know what your thinking.
"I'm gonna kill the plant!!!"
Do not fear, sweet reader! These plants do well in most conditions and require little maintenance.
I'm also going to share some fun and unexpected vessels. Of course, you can keep them normal pots but today I'll share some fun ideas and some planting tips.
Pretty Succulents as a Table Runner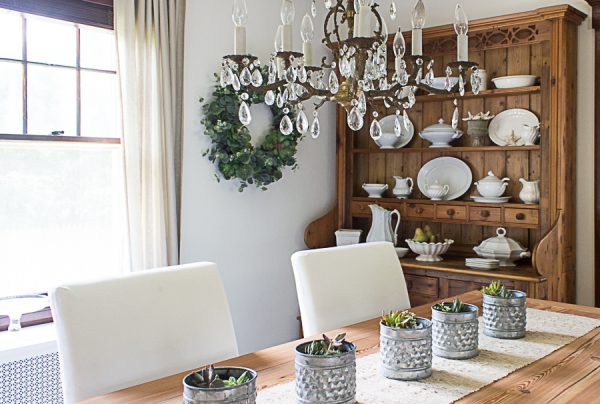 We will be using the dining room more and more now as the temperatures begin to drop. Family dinners of comforting chili and stews here. Succulents are easy to care for and do well with low lighting or bright sunshine. Home Depot has a wonderful selection, I had an assortment of 100 succulents
delivered to the house. They do all different collections with varying numbers. So you don't have to order that many, but I thought it would be fun to use them in a couple of different spaces in our home.
I LOVE these galvanized containers.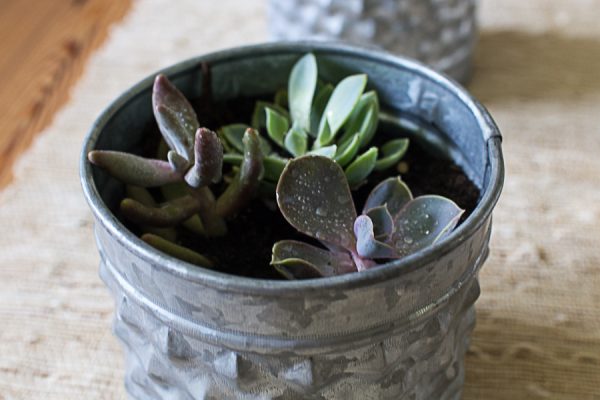 Aren't they pretty? The pick up the light and are perfect for fall. I think they have a farmhouse feel to them but are also modern too.
To plant these succulents – I filled the bottom of the containers with small rocks (for drainage) and then I added cactus soil.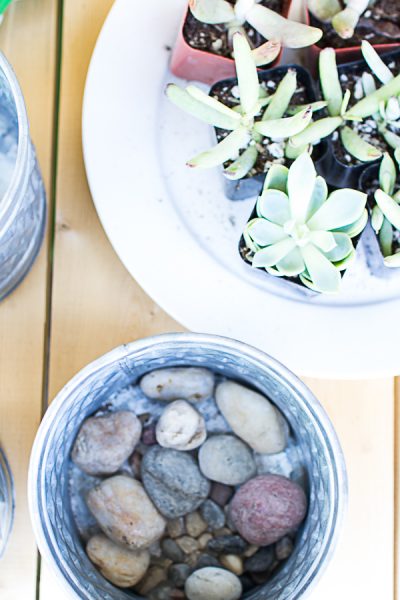 I mixed and matched succulents to make each container unique.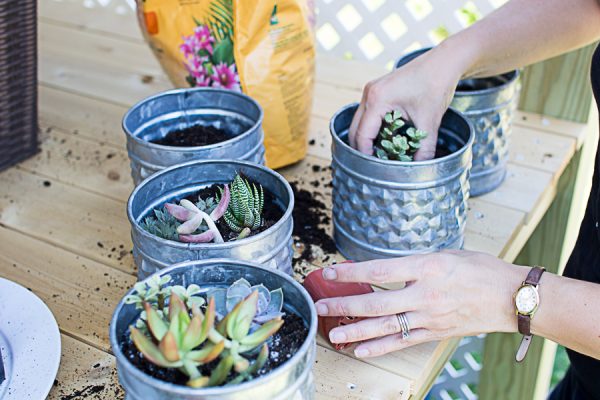 My lean to potting shed came in handy for this task.
Here's how they look on the table: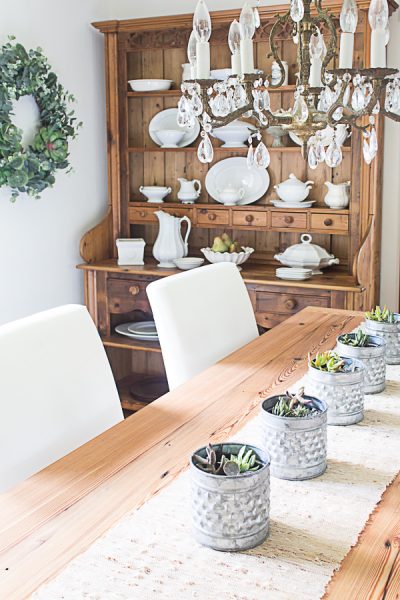 The height of these is perfect because it doesn't inhibit conversation around the dinner table.
They are so easy to care for, simply spritz with water each day.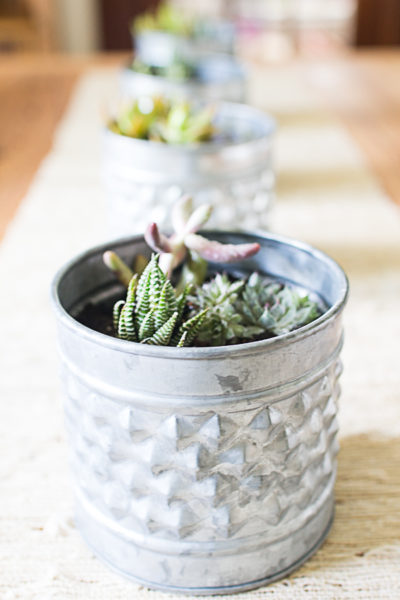 I also used these succulents in this coastal succulent wall hanging in our sunroom.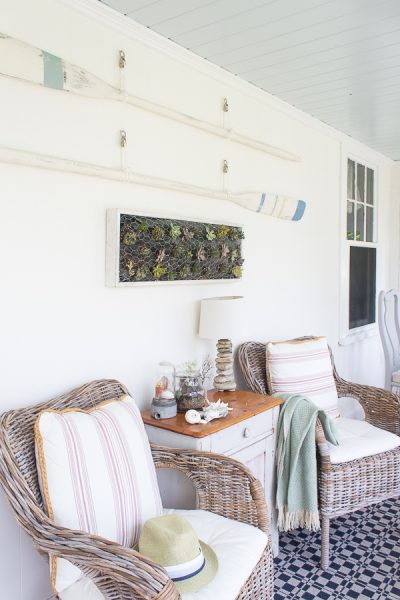 Click here to make your own: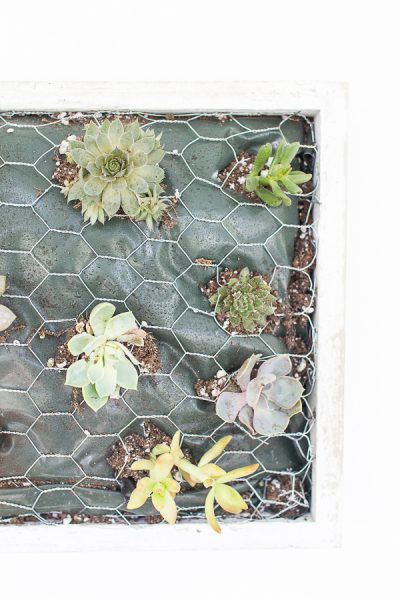 Air Plants in a Driftwood Bowl
This centerpiece includes two of my favorite things – air plants and driftwood!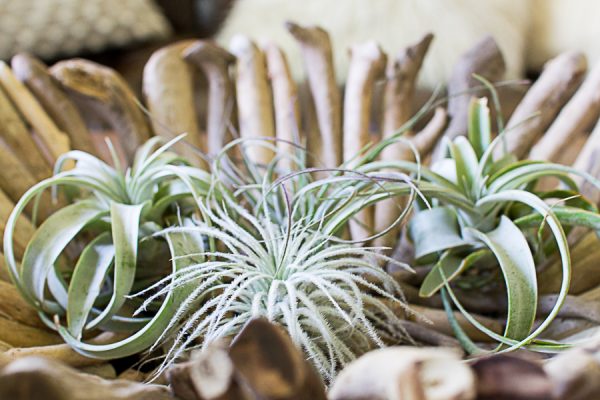 This driftwood bowl is just so stunning.
It adds so much character to a space with the warm grays and tans of driftwood and the organic structure is just so pretty and peaceful to look at.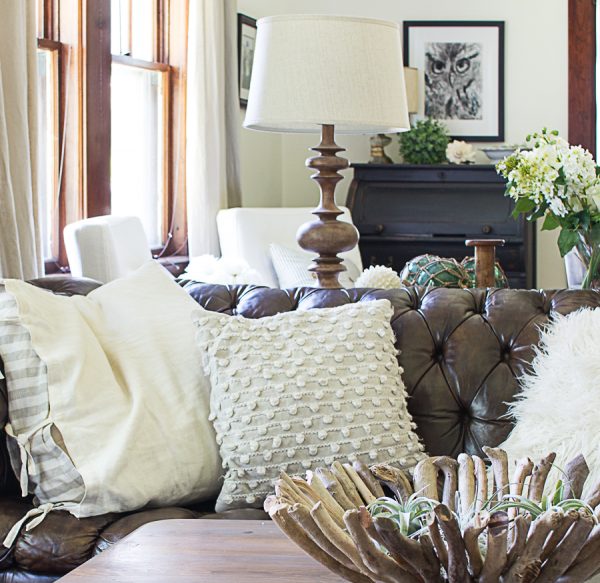 It pairs perfectly with the neutral decor of our living room's leather couch, cotton pillows and my son's owl in the background.
Living by the coast I'm drawn to items from the sea, but you don't need to live close to the ocean to use driftwood accents in your home.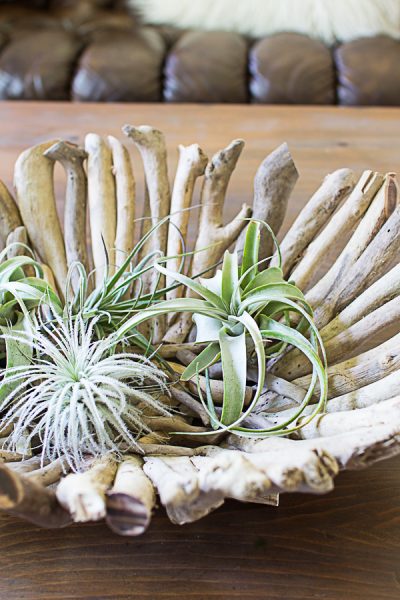 I mixed different air plants in the bowl to add visual interest.
Air plants are fool proof. They don't require much light and just a light misting of water. I mist these when I do my succulents each day.
Our living room isn't hugely bright so this plant is a great option for us.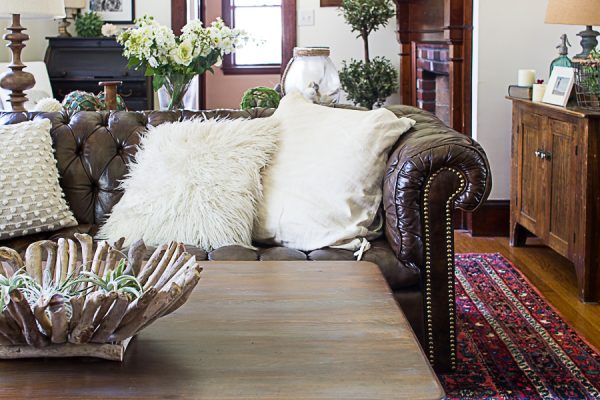 I think you'll love the air plants in your own home!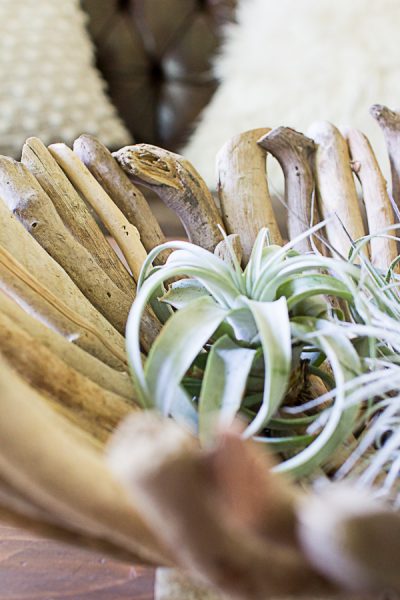 Fun Fiddle Leaf Figs
Fiddle Leaf Figs
 are so popular and for good reason! They have a great shape and offer an understated elegance.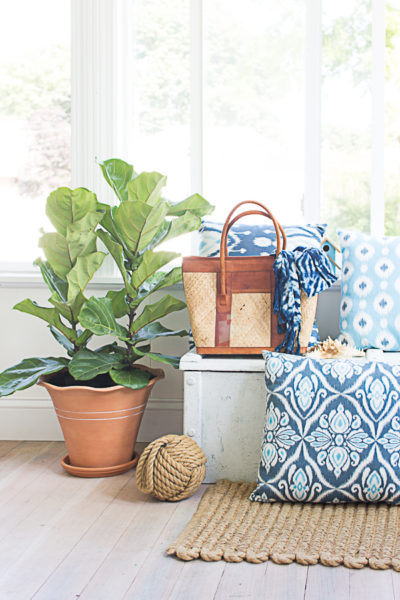 I searched high and low for one and then I discovered Home Depot sells them online!
Amazing!
The plant arrived perfectly.
I paired it with this pretty aged terra cotta planter.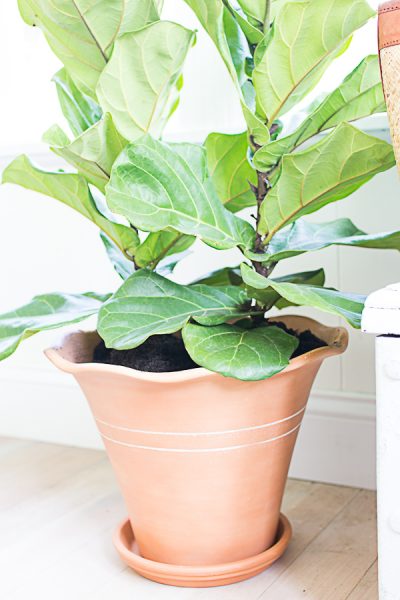 The scalloped detail is so lovely and I also love the white detailing on the stripes.
Make sure to always add a saucer under your plant pots to help protect the flooring.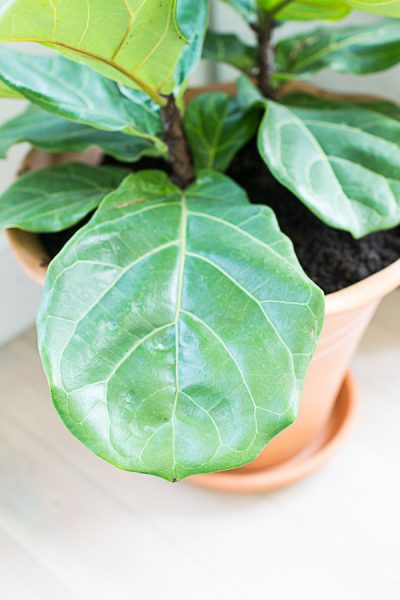 This fiddle leaf is thriving in the sunshine in our sunroom.
I give it about a half a cup of water each week, usually on a Monday.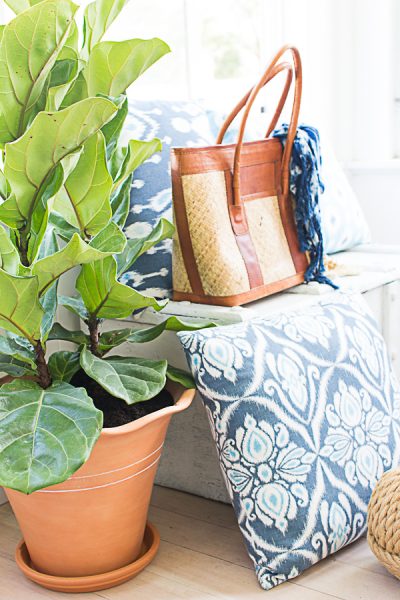 Instant coastal style!
Inject Green in the Kitchen
Aloe
is the perfect choice in the kitchen!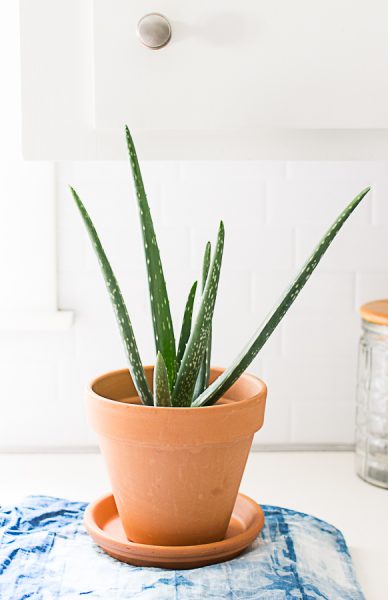 I remember my grandmother, Maas, always keeping an aloe plant in her kitchen. It's perfect for burns.
If I ever had a cut, she'd use a bit of the plant and rub it along the sore spot.
In tribute to my grandmother I now have a potted aloe in our kitchen.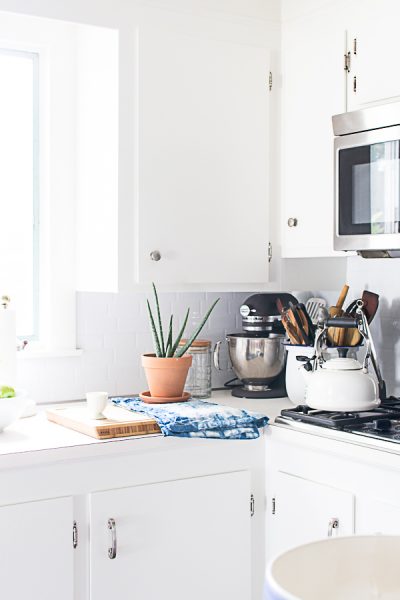 Just in case, of burns or scrapes, but also because it's just so pretty.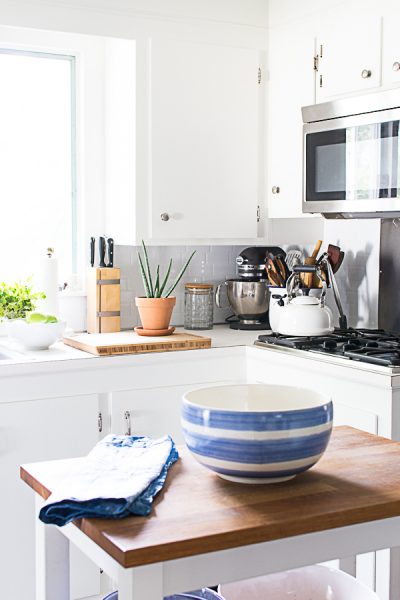 The terra cotta adds warmth to our bright white kitchen and also helps store water for the plant. Aloe is another succulent and doesn't require much water.
Air Purifiers in the Office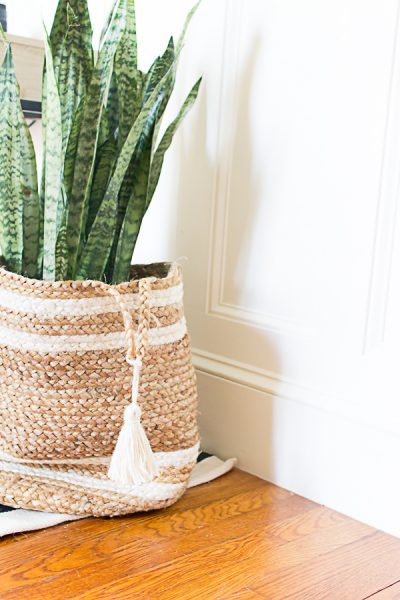 Even office spaces can use a little lift with a plant.
Sanseieria Zeylanica, or Snake Plant
, is a classic yet versatile option.

The spiky foliage adds such a fun statement. In addition to the cool look, this plant is a great air purifier.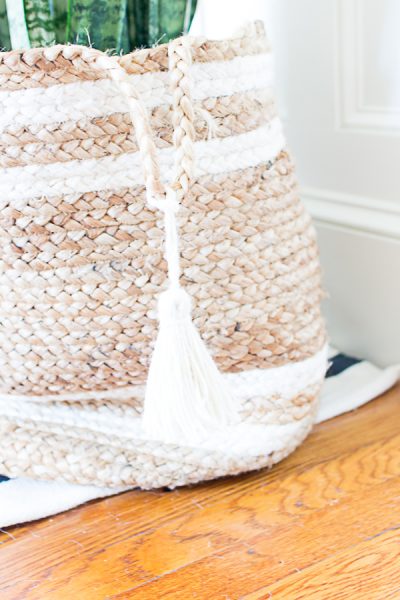 I placed the plant into the this woven basket
. If using a basket for plants make sure to add a saucer inside to catch the water. I used a plastic one.
The basket adds warm texture to my modern office space.
I especially love the tassel.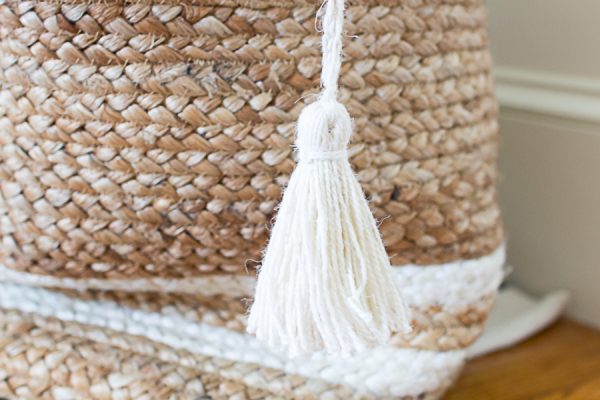 Having a plant next to my desk while I work, brightens my day and improves my mood.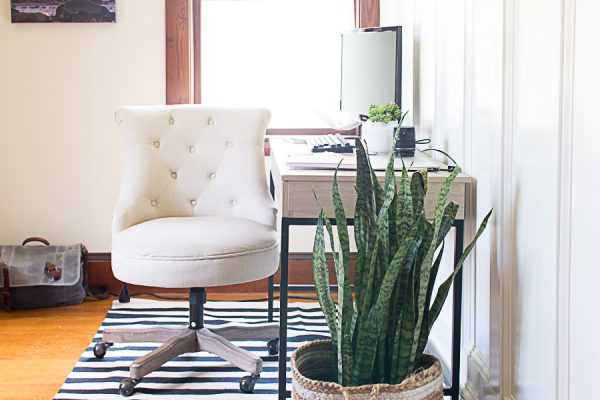 This plant requires very little maintenance and is great for the "forgetful gardener".
Decorating with Branches
Another simple option for adding greenery to your home is clipping branches from your yard.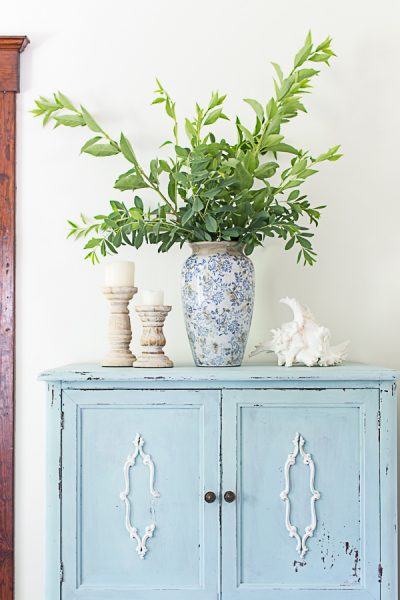 No need to worry about keeping it alive either. Cut branches will usually last for several weeks if placed in water. Cut branches on the diagonal.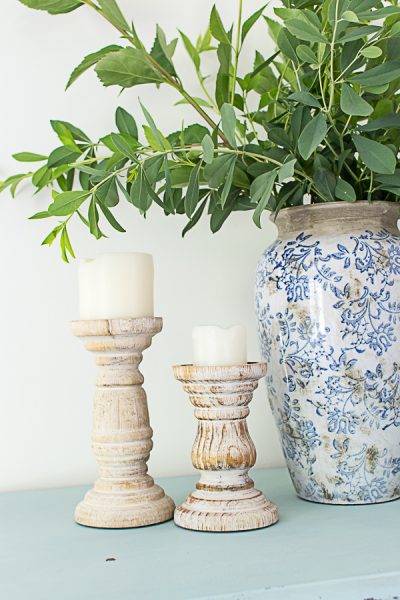 Pair with pretty candle sticks and shells.
This blue and white urn
is actually brand new despite looking aged and antiqued.
Isn't it pretty?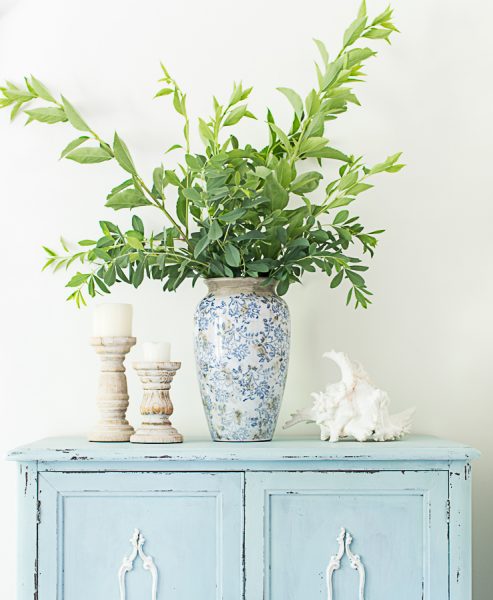 I hope this post gave you some new ideas of using plants and vessels in your home.
I acknowledge that The Home Depot is partnering with me to participate in this 2017 Digital Decor Program. As a part of the Program, I am receiving compensation in the form of products and services, for the purpose of promoting The Home Depot. All expressed opinions and experiences are in my own words. My post complies with the Word of Mouth Marketing Association (WOMMA) Ethics Code and applicable Federal Trade Commission.