Our new 'reclaimed' wood headboard
A proper, grown up bed in less than 24 hours!  I've always wanted a headboard, one of those really rustic ones, but for my whole adult life I've never had one.  Not even a crappy one.  I haven't had a nice headboard during my years of uni, rental apartments and early married life!  That was when I told Luke I wanted to make our own headboard.  I really wanted to use reclaimed barn wood, but we couldn't find any.  So here is what we came up with.
I was inspired by these headboards I found on Pinterest and we made a hybrid of them:
I love the look of the reclaimed wood, but we followed AKA Designs advice and got some pine from Home Depot.  They hung their's on the wall, but we opted to bolt our's to the bed just in case we wanted to move the room around, like the second headboard.
Here is what you need (this posts contains some affiliate links):
– Wood.  We used pine from Home Depot 1″x6″x6′ (Luke cut this down to 5 ft. to coincide with the size we wanted)  We used 7 pieces ($7.12 ea).  3 lengths of 1″x4″x6′ for the back to act as legs and a brace ($4.87 ea).
–
Carriage Bolts (5/16th) with washers and nuts
x 14 ($1.08 ea set) (we used these because we liked the look, but you can use screws or other bolts that are cheaper)
– Hex Bolts (5/16th) with two washers and nuts x 4 ($0.55 ea set) to attach to bedframe.
– Sandpaper (already had)
– Old rag or t-shirt (already had)
–
Minwax Stain
in Special Walnut (you can choose which stain you like the best) Small can which cost $4.58, but only used half.
Total Cost: $89.02 (not including tax)
Tools:
–
Square
 to make sure the headboard is square and not wonky
Step 1: Measure and cut the wood to desired length.  Home Depot can do this for you, but we decided to do our own.  It actually was good, because the cuts were a few millimeters different and gave the wood a more reclaimed look.
Daddy's little helper
Step 2: Make sure everything is square and mark spots to drill holes for the bolts:
Step 3: Drill pilot holes and then 5/16 holes:
Step 4: Put the carriage bolts in:
Step 5: Cut and screw on brace making sure the whole thing is still square.  The headboard will still move until the brace is attached.  Sand the wood very well.  Don't want to get splinters from your head board!
view of back with brace (make sure your screws aren't too long)
Step 6: Measure exactly where you want the bottom of the headboard in your room and then cut the legs and drill holes to correspond to the location of the holes in the bedframe.
Step 7: Stain the wood.  We used one coat of Minwax Special Walnut.  You can use more if you want a deeper color or you can use a different stain.  I didn't use gloves but would recommend them when applying the stain.
The stain went on nice and easy.  I loved how it brought out the knots and imperfections in the wood.  Make sure it is completely dry before bringing it into your bedroom.
Step 8: Attach to the bed frame with bolts, insert the bolts from headboard side to prevent damage to wall trim.  We also attached felt pads to the bolts to prevent wall damage:
And voila!  A cheap and cheerful head board por moi!
Starfish garland is optional 🙂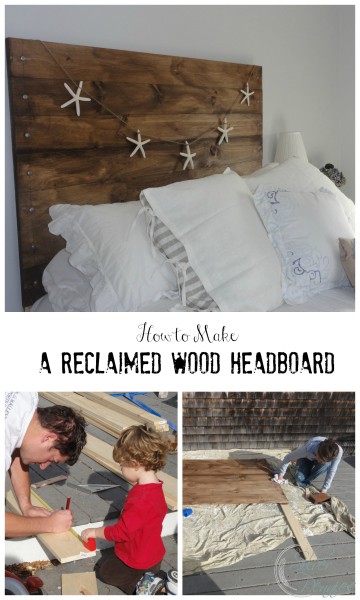 Featured on:
Linking to: