It's time for the first installment of our Creativity Over Coffee series for 2019. I'm so excited to introduce you to my friend and super talented artist, Becky O'Toole of The Pink Frame.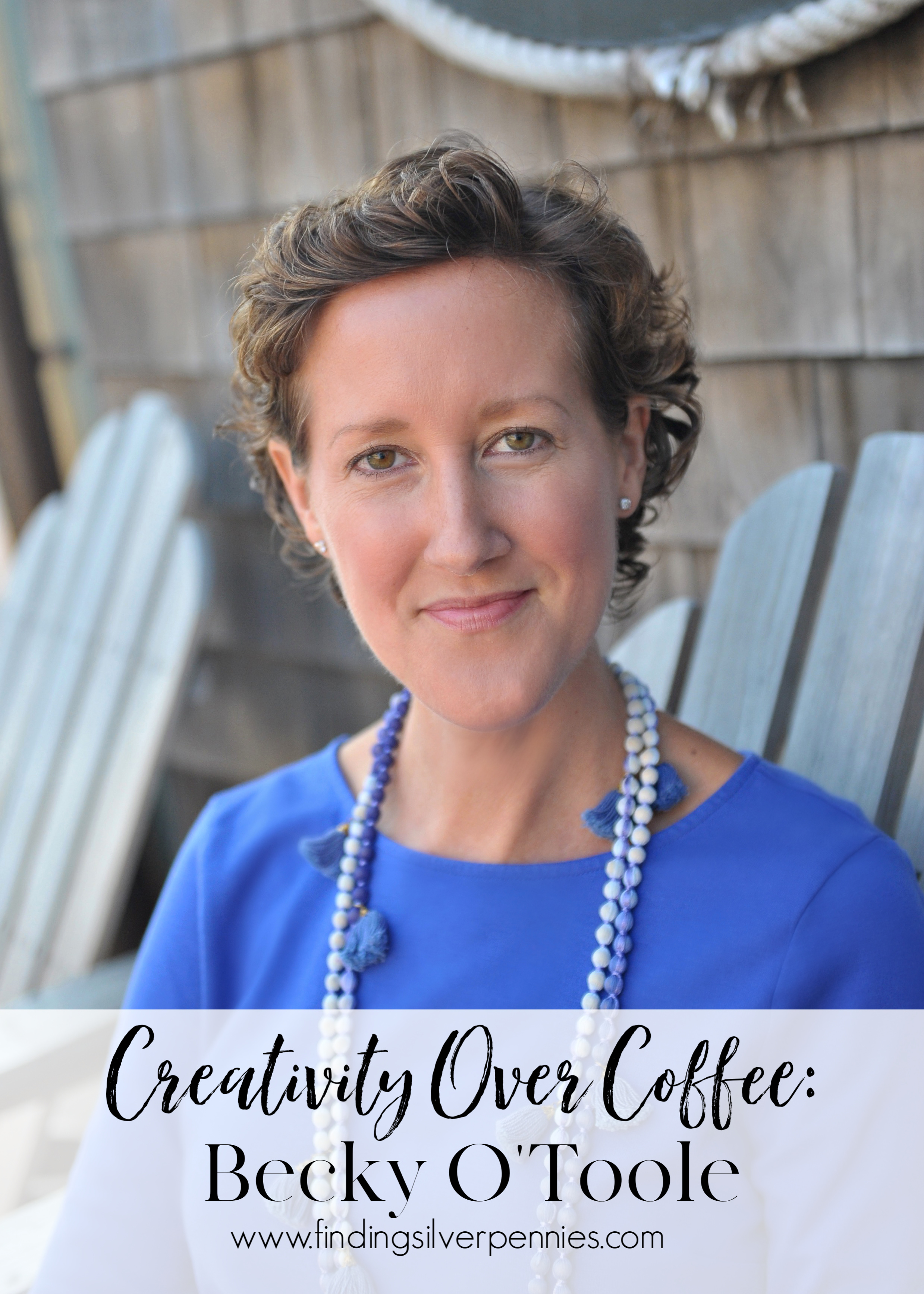 I remember seeing Becky O'Toole's beautiful paintings for the first time. It was at Joye in Scituate Harbor, small seascapes, which perfectly captured the crashing waves and the horizon. Since then I've seen her work on a bigger scale, large canvases filled with beautiful hues and brushstrokes. Becky is such a kind and generous person. I'm so glad we've become friends through our shared interest of the ocean, creativity and also Scituate Education Foundation. We're working together planning Scituate Education Foundation's spring fundraiser – Light Up the Night. If you aren't familiar with Becky's work I'm so excited to introduce you to it! You'll want to visit The Pink Frame to see even more!
Okay, grab your coffee (or tea) and get ready to be inspired by this creative, strong, and funny artist!
Becky, your story of creativity, survival, and coastal views is so intertwined. Can you take us back to the start of The Pink Frame?
Becky: After surviving breast cancer a few years ago, I was finding myself very worried about the future of my health and whether my cancer would come back. My mom was diagnosed two weeks before I was, and my grandmother had died of breast cancer. I started battling anxiety and stress that was hard to manage. No matter how many miles I ran, I just couldn't shake it. I started painting at night after everyone was asleep (the only free time I had with two young children at home). I majored in Photography at Rochester Institute of Technology and worked for years in advertising and interior design, but my confidence in creating art on a personal level was very low. My husband suggested I donate a portion of every painting to Dana-Farber as a way of giving back, which was the catapult I needed. It was how I started the name "The Pink Frame" (pink for breast cancer awareness) and it gave me a purpose for painting. From that point on, it didn't matter as much what anyone said of my work because I was just trying to do something small in the world to leave behind and hopefully make a small difference. I wanted my girls (5 and 7 now) to see that I could do something with my creative side and be more than just a mom.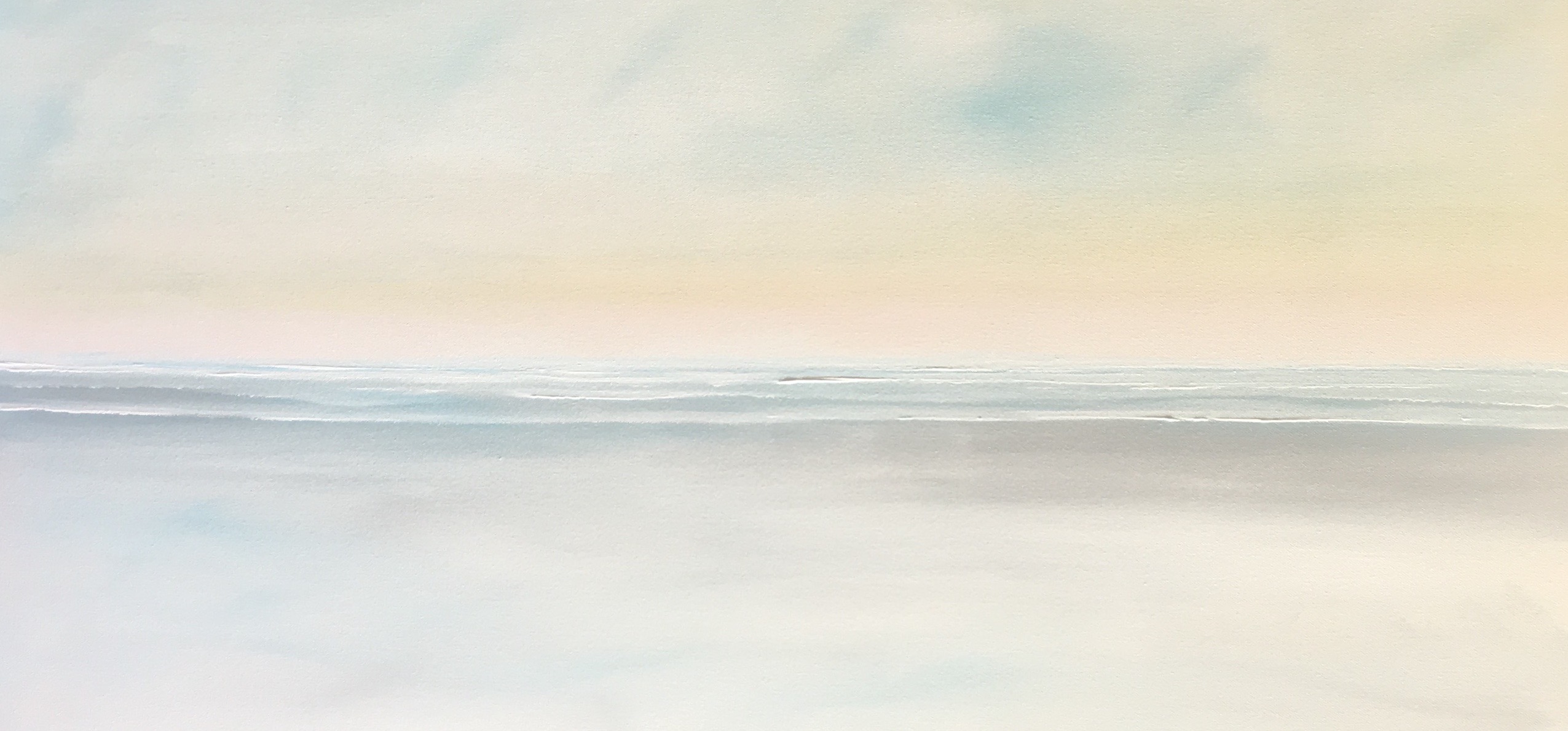 Becky, that is so moving. Your work is so beautiful. What prompted you to start creating your ocean landscapes?
Becky: From childhood trips to Maryland beaches, to New Jersey, to St. Croix, and here in Scituate MA, I have always loved being at the beach. When people would tell me to go to my happy place, I knew it was the beach, but I had no idea how to get there. So, I started painting my way to my happy place. It is the hundreds of strokes I use to create each piece that gets me into a very zen place. People often ask me which beach it is, or say, "Oh, I've seen that view here in Scituate!" and the truth is, they are never actual places. I don't paint from photographs or plein air. I am also asked why I don't add people or birds, or houses, and the answer is that I create what I need to feel calm. And by doing so, I have found a very deep connection with those who have my work. The calm transfers to others, helping them also see a tranquil place in times of stress or in many cases, trauma, from life events similar to mine.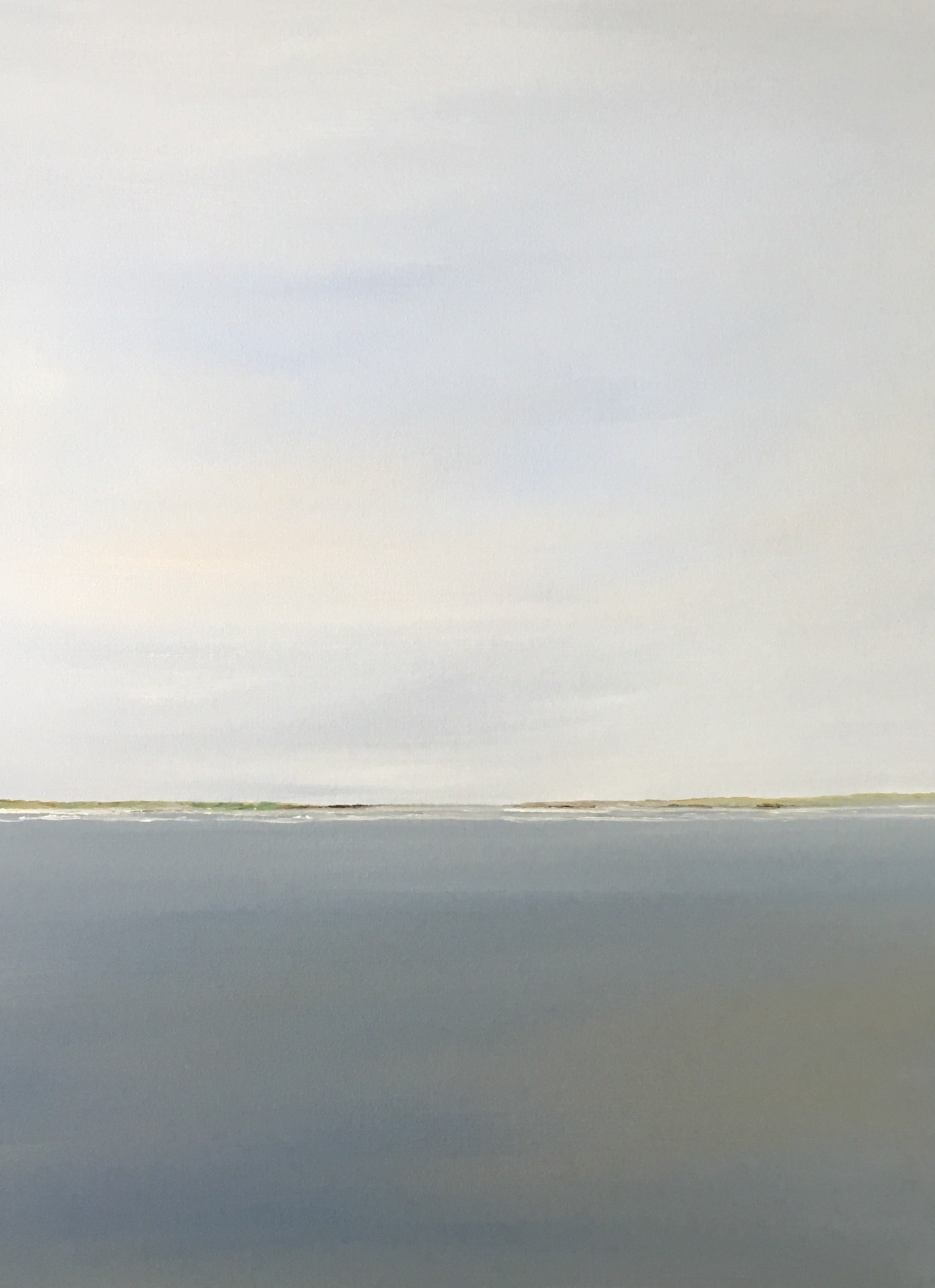 I love that a portion of each sale goes to Dana-Farber Cancer Institute. Did you know you were going to do this when you started painting in the hospital?
Becky: It was my husband's idea (I give credit where credit is due, of course!) but the donation aspect really kicked in when I was diagnosed with leukemia last year and began selling a lot of paintings each month. I was whisked away to an initial 4 weeks of what I call solitary confinement (being hooked up non-stop to chemo and not being able to leave the hospital room). The nurses and doctors were amazing, but I remember looking at my family and thinking, "How do I survive this?" I panicked and had a mix of emotions. But then I wrote on my white board, "Find the lucky in the unlucky." And that has been my mantra every since. I wasn't lucky to have leukemia, but I had great skin from the chemo glow. I wasn't lucky to be away from my family for over 100 days in 6 months, but I had time to develop my painting without interruption. I wasn't lucky to lose my hair, but I rocked some pretty awesome earrings. In the years since I started painting, I have donated and sold over 700 paintings. What I find even more valuable is knowing that the feelings I face can be turned into something beautiful that can also help others.
Your attitude is amazing and inspiring. 700 hundred paintings is quite an accomplishment. Wow. When do you feel most creative or happy?
Becky: I am happiest when someone stops me in a store or on the street and tells me that they bought a painting of mine and shares their story of why they bought it. I have found that to be the most unique part about my experience as an artist. Most people buy art because it speaks to them, which we know. But my pieces are also tied to a very strong story and feeling, unique to each person who brings them home. My paintings feel like yoga to a lot of people, and they can look at it every day and get the feeling I feel every time I finish a piece. Calm, peace and hope.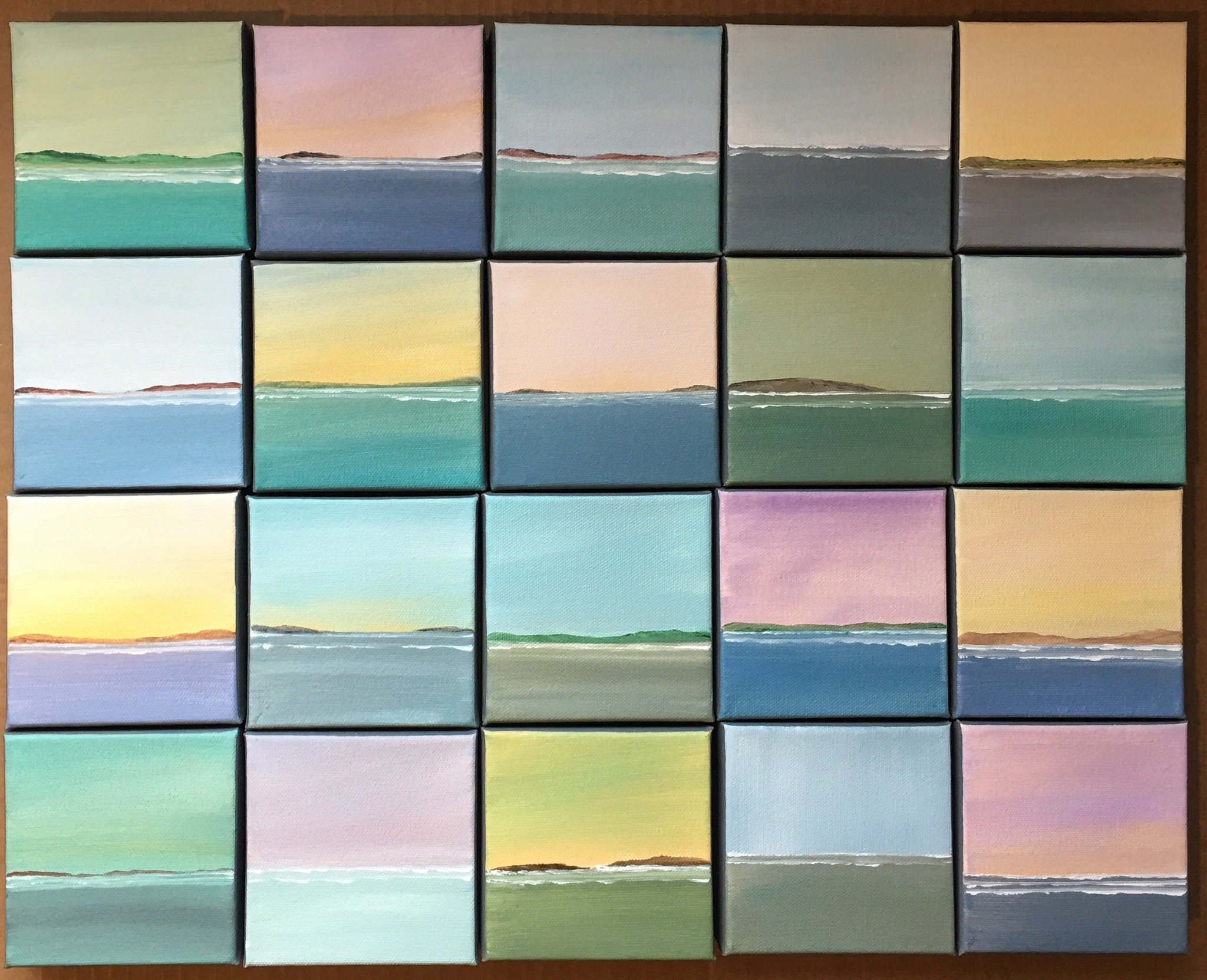 Who, or what, inspires you?
Becky: Nancy Levanchy at Joye Gifts in Scituate, MA took a chance on me. Because she did, Tamala Levin at Acquire Good did. And the chain continues through the stores and galleries I am in. They are nearly all female-run small businesses and they inspire me. Because I only sell my work in stores and galleries (not on my own), I am helping them in some small way stay in business. And they care about my story and share it. There is something extremely special about each of them and I owe them everything.
Do you have a favorite color? What colors don't you like at all?
Becky: I am an coral orange fanatic! And I love all colors.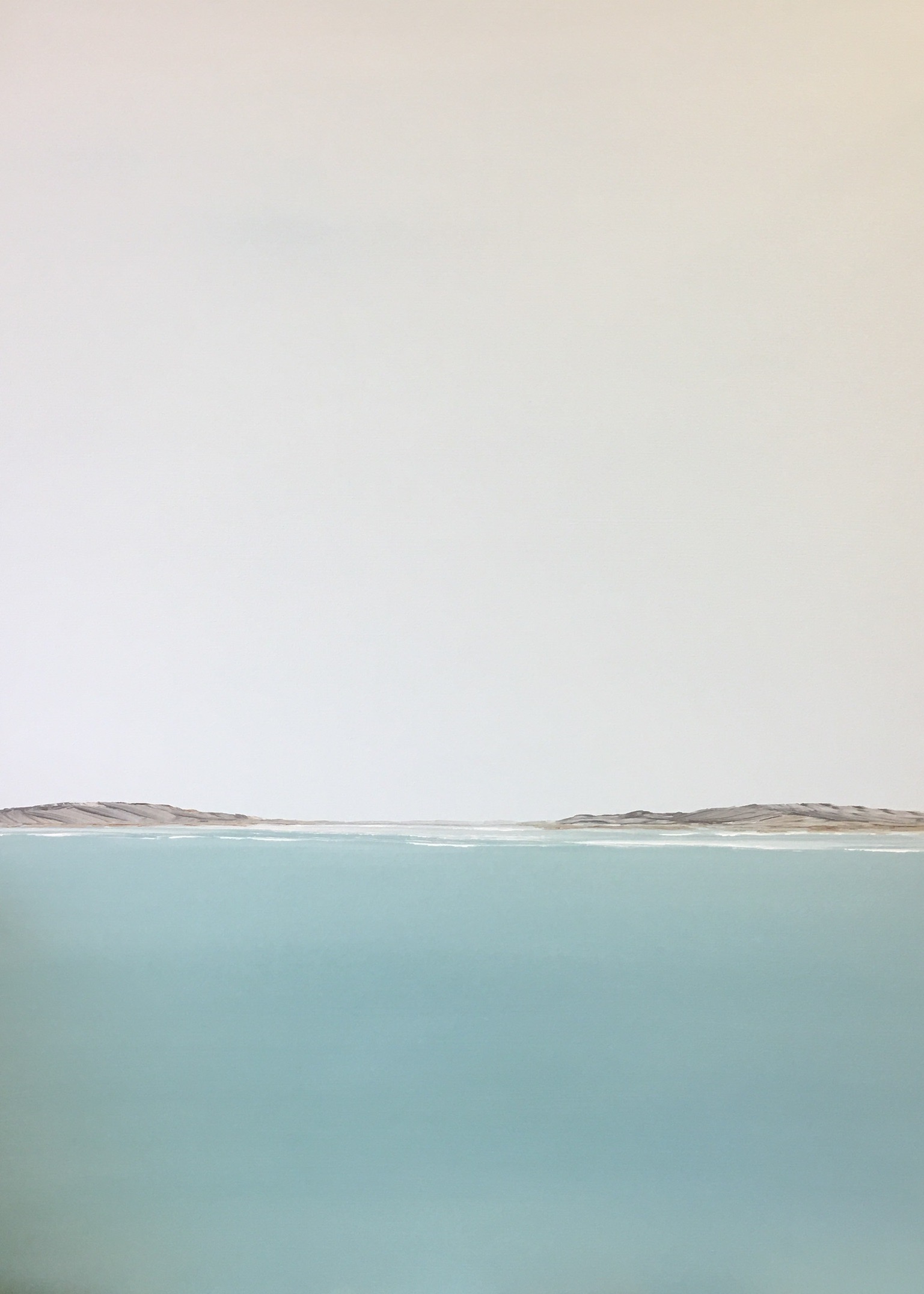 What is a day in the life of an artist like?
Becky: My day is spent picking up Legos and tidying up the trail of creative supplies that my girls leave behind. Every. Day. Once they are taken care of, I paint. All day, as long as I can until I have to get in the pick-up line. Once they are home, it's family time.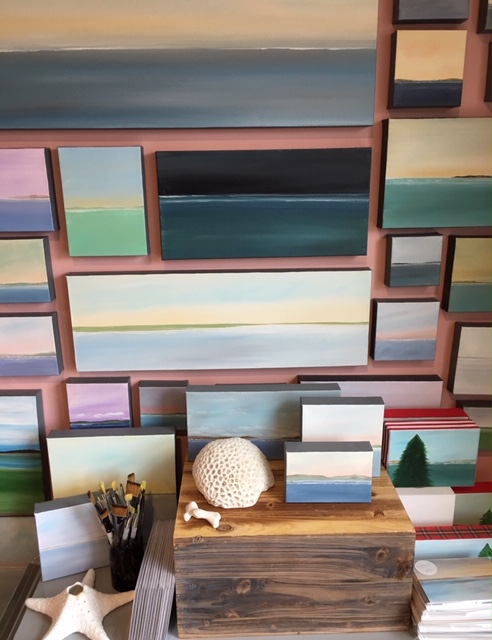 Do you have a favorite piece that you've painted?
Becky: There is a piece I painted early on that sold at Joye Gifts and I have no idea where it ended up, but it was my favorite. It had marsh views with an opening out to the ocean and the light and color was really beautiful. I have a photo of it and include it in my greeting card sets, but hope to someday find out who bought it.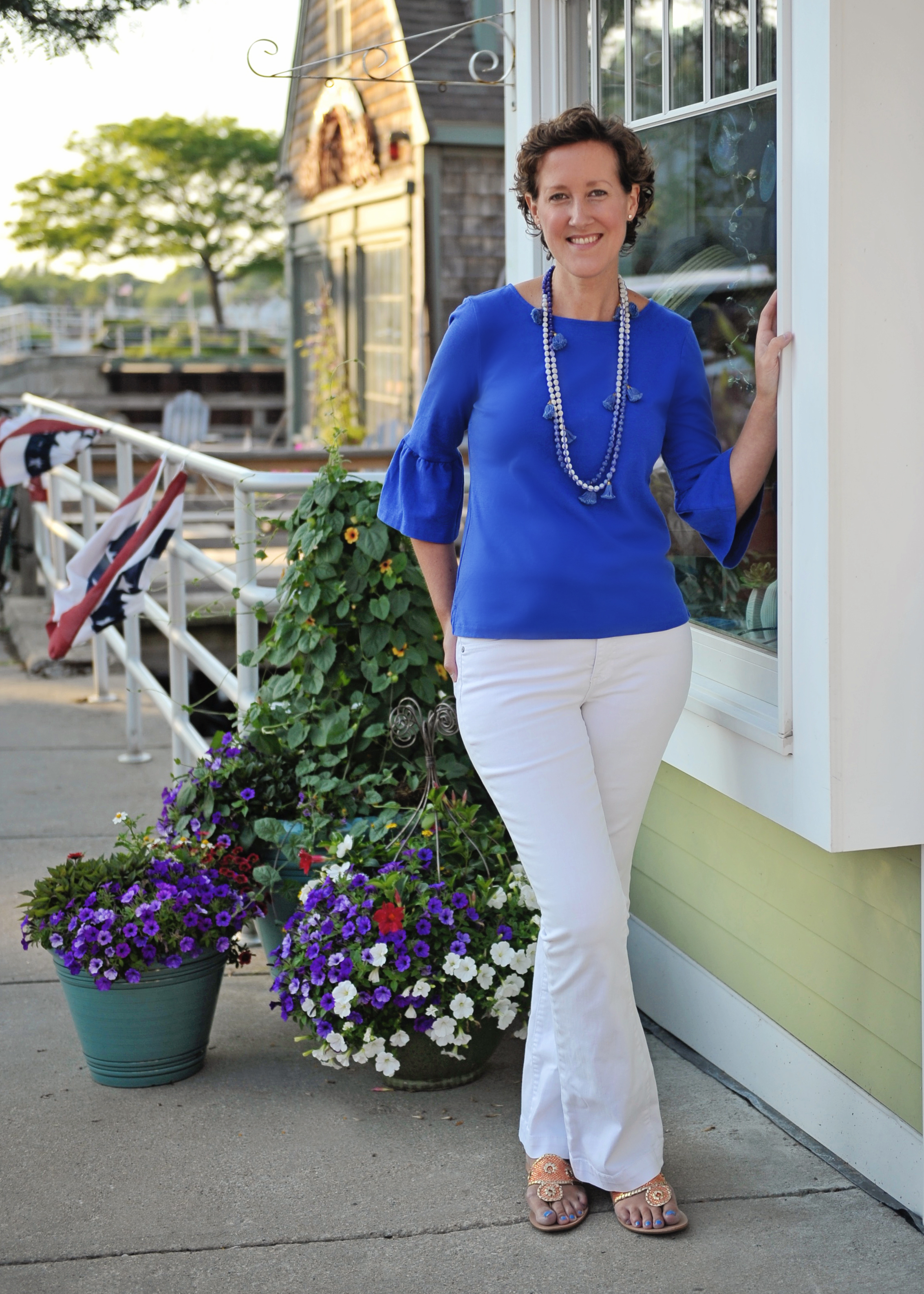 What advice would you give to someone who is interested becoming more creative, or following in your footsteps as an artist? Any advice for someone diagnosed with cancer?
Becky: Cancer is everywhere and it can be very scary and depressing. The key is to find something to see outside of the "cancer cloud". Every person's cancer journey is an individual experience. But a smile, great shoes, great earrings and great support can go a long way. And to be kind as much as possible along the way. There were times I felt horrible with leukemia in the hospital, but I'd give myself a pep talk and say, "Who am I to ruin this nurse's day by being grumpy?" Everyone is going through things.
As an artist, I would say to allow yourself to take some detours. I went for a paycheck in New York City after college, working for John Rosselli. I never did photography and felt guilty about it. Then I went to work for Manuel de Santaren at Muse, Ltd., managing their line of couture bedding in Boston. I got into advertising and project management. It took cancer for me to get creative again and be able to make it my job. I also had a supportive husband. It also took some very late nights painting. Exhaustion isn't exhaustion when you love what you are doing.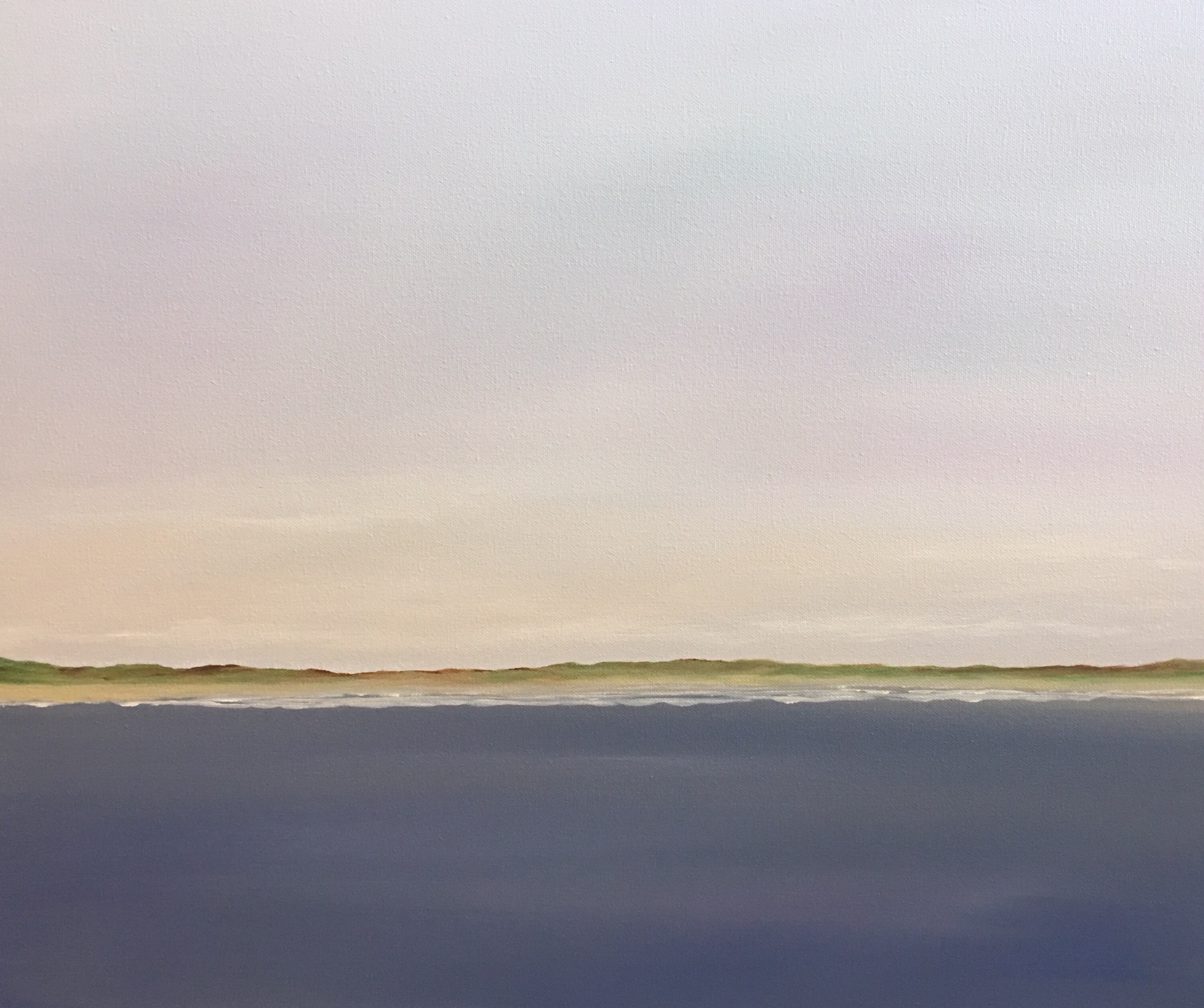 Growing up I was a huge follower of INSIDE THE ACTORS STUDIO. At the end of the program, they would ask the interviewee these questions:
What is your favorite word? Purpose
What is your least favorite word? Jealous
What turns you on creatively, spiritually or emotionally? Kindness
What turns you off? Bragging
What is your favorite curse word? Damn it
What sound or noise do you love? My kids laughing
What sound or noise do you hate? The dishwasher being emptied
What profession other than your own would you like to attempt? Producer, before chemo brain
What profession would you not like to do? Doctor
If Heaven exists, what would you like to hear God say when you arrive at the Pearly Gates? My 5-year-old told me that when you get to Heaven, God gives you a high five and shows you to your rainbow-colored house. That would be more than enough for me.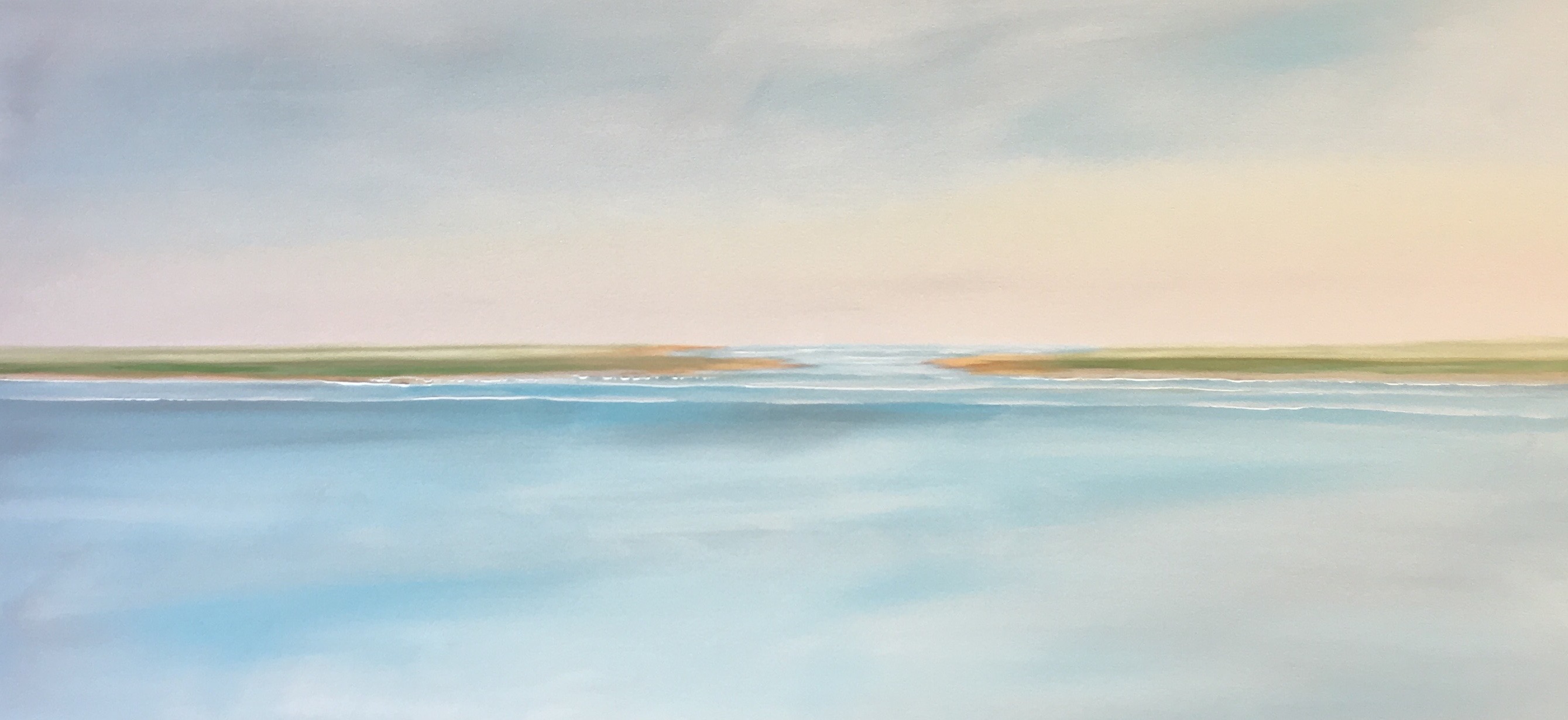 A huge thank you to Becky for sharing so much about herself and her artistic journey. Her positive outlook, strength and courage say a lot about her as an artist, but also as a person. I find her work inspiring and relaxing. She's right, gazing at her paintings is how I feel after I go to yoga.
Be sure to follow along with Becky and The Pink Frame:
Website * Instagram * Facebook
If you'd like more Creativity Over Coffee you can read the full series here
* Photos courtesy of The Pink Frame