Hi friends! I know it's been quite a while since our last Creativity Over Coffee segment. The last one was back in September. Yikes! Things got busy around here over the fall and holidays. But this little series devoted to chatting with my friends and learning about their creative journeys is my favorite on the blog! Today I'm so excited to be chatting with my friend Jennifer Zuri, founder of the beautiful Town and Country Living blog. Jennifer and I have been friends for so long, 5 years at least and we finally met back in October in Chicago. You can read more about my whirlwind trip here, but first stick around for some creativity over coffee with Jennifer.
Got your coffee or tea?
Okay, here we go!!!!!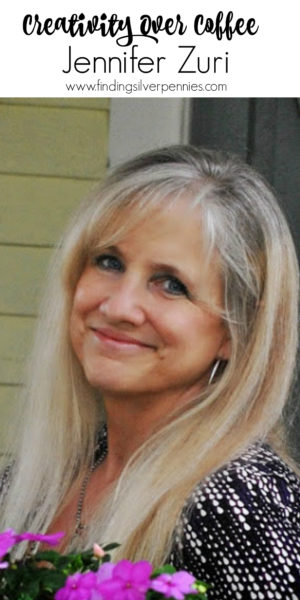 Can you tell us a little about yourself and your creative journey?
Jennifer: I was born and raised in Geneva, Illinois – due west of Chicago. Geneva is a small suburb famous for its various specialty stores and restaurants located primarily on Third Street; a quaint and much smaller version of Chicago's Magnificent Mile.
I first noticed a flair for creativity in my 6th-grade English class. I tried to make my stories unique and compelling, visualizing in my head what I was going to write before I ever put pen to paper.
Visual creativity didn't seem to appear until I entered high school and had an amazing art teacher. I applied the same principle in this class; making my artwork unique. I may have simply been trying to impress the teacher. He once asked if I had ever been to art school and I said no. He said, "You're either lying or you're extremely creative." I don't consider myself an artist because it doesn't come naturally to me. I have to really think about it and apply myself to create something special. My hands aren't always capable of creating the vision in my head, which is extremely frustrating.
After graduating from high school, I went to college and majored in Philosophy. Eventually I married and raised three children. At that time, I turned a creative eye toward decorating, cooking, and gardening. Unfortunately, my husband and I divorced and I spent 10 eye-opening years as a single mom. I wouldn't trade in those life lessons for anything. I finally remarried once the children were older and to this day am still happily married.
In addition to blogging at Town and Country Living, I'm the marketing communications manager at Aquascape Inc, a leading supplier of pond and water gardening products. I love the beauty we help create in backyards around the world.
I love how your art teacher saw your talent and gave you confidence. It's so interesting to hear what lead you to your blog and your role at Aquascape. Oh, we love our fire fountain so much! It's made a huge statement in our yard.
How did you come up with the name for your blog, Town and Country Living?
Jennifer: Town and Country Living was meant to be a way for me to chronicle all the projects involved with my circa 1875 clapboard house. I also wanted to capture life at the outskirts of the Midwestern suburbs of Chicago, thus the name, "Town and Country Living."  If I travel east, I enjoy the city. If I travel west, the prairies and farm fields open up. I feel we have the best of both worlds in our geographic location.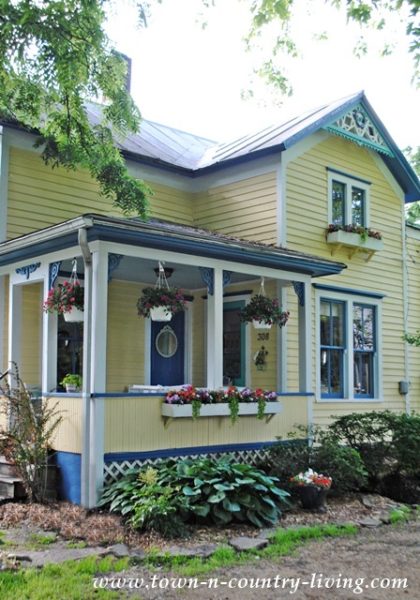 When do you feel most creative or happy?
I'm most creative when I'm not necessarily trying to be creative. I'm a 5-time marathoner and love running. When you spend miles upon miles running on country roads or scenic trails, your mind tends to wander. It's often at those moments when a creative streak pierces my thoughts. When I get home I try to write everything down and expand on it later when I begin to tackle the creative project.
Is there one project that you really love and you're really proud of that you've done?
Jennifer: This is a hard question, but I find the answer lies with any project that I thought of and executed by myself. For example, I ripped out all the carpet in our house on my own, and then sanded and painted all the floors. But a proud moment in my career was when I authored the book, "The Pond Builder's Guide to Break Even." It's a financial tool to help pond contractors make sense of their financial status and how to grow their business. It was my idea to write the book and the owner of the company said, "Go for it!"
Oh, my goodness! I didn't know you've written a book! Who or What inspires you?
Jennifer: Beauty inspires me. It might arrive in the form of a simple flower or in the decor of a beautiful room created by one of my blogging friends. Nature inspires me more than anything. Nature is God's creation and I believe we are all born with a bit of his creativity; it just manifests itself differently in each of us.
Yes! I totally agree with you! Do you ever get in a funk?  If so, how do you get out of it?
Jennifer: Yes, I definitely get in a funk from time to time. When that happens, I try to do something that has nothing to do with the funk. For example, if I have writer's block with my blog, I'll go out and do something physical. For me, I venture further down that funky black hole if I focus on the thing that's put me in a funk. I have to do something completely unrelated to snap out of it.
What is your favorite color?  Is there any color you don't LOVE?
Jennifer: White, followed closely by pink. People say white isn't a color, but it's actually a reflection of all the colors.  There isn't a color that I don't love. They're all beautiful in their own way.
How do you balance it all?
Jennifer: Luckily, I'm extremely organized from a mental standpoint. Physically organized … not so much. A friend laughed at me once because I couldn't find a pen or pencil in my home to write down a phone number. I had to use a crayon. But when it comes to my brain, I compartmentalize things and can quickly figure out timelines for getting stuff done. I took a test in high school and it revealed I have a photographic memory. Thank goodness, because that's how I balance life … in my head. That, and I make sure I get plenty of sleep and exercise, and try to eat right as much as possible. How you feel physically greatly affects your productivity and creativity.
What advice would you give to someone who is interested becoming more creative or following in your footsteps?
Jennifer: My advice would be … don't follow in my footsteps.  🙂   Create a path that is unique to you. Don't be ashamed of your ideas or who you are. God intentionally created all of us as one-of-a-kind individuals. Sure, you'll draw inspiration from others, but you need to do your own thing with it. Look at some of the truly great artists in this world. They were often ridiculed or laughed at, but they stuck to their vision and are now honored and admired. Don't be afraid to do your own thing … because your own thing just might be something truly amazing and wonderful.
I love that, Jennifer. What an empowering quote!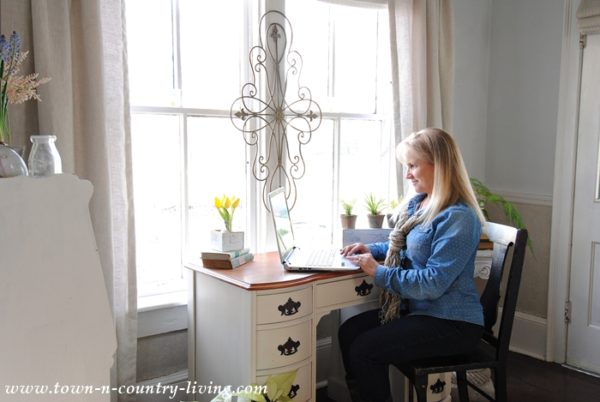 Growing up I was a huge follower of INSIDE THE ACTORS STUDIO.  At the end of the program, they would ask the interviewee these questions:
What is your favorite word?  Love
What is your least favorite word?  The F word
What turns you on creatively, spiritually or emotionally?  Nature
What turns you off?  Hate
What is your favorite curse word?  I don't have one and wish I didn't cuss
What sound or noise do you love?  Babies giggling
What sound or noise do you hate?  The sound of a parent yelling uncontrollably at their child
What profession other than your own would you like to attempt?  Graphic Artist
What profession would you not like to do?  Anything that involves working on a submarine (I have claustrophobia)
If Heaven exists, what would you like to hear God say when you arrive at the Pearly Gates?  "Well done, my good and faithful servant."
A huge thank you to Jennifer for stopping by and chatting with me today. Isn't she amazing and she shared so much about her own personal journey. Be sure to keep in touch with her and Town & Country Living:
Blog * Facebook * Instagram * Pinterest
All photos courtesy of Town and Country Living.
If you're new to this series you may want to read the other Creativity Over Coffee Interviews, here!